Sealed with victory
The maths is simple for Rosberg: win, as he's done for the last two years in Brazil, and it doesn't matter what Mercedes team mate Lewis Hamilton does in Abu Dhabi. The contest will be over and a first drivers' crown will be his.
But despite standing on the verge of history, the German remains content to continue to play down expectations.

"Mexico wasn't ideal," the points leader admits. "I was going for the win as always but Lewis was just a little bit faster all weekend. Sometimes you just have to accept that and be satisfied with your work.
"I'm not going to change my approach. I need to keep doing what helps me perform at my best and that's going for the win every time. There are still two races to go and anything can happen in this sport, so I need to focus my energy on the factors that I have in my control.
"I've got good form in Sao Paulo. It's one of the real classic tracks, which usually produce some exciting races, so I'm looking forward to getting out there and having a big battle in front of those awesome Brazilian fans."
Hamilton, meanwhile, will still be going all out for the two wins that he needs, while privately also hoping that a bit of misfortune befalls his team mate. Even if he wins here and in Abu Dhabi, all Rosberg needs is to finish second in each. But the Briton also admits that losing his crown would hurt.
"I don't think you can prepare to lose, even though I've experienced it before," he says. "I know it won't be as painful as then," he adds, referring to his 11th hour loss to Kimi Raikkonen here in his rookie season in 2007, when the Finn came back from a 17-point deficit.
"I've lost many races and championships through my career, so it's not like I haven't experienced it. Right now I'm in a scenario where I know there is more of a chance I will lose it than I'll win it. It's hard to swallow, but it is what it is.
"It's definitely an unusual scenario to be in, so I've just got to push all the way to the end. One way it can be painful, another way it can be a great thing, but all I know is, right to the last minute, things can change, so that's why I can't give up."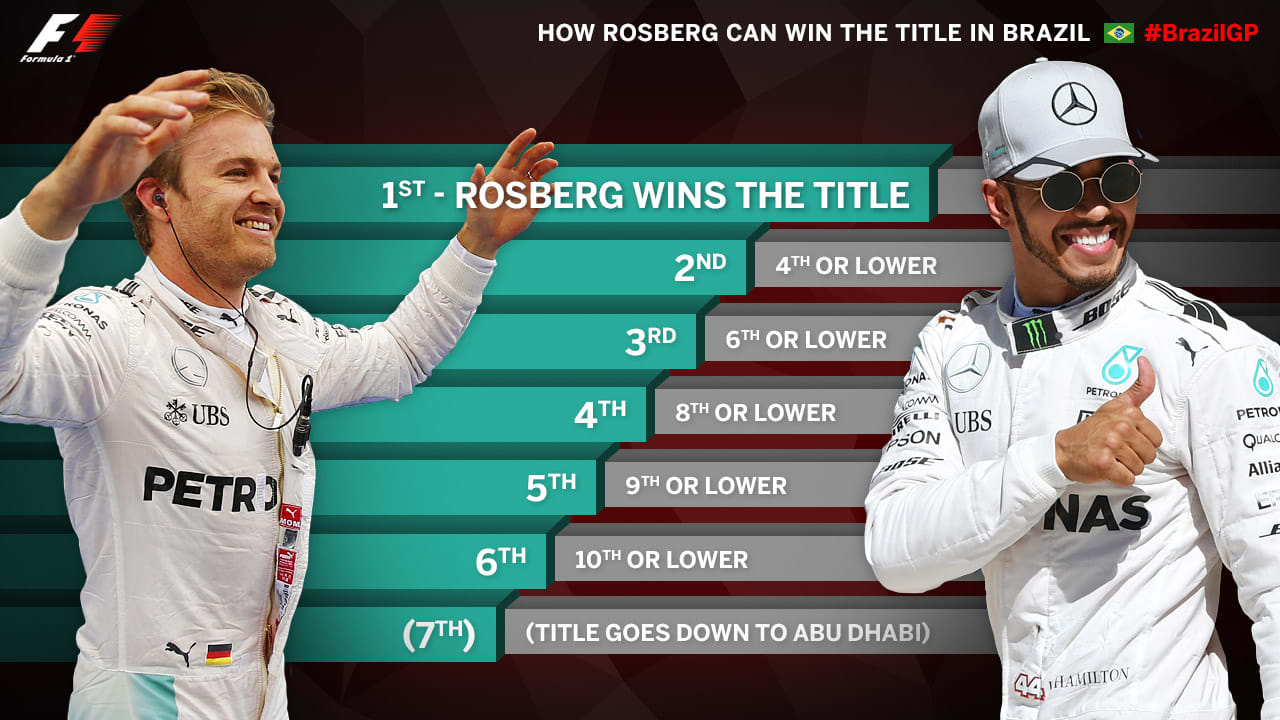 Red Bull praying for rain
Daniel Ricciardo loves Interlagos, but admits that Red Bull's hopes of beating the Silver Arrows in Sao Paulo might be contingent on a favourable weather forecast.
"Looking at it, on paper I would say Abu Dhabi is probably where I fancy my best chances," he said after making the podium in Texas. "It's been a strong circuit for me and I think us as a team have normally been pretty good there, so that's probably one.
"But Brazil, it's been a while since we had the sort of magical Brazil downpour so maybe we can get one of those this year and have a chance. We'll keep trying, keep doing what we can. We'll see."
With thunderstorms and showers a real possibility all through the weekend, he and team mate Max Verstappen have their fingers crossed. Red Bull have won this race four times since 2009, though they only need to pick up a handful of points here to seal P2 in the constructors' stakes ahead of rivals Ferrari. 
Massa dreaming of final home podium
Felipe Massa has a fine record at his home circuit - the Paulista has registered two wins, three poles and five podiums here. But can he give the locals one final moment to cheer before he hangs up his helmet for good?
"Interlagos is home," the outgoing Williams driver says. "It's the place that I grew up. It will be emotional racing there for the final time on such an amazing track. I'm looking forward to enjoying every single lap and hopefully I can manage to finish the race with a good result. I have won twice at Interlagos and have finished on the podium many times over the years and I hope we can get another one. It won't be easy, but I will do everything I can for my people and for Brazil in my last race at home."
But if Massa will get a great reception, Valtteri Bottas might get the opposite, according to Daniel Ricciardo: "The atmosphere at Interlagos is pretty unique, a lot of air horns and noise always make for a good crowd - even more so this year as it is Felipe's last race there. Brazil is one place you don't want to be Felipe Massa's team mate, you get so much abuse on the drivers parade its hilarious. I think Valtteri Bottas is going to be really in for it!"

Experimentation on the cards for Haas
As Gene Haas's team seek to recover from disappointing outings in Texas and Mexico City, they have been drawing heavily on the lessons they learned there. "When we've hit the right notes, we've capitalised. When we haven't, we've delved into understanding why. It's science at 320 km/h, with another round of experiments coming this weekend in Sao Paulo."
They plan an aggressive approach, with a lot of work, especially in FP1 when Romain Grosjean will trial the halo cockpit-protection device, and French test driver Charles Leclerc will again be out in Esteban Gutierrez's VF-16.
On top of that, they'll be doing back-to-back comparisons on brake components in a bid to solve the persistent problems that have hurt them in several races.
"We will conduct a test in either FP1 or FP2 with a different brake manufacturer," team principal Guenther Steiner says. "It's a test to see how the other material reacts and how the drivers like it or don't like it. We will try to find out as much as possible in the short time we have available.
"We will try to do our absolute best. Obviously, we have a lot of work to do so we need to be focused and, hopefully, we don't have any issues - any mechanical or any electronic issues with the car so we can have a good FP1 to FP3 and be ready for qualifying. What we want to avoid is another bad weekend like in Mexico.
"As for Charles, he's done a good job for the team. He always did his program and he performed what we asked of him. It's always difficult when a driver is only in for FP1, but he's very professional and has provided good feedback. We've been very happy with his contributions. He's in GP3 at the moment and can win the title in Abu Dhabi. He's got a season of GP2 coming up and we will see how far he can get. If he wins GP2 or is in the top-three in his first year of GP2, he will have a good future in front of him."
Interlagos: an anti-clockwise challenge
Interlagos is one of the classic F1 tracks and therefore hugely popular with the drivers even though it is hard work, with a relatively short lap, several tight corners and a lot of elevation changes.
It's not nearly as high as Mexico City in terms of altitude, but the lower air pressure has an effect on drag. The weather can also play a key role, making for an extremely challenging few days both on and off track.
It's also one of the rare anti-clockwise circuits in the calendar, while the long return run up the hill from the final corner to the first often provides good overtaking opportunities. They aren't ever easy, given the speeds the drivers approach the Senna 'S' and the judgement needed, but they are possible.
 
WATCH: Circuit Guide - Autodromo Jose Carlos Pace

Another outing for Pirelli's hard tyres
For the fifth time this year, Pirelli have brought their hard tyre, with the orange-marked rubber, together with the white-marked medium, one of the mandatory choices for a track with the second-shortest lap of the year which nevertheless features almost constant cornering.
It's smoother and grippier these days thanks to the resurfacing a couple of years ago, and with its anti-clockwise direction it's the right-rear tyre that does the most work as the cars are subjected to combined lateral and longitudinal forces.

"We're seeing the hard tyres in Brazil for the first time since 2013, which should prove to be very effective against the high-energy demands of the track," says Pirelli's motorsport director Paul Hembery. "In 2015 we had a three-stop race, so with the increase in performance and downforce this year, taking a harder tyre - which has nonetheless been a very rare occurrence this season - was the only sensible option to offer a number of different strategy variables. Balancing its durability against the extra performance of the softer compounds will hold the key to the race tactics. The weather will obviously play a big part in these calculations, too."
Rosberg won last year's race with a three-stop strategy, starting on the softs then stopping for mediums on laps 13, 33 and 48. The top three all stopped three times. Fourth-placed Raikkonen finished fourth with a two-stop strategy, starting on softs and then switching to mediums on laps 12 and 46.
Both Rosberg and Hamilton have identical tyre selections for this weekend, which kicks off with FP1 at 1000 local time (1200 GMT). The race itself takes place at 1400 local time (1600 GMT) and runs for 71 laps or 305.909km.