'I'm not going to Ferrari to learn' – Leclerc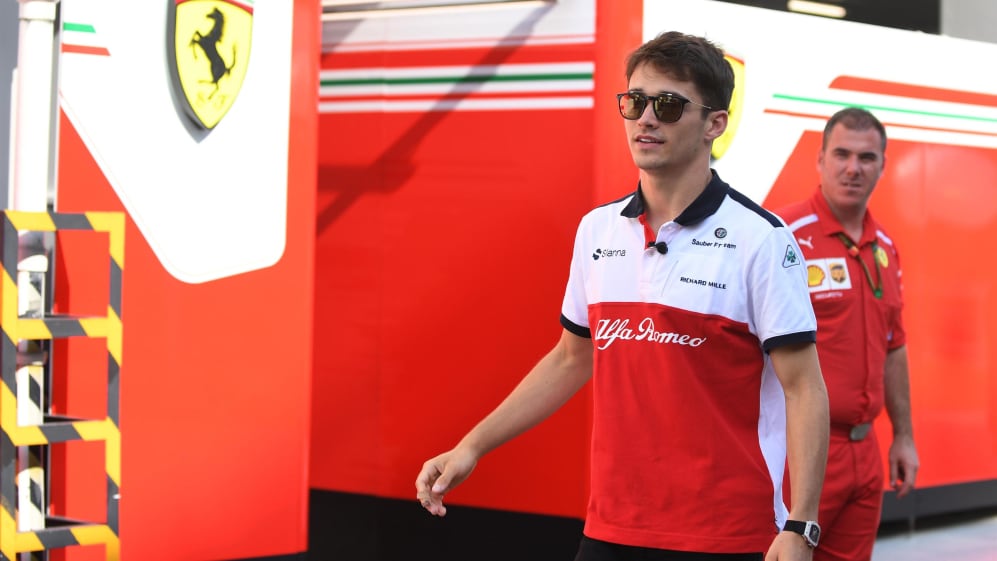 Getting confirmed at Formula 1's most iconic team before your 21st birthday would be enough to unnerve most people. But Charles Leclerc insists he's not getting flustered about the prospect of donning those famous Ferrari overalls in 2019.
It was announced in the week leading up to the Singapore Grand Prix that Leclerc would replace Kimi Raikkonen at Ferrari next season, becoming the second youngest driver to ever compete for the team in F1, after Ricardo Rodriguez.
He'll also have just one full season of Formula 1 under his belt when he heads to Maranello. Surely that's a lot of pressure for such a relatively inexperienced driver to handle?
"It is very strange because obviously I can see that a lot of people think I will have a lot more pressure on my shoulders, but I really don't," said Leclerc. "I think I have a mentality that is really taking off all of the pressure. I really focus on myself and don't really think about what people expect of me in the car.
"I believe if I do the right job in the car and if I work in the right way then the performances will be there. This is how I see the thing so I just fully focus on myself and the job I have to do in the car, and then I think the rest will come. To be honest I don't feel the pressure."
If I don't have the results good enough to stay in Ferrari then it will be normal that I downgrade. But then I don't deserve a Ferrari seat
While Leclerc has excelled in his debut season with Sauber against the more experienced Marcus Ericsson, his performances next year will be measured against a much tougher yardstick, namely new team mate and four-time world champion Sebastian Vettel.
But Leclerc was clear that, with nothing in his contract stating that he will need to play a support role to the German in 2019, a lack of F1 experience won't stop him from chasing strong results.
"I'm not going to Ferrari to learn," he said. "I think I've had a very good season this year where I could learn most of it, and next year [my role] is to perform in a big team. I'm not saying I won't learn anything anymore, because I have so much to learn still and I can still improve a lot in a lot of things. But definitely I will be a lot more ready than I was at the beginning of the year.
"Experience is always a plus, obviously, but if you are good enough in one seat then you are good enough… If next year I don't have the results good enough to stay in Ferrari then it will be normal that I downgrade. But then I don't deserve a Ferrari seat."
WATCH: Charles Leclerc on finding out that he'd be a Ferrari driver for 2019