Feature
5 things we learned from Day 1 of pre-season running in Barcelona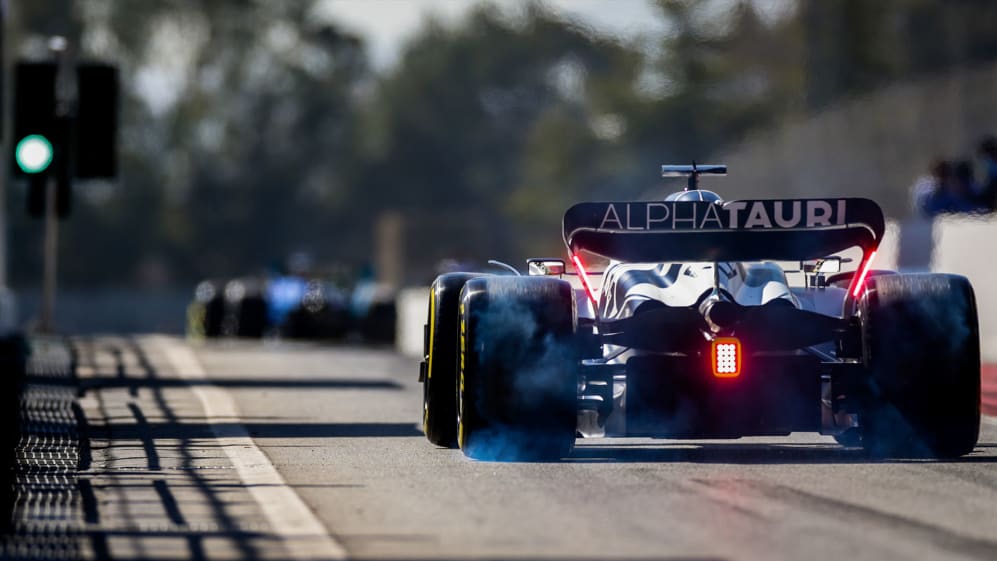 The sound of the new generation of Formula 1 cars reverberated around the Circuit de Barcelona-Catalunya on Wednesday, as the teams hit the track for the first of three days of running.
As is always the case at this time of year, we can't read much – if anything – into the lap times, with a variety of programmes, fuel loads and aero rakes in action. But there are still a few things we've learned…
1. New cars show early reliability
There is very little carryover from last year to these new cars, so sweeping are the changes to the technical regulations, which is why it's impressive most teams secured very high mileage counts. Only Alfa Romeo and Haas missed out on a century of laps – and by some way – with Ferrari topping the lap chart with 153.
READ MORE: Norris tops timesheets after first day of Barcelona pre-season running
It was bright and clear – and not as cold as Barcelona often can get at this time of the year – throughout, making it lovely conditions to give the cars a first proper run-out (as until now, teams have only done short shakedowns, limited to 100km on demonstration tyres).
The focus for all was to get plenty of laps on the board, tick through a flurry of system checks and see how the car reacts to a series of big set-up changes. That gives the teams plenty of data on these brand-new cars to pore through overnight, ready to take it up a notch tomorrow.
There was no chasing of performance, so the time charts are irrelevant.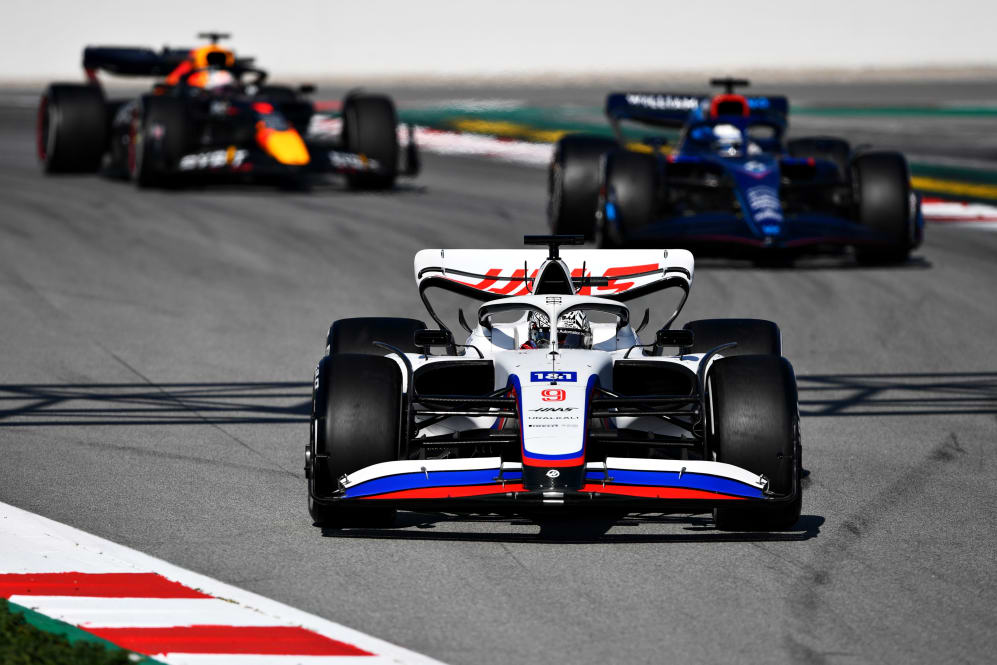 2. Haas and Alfa Romeo on the back foot
Pre-season is a chance for teams to iron out any creases with their new machines – and thus time in the garages with the toolbox open is to be expected. However, Haas and Alfa Romeo will be frustrated to have lost so much time with little gremlins limiting them to 43 and 32 laps respectively.
Nikita Mazepin managed just 20 laps, with a cooling leak limiting his track time. His Haas team mate Mick Schumacher spent a lot of the afternoon sat on the tool cabinets wearing his beanie while a damaged floor was repaired.
READ MORE: Bottas bemoans 'compromised' first day of pre-season running with Alfa Romeo
It was more frustrating for Alfa Romeo, who had a series of minor problems that, while small, proved "quite costly in terms of time" according to new recruit Valtteri Bottas. The good news is the Finn says that "luckily we understand them completely and we know how to fix them".
With just two days in Barcelona and three days of official testing in Bahrain remaining, they'll be hoping the only way is up from here.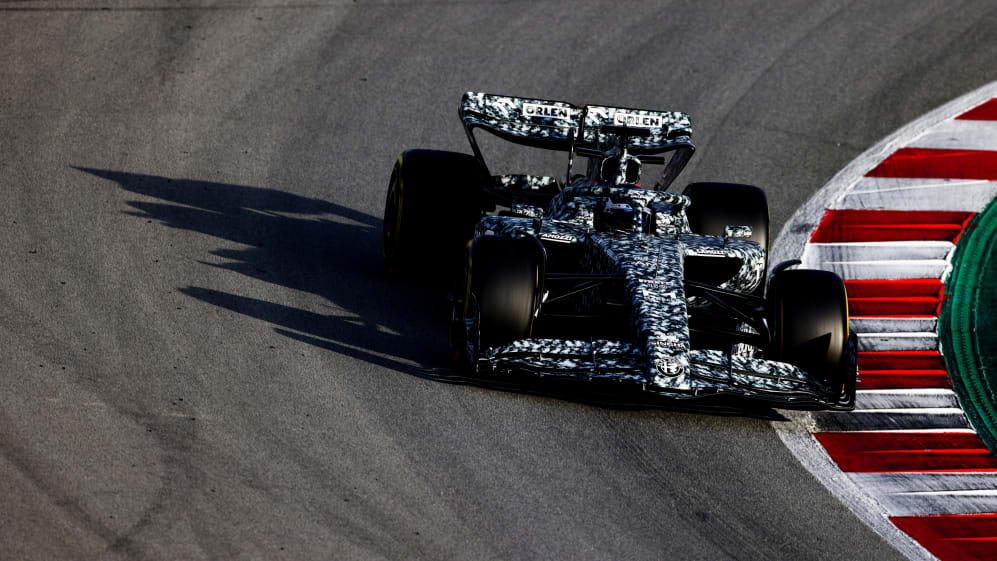 3. Hamilton in buoyant mood
Lewis Hamilton turned detective on Wednesday morning as he took a stroll down the pit lane, dressed in a hoodie – hood up – and a long trench coat, to have a peak inside rival teams' garages.
The seven-time world champion spent a reasonable amount of time outside Red Bull, whose 'real' RB18 made its public debut in Barcelona, before heading back to watching team mate George Russell in action.
READ MORE: 'I feel the freshest I ever have' says Hamilton as he hits the track in Barcelona
Ahead of stepping into the car in the afternoon, Hamilton – who was pipped to an eighth world title by Max Verstappen in Abu Dhabi – spoke to the media in the opening press conference. He said he was feeling the "freshest that I ever have" and that the last winter break "was one of the best I've ever experienced".
He then ticked off a half century of laps before the team called it a day.
4. Real Red Bull breaks cover
Red Bull were super keen to keep their new car under wraps, so much so their launch was more about their new livery for the car Max Verstappen would use to defend his maiden World Championship.
They completed a shakedown at Silverstone with no fanfare, so it was not surprising to see plenty of photographers jostling for position outside the garage when Red Bull removed the screens to reveal the car just moments before the session began – and it was strikingly different to any other machine in the field.
ANALYSIS: The fascinating features on show as Red Bull's proper RB18 is unleashed at Barcelona
Verstappen then got straight down to business by clocking 147 laps, which is more than two Grands Prix distances. It's early days, of course, but Verstappen declared this a good opening outing, with everything "working quite well". This was a strong day of data collection for the four-time world champion operation.
5. Steep learning curve for drivers
These new generation cars are brand new offices for the drivers, not just in terms of how they behave but also what the visibility is like given the bigger 18-inch tyres narrow the line of sight.
It's always been challenging, thanks to their low seating position and integral parts of the car like the wing mirrors – and more recently the halo. But as Daniel Ricciardo says, it just takes some time to adapt.
READ MORE: Reigning champion Verstappen encouraged by Red Bull reliability after mega stint on Day 1 in Spain
"There are always blind spots in the car, so you have to use a lot of your intuition as well when you're racing side by side," said the McLaren driver. "But I think that creates sometimes the art of a good battle. You use your other instincts or rely on other things to pull off a move or defend well.
"There will be a bit more for us to adjust to, especially in the early days of 2022 but maybe by a couple of races in we'll be like, 'Ah, we don't really feel it anymore.'"