Feature
5 things we learned from Friday practice at the Belgian Grand Prix
The glorious sunshine in which Spa-Francorchamps bathed on Thursday was nowhere to be seen when the track action got under way on Friday, lingering clouds and persistent drizzle making data gathering very tricky. So who heads into Friday night excited and who may need to burn the midnight oil?
1. Red Bull look quick, but engine penalties will hurt
Red Bull were the favourites heading into the weekend and there was little to suggest that tag was unwarranted based on Friday's disjointed (because of a red flag and rain) running.
The four-time world champion team were quickest of all in qualifying trim, though they only hold a 0.130s advantage over Ferrari.
FP2: Dominant Verstappen comfortably clear of Leclerc in second Spa practice session
But with Max Verstappen and his Ferrari rival Charles Leclerc taking new engine components which will demote them towards the back of the grid on Sunday, it's worth comparing Sergio Perez and Carlos Sainz's speed.
And here, the form reverses, with Sainz quicker than Perez. Sainz's ideal lap – a combination of his best mini sectors – puts him third overall with Perez only ninth.
Bad weather meant no meaningful long runs could be completed, meaning Red Bull and their rivals are on the back foot heading into the rest of the weekend.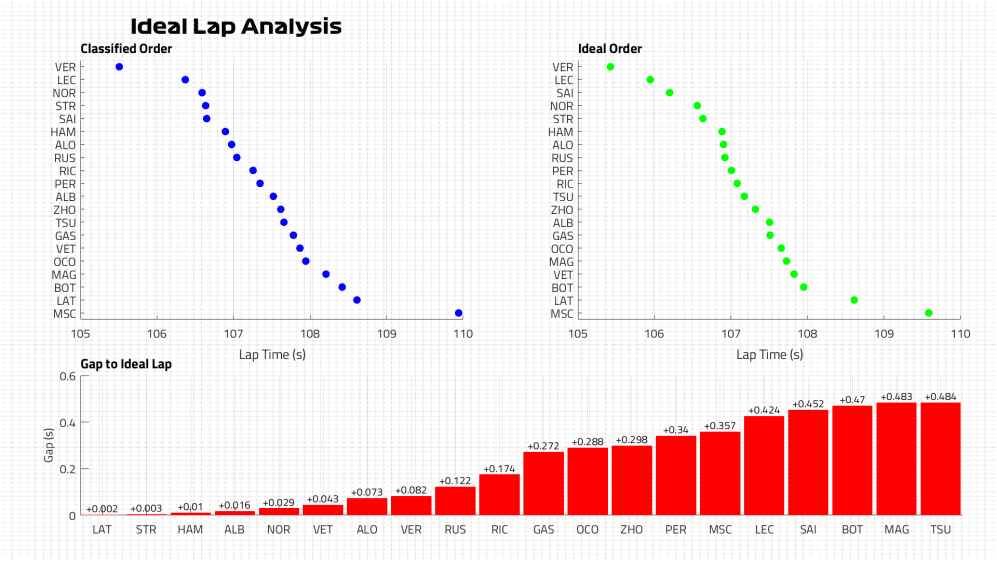 2. Ferrari are hanging onto Red Bull's coattails
Sainz says he feels in a good place after Friday practice – and it's not hard to see why. He made a solid start in FP1 and while Ferrari made some changes that he says didn't really work for FP2, he's confident they can solve those issues.
Spa has never really been a happy hunting ground for Sainz, but with team mate Leclerc and Verstappen starting at the back, Perez lacking the pace and Mercedes struggling with tyre temperatures, Sainz is in very good shape for qualifying and the race.
READ MORE: Leclerc and Sainz upbeat after day one in Spa despite large deficit to Verstappen in FP2
Our data suggests the Ferrari has a slender edge in the high-speed corners, but lacks in the slow corners and are losing as much as 0.4s in the medium speed.
But both Sainz and Leclerc were inside the top five drivers who left the most lap time on track, when we calculated the ideal lap data, to hint there is plenty more to come.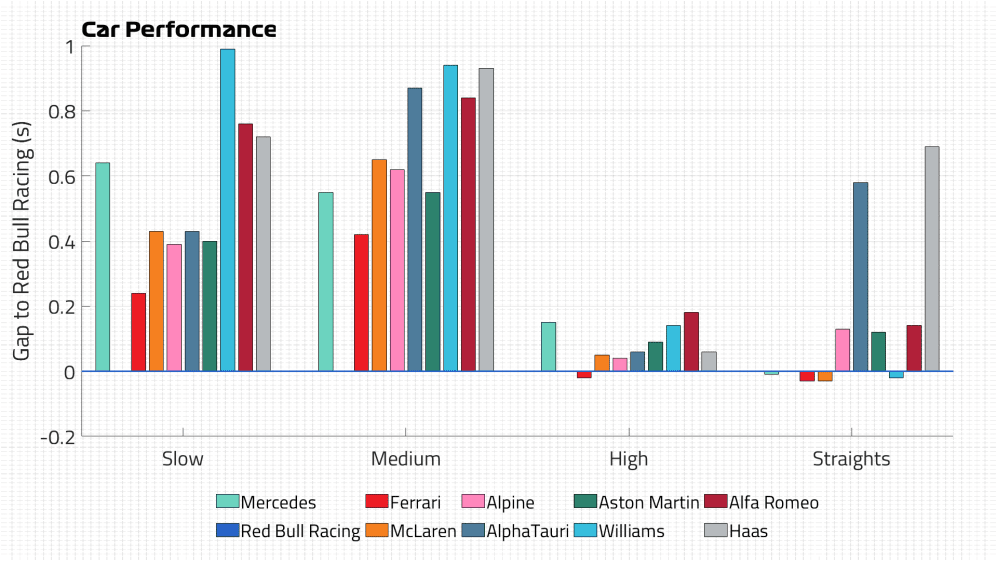 3. Mercedes are some way off in cold temperatures
The high of Hungary before the summer break must feel like a long time ago for Mercedes right now after the Silver Arrows lacked performance at a cold Spa.
Trackside chief Andrew Shovlin said neither Lewis Hamilton nor George Russell had a good feeling on the soft tyre, as they were "probably" not getting it into the right window.
READ MORE: Russell and Hamilton concerned by 'extravagant' gap to Verstappen and Ferrari after day one in Spa
They found the hard tyre "particularly difficult" on both cars in the cold and damp conditions but felt the medium was working reasonably well in FP1.
Warm conditions are predicted for the weekend, which will likely help so if they can find some answers overnight, Mercedes could be in a good position to capitalise.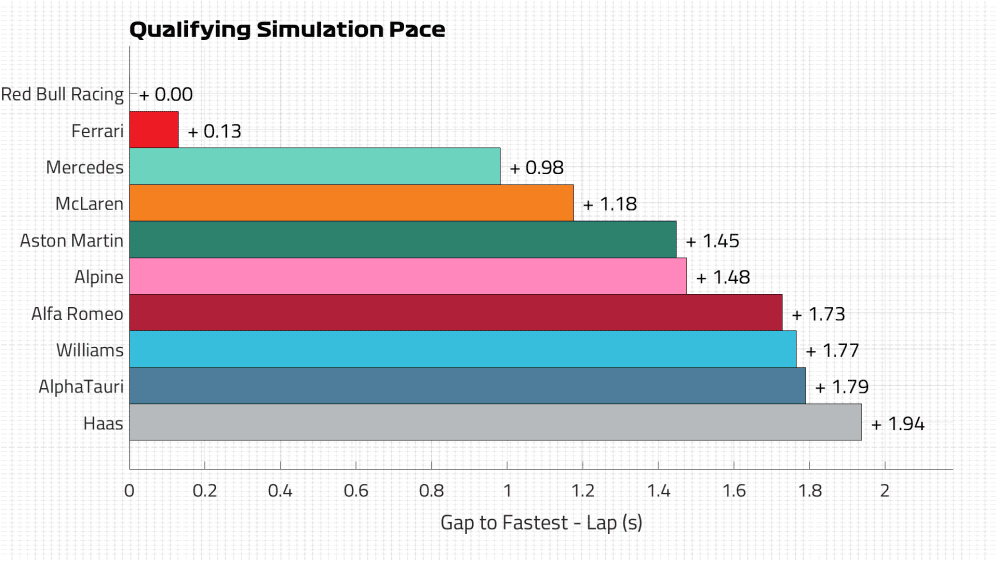 4. McLaren edging ahead in the midfield fight
Lando Norris said the car was "not bad" in terms of pace on Friday, but admitted that with Aston Martin (currently ninth in the constructors' championship) only 0.05s behind, the team "shouldn't be happy".
Daniel Ricciardo was pretty happy with his efforts on Friday, the Australian finishing inside the top 10 in both sessions – and our data says that on one-lap pace, they head the midfield.
READ MORE: Half-Belgian drivers Norris and Stroll reflect on top-4 showing in Spa FP2
They are still 1.18s adrift of the fastest but hold a 0.25s lead over the next best, Aston Martin, when times are corrected for things like fuel levels.
On the straights, only Ferrari edge them, and their form in the high speed is decent – but they have large deficits in the slower stuff.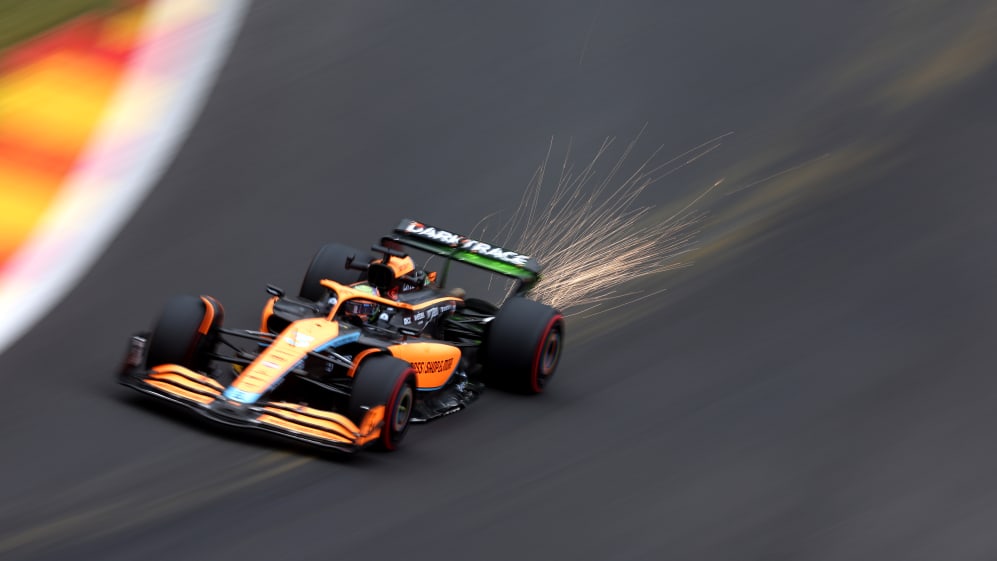 5. Plenty to play for as long run data skewed
The dreary weather that has become synonymous with Spa is set to depart, based on forecasts for whatever they are worth around here, with dry and warmer conditions expected into the weekend.
Lacking long run data is a pain for teams, especially for Verstappen, Leclerc, Esteban Ocon, Valtteri Bottas, Lando Norris and Mick Schumacher who are only interested in that data as they are destined to start towards the back because of engine or gearbox changes.
But it's the same for everyone, of course. And there is still one more practice session to go, which is plenty of time to get some read on the tyres with fuel onboard.
READ MORE: Verstappen says car felt good 'from the first run' in Spa as Horner explains why title leader opted for engine penalties
There were some interesting results on Friday, such as Aston Martin – with Lance Stroll fourth. Should the same 1-2-3-4 from FP2 be repeated in qualifying, Stroll would be on pole courtesy of penalties for those above.
Williams looked pretty handy, particularly in the hands of Alex Albon, while Fernando Alonso reckoned Alpine had a turn of pace, even if our pace ranking says they are sixth best.
It's not clear cut for anyone in the field, making qualifying an attractive prospect.