Feature
5 things we learned from Friday practice for the Styrian Grand Prix at the Red Bull Ring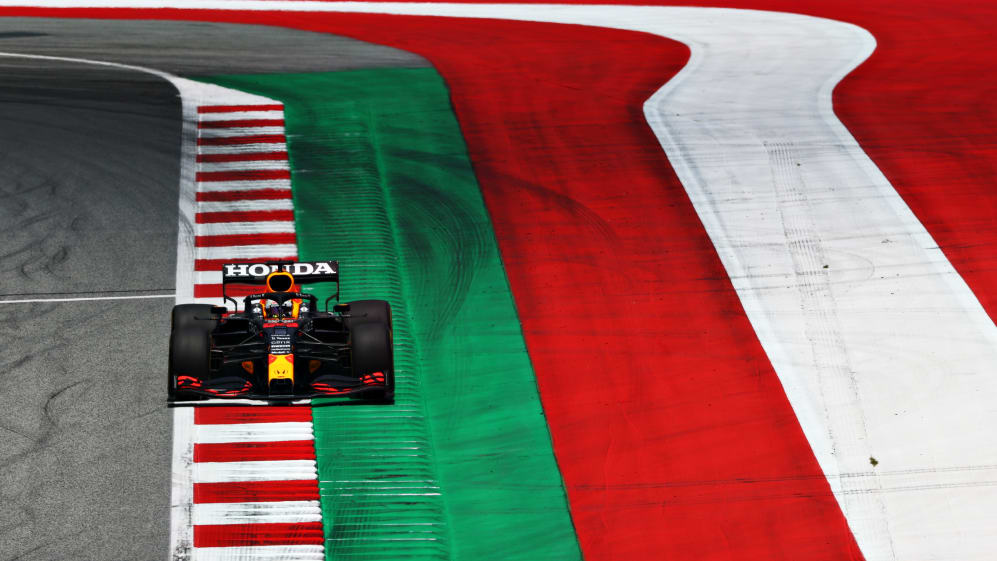 There was plenty of weather chat in the Red Bull Ring paddock on Thursday, with rain expected Friday through to Sunday. But while threatening clouds hung ominously in the distance, and very light spit fell briefly, both practice sessions were run in dry conditions.
That caught several of the teams by surprise, with most expecting showers in FP2, and as a result, that forced a quick change of plan with their run programmes.
Max Verstappen topped both sessions, but it was mighty close with the top 15 separated by just one second. Here are five things we learned from Friday practice…
HIGHLIGHTS: See all the action from Styrian GP second practice at the Red Bull Ring
1. Red Bull are in cracking shape on home soil
Max Verstappen may have topped both Friday practice sessions, at a venue where he triumphed in both 2018 and 2019, but he wasn't getting carried away, raising the fact that Lewis Hamilton would have set the pace had his time not been erased for exceeding track limits.
When you crunch the numbers, Red Bull emerge as the ones to beat, but it's super close – with just seven-hundredths of a second separating them and reigning world champions Mercedes, the two leading title contenders nearly 0.4s clear of everyone else (as you can see in the qualifying pace chart further down the page).
READ MORE: 'At the moment we are the hunters' insists Mercedes boss Wolff ahead of crucial Styria clash
Things looked even rosier on the long run metrics, supporting Sergio Perez's belief that their pace looked "promising". Our data reckons they are nearly two-tenths a lap quicker than Mercedes, putting them in mighty fine shape for Sunday, particularly if it ends up being dry.
You get the feeling there is plenty more to come from both Verstappen and Perez, too. Verstappen was very happy with the car while Perez said he went in the wrong direction with set-up on his Red Bull RB16B before turning things around. He reckons there's a couple more tenths in the car at least – and such is his confidence right now, he's not "concerned at all" by his 0.677s deficit to his team mate.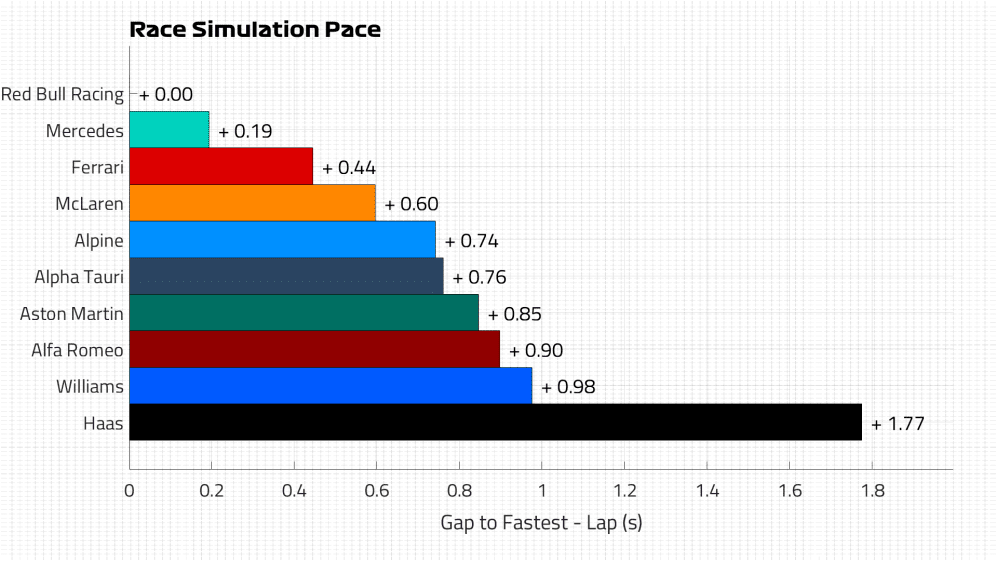 2. But Mercedes are still very much in the mix
This wasn't the smoothest day for Mercedes, with a particular low point Valtteri Bottas's spin in the pit lane that earned him a three-place grid penalty for 'dangerous driving'. From a pace perspective, things didn't look too bad – with both Hamilton and Bottas making progress with the feel of the car from FP1 through to FP2.
READ MORE: Red Bull 'throwing really good punches right now' says Hamilton, as Mercedes trail in Friday practice
They're still trailing in both short-run and long-run pace, but Hamilton will undoubtedly take heart from setting what would have been the quickest time of the day had it not been deleted for track limits while Bottas didn't set a representative time on the soft. According to our ideal lap data (below), Hamilton left more than half a second on the table based on his best (and legal) mini sectors, that would have put him within touching distance of Verstappen.
The race pace deficit is a little more of a concern, but we saw in France that Hamilton could make dramatic progress from Friday to Saturday – so there's no reason why he can't do the same again this weekend.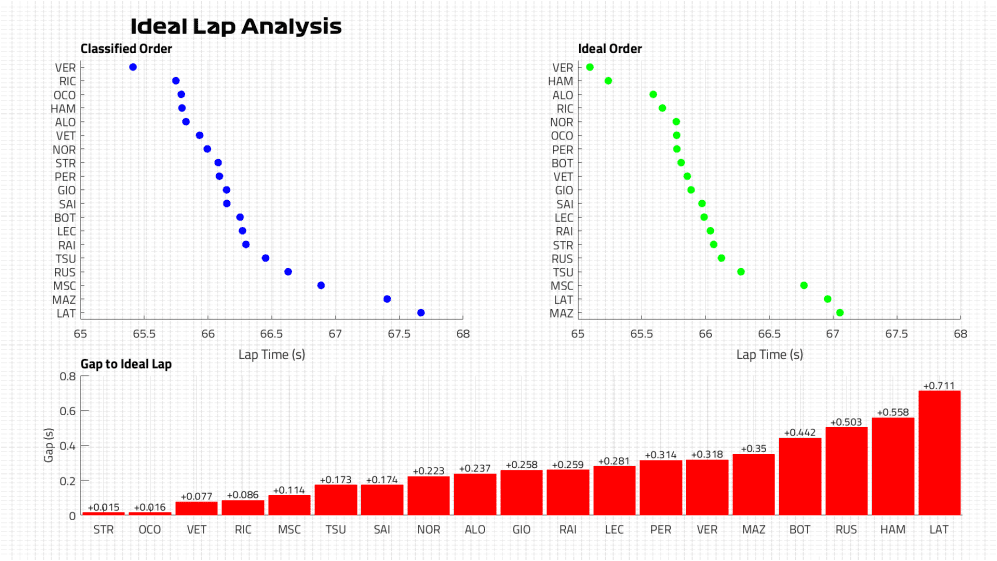 "It's been a productive day for us and a lot drier than we'd expected from the forecast," said Mercedes trackside chief Andrew Shovlin. "The drivers were fairly happy with the car throughout the day; the first session was odd as we looked off the pace but the balance of the car wasn't far off where we expected it to be.
READ MORE: What the teams said - Friday in Styria
"There were a few tweaks to the set-up going into the afternoon and encouragingly, our pace looked a bit better both on single lap and long run, although it could have been a mixture of conditions coming towards us and improving the car. It's a tricky circuit to set the car up for as the track warp in the slow speed corners makes it difficult to find a consistent balance and on such a short lap, any mistake can be very costly.
"However, we've got some good direction from today and can no doubt make further steps forward. The forecast remains unsettled so there's every chance we'll still get some wet running."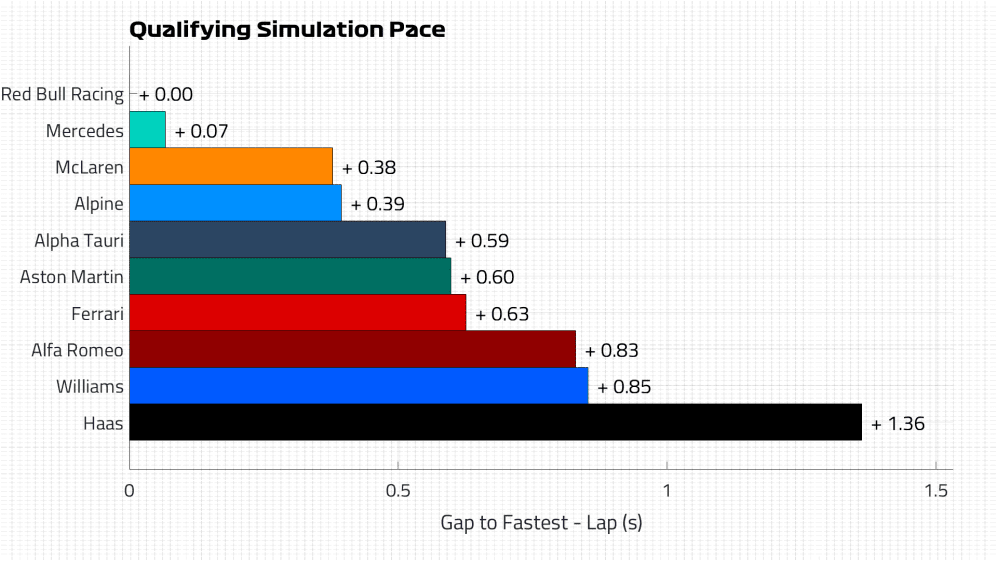 3. McLaren facing fight with Ferrari for best of the rest
This was a mighty fine day for McLaren, as Daniel Ricciardo had his best Friday since joining the team to secure second fastest on the timesheets.
The Australian found confidence in the car quickly, and was able to build through the session. And while his team mate Lando Norris was five places further back, the Briton had a flurry of laps deleted for track limits as he – in his words – "explored the limits" and after a few changes into FP2 was pretty happy with how his car was dialling into the track.
READ MORE: Ricciardo credits 'three schnitzel' diet for P2 in second practice at Styrian Grand Prix
They were third-best in the short run pace rankings, just 0.01s clear of Alpine, but they face a threat from chief rivals for P3 Ferrari in the race, the Scuderia showing extremely strongly in the long run data grab, 0.44s per lap off the pace, but just over one and a half tenths quicker than McLaren.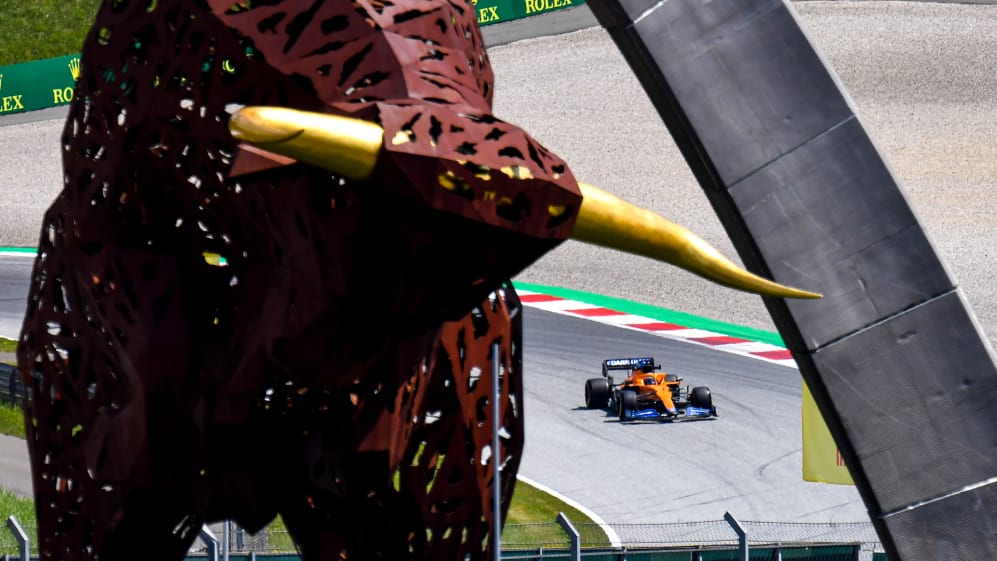 4. Alpine could be in the mix for solid points
Esteban Ocon was cautious about his team's chances after finishing third-quickest in Friday practice, and who can blame him after the Frenchman had a similarly strong performance in France only for his weekend to go downhill – and quickly – last time out at Paul Ricard.
His team mate Fernando Alonso backed up that speed with fifth, four-tenths off the pace. Had he got all his best mini sectors together (as shown in the Ideal Lap chart, above), he would have moved up to third, behind Verstappen and Hamilton.
READ MORE: Alonso says Alpine on track to achieve Q3 and double points after strong Friday pace
Our data suggests Alpine should be contenders for not just Q3 but also the third row on the grid at the very least.
Their race performance wasn't so sparkling, the French team dropping to fifth overall, 0.74s off the pace and only a fraction ahead of AlphaTauri. But both Alonso and Ocon were happy with the car from the off and feel like if they can do some good homework overnight, gains are for the taking on Saturday.
5. The weather makes this weekend even more unpredictable
While rain didn't strike the Red Bull Ring until around two hours after practice ended – with a heavy downpour that was so severe, F1 running would have almost certainly been postponed had cars been on track – the chances of the wet stuff falling on Saturday and Sunday are significantly higher.
And that means a lot of the learnings in the dry will not be that useful for qualifying and the race. Throw into the mix that the Red Bull Ring has the shortest lap on the calendar – at just over a minute – and you have a field that is very tightly bunched. Half a second split the top six and eight-tenths the top 12. And that means even the smallest mistake can cost you several rows on the grid.
READ MORE: What's the weather forecast for the 2021 Styrian Grand Prix at the Red Bull Ring?
Reacting to conditions this weekend, getting banker laps in early doors and cutting out the mistakes will be even more crucial than normal as it could make or break your qualifying.
Add into the mix the subject of track limits, with countless laps getting deleted for taking liberties at the final two corners – and we've got the makings of a cracking Grand Prix.