Feature
6 Winners and 5 Losers from the Sao Paulo Grand Prix – Who bossed it in Brazil?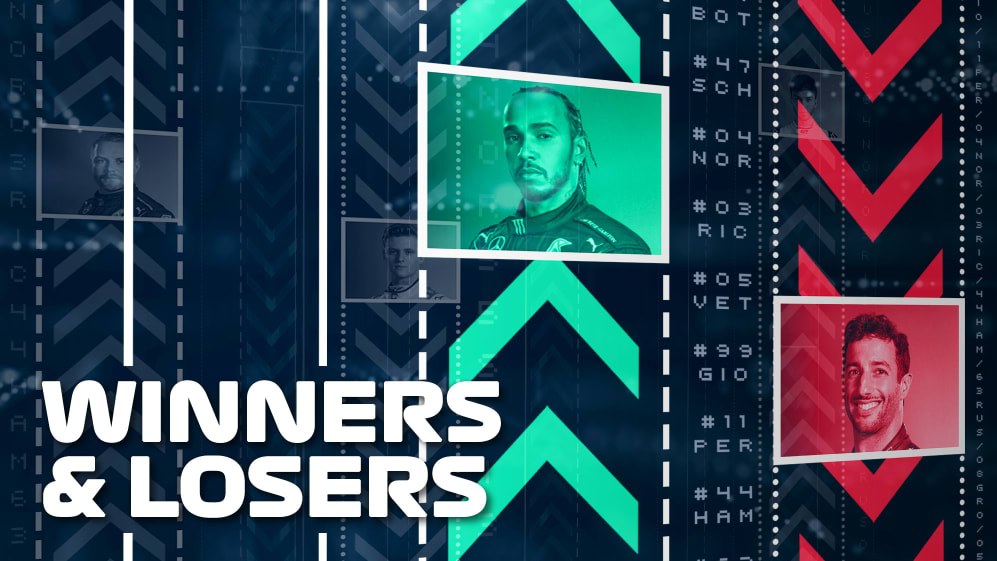 Lewis Hamilton made up a total of 25 places in 95 laps (across the F1 Sprint and Grand Prix) to leave Brazil with his 101st victory in his pocket. We've picked out our six winners and five losers from a scintillating weekend at Interlagos…
Winner: Lewis Hamilton
Before Brazil, just one of seven-time world champion Hamilton's 100 victories – in 284 starts – had come from outside the top six on the grid (he triumphed from 14th in Germany in 2018).
He made that two at Interlagos, cutting through from 10th on the grid to take his sixth win of the season. It was the biggest comeback drive the venue had ever seen – no one had previously won from lower than eighth.
READ MORE: 'I don't remember another weekend like this' says Hamilton after sensational last-to-first comeback in Brazil
It was also only his second win since the summer break, leaving him just 14 points adrift of Verstappen in the drivers' championship and 107 still to play for with three races to go.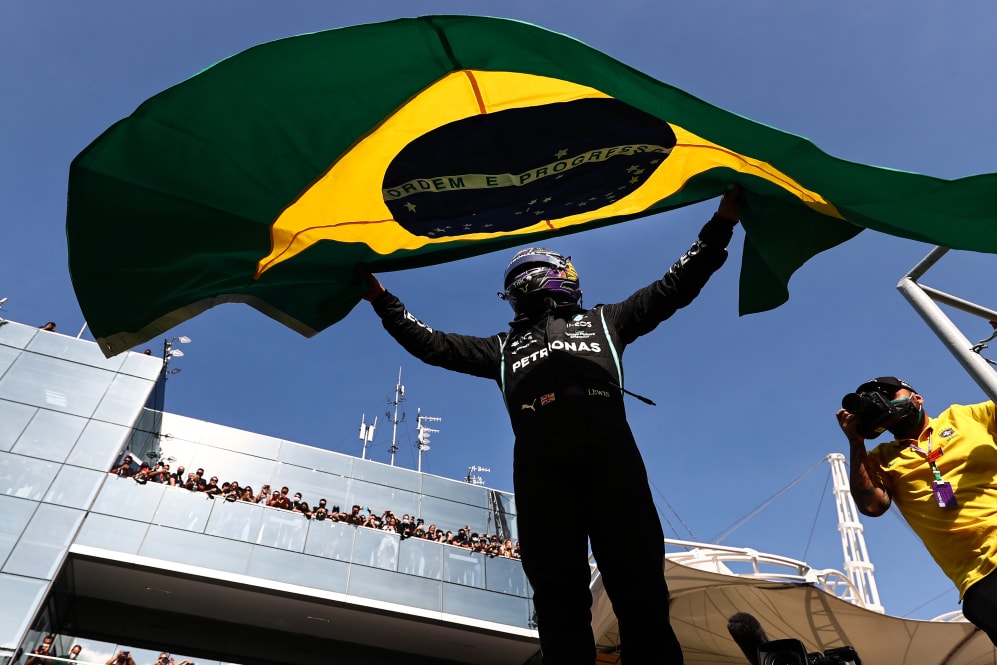 Loser: Max Verstappen
Second in Brazil was Max Verstappen's 15th top-two finish in 19 attempts this year, but it was not the step of the podium the Dutchman was targeting ahead of the weekend.
He declared himself "satisfied" with the result and has Red Bull team mate Sergio Perez to thank for stealing the fastest lap point off Hamilton at the death to minimise the championship loss.
READ MORE: 'It was a good battle' – Verstappen gives his take on his Lap 48 defence from Hamilton in Brazil
Verstappen leaves Brazil with his lead intact, albeit slimmer than he would have hoped, but a wallet that is substantially lighter following his €50,000 fine for examining Hamilton's rear wing in Parc Ferme after qualifying.
Winners: Ferrari
Ferrari are on an immense run of form, the Scuderia getting both cars into the top eight for the fourth successive race. With Charles Leclerc fifth and Carlos Sainz sixth, they scored 18 points in a Grand Prix for the third time in succession.
It was Leclerc's 10th top-five finish, while Sainz extended the longest active points streak of any driver to 12 races. Their collective haul puts Ferrari 31.5 points clear of McLaren in the fight for P3 in the constructors' championship.
READ MORE: Ferrari pull clear of P3 rivals McLaren, as Sainz and Norris tangle in Brazil
Loser: Daniel Ricciardo
Daniel Ricciardo showed better pace in the Grand Prix than in Saturday's F1 Sprint, which allowed him to move himself into the top 10 and contention for points.
But a loss of power forced his first retirement of the season and first since Austria 2020. It ends a 34-race finishing streak and leaves him with just one points finish in the last four races.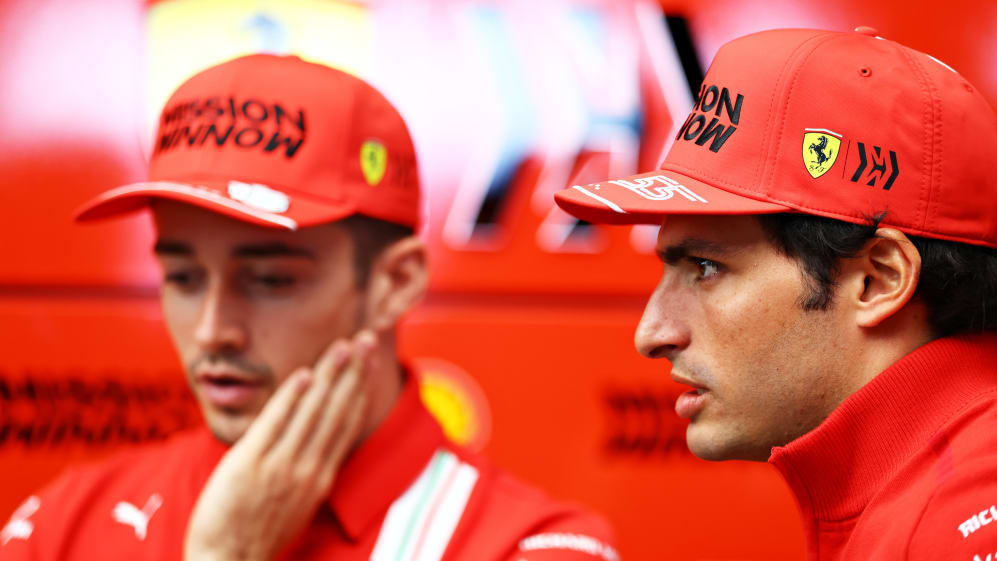 Winners: Mercedes
Mercedes may have had the fastest car at Interlagos, but their weekend was set to be a tricky one from the moment they decided to fit Hamilton's car with a fresh engine, triggering a five-place grid penalty.
It got harder when he was disqualified from qualifying for a rear wing infringement. But Bottas did his job on Saturday, winning the Sprint, with Hamilton recovering to a brilliant fifth.
READ MORE: We've taken 'many punches in the face this weekend' says Wolff as he brands Verstappen's Lap 48 defence 'over the line'
Then on Sunday, Hamilton made up nine places to win, while Bottas recovered from a poor start from pole to take his first podium since Turkey and give Mercedes their first double podium since the Netherlands. They now lead Red Bull by 11 points.
Loser: Yuki Tsunoda
Yuki Tsunoda and his AlphaTauri team went aggressive as the only ones to start the race on the soft tyre – with everyone else on the more durable mediums.
It looked like a solid move as the Japanese driver made some progress up the field, but a collision with Lance Stroll at the first corner after a few laps broke his front wing, and while he recovered to the pits and rejoined, the damage affected his pace and he ended up 15th.
RACE HIGHLIGHTS: Watch all the action from a thrilling Sao Paulo Grand Prix at Interlagos
Winner: Pierre Gasly
There was better news for the other AlphaTauri, with Pierre Gasly's impressive 2021 campaign continuing. The Frenchman pulled of a string of overtakes, including on the Alpines of Fernando Alonso and Esteban Ocon, to finish seventh.
That's his 13th points finish of the season and moves him four points away from his highest ever season total in F1. His score also ensured AlphaTauri remain locked on the same points with Alpine in the constructors' championship.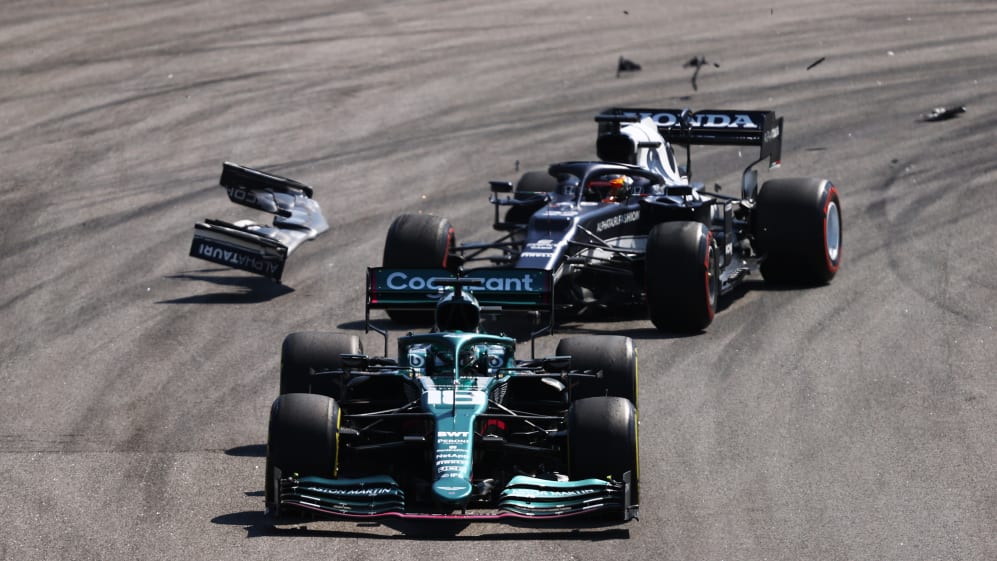 Loser: Mick Schumacher
There have been highs and lows for Mick Schumacher in his rookie season and Brazil was one of those races that saw a bit of both.
He made a good start to run three places higher than his grid slot in 15th, but misjudged a pass on Kimi Raikkonen at Turn 1, making contact with the Alfa Romeo that broke his front wing.
He cruised back to the pits and fitted a new nose, but he had lost a bunch of time and faced a lonely race thereafter.
Winner: Valtteri Bottas
Sure, Bottas wasn't able to convert pole into victory, but he recovered well from a poor getaway, first moving aside to allow title chasing team mate Hamilton through, then showing strong enough pace that when the VSC was thrown, he was in a position to benefit and leapfrog Perez for the final podium spot.
READ MORE: Sao Paulo GP Facts & Stats, Hamilton-Bottas match Schumacher-Barrichello win record
By beating Perez he ensured a decent points haul with Hamilton for Mercedes that extends their constructors' championship lead. It was his second podium in five races and that moves him 25 clear of Perez in the fight for P3 in the drivers' standings.
Loser: Lando Norris
This was Lando Norris' seventh successive points finish, but it's a measure of how far he's come that a single point for the second successive race is hugely disappointing.
The Briton made gains in Saturday's Sprint and was set to make more progress over the line after an electric getaway, but he made contact with his friend and former team mate Carlos Sainz that gave him a puncture and dropped him to the back.
READ MORE: What the teams said - Race day in Sao Paulo
That he recovered to the top 10 showed how much pace he had, but with Ricciardo failing to finish, it has dented McLaren's hope of beating Ferrari to finish third in the constructors' championship.
Winner: Brazilian fans
There's always a lot of love for F1 from the Brazilian fans, and this year was no different. Fans streamed into the circuit in their thousands, creating a carnival atmosphere.
They have taken Hamilton under their wing, the Briton making no secret of how much inspiration he has taken from their hero Ayrton Senna. With no Brazilians on the grid, they have made Hamilton one of their own.
They were rewarded with one of the finest performances F1 has ever seen, the crowd cheering his every pass and exploding into celebration when he secured a fantastic comeback victory.
READ MORE: Hamilton brings back Senna-inspired helmet, as Verstappen also sports new design in Brazil