90th career pole required 'absolute perfection', says Hamilton
Lewis Hamilton's seventh Hungarian Grand Prix pole – and the 90th of his career to date – was a beauty, his Mercedes W11 looking nicely hooked up around the 2.7-mile lap. But according to Hamilton, beating his team mate Valtteri Bottas to P1 at the Hungaroring had required a lap of "absolute perfection".
Having been narrowly outpaced by Bottas in Free Practice 3, Hamilton found another gear in qualifying, as he headed Q2 from the Finn by two-tenths before a monster final effort in Q3 saw him establish a new track record, as he stopped the clocked at 1m 13.447s to claim pole position – over a second faster than Max Verstappen's pole time from last year, and 0.107s clear of Bottas.
READ MORE: Electric Hamilton beats Bottas to Hungarian Grand Prix pole
"It felt great, just in general, qualifying all together felt really solid," said Hamilton. "We were just constantly pushing the bar higher. To get to drive a car like this around a track like this is just awesome. Turn 11 was nearly flat for us today which is quite insane, the speeds we go through there. It's impressive to see how far the technology has advanced.
"Hungary has always been a good hunting ground for me," he added. "Valtteri did a great job today, applying a lot of pressure… [He] doesn't make it easy for me at all. It requires absolute perfection when it comes to doing laps and qualifying like that is what I enjoy doing most."
Pole had had an air of inevitability for Mercedes, with the team having looked dominant across the weekend in spite of some impressive performances from Racing Point – with Lance Stroll taking P3 in qualifying, ahead of team mate Sergio Perez in fourth. But Hamilton moved to downplay any notion of Mercedes' dominance being 'easy' in the post-qualifying press conference.
"Whatever the case, it's intense," he said. "We're performing at the absolute maximum of our capabilities, we're right on the ragged edge. Yes, we've got a fast car but we're right on the ragged edge of that car, and you're throwing that thing around, we would like to believe, better than anyone else can do it. And that's what we're going to continue to do."
READ MORE: AS IT HAPPENED - Qualifying in Hungary
Meanwhile, asked what it meant to him to secure his 90th pole position – the same number as Jim Clark and Sebastian Vettel's pole positions combined – Hamilton replied: "Crazy. I have to pinch myself, it just doesn't register. It's quite humbling to be honest."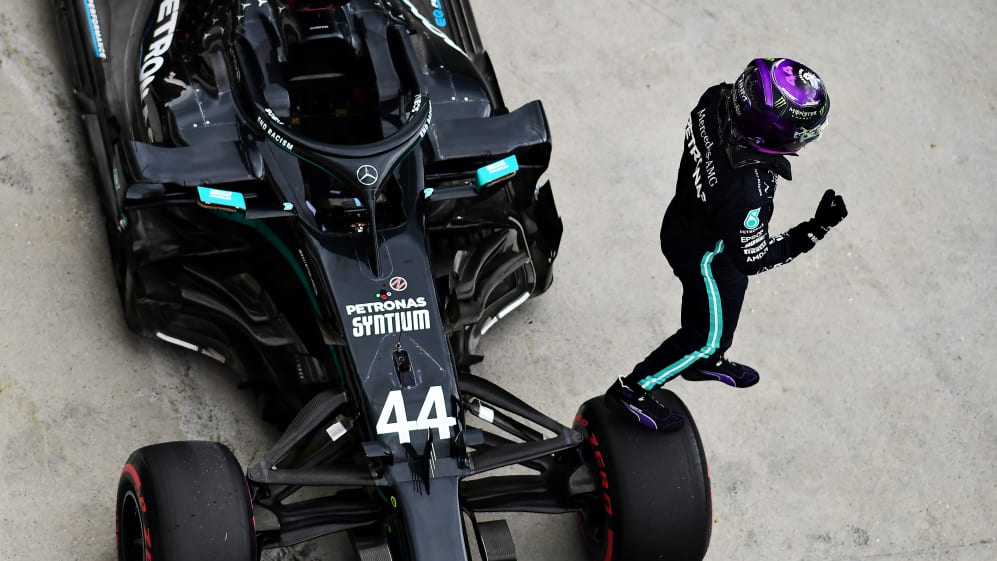 An eighth Hungarian Grand Prix win tomorrow would see Hamilton tie with Michael Schumacher for the most wins at a single venue. But with his team mate alongside him on the front row and a long run down to Turn 1 – plus an unsettled weather forecast – Hamilton wasn't getting ahead of himself just yet.
"It's a long run down to Turn 1 so nothing's a given here," he said. "We've just got to do the work this evening and ultimately I've got to deliver on the start tomorrow. It's quite a long race and we don't know what this weather's going to do for us tomorrow, but for sure I'll have my head down and be focusing as hard as I can to try and bring a 1-2 home for the team."