'A lot left on the table' – Champions Vettel and Alonso on their low-key first day with new teams
Second practice was enticingly close with just a second covering the top 16 cars, and the prospect of Sebastian Vettel and Fernando Alonso being 0.001s apart is just as exciting, until you realise they were 14th and 15th.
The tight midfield picture that was seen in pre-season testing continued on Friday in Bahrain, with FP2 particularly close after the qualifying simulations. While Lance Stroll got into the top eight and Esteban Ocon was just outside the top 10, their more decorated team mates were languishing towards the back of that pack, with Vettel searching for consistency in the Aston Martin.
FP2 HIGHLIGHTS: Watch the key moments as Raikkonen crashes and Verstappen goes quickest
"We tried to get the most out of the time that we had," Vettel said. "I think every lap still helps me to get used to the car and get into a rhythm. I'm trying a lot of things, I think there's still a lot to try and a lot to learn but it seems like fun."
"We are obviously now looking into some of the stuff we tried in the afternoon or the evening. Hopefully it will be a bit more clear and calmer tomorrow, but I think that's probably true for the rest of the pack as well."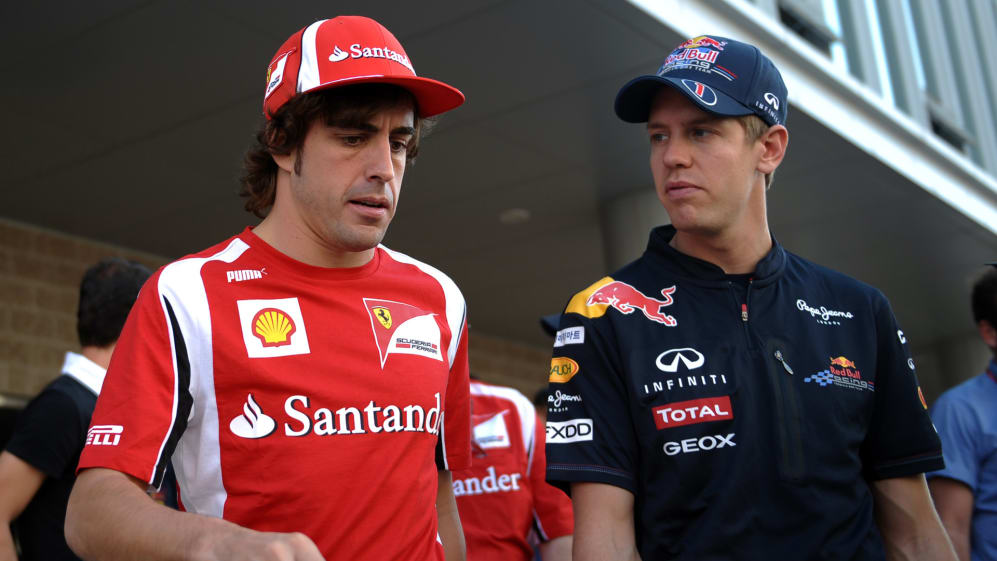 Given how close the field appears to be – Vettel was less than 0.7s off Lewis Hamilton in third place – the four-time world champion sees the potential for a clear jump up the standings if he can get more comfortable.
"I feel there's still a lot left on the table just to get used to the car and being able to squeeze the limit. Right now it seems a bit up and down – sometimes I'm really good and other corners I'm far out, but that's normal. Hopefully come tomorrow with more consistent running I'm able to squeeze the limit everywhere."
For Alonso, it was a first Friday practice session since 2018 and the Spaniard was revelling in his return with Alpine.
READ MORE: Hamilton says Mercedes have improved, but Bottas labels W12 'undriveable' on first day of practice in Bahrain
"It felt good," Alonso said. "It felt amazing to be back and you feel different to testing. Racing is racing, and today I had that feeling, so I enjoyed the two sessions so much. Still working with the team on fine-tuning the set-up - different conditions to testing - but as I said I really enjoyed every lap."
And the positive outlook stems from optimism that there is a lot more performance to come from Alpine as they react to this weekend's conditions in Bahrain.
"Well I think we have something in the pocket to be honest because the balance is different to the test. So we are working around the set-up to fine-tune the balance and I think we have good ideas for tomorrow so I'm confident we can do a good job."
READ MORE: 'We didn't expect to be as competitive' says Leclerc after positive start for Ferrari in Bahrain