Feature
A proper Mercedes vs Red Bull fight & a tricky tyre situation – What To Watch For in the Bahrain GP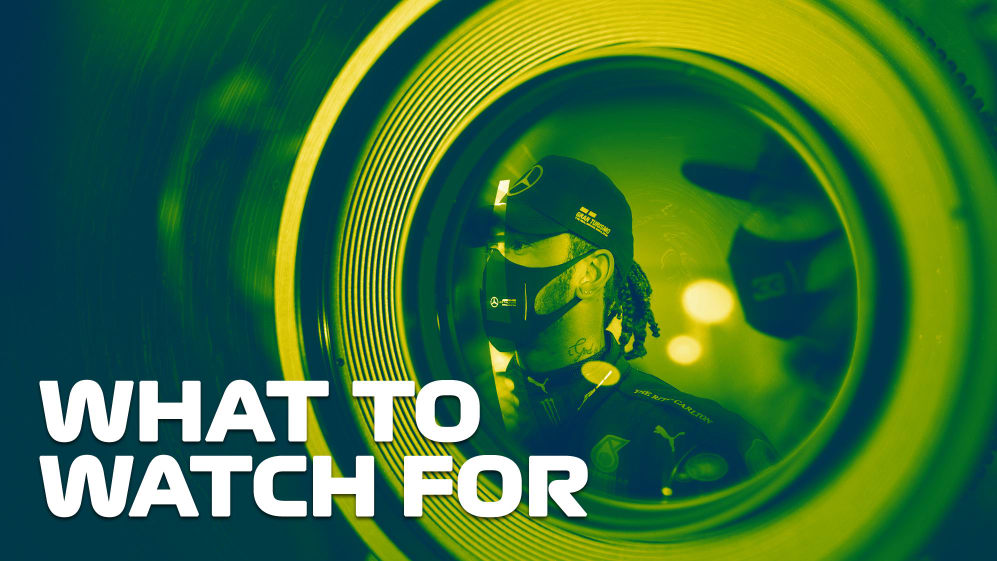 From two Red Bulls able to take the fight to Mercedes, to Ferrari eyeing points, and Carlos Sainz facing a tough evening under the lights, to tyres facing an, er, tough evening under the lights, we highlight five key points to keep an eye on in Sunday's race at the Bahrain International Circuit…
Is Verstappen a realistic threat?
The Red Bull driver was quick in qualifying but faded in Q3
Mercedes came flying out of the blocks on Friday, but Red Bull have slowly been chipping away and by the end of FP3, Max Verstappen was top of the times.
Even though final practice took place in different conditions to qualifying – which was after sunset – Verstappen continued to show good pace, and after his first Q3 run he was just 0.2s off Lewis Hamilton and split the Mercedes pair. He ended up P3, but there are advantages to that, as he is on the clean side of the grid and there is a fairly long run before a big braking zone at Turn 1.
READ MORE: Verstappen hopes heavy tyre wear could work to his advantage as he predicts 'exciting race' from P3
Verstappen also showed good tyre management in final practice, so if Red Bull are able to look after their rubber better than Mercedes, he could prove to be a real threat. And that also is due to who is starting alongside him…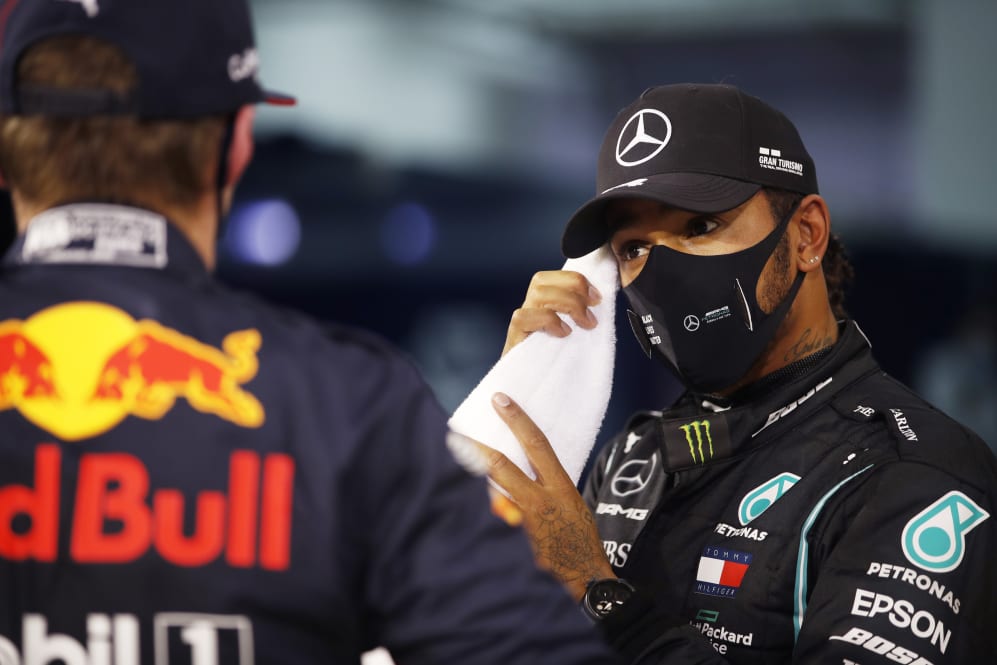 Albon giving Red Bull a strategic advantage
The two Red Bulls make up the second row
Alex Albon starts alongside his team mate on the second row for only the second time this season, and that opens up more possibilities for Red Bull from a strategic point of view.
On many occasions, Albon hasn't been able to run ahead of the midfield from the start of the race, and that has meant he has been out of range to have any impact on Verstappen's fights with the Mercedes drivers. But if he can get away cleanly and follow the top three, then the fact that it's likely to be a two-stop race will mean Mercedes will have to think about traffic when making their first stops.
READ MORE: 'From where we were 24 hours ago, it's good' – Albon pleased to bounce back from crash with P4 on grid
In another scenario, if either Albon or Verstappen can get themselves ahead of at least one of Hamilton or Bottas at the start, then the other will be able to prevent Mercedes going for a simple undercut to try and overtake.
Whether the race pans out that way or not, Albon has put himself in a good position to score strongly, and quickly erase memories of his big FP2 crash.
Ferrari starting outside the points
P3 in the constructors' championship was looking possible before this weekend
If Albon's performance is encouraging for Red Bull, then Ferrari will be disappointed to see both of their drivers so closely matched in qualifying. That's because Sebastian Vettel and Charles Leclerc were separated by just 0.016s, suggesting they got the most out of the car on Saturday, and that was only good enough for 11th and 12th on the grid.
READ MORE: Leclerc admits he 'hasn't been driving cleanly' as Ferrari miss out on top 10 in qualifying
Normally those starting positions would offer a really strong opportunity in terms of strategy, but with the whole of the top 10 starting on the medium tyre, there's no chance a driver ahead will be struggling on the softs just a few laps into the race. Still, Vettel believes Ferrari will have opportunities.
"We'll see – it might be a good place to start the race from," Vettel said. "Obviously the cars all went through on medium so no real advantage there on the tyre choice but let's see what we can do. We were not so strong [on Friday] so we need to be sharp tomorrow and I think a lot will be decided with the tyres and how you manage them."
Given Racing Point and McLaren each have a driver starting behind the two Ferraris, all is not lost in the constructors' battle.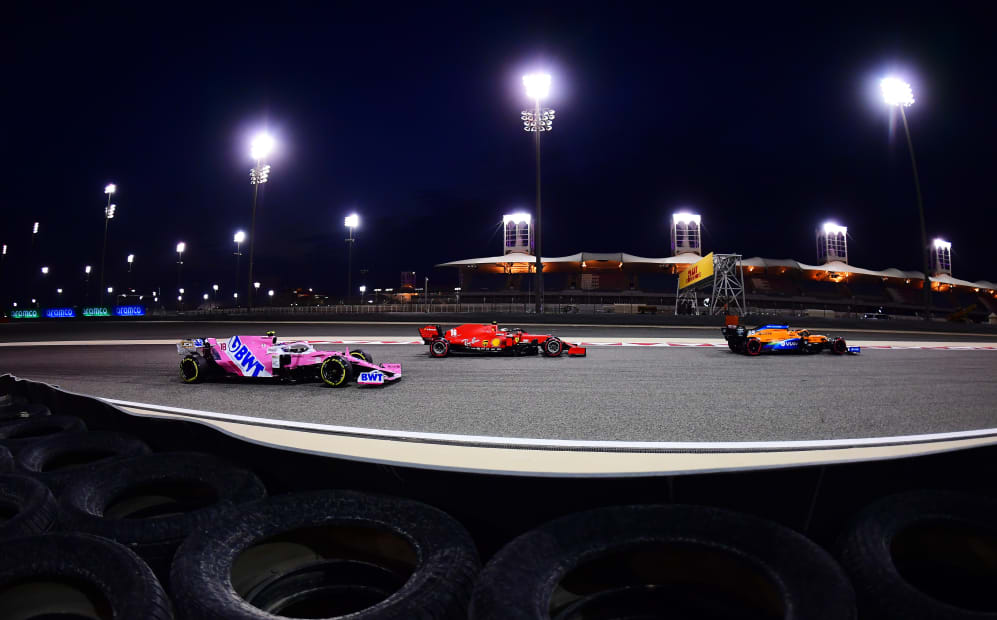 Sainz on the back foot
A brake failure forced him out in Q2
Carlos Sainz doesn't seem to get much luck in Bahrain. The Spaniard has yet to score a point here throughout his F1 career so far, retiring from the first three races, ending up 11th in 2018 and then last year picking up a puncture when attacking Max Verstappen and being classified 19th.
So you can forgive him for being annoyed when a rear brake failure meant he locked the back wheels and stopped at Turn 1, eliminating him from qualifying before he had even set a time in Q2, and leaving him 15th on the grid. But what made the incident even more frustrating is the fact that it ruined a set of Sainz's tyres that were going to be needed in the race given the aim of doing a two-stop strategy.
READ MORE: Sainz left 'very disappointed' as technical problem causes huge spin and damages race chances
Sainz is now extremely limited on his strategic options, but clearly has a fast car under him as he was fifth fastest in FP3. How much progress he can make could be defined by his available tyres.
Late drama
Tyre degradation could mix the race up in the closing laps
One of the biggest challenges of the Bahrain International Circuit is the impact it has on tyres. A number of long straights tend to make it look relatively simple, but there are multiple slow corners leading onto those straights, putting an emphasis on traction if you want to get a good exit.
That means if you overheat the rear tyres, you really start to struggle and lose a lot of lap time. It allows drivers to get close enough to overtake, because they get an advantage from the start of the straight that means they are in a position to make a move by the end of it, if not before.
Qualifying report: Hamilton on pole from Bottas as Red Bull lock out the second row in Bahrain
This race has often been one that requires multiple pit stops, and this weekend is looking no different, with a repeat of last year's two-stop strategy predicted to be the quickest approach. Even then, the tyres will be starting to struggle towards the end of the race, but for anyone risking a one-stop they will also be hanging on in the final laps.
Big gaps can be erased in just a few laps if a driver struggles with their tyres around here, so it's unlikely that anybody will feel comfortable until the chequered flag.