Abu Dhabi performance 'a worthy final race for me', says Hulkenberg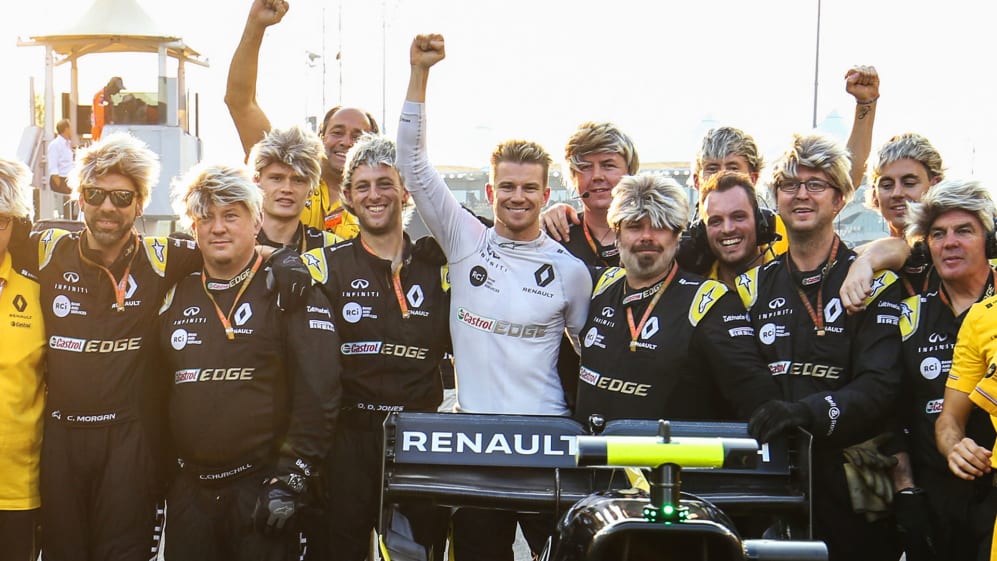 Like Fernando Alonso 12 months ago, it's not yet clear whether Nico Hulkenberg will return to Formula 1 in the future. But if the 2019 Abu Dhabi Grand Prix does go down as the German's last race, Hulkenberg was at least pleased with his final F1 outing, even if he came home just out of the points in P12.
Hulkenberg was actually hurt by a decent qualifying performance at the Yas Marina Circuit, which saw him make it through to Q3, requiring him to start from P9 on the soft tyre, as rivals behind with a free choice opted for mediums and hards.
WATCH: 'It doesn't feel like the end', says Hulkenberg
Hulkenberg did well on a one-stop strategy to hang onto a points-paying position until the very last lap of the race, before Carlos Sainz and team mate Daniel Ricciardo – who'd both opted to two-stop – then demoted him from P10 to P12 with just 10 corners to go.
But far from being disappointed, when asked how he was feeling after potentially his last race in F1, Hulkenberg replied: "I'm feeling good – kind of relieved it's all over.
"I'm happy that I've done a good race, I've thrown everything at it that I could. A shame not to get that point in the end, but that one-stop was hard to pull off, and at the end, my tyres were just degrading too much and I couldn't hang onto it.
"In hindsight going into Q3 was maybe not the best thing, having to start on the soft," he added. "The people from [P11] onwards, they had a bit of a different strategy obviously and that paid off in the end.
"But a worthy final race for me, happy and relieved to cross the line with good feelings… [and] to finish the race in style. Felt good in my performance, so that was important for me, to finish in this way. [Now I'm] looking forward to giving everyone a cuddle in the garage and grab a beer."
READ MORE: Carlos Sainz on the move on Hulkenberg that gave him P6 in the championship
Formula 1 is a hell of an environment to grow up in as a young adult
Asked for the memories he'd take away from his 10-season career in Formula 1 – which netted him one pole position and 511 career points – Hulkenberg reflected: "It's a hell of an environment to grow up [in] as a young adult, a very unique and special environment.
"This whole Formula 1 industry, it's very unique. But I'm happy and grateful for my time here; met amazing people, made amazing friends and memories and I'll look back on it with a smile on my face.
"Thank you to [Renault]. Three years over, good years – not fantastic years, but still it was cool, fun at times. We had highs and lows and definitely have to say thank you to them."