Albon says it's a 'bit disappointing' to miss out on the top five after qualifying P6 in Monza
Alex Albon may have taken P6 in Saturday's qualifying outing in Monza. But the Williams driver admitted to being slightly disappointed at narrowly missing out on a place in the top five for Sunday's Italian Grand Prix.
Albon had shown a good turn of pace for most of the weekend, picking up where he left off last weekend in Zandvoort when he qualified P4. The Thai racer's final lap in Q3 was good enough to put him fifth until George Russell last attempt knocked him down to sixth.
READ MORE: Sainz pips Verstappen and Leclerc to pole in ultra-close Italian GP qualifying
Asked how he felt about his performance after jumping out of the FW45 cockpit, Albon said: "Very good. A good weekend, a good session. In some ways a bit disappointing, because Q1 and Q2 [where Albon took P2 and P5 respectively] were looking a bit stronger, but I was happy with my lap.
"I felt like we did a good job, we executed it well. It was just not quite top five – I guess in some ways that was a bit of an aim. But let's see tomorrow. I think the car's feeling good. The [race] pace on Friday wasn't as good, we had a bit of degradation.
"We've been chipping away at it, because since FP1, the car's actually been focused a bit more towards the race car than the qualifying car. Anyway… I ramble!"
When asked whether he was confident about his performance heading into the race, Albon responded – referencing this weekend's second trial of the Alternative Tyre Allocation rules that mandate the use of hard tyres in Q1, mediums in Q2 and softs in Q3: "Now the session's finished, I want to see if everyone saved a set [of tyres] – who did, who didn't.
READ MORE: Russell's P4 in qualifying 'exceeded expectations' as Hamilton admits he has been 'slow from the get-go' in Monza
"I feel like in Q2, we did a really good Q2 run one, and maybe it wasn't necessary to put that second set of mediums on because now we don't have any new tyres for tomorrow.
"So, it's going to be really interesting to see who's saved a new set or not – that will make a big difference in the race tomorrow. So, we're at a slight disadvantage, but we're not really racing those cars in the front; our race tomorrow is with the McLarens and Fernando [Alonso], so let's see."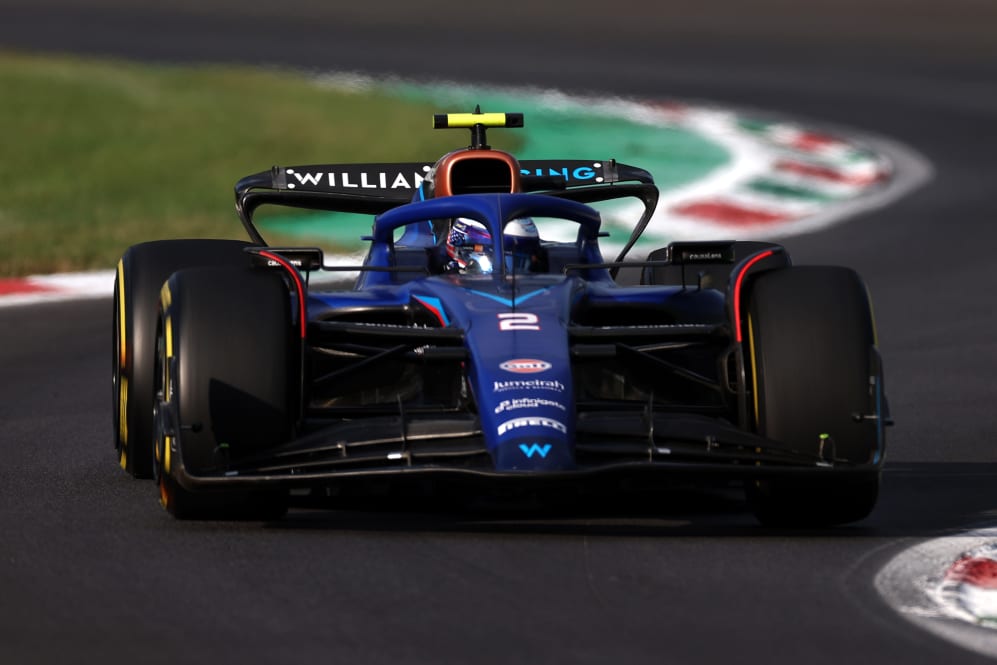 Albon's team mate Logan Sargeant also looked quick for much of the weekend but was left disappointed by his final attempt in Q2 where he felt he left "little bit on the table", with the rookie set to line up 15th in the race – having taken a promising P6 in Q1.
When asked if he was disappointed with his performance, Sargeant said: "Yeah. I feel like every time we've had the hard tyre on, the pace has been really good, and it feels like the car's been under me. Did I leave a little bit on the table? Yes, but not the amount that I needed.
READ MORE: Verstappen optimistic Red Bull have the race pace to beat Ferrari to victory at Monza
"I feel like I've struggled to get that tyre working all weekend, I'm not really sure why to be honest. I was doing my best to do the out-lap as expected, but I just didn't feel the increasing grip.
"I think I found three-tenths from my very first lap on the hard compound to my very last lap on the medium, so disappointing to have that big of a swing between Q1 and Q2."
Asked whether he was optimistic about his chances on moving forward on Sunday, Sargeant replied: "Yeah, that's the goal, I'll do my best. We haven't had that many opportunities to do a proper long run yet this weekend.
"So, we're going a little bit into the unknown into tomorrow, but I think there's always opportunities on the table. This race is normally pretty crazy, so we'll do our best to move forward and make something happen."