Alonso explains why he didn't attack team mate Stroll for sixth in final laps of Spanish GP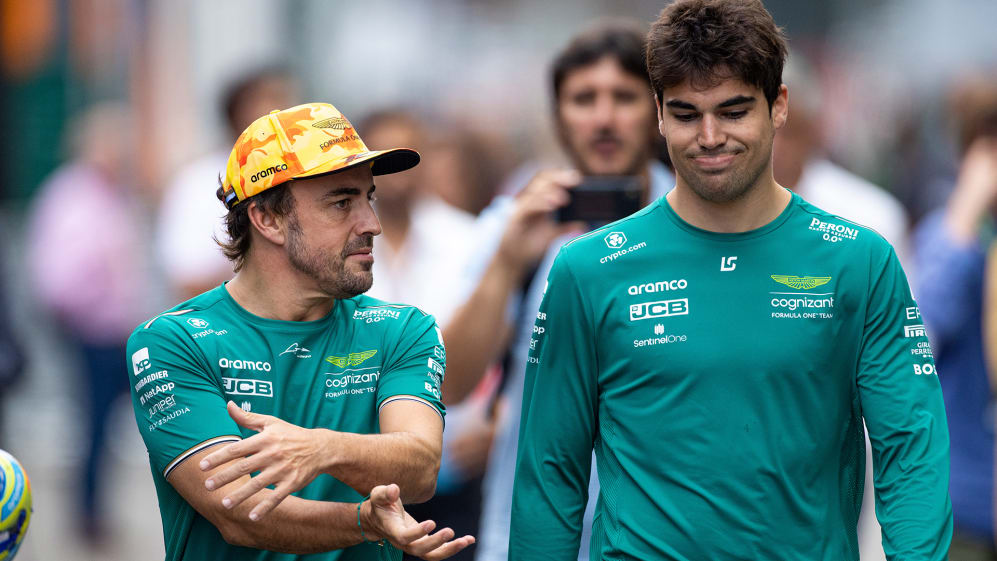 Fernando Alonso feels there was no need to engage in battle with Aston Martin team mate Lance Stroll during the closing stages of the Spanish Grand Prix, describing it as the "right choice" to hold station.
Alonso arrived on Stroll's tail while making use of fresher rubber, but despite getting within a second of the sister green machine, he ultimately opted against launching an attack as the pair settled for a solid haul of points in P6 and P7 respectively.
READ MORE: 'It is what it is' – Perez rues costly qualifying display in Spain but aims to reset and 'come back strong'
Speaking post-race, Alonso explained that he feared sustaining more floor damage in a wheel-to-wheel exchange, having already done so in qualifying, while highlighting that the points scored would have been the same for the team either way.
"I think I was a little bit faster, like one or two tenths – I had newer tyres [with] 10 laps to go," said Alonso. "But when you get close to another car, you have turbulent air.
"I damaged one floor [in qualifying] already, I didn't want to damage another one today and I didn't want him to damage his floor either by defending!
"For us it was the same, sixth and seventh, seventh and sixth, same points, so we just… Bringing the car home felt like the right choice."
READ MORE: Hamilton offers fresh Mercedes contract update as he prepares for Monday meeting with Wolff
Asked if he feels the Alonso and Aston Martin 'hype train' ran out of steam at his home Grand Prix, Alonso offered an amusing response, saying: "It will not happen again, this is the last race without a podium!"
Stroll, meanwhile, was left wanting more after moving up to third at the start, only to drop behind Mercedes pair Lewis Hamilton and George Russell and the recovering Red Bull of Sergio Perez as the race developed.
Regarding Aston Martin's general level of pace, and if it was different to what he had been expecting, Stroll said: "Yeah, it was. I was a little disappointed when cars just started passing us.
"We had a good start, settled into third, and I hoped we could keep a good pace throughout the race, but we just suffered a lot with degradation relative to Mercedes mainly and Ferrari as well – they just had a quicker car today."
READ MORE: 'We have to keep on working' – Verstappen vows not to ease off after fifth win of 2023 as he gets set for Mercedes challenge
As for whether he was surprised by Alonso not trying to pass him, Stroll echoed his team mate's sentiments, adding: "No, we were fighting for sixth and seventh, and I think we wanted to just bring it home at that point."
With Mercedes scoring a double podium finish, the Silver Arrows have leapfrogged Aston Martin for second in the constructors' standings and the 'best of the rest' spot behind leaders Red Bull.