Alonso not keen to repeat 7-year wait for podium – but warns Alpine 'need to keep feet on the ground' in Jeddah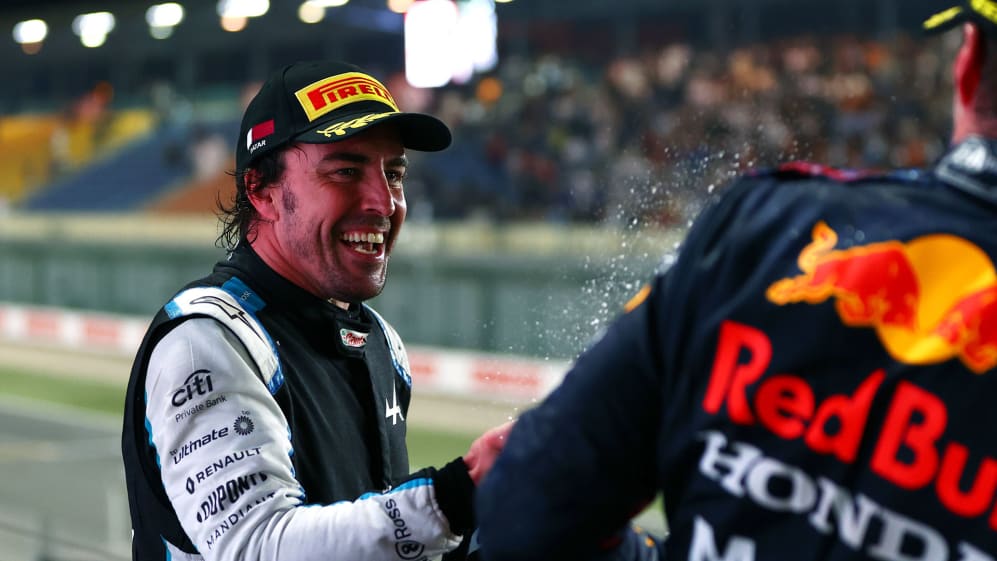 Following his Qatar Grand Prix podium, Fernando Alonso has said that he doesn't want to wait another seven years for his next rostrum appearance. But he warned against Alpine getting carried away with their hopes of repeating the feat in Jeddah, at this weekend's inaugural Saudi Arabian Grand Prix.
The double world champion has impressed throughout 2021 after returning to F1, and capped that return with third place in Qatar last time out. There were muted celebrations though, as Alonso says he marked his first podium since the 2014 Hungarian Grand Prix by "taking a plane, going back home!
"Within three weeks, we did Mexico, Brazil and Qatar [so] it was a normal night," he added, speaking in Jeddah on Thursday. "Some celebrations with the team after the race, happy with the podium. We'd been very close [to the podium] in a couple of races but we never had the luck or the performance to conclude. But in Qatar it was a very nice moment for us, the podium. Hopefully I don't have to wait another seven years and next year we are in contention for more."
READ MORE: Verstappen says Hamilton's title fight experience won't make 'a big difference' as he shrugs off pressure in Saudi Arabia
Alpine were extremely competitive in Qatar, as Esteban Ocon backed up his team mate by finishing fifth, helping the squad move 25 points clear of AlphaTauri in the battle for fifth in the constructors' championship.
But Alonso has warned Alpine not to get ahead of themselves before seeing how they fare on the Jeddah Corniche Circuit.
"We have to be humble, we have to have our feet on the ground," he said. "Again it's going to be a difficult weekend, the targets cannot change too much compared to the last couple of races. Being in Q3 will be the maximum target for us I think on Saturday, trying to be in the top 10 and in the points on Sunday will be also our main goal.
TREMAYNE: Could Alonso win a third title in the right car? Qatar gave us the answer
"The circuit looks fast, also everything has to be discovered tomorrow. We have some simulations, it could be a circuit that takes a lot out of the engine or deployment, or the tyres will be a big topic this weekend. Still too many unknowns to be sure but we'll do our best."
That's not to say Alonso is pessimistic about his prospects for this weekend, just wary of the way a new venue can provide opportunities to the whole grid – and won't necessarily play into his team's hands.
"It's difficult to say, there is an extra challenge for everyone on a new circuit," he said. "We don't know a few things on the track; we constantly improvise in the free practice, in qualifying and in the race. There are too many unknowns as I said before.
QUIZ: What has changed in between Alonso's 97th and 98th podiums?
"It definitely provides more opportunities but not only for Alpine or myself, it provides more opportunities to change a little bit the natural order of the cars... I think a new circuit can provide a little bit more action."
2021
Alpine head AlphaTauri by 25 points currently
POSITION
POINTS

5

Alpine

137

6

AlphaTauri

112