Alonso reflects on 'rollercoaster of emotions' race as he takes third place in Melbourne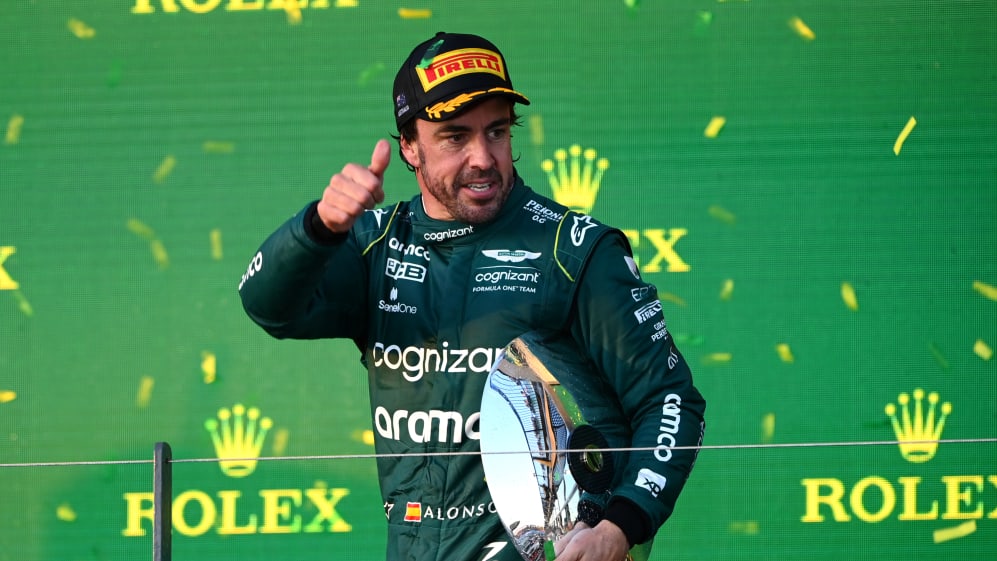 Fernando Alonso took the final place in an all-world champion top three in Melbourne, with the Spaniard taking the chequered flag in third place at Sunday's Australian Grand Prix, a race he described as "a rollercoaster of emotions".
Alonso lost out on Lap 1 to compatriot Carlos Sainz after starting in fourth, but gained an advantage when a Safety Car brought out for Alex Albon's crash turned into a red flag, Sainz and leader George Russell having pitted before the stoppage to promote Alonso up to third.
READ MORE: Verstappen takes first-ever Australian GP win amid huge drama in Melbourne
After the restart, Alonso looked set for another podium finish as he chased down Lewis Hamilton in second, but his third place was put in jeopardy by an ensuing red flag, with the second restart of the day seeing the Spaniard being spun around by Sainz at Turn 1, dropping him down the field.
However, he was put back up to third place by the stewards – after the race was red flagged once more before the drivers had got to the first sector – giving him a third straight P3 finish in 2023.
The Spaniard, a veteran of 358 race starts, was asked post-race whether he had ever seen a Grand Prix like this, to which he replied: "Probably not. We had a rollercoaster of emotions today. Many things going on at the beginning, but then also at the end. The last half an hour was difficult to understand what was going on.
MUST-SEE: Chaos in late restart as numerous drivers collide at the end of the 2023 Australian Grand Prix
"But the race itself, it was good for us in terms of pace. I think Mercedes was very fast, and Lewis did an incredible job today… I tried to force a mistake from Lewis all race long, [I] tried to get close, but he drove fantastically well, as the champion he is, and no mistakes.
"I only remember one lock-up at Turn 13 in 58 laps, so it was not possible today to put pressure, but yeah we take P3."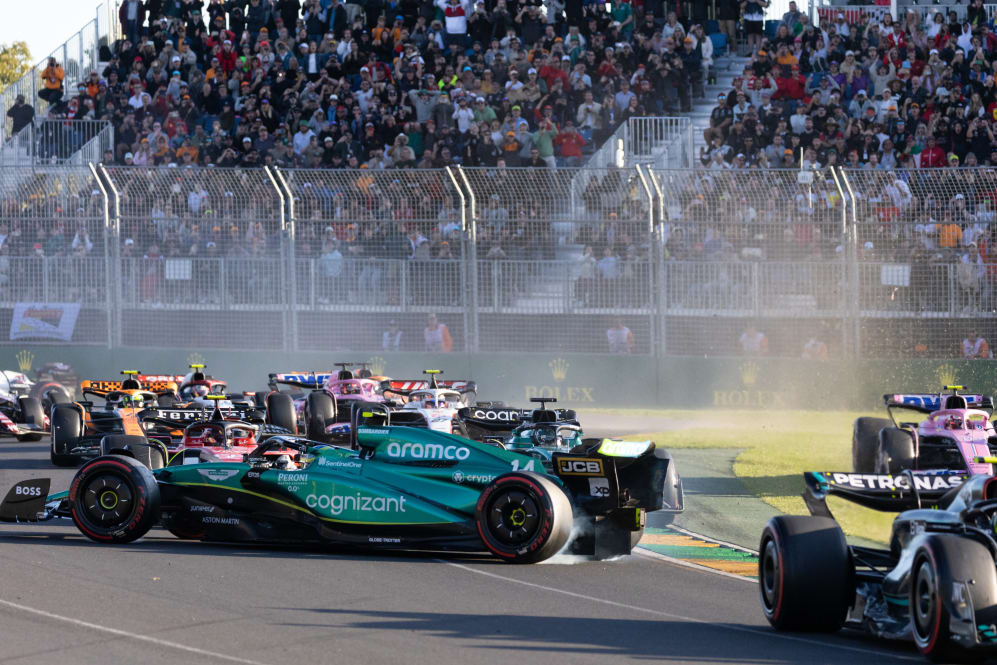 Alonso then reflected on his contrasting fortunes at the first two red flags, but was ultimately delighted with the outcome of the race, with his team mate Lance Stroll classified as finishing in a season-high fourth place.
"I mean the first red flag did helps us because George and Carlos came in so we took those places for free, and the second red flag probably didn't help us, obviously with the incident there," Alonso explained.
AS IT HAPPENED: Follow all the action from the 2023 Australian Grand Prix
"We got lucky again and we had another to just see the chequered flag in P3. As I said, P3, P4 for the team is just an amazing Sunday."
Following three consecutive third place finishes to start his time with Aston Martin, Alonso was asked what the goal was for him and his team going forward, to which he replied: "I guess a little higher up in the podium, because three third places... let's go for a second place at least!"