'Amazing' Bottas doesn't get the credit he deserves, says Hamilton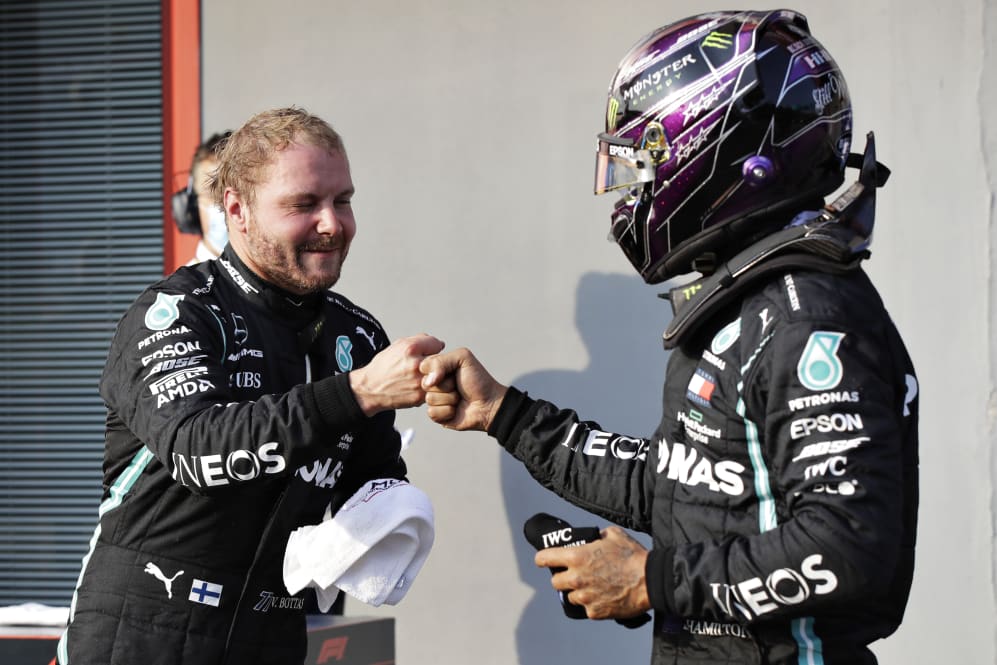 Lewis Hamilton has been the one making the headlines this year with his record-breaking exploits on track, but the British driver has been championing his Mercedes team mate Valtteri Bottas, and insists the Finn doesn't get the respect he deserves.
Since they became team mates in 2017, Hamilton has picked up an incredible 40 Grand Prix victories to Bottas' nine, but in qualifying, Bottas often pushes Hamilton extremely close and is more than capable of bettering the six-time champion – who holds the record for the most poles in F1 history – as he did at the Emilia Romagna Grand Prix two weeks ago.
Ahead of that race, Hamilton was asked how he often manages to grab pole by the tiniest of margins – sometimes just thousandths of a second – from his team mate.
"When I look back on those times they were too close, and they weren't good enough, because I believe that I have a certain amount of extra time in me," he said.
OPINION: Mercedes have earned the right to call themselves F1 greats
"But it's honestly just never giving up, never believing that it's over and just pushing to the limit, and trying to put all the pieces of the puzzle together in a rush.
"When you go into practice, you've basically got a new puzzle, and pieces are all over the place, and you only have a select amount of time to put all the pieces of the puzzle into place.
"And when you get to qualifying, sometimes you have half the puzzle done, sometimes you have the whole thing done, sometimes you have less, and then you just have to throw it all together and hope it comes together," he said.
But Hamilton, who is on course to win his seventh title this year, also said the tiny margins between himself and Bottas were also down to his team mate doing "an amazing job" and that the Finn doesn't get the respect he deserves.
"I think Valtteri doesn't get the credit that he's due because he does an amazing job," he said. "He's an incredibly fast driver, and I think he's better than a large portion of the field that are here – not only in his driving but also in his mental attitude and approach, because being a driver is not just about driving, it's not just about practice.
"It's about how you bring and elevate people around you, and he's great at that," he added.
READ MORE: Toto Wolff explains the key difference in Hamilton's approach that's given him the edge in 2020