Feature
An exciting Turn 1 & Albon hunting his maiden podium: What To Watch For in the Spanish GP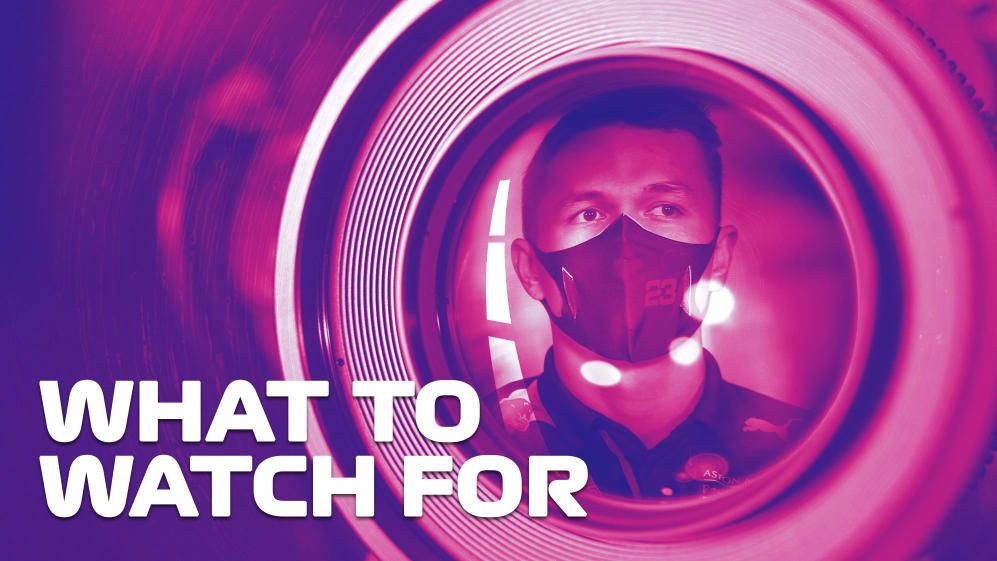 From Max Verstappen chasing back-to-back wins to outside podium threats, and from an epic midfield battle to strategic options for those just outside the top 10, we highlight five key points to keep an eye on at the Circuit de Barcelona-Catalunya…
Turn 1 central to the on-track action
It's a long run at the start and a great overtaking spot
The Circuit de Barcelona-Catalunya is a familiar venue for all of the teams and drivers as we regularly spend a number of weeks at the track for pre-season testing each year. But what is not so familiar is racing other cars on it.
It's a great testing circuit but it can also provide some epic racing, especially the first section of corners. The start of the race will be crucial, as there's a long downhill run to Turn 1, and with the first three corners all sweeping changes of direction, there are plenty of opportunities to make up ground – but also the potential to get involved in an incident.
READ MORE: Hamilton beats Bottas to pole in sweltering Spanish GP qualifying as Verstappen takes P3
Once the field spreads out, Turn 1 tends to be the main overtaking place, as it comes at the end of the long pit straight where there is DRS – and as we have seen from the junior categories so far this weekend there are multiple ways to attack the car ahead. While most defend the inside line, a confident move to the outside will give the following driver the inside for Turn 2 and track position, but they can also get it done under braking down the inside of Turn 1.
Look out for the run-off area too, where drivers must negotiate some kerbs before rejoining behind bollards at the entry of Turn 3. Anybody not doing so will be penalised by the Stewards.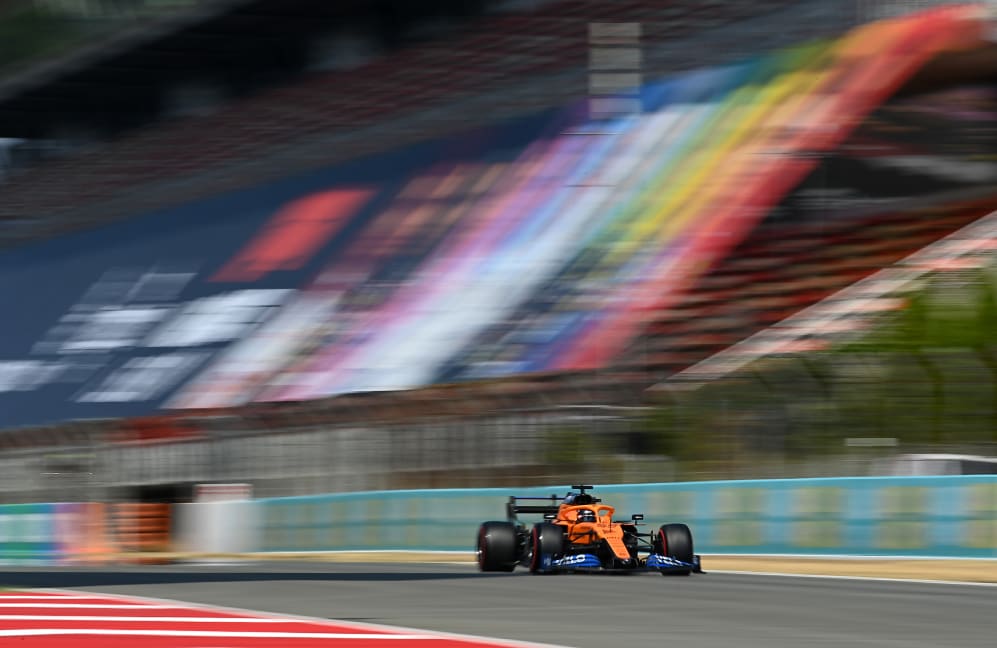 Verstappen taking the fight to Mercedes
Red Bull ended Mercedes' run of victories at Silverstone
We won't lie, Max's win at Silverstone was a little bit unexpected. The alternate strategy starting on a harder tyre compound was always going to give him a chance, but Mercedes had been so strong just one week earlier they were still favourites.
Given that Mercedes start from first and second this weekend, they are favourites again, but Red Bull always seem to be closer in race trim and Lewis Hamilton singled Verstappen out as the big threat after qualifying. There are similar conditions to Silverstone too, with high temperatures set to make the tyres a big area of focus.
READ MORE: Verstappen aiming to 'apply pressure' on Mercedes after best-ever Spanish qualifying
Red Bull had the pace to win that race even on the same strategy as Mercedes, and they'll have to do it that way if they're to win in Barcelona as all of the top 10 start on the soft tyre. But Verstappen will also be aware that Hamilton and team mate Valtteri Bottas are likely to be racing hard and even if he doesn't have the raw pace, there could be incidents for him to take advantage of.
Perez, Stroll and Albon all in podium contention
The Racing Points are fourth and fifth but Albon has a good starting spot too
You can't keep Racing Point out of the headlines at the moment, but they are back with their usual driver line-up and looking well-placed to score big points in Spain. Sergio Perez returns after two races on the sidelines, and he instantly delivered with fourth place on the grid, with the Mexican believing he has a good enough car to snag a podium position if he can get ahead of Verstappen at the start.
READ MORE: Podium hopes hinge on start, says Perez after qualifying P4 on F1 return
The couple of races off due to testing positive for Covid-19 don't appear to have affected Perez so far, but with such a long and hot race ahead it will be interesting to see if he struggles with tyres more than his team mate Lance Stroll does.
And alongside Stroll on row three is Alex Albon, who has been struggling in qualifying but registered his best result since qualifying fifth at the opening race of the season. One area Albon has had little trouble in is races, carving his way through the field with some stunning passes on a number of occasions. The Racing Points won't be easy to pass, but the top six will all believe they have the pace to be in the podium fight.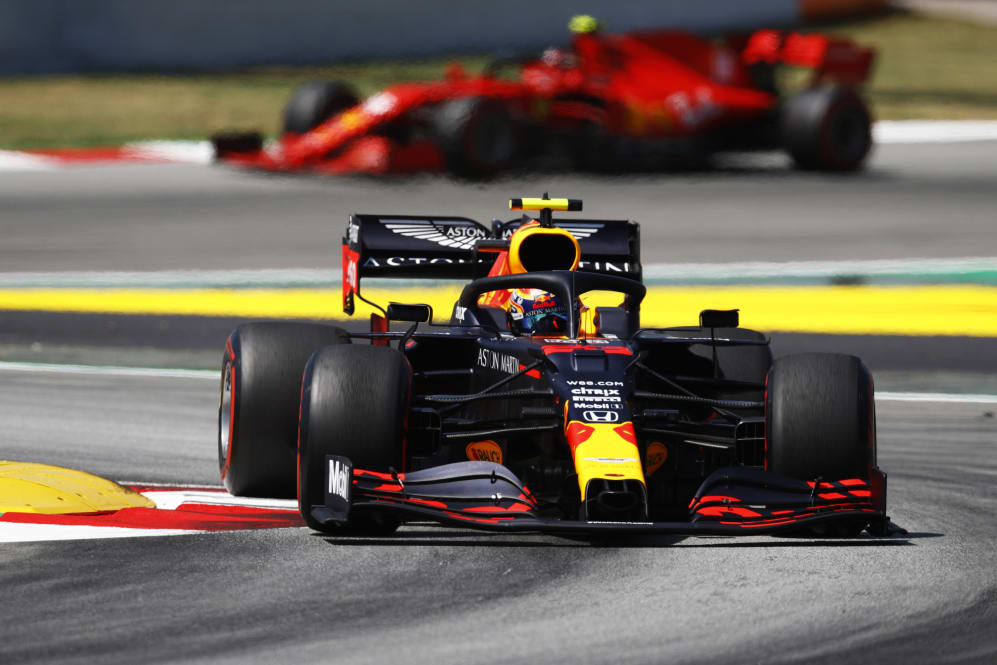 An epic midfield battle for the points
0.035s covered P9 to P13 in the fight to get into Q3
It's not just the podium battle that is shaping up nicely, either. Albon managed to get to the front of a very close qualifying battle against the likes of McLaren, Ferrari, Renault and AlphaTauri, with all five teams separated by hundredths of a second during the session.
READ MORE: Sainz targets Racing Points in Spanish GP as PU swap breathes 'new life' into his McLaren
As we've seen on many occasions in races this season, that level of competitiveness tends to carry over into Sunday, with strategy and racecraft being central to who comes out on top. The closing stages have been particularly exciting with those same teams often converging in the fight for points, leading to some dramatic final laps.
They're all starting on the same strategy, so it will be elbows out at the start.
Vettel set to benefit from strategic options
Another hot race and the top 10 all start on soft tyres
Speaking of strategy, the first driver who could possibly do something different for the first stint is also the one who really seems to need the boost right now. Sebastian Vettel has been struggling with his Ferrari, and after failing to reach Q3 for the third time in six races, he admitted he has not seen much progress despite a new chassis in Barcelona.
But Vettel only missed out on the top 10 by 0.002s, and on ninth place by 0.005s, so while his final position stands out, the gaps were extremely close. And there is a silver lining, as Vettel can choose which tyre to start on ahead of what is likely to be another challenging strategic race.
READ MORE: Leclerc and Vettel downhearted as Ferrari can only manage P9 and P11 on grid in Spain
The front-runners all have faith that the soft compound will hold up in the opening stint, but if he wants to, Vettel can try the medium that also looked quick in terms of pace, as Kimi Raikkonen set his fastest qualifying lap on it.
Pirelli says a one-stop is marginal on wear so expect the top 10 to all two-stop. But that means you could run a different tyre at a different time, opening up more variety. There's even a hint at a three-stop given how quick the soft can be. Take your pick, Seb.