Sainz targets Racing Points in Spanish GP as PU swap breathes 'new life' into his McLaren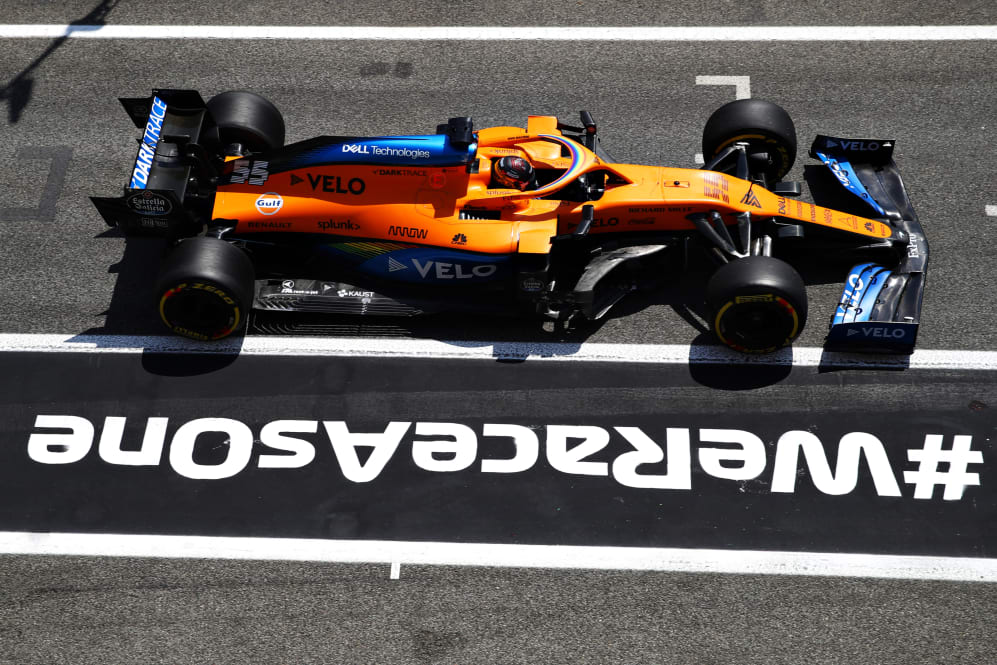 McLaren's Carlos Sainz was delighted to end up P7 on the grid for his home race in Spain, believing that a power unit change had breathed "new life" into his McLaren MCL35.
Sainz had cut an increasingly frustrated figure in the paddock this weekend as McLaren struggled to get on top of cooling issues on his car, with the Spaniard admitting on Friday that he and his team were "starting to run out of things to try" following a change of chassis.
READ MORE: Hamilton beats Bottas to pole in sweltering Spanish GP qualifying as Verstappen takes P3
But a full power unit swap-out – his first of the season, meaning it incurred no penalty – seemed to do the trick, as Sainz finished seventh in qualifying for the Spanish Grand Prix, just 0.015s off the Red Bull of Alex Albon in P6.
"New engine, new life!" said a relieved Sainz. "Finally, we got to the end of the problem by changing the engine, so happy with that. Honestly, I didn't like the engine that I had before that, both in performance and reliability it was not giving us much, so happier today.
"Not very happy with my last sector, I think I could have sneaked a bit more performance, but I don't know why, since Q1, I couldn't improve on my last sector.
"I was very happy with Sector 1 and 2, I was flying in Sector 1 actually, but then Sector 3, for some reason, was never quicker. Maybe we could have caught Albon with a cleaner Sector 3 – but P7 is still decent."
After a point-less pair of races at Silverstone, Sainz now returns to a home track where he's never failed to score in five times of trying. But Sainz said he'd likely be fighting a battle on two fronts in the race, as he aimed to pick off the "vulnerable" Racing Points ahead of him – Sergio Perez and Lance Stroll having qualified fourth and fifth – while keeping behind a pair of Renaults who were "flying" on Friday's long runs.
READ MORE: Podium hopes hinge on start, says Perez after qualifying P4 on F1 return
"[The Racing Points] are normally a bit more vulnerable in the race than in quali," said Sainz. "Today they were out of reach, I think, in quali, but I think if I get together a good start and a good strategy, we might be able to put a bit of pressure, and that's maybe when they start doing some mistakes, so let's see.
"I think we're in a good position for tomorrow. The Renaults, yesterday, looked to be flying on the long runs so they could be tricky to keep behind, but with the rest we are all there or thereabouts."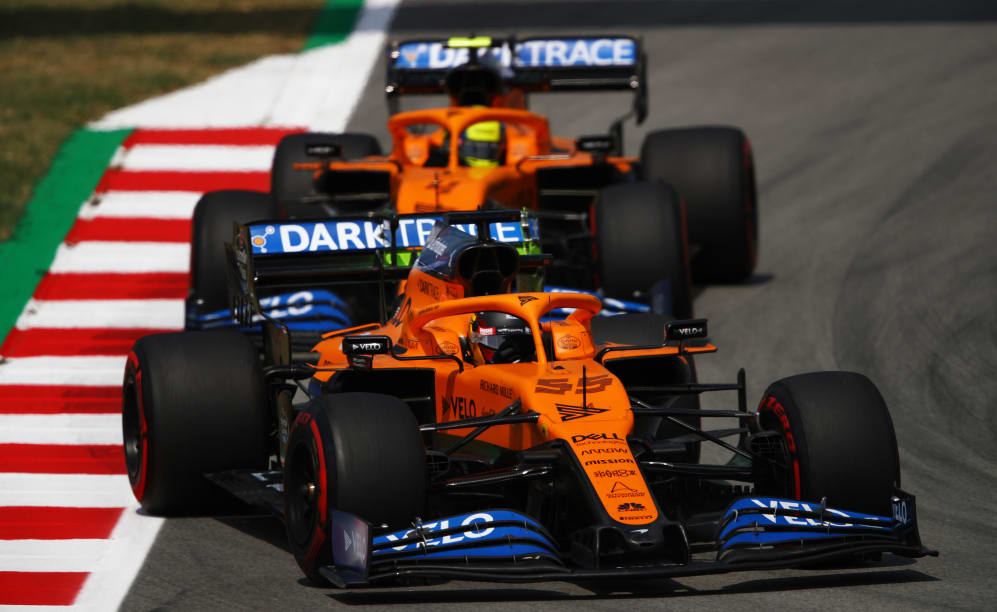 Just 0.04s separated the two McLaren drivers in qualifying at the Circuit de Barcelona-Catalunya, with Lando Norris set to start alongside Sainz on row four, and happy with the job he'd done in qualifying – while also fearing the race pace of the Renaults, despite Daniel Ricciardo having qualified 13th to Esteban Ocon's 15th.
"I don't think there was anything between [Carlos and I] really, it was four-hundredths or something so of course it's always a competition between team mates, and I made a mistake on my final lap, so I'm quite confident if I didn't do that, things could have been different," said Norris.
"I haven't been the most confident in the car throughout the weekend, and into today we made some good steps and good progress so quite a bit more confident, a bit easier to push on the car, and a bit nicer to drive, so I think it sets us up well for tomorrow.
READ MORE: Bottas pinning hopes on beating Hamilton off the line after 'annoying' P2 in qualifying
"I'm maybe a bit more shocked that Renault were a little bit slower," he added. "It looked like we had the slight upper hand which is good, and I think we have to understand why, because... yesterday, in P1 and P2, they looked very quick.
"As we came into today, we weren't expecting a lot but we just unlocked a little bit of potential in the car and we were able to push a bit more and gain those positions. It's good but it doesn't mean it's guaranteed. I think they're going to be quick tomorrow, so it's going to be a long race."