Feature
DATA ANALYSIS: A closer look at Verstappen's thrilling battle with Bottas in the Styrian GP
Max Verstappen admitted Red Bull were "just too slow" to fight Mercedes for victory in Sunday's Styrian Grand Prix – but that doesn't mean the Dutchman went down without a fight.
With his car hampered by front wing damage – the right endplate was hanging loose, cause unknown – Verstappen provided one of the most electrifying moments of the race as he thrillingly re-passed Valtteri Bottas (as shown in the video above), having moments earlier lost second place to the Mercedes man.
READ MORE: We haven't seen the full potential of Mercedes or Red Bull yet, says Wolff
That lap 66 moment came in the latter stages of what had been a dogged, race-long battle between the two drivers, neither of whom were able to challenge race winner Lewis Hamilton.
Verstappen had started second, Bottas fourth, but by lap six they were running second and third after the Finn passed Carlos Sainz's McLaren.
Verstappen then held a steady 2-3-second gap over Bottas until lap 24 when, fearing a potential Mercedes undercut, Red Bull pitted the Dutchman and swapped his soft tyres for mediums.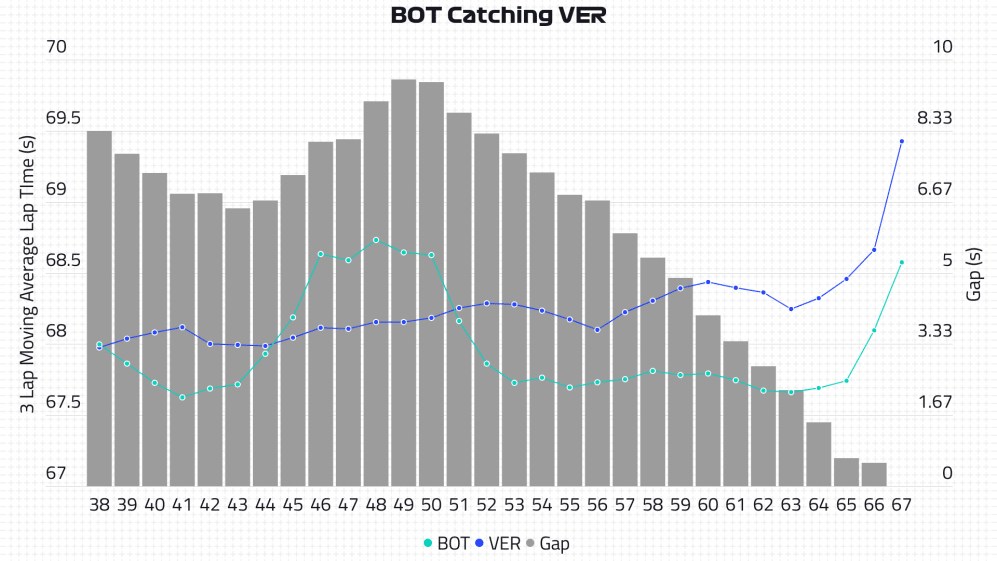 Crucially, Bottas stayed out for a further 10 laps before swapping his own softs for mediums, and whilst he emerged 8.3s behind the Red Bull driver, having lost time lapping on older rubber, he would now have much fresher tyres for the final stint - something that would prove crucial.
After his stop, Bottas was initially able to real Verstappen in at a rate of 0.5s per lap. As the graph above shows, he was lapping quicker than the Dutchman and slowing chipping into his advantage.
But around lap 44 Bottas's times suddenly drop off and the gap starts to grow – the result of the Finn running into heavy traffic, traffic which he says ignored repeated blue flags.
READ MORE: 'It was pretty shocking' – Bottas blasts blue flag-ignoring backmarkers in Styrian GP
Once cleared, Bottas honed in once more at an even quicker rate, setting up the grandstand finish for P2.
Lap 66 - The battle intensifies
Starting the lap, Bottas was just 0.6s behind Verstappen having gained a full 0.8s on the previous lap as the Dutchman struggled for grip. As you can see from the speed trace below, with DRS and a slipstream, Bottas was 25km/h quicker than Verstappen heading to Turn 3, and with a better exit, fresher tyres and more DRS was 22 km/h quicker by the time he powered past the Red Bull heading for Turn 4.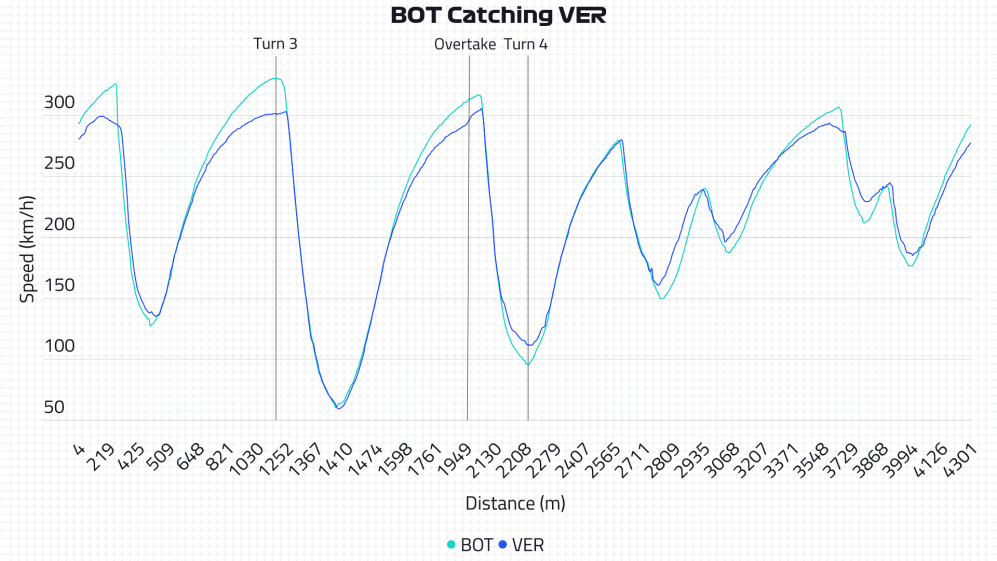 But Max wasn't finished. At Turn 4 our data shows he braked 10 metres later than Bottas and carried 16km/h more speed into the corner than the Mercedes driver, allowing him to brilliantly pull himself back alongside throught Turn 5 before completing the pass at Turn 6. Tenacious and brave, this was Verstappen at his battling best – even if he knew it was probably in vain.
The next lap Bottas exacted his revenge with an almost carbon-copy approach – although this time the Finn learned his lesson, positioning his car more in the middle of the track to cover off any fightback.
Second place then was Bottas's – but he'd been made to fight for it.