Feature
Betting odds for the Saudi Arabian GP – Who's favourite to win in Jeddah's debut race?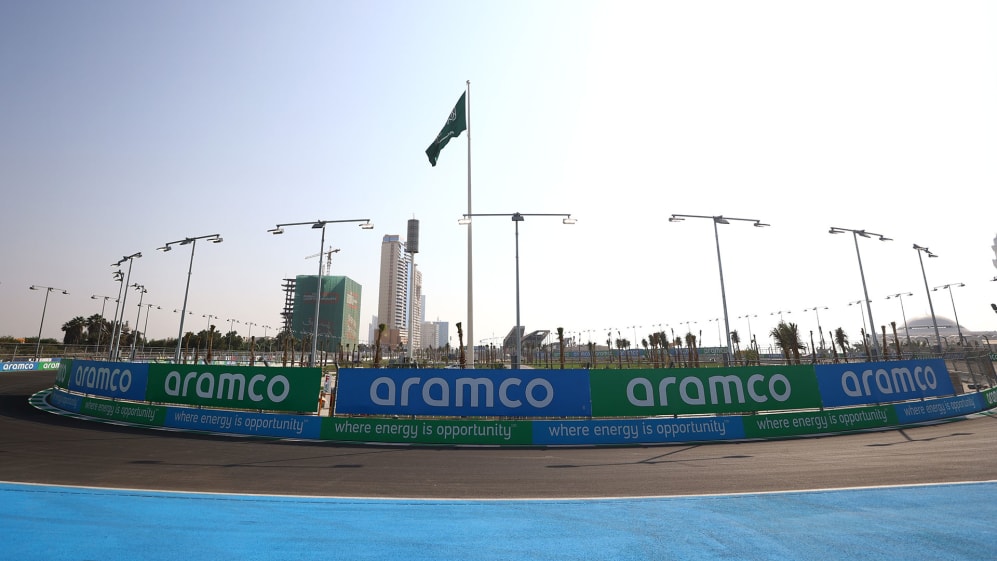 Max Verstappen has a chance to clinch his first Formula 1 title this weekend, but Lewis Hamilton will do everything in his power to stop his party in Saudi Arabia. Who will take the spoils this weekend? Here are the odds.
188BET's odds are presented in decimal form: for every $1 wagered you would win the figure represented by the odds; so if Max Verstappen is favourite at 1.50, you would win $1.50 for every dollar bet.
The odds for the win
This crucial weekend at Jeddah could see Verstappen win the World Championship, the Red Bull driver needing a win and fastest lap – hoping that Hamilton finishes sixth or lower – to take the crown. Plus there are a number of other results that could see Verstappen take the title (see the image below).
READ MORE: Wolff says car 'in best place it's been all season' as Mercedes aim to stop Verstappen being crowned in Jeddah
To paraphrase the Form Guide, you would expect the title protagonists' priorities to overrule those of Valtteri Bottas and Sergio Perez here in Saudi Arabia.
And then there's Hamilton himself, the Briton having won from pole in Qatar. He is considered by many to be the favourite in Jeddah – but is that what the odds say?
Lewis Hamilton 1.50
Max Verstappen 3.10
Valtteri Bottas 13.0
Sergio Perez 21.0
Charles Leclerc, Lando Norris, Pierre Gasly 67.0
Carlos Sainz 81.0
Daniel Ricciardo 151
Fernando Alonso, Esteban Ocon 251
Yuki Tsunoda 301
George Russell, Kimi Raikkonen, Lance Stroll, Antonio Giovinazzi, Mick Schumacher, Nicholas Latifi, Sebastian Vettel, Nikita Mazepin 601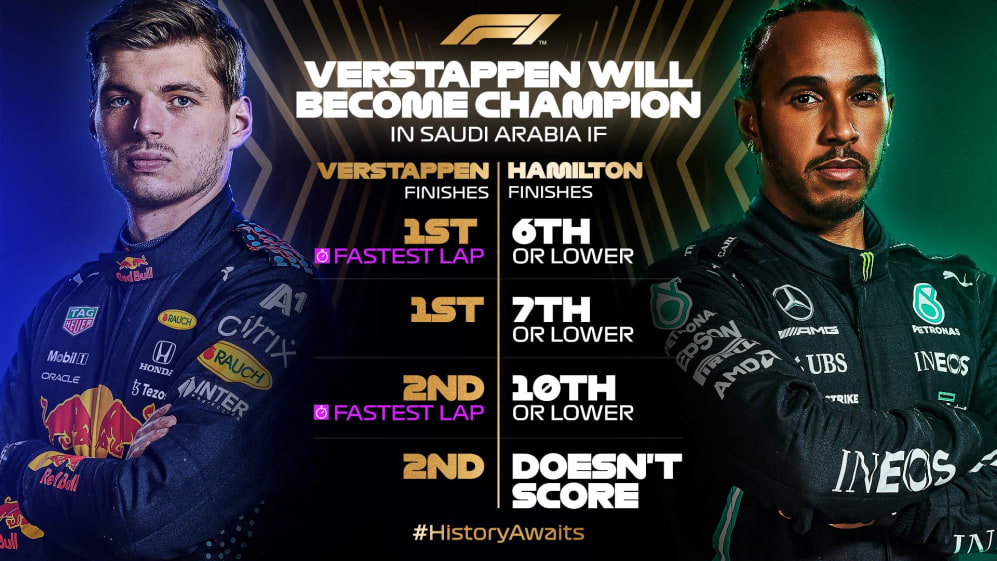 The odds for who will be fastest in qualifying
Verstappen's last pole position came in the United States Grand Prix and since then it's been Valtteri Bottas who topped qualifying in Mexico and the Sprint in Brazil before Hamilton took pole in Qatar.
FORM GUIDE: Who's fancied to go well at the all-new Saudi Arabian Grand Prix?
Of course, this is a new track and we simply have no precedent to draw upon when it comes to qualifying in Jeddah.
So Hamilton may be strong favourite to win here but is he favourite to take pole position as well? The odds certainly indicate so...
Lewis Hamilton 1.65
Max Verstappen 3.50
Valtteri Bottas 5.50
Sergio Perez 26.0
Charles Leclerc 41.0
Lando Norris 51.0
Carlos Sainz, Pierre Gasly 67.0
Daniel Ricciardo, Esteban Ocon, Fernando Alonso, George Russell 101
Antonio Giovinazzi, Lance Stroll, Sebastian Vettel, Yuki Tsunoda 251
Kimi Raikkonen, Mick Schumacher, Nicholas Latifi, Nikita Mazepin 601
The odds for a podium finish
This season, 13 drivers have taken podiums, with Fernando Alonso the latest to join the club thanks to his Qatar Grand Prix brilliance.
Leading the stakes, however, is Verstappen on 16 podium finishes ahead of Hamilton on 15. But Jeddah could throw up a surprise as street races often do: those looming barriers could prove a race-ending problem for a frontrunner or two...
BEYOND THE GRID: 90s racer Pedro Diniz talks fear, fiery escapes and partnering a world champion
While Mercedes and Red Bull are favourites to fill the podium, there might be a chance of another shock podium finisher here, and the odds show that there are indeed a number of racers in contention to appear on the rostrum.
Lewis Hamilton 1.17
Max Verstappen 1.25
Valtteri Bottas 1.55
Sergio Perez 2.75
Charles Leclerc 6.50
Carlos Sainz, Pierre Gasly 7.00
Lando Norris 9.00
Daniel Ricciardo 15.0
Fernando Alonso 17.0
Esteban Ocon 26.0
Sebastian Vettel, George Russell, Yuki Tsunoda 34.0
Lance Stroll 67.0
Mick Schumacher, Kimi Raikkonen, Nicholas Latifi, Antonio Giovinazzi, Nikita Mazepin 251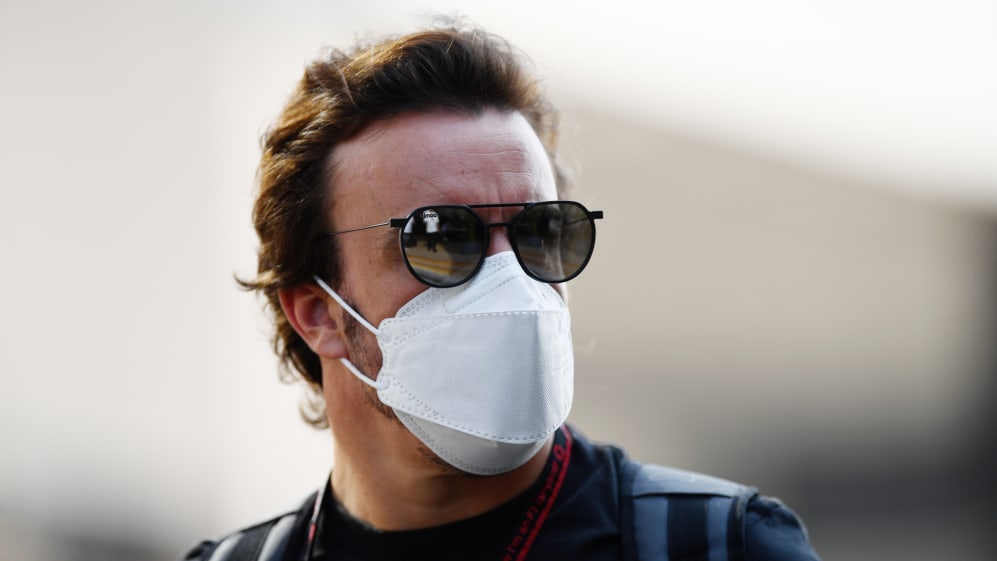 The odds for fastest lap
Verstappen took fastest lap in Qatar – his first since Austria – for an extra point but the contest is very much open. Normally, the race for fastest lap depends on which driver has a new set of tyres to equip themselves with late in the race.
Now the stakes are higher: the bonus point means that both Red Bull and Mercedes will want secure fastest lap for themselves because the constructors' championship is so close.
Not to mention, Verstappen would very much like that fastest lap point for his title hopes – while Hamilton would love to deny him that advantage. Here are the odds:
Lewis Hamilton 2.35
Max Verstappen 2.85
Sergio Perez 5.00
Valtteri Bottas 6.00
Charles Leclerc 34.0
Carlos Sainz, Lando Norris, Pierre Gasly 51.0
Daniel Ricciardo 67.0
George Russell 101
Antonio Giovinazzi, Esteban Ocon, Fernando Alonso, Kimi Raikkonen, Lance Stroll, Mick Schumacher, Nicholas Latifi, Nikita Mazepin, Sebastian Vettel, Yuki Tsunoda 251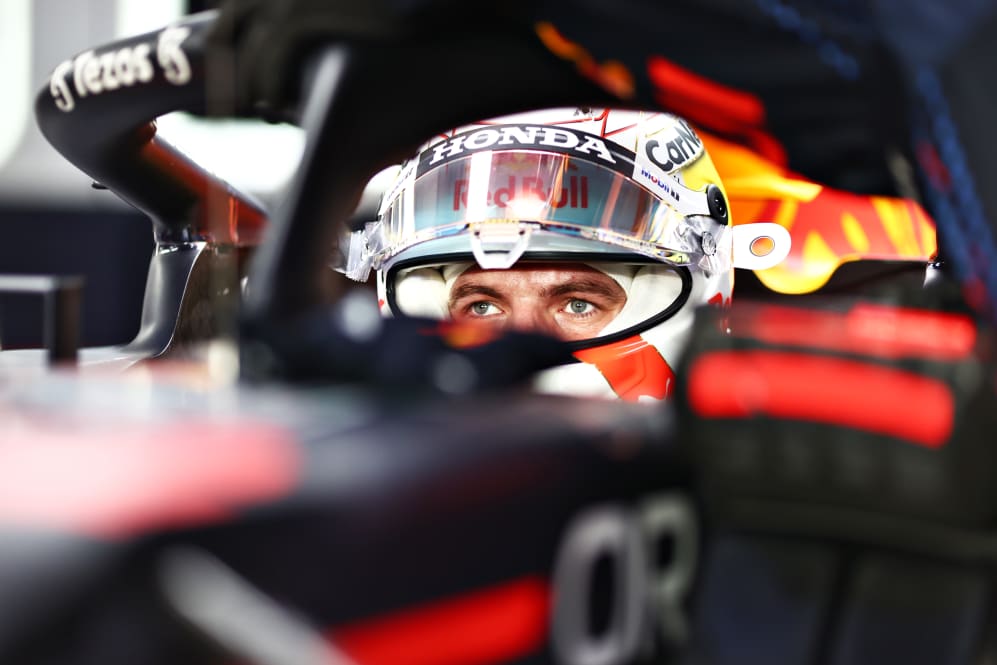 What are the odds for which team will take the most points?
While Hamilton won from pole position in Qatar, Red Bull outscored Mercedes last time out to shrink their constructors' championship deficit to just five points. It's been an even contest between Mercedes and Red Bull all season but which team will take the most points in Saudi Arabia?
Mercedes 1.40
Red Bull 2.75
Ferrari 34.0
McLaren 41.0
AlphaTauri 51.0
Alpine 101
Williams 151
Aston Martin, Haas 251
READ MORE: How the Formula 2 standings look with two rounds to go – and can anyone stop Oscar Piastri?
The odds for a Safety Car appearing during the race
There's no precedent for Safety Car appearances in Saudi Arabia as we haven't had a Grand Prix here before, but we've had 12 deployments in 20 races this season. Furthermore, Jeddah's narrow run-off and high speeds mean there could be a greater chance of the Safety Car appearing this weekend...
Yes 1.30
No 3.20
Odds supplied by 188BET – odds are in USD$ and timestamped December 1 2021, 1109 GMT.