Feature
FORM GUIDE: Who's fancied to go well at the all-new Saudi Arabian Grand Prix?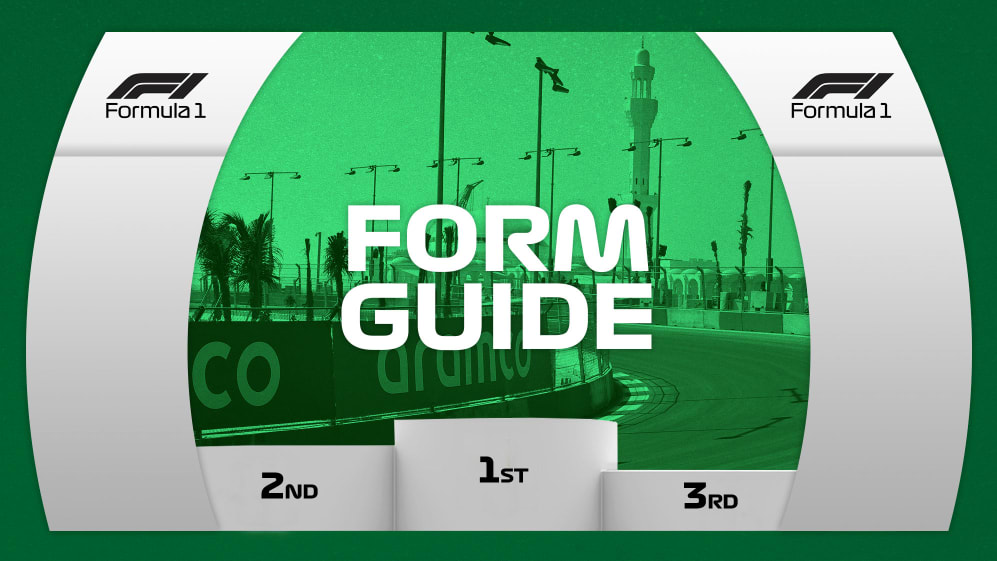 Another race week and another new venue to explore, as Formula 1 prepares for the first ever Saudi Arabian Grand Prix, held at the freshly-built Jeddah Corniche Circuit. Ahead of the weekend, let's look at the favourites for pole, points, podiums and victory at the penultimate round of the season – and see how you're voting on F1 Play, our exciting fan predictor game.
Vying for pole
Whoever scores the first ever Saudi Arabian Grand Prix pole position will do so at a Jeddah Corniche Circuit that looks to be eye-poppingly fast.
Our simulations put the average speed for a lap of the 6.175km track at a staggering 253km/h (that's 157mph) making it second only to Monza in terms of rapidness – while that 6.175km length is shorter only than Spa-Francorchamps on the current calendar.
READ MORE: The Saudi Arabian Grand Prix by numbers, as the world's fastest street circuit prepares for its F1 debut
Ominously for Verstappen, Lewis Hamilton has been fastest in qualifying for the previous two events (counting the Friday in Brazil, although he was eventually disqualified from that), with Hamilton beating Verstappen in Qatar with a stunner of a lap that was over four-tenths quicker than Verstappen could manage.
Valtteri Bottas also beat both Hamilton and Verstappen in Mexico, meaning Red Bull now haven't been on pole since Austin back in October, a statistic that will be worrying the team ahead of the final two races of the year.
"The car has been performing well recently and is probably in the best place it has been all season," said Mercedes Team Principal Toto Wolff ahead of the event. "We expect to be in the hunt."
As in Qatar, however, the teams' virtual preparations will be crucial for this event, and could well dictate the outcome in qualifying.
FAN VIEW: While on face value the tide appears to be turning against Max Verstappen in the title race, F1 Play gamers still fancy his chances of being the fastest man over a single lap in Jeddah this weekend. The Dutchman holds a small advantage over championship rival Lewis Hamilton heading to Saudi Arabia.
In the mix for victory
Hamilton's form of late has looked especially foreboding for Verstappen, who now heads his rival by just eight points in the drivers' standings – down from 19 points post-Mexico. "They woke up the lion," was how Wolff described Hamilton's devastating run of form after winning the last two encounters in Brazil and Qatar, and that sums it up pretty well.
Hamilton will also fancy his chances at a track Mercedes (and F1 technical expert Mark Hughes) believe will suit them – while statistically Hamilton has won 12 times at circuits he's never driven at before. Verstappen has only won once at a new circuit for him, earlier this year in Zandvoort.
READ MORE: Wolff says car 'in best place it's been all season' as Mercedes aim to stop Verstappen being crowned in Jeddah
Despite that, it's only Verstappen who can be crowned champion this weekend, via a lot of permutations too complicated to list here, but which you can easily navigate your way around in the graphic below. Overall, you'd say it's not hugely likely the title will be settled in Saudi Arabia – but to quote Murray Walker, anything can happen, and it probably will.
Is it just Verstappen and Hamilton in the mix for victory? Given the form of the two this season, and the fact that we're now at the business end of the title battle, you'd expect those two to be prioritised over Bottas and Sergio Perez if all four cars are challenging at the front – while Hamilton finished a whole minute ahead of third-placed Fernando Alonso in Qatar, meaning a driver outside of Red Bull and Mercedes winning would be a major upset. But then again… well, see Murray Walker quote above.
FAN VIEW: The gap between Hamilton and Verstappen here could not be much tighter – just a few F1 Play votes separate them, with the seven-time world champion holding the edge as we head into race week. As you would expect, it is very much a two-horse race for the top step on the podium on Sunday.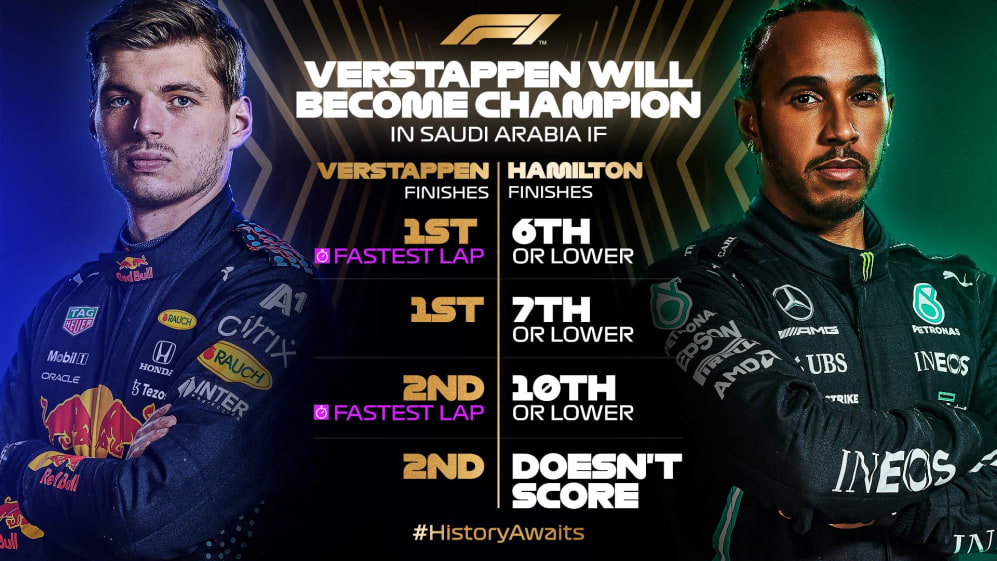 Podium Outsiders
We touted Alpine for podium success in Mexico – but alas, we were two races out, with Alonso claiming the first rostrum of his comeback in Qatar.
Indeed, the top 10 finishers in Qatar included drivers from six of the 10 teams in the paddock, with Alpine, Aston Martin, McLaren and Ferrari all showing promising pace – while AlphaTauri's Pierre Gasly lined up P2 on the grid only to suffer race pace problems that the team will hope to have rectified for this weekend.
READ MORE: A potential title decider and a brand new circuit – 5 storylines we're excited about ahead of the Saudi Arabian Grand Prix
With all of those cars and more potentially mixing around the top 10, another brand-new track to destabilise the order plus just one properly representative practice session (FP2) to simulate post-sundown conditions, once again, hitting the ground running on Friday could be key to a strong weekend.
Or as Kimi Raikkonen put it: "For sure, part of what will make or break a good result will be our readiness to make the most of the circumstances, but that's not different from every other weekend."
FAN VIEW: We can hardly describe Valtteri Bottas and Sergio Perez as outsiders to make the podium, so the leader in the F1 Play voting here is McLaren young gun Lando Norris. He is significantly outperforming Ferrari pair Charles Leclerc and Carlos Sainz so far in the voting for podium places.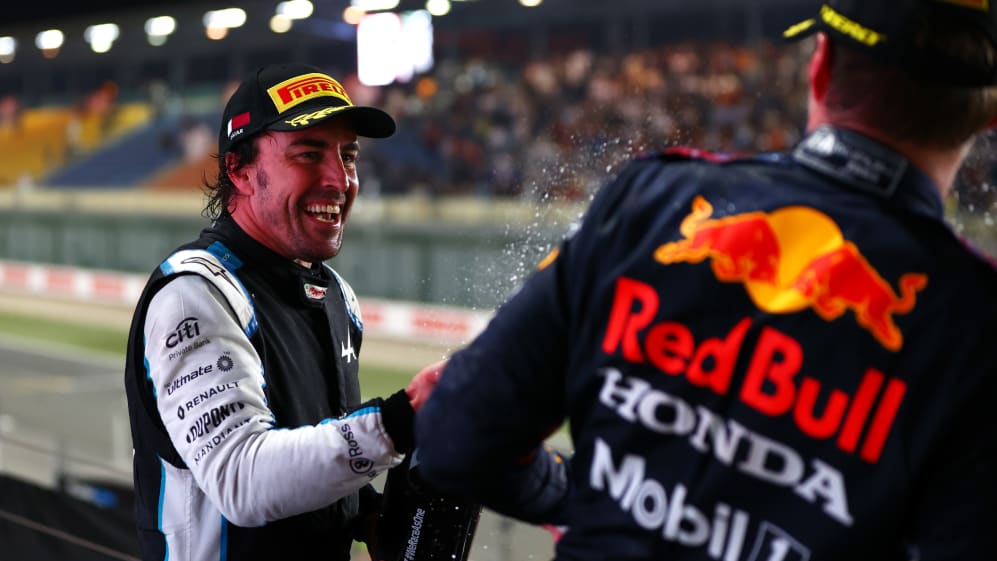 Points potential
After a points flurry that saw them score four times in five races between Hungary and Russia, it's now been five no-scores in a row for Williams, their last point having come in Sochi. And the team will have all the more reason to shoot for points this weekend, following the sad news that their founder, the iconic Sir Frank Williams, had passed away aged 79 last Sunday.
READ MORE: Sir Frank Williams, 1942-2021 – F1's champion-maker remembered
Statistically, Carlos Sainz remains the driver with the longest streak of Grand Prix points finishes currently with 13, the next being Lando Norris and Sergio Perez on eight – while team-wise, Red Bull lead the way with 24 straight points scores, ahead of Mercedes on 14, and Ferrari on 13.
Scoring points this weekend could be critical in settling a number of tight fights up and down the grid, with Ferrari hoping to seal P3 in the constructors' over McLaren, Alpine hoping to do the same for P5 over AlphaTauri, while the aforementioned Williams will seek to firm up their eighth place in the constructors'. Williams are currently 12 points clear of Alfa Romeo and 23 up on the still-to-score Haas.
FAN VIEW: The midfield battle is a thriller, with several teams having a good chance of taking away points from Jeddah. The McLarens and Ferraris are strongly fancied on F1 Play, while AlphaTauri's Pierre Gasly, Aston Martin's Sebastian Vettel and Alpine pair Fernando Alonso and Esteban Ocon are all being supported.