Bottas believes Hamilton 'still the fastest driver on the grid' as he calls former team mate 'annoyingly talented'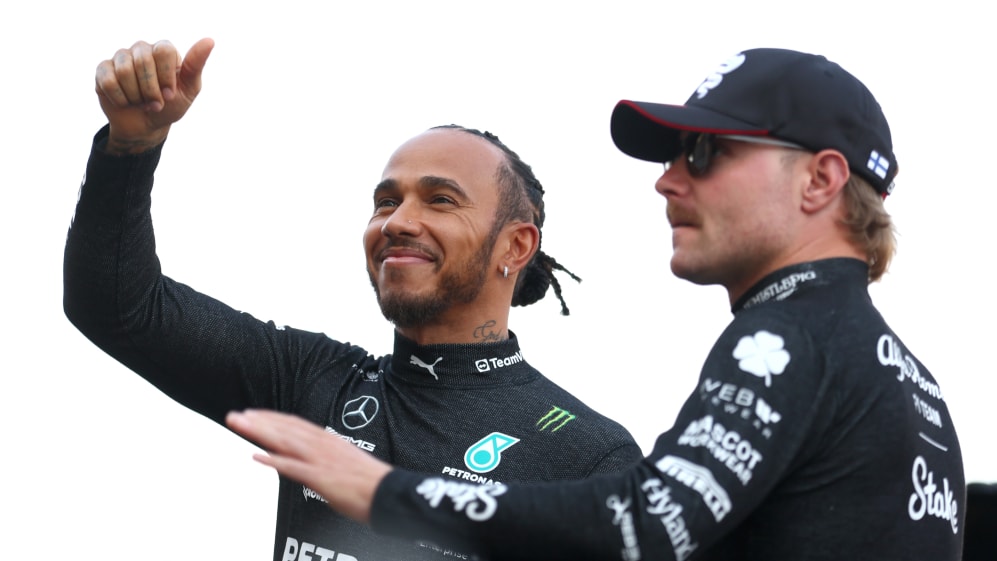 Valtteri Bottas has revealed the traits Lewis Hamilton has that make him "the quickest driver on the grid" and what makes working with current team mate Zhou Guanyu "a pleasure".
Bottas and Hamilton were team mates for five seasons at Mercedes – from 2017 to 2021 – with both drivers playing a key role in helping the Silver Arrows win five constructors' titles during that period.
READ MORE: Bottas admits Alfa Romeo's race day slump in Miami 'reflects our true pace'
However, while they achieved the team's goals, from an individual point of view Bottas never quite managed to beat Hamilton over the course of a season, with the Briton winning four drivers' titles to the Finn's zero during their time as team mates.
In his Beyond the Grid episode, Bottas told host Tom Clarkson that he believes that Hamilton – who recently called him a great team mate – was "still the quickest driver on the grid", despite having not won the title since 2020.
When asked what made the seven-time world champion so good, Bottas replied: "Well, first of all, he's annoyingly talented! On top of that, he works way harder than people actually think outside the race weekends.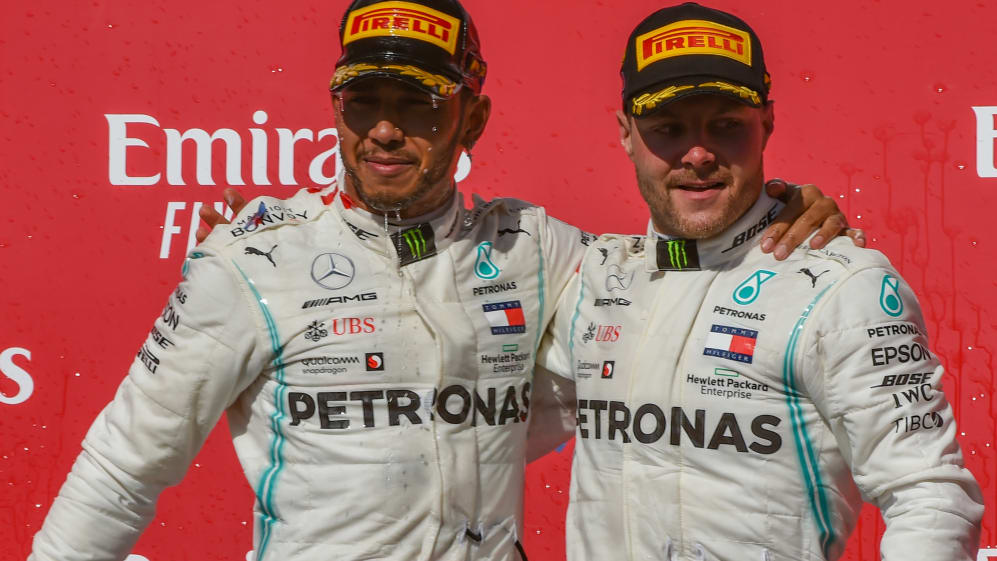 "And in the race weekends, he's often the last person to leave from the paddock. It's just that combination and he's got big drive inside him to always deliver and do well.
"His average baseline performance is so good and then he's really consistent as well. It makes him hard to beat. When I could beat him, that was obviously a good day."
FULL TRANSCRIPT: Read every word from Valtteri Bottas's fascinating Beyond The Grid interview
Asked if he still has a relationship with Hamilton, now that he races for Alfa Romeo, Bottas replied: "Yeah, we still have good friendship. This season, I've travelled with him a couple of times. We always have a good laugh."
Since leaving Mercedes, Bottas has developed a good relationship with his new team mate Zhou, and he explained to Clarkson how the Chinese racer compares to Hamilton, as well as his former Williams team mates Pastor Maldonado and Felipe Massa.
"Zhou is a very good team mate and a very nice guy," said Bottas. "Every team mate is different, it's always hard to compare them. Everyone as a human is different as a driver. For his age and experience, he's really mature.
"He's obviously got a good education. He comes from a really sweet family. He's just a good human being and a really skilled driver. It's been a pleasure. It's been nice to see him grow and get faster."
EXCLUSIVE: Take a behind-the-scenes look at Valtteri Bottas's 2023 pre-season studio shoot
When it was put to Bottas that he has seemed willing to help Zhou since his rookie season in F1, the 10-time race winner responded: "Yeah, definitely. I know that when you join Formula 1, you need some help. There's so much to learn.
"Anytime he seeks advice, I'm always there and who knows? Maybe one day, vice versa. We are in this as a team. We definitely want to get closer to the front of the grid. For that, we need to work as a team and we both understand it."