Bottas: Every opportunity key to beating Hamilton in 2019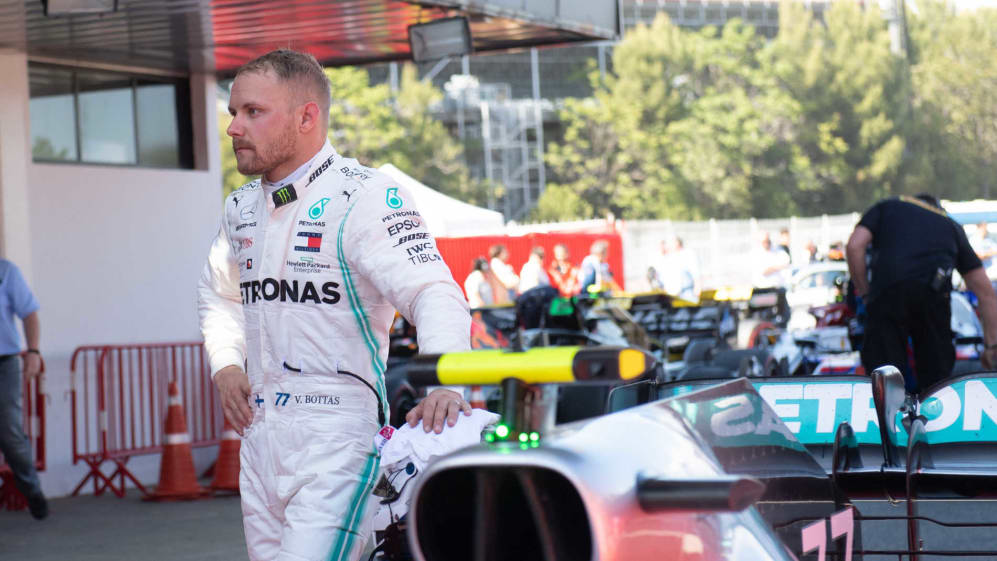 Valterri Bottas got to witness both the plusses and minuses of being Lewis Hamilton's team mate at the Spanish Grand Prix, winning plaudits for his awesome pole lap that saw him trounce Hamilton by a full 0.634s on Saturday, before being forced to play second best to a stunning race drive from Hamilton on Sunday.
A problem with his clutch at the start of the race, Bottas suggested, effectively handed victory to Hamilton, as the Finn had to slot into a second place that he'd never relinquish after the first three corners, as Hamilton pounded off into the distance.
And with the chance of the 2019 drivers' title being fought out exclusively between Bottas and Hamilton looking increasingly likely, after the pair's fifth straight one-two of the year in Spain, Bottas was all too aware that, upon such things as poor getaways, championships can turn.
READ MORE: Hamilton calls 2019 Mercedes 'the best car we've made'
"For now, [the title battle is] between me and Lewis, but it's massively long season," said Bottas, when asked whether he expected an all-Mercedes scrap for the drivers' championship in 2019. "There's many teams that, especially at some tracks, are very close and it's going to be a big development race between teams all through the season.
"But if it's going to be me and Lewis, every single opportunity is going to be key. That's why [the race in Spain] for me was annoying. I felt I worked hard for this weekend and for the qualifying… to be on pole, on this circuit where it means a lot and I lost it at the start. But that's life and there's 16 opportunities to go. That's plenty. I look forward to it, Monaco next and we'll see."
As Bottas mentions, Formula 1's next stop will be in the famous Principality. Mercedes, with their long-wheelbase, low-rake philosophy, have tended to struggle at Monaco in recent years relative to rivals Red Bull and Ferrari. But with the team having shown devastating pace through Barcelona's corner-heavy Sector 3 complex, Bottas is hopeful that the 2019 Monaco Grand Prix will give him an immediate chance to hit back at Hamilton – and secure at the very least his first podium appearance in Monte Carlo.
"I feel I've never in my Formula 1 career I've never had a good car in Monaco," said Bottas. "It's such a unique track, you need a very special car in terms of how it works mechanically in Monaco, with all the warps and bumps, so it's a question mark how we're going to perform there.
"But obviously from Barcelona here, Sector 3 with slow corners, it's promising… I would just hope that we have a good car there because it would be such a unique race to be fighting for the win, or win it. I've actually never been on the podium there so it's something I really look forward to. I'll definitely focus 100% of the weekend for the qualifying performance and being absolutely on it in Qualifying 3, like here.
"I live just next to the start-finish line," he added, "so it would be nice to have a good car there…"
Hamilton's victory in Spain means that he now sits seven points clear of Bottas in the drivers' standings, with Bottas himself a full 39 up on third-placed Max Verstappen.