Bottas 'gutted' not to find a way past Leclerc in Italy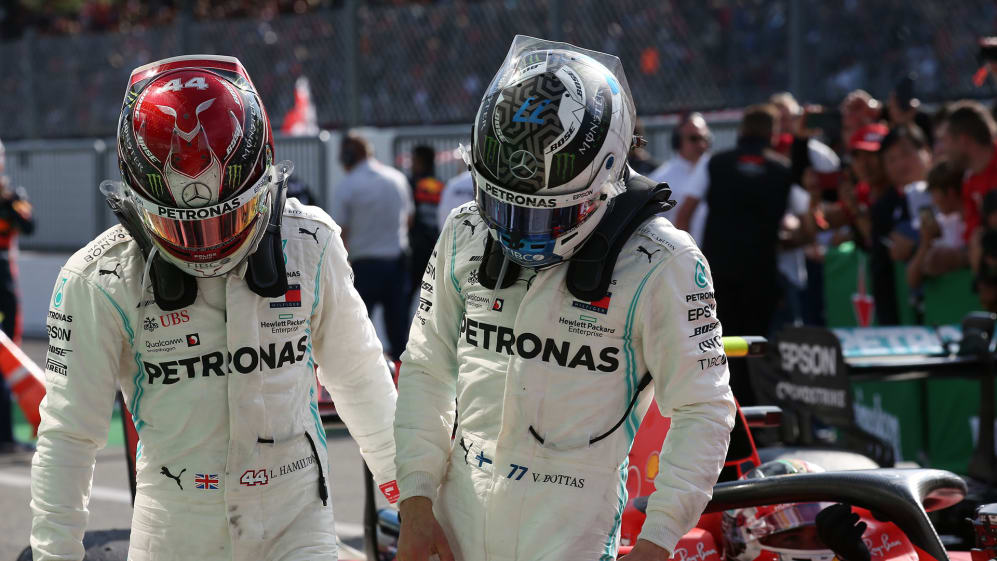 Mercedes were banging on the door to get past leader Charles Leclerc in the Italian Grand Prix, but the Monegasque launched such a staunch defence – with the powerful Ferrari engine at full chat – that Valtteri Bottas says he couldn't do anything more.
Bottas gave spirited chase to Leclerc in the closing stages of the Italian Grand Prix as the Ferrari driver would not let go of his lead, no matter what the Mercedes driver did. For the last 11 laps of the race, Bottas was shod with medium tyres while Leclerc defended using the more durable – but slower – hard tyres.
The Finn couldn't fault the strategy, having pitted on lap 27 from the lead, but said he was "gutted" after giving it all in an attempt to gain victory.
READ MORE: The Winners and Losers of the Italian Grand Prix
"I think we had a good strategy with me to go pretty long in the first stint, and that opened up some opportunities at the end. But I'm gutted, you know, I was trying everything I could to get him and there was no way past."
A margin of just 0.835s separated the pair at the flag, showing just how close he came to overtaking Leclerc. But to compound matters for Bottas, the Ferrari's straight-line pace was so strong that a move on one of Monza's long straights or high-speed corners was almost out of the question.
"We had to get so close to overtake them because they are so quick on the straight that there was no possibility today, unless they made a mistake.
"When we had DRS open, we [were] the same speed as them without DRS so there was no way to overtake," said Bottas, underlining the Ferrari power unit's superiority. And in the corners, turbulence from the rear of the SF90 was a major obstacle, especially given the low-downforce package required for Monza.
"On the braking, when you get really close, you start to lose quite a bit of load from the front axles then it's easier to have lockups and small mistakes here and there. You're also sliding a bit more in the corners with a lack of downforce, obviously gaining on the straights."
2019
Constructors' standings after Italy
POSITION
POINTS

1

Mercedes

505

2

Ferrari

351

3

Red Bull Racing

266
Mercedes Chief Engineer Andrew Shovlin was blunt in his evaluation of events.
"We know where we need to work; our qualifying pace has dropped from where we were at the start of the season and we need more speed in a straight line," he said, calling the race "frustrating" as Lewis Hamilton's attempted undercut and Bottas's overcut failed.
READ MORE: FIA explain use of F1's 'yellow card' for Leclerc at Monza
Mercedes's championship lead is still a healthy 154 points, and as attentions turn to Singapore, the consensus is that they will cement their championship lead.
"On paper," concluded Bottas, "the upcoming races should play a little more towards our strengths and I'm looking forward to a good fight with Ferrari and Red Bull over the next weeks."