Bottas hails Abu Dhabi as 'one of my best races of the season' as he goes from last to P4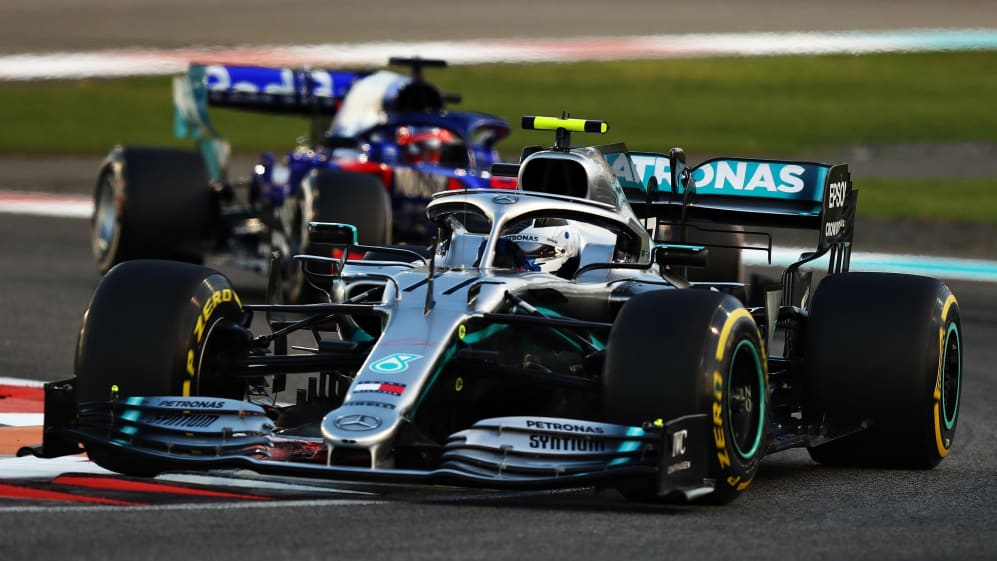 A charge from 20th on the grid to fourth rounded out Valtteri Bottas's season solidly for Mercedes, but the Finn was self-effacing as he missed out on a podium by finishing just 0.9s behind Ferrari's Charles Leclerc – and said he'd come back much stronger in 2020.
"It wasn't the easiest race, the first – nearly 20 – laps without any DRS made it more and more difficult to make progress through the field," said Bottas who started at the back thanks to grid penalties.
READ MORE: Hamilton rounds off title-winning season with dominant Abu Dhabi win
Bottas made up six places on the first lap alone, squeezing into the top 10 by Lap 10 and, when DRS was enabled on Lap 18 following a grid-wide technical issue, he was already up to fourth thanks to Ferrari's double-stacked Lap 13 pit stop that left Sebastian Vettel behind him due to slow rear-tyre changes.
He stopped on Lap 29 to discard his worn medium tyres for hards and swept past Vettel and Red Bull's Alex Albon to retake P4. He missed out on a podium by less than a second to Leclerc at the flag but, having ended 2019 on 326 points, this is Bottas's most successful season ever.
"I tried and I feel like I couldn't have done anything more, that's why I feel pretty satisfied about today," he added. "It would have been nice to be on the podium, but it doesn't matter. I feel I gave it all and that's what matters."
READ MORE: Ferrari's Leclerc facing post-race investigation in Abu Dhabi
His next task is to beat Lewis Hamilton in the 2020 drivers' championship, which sets up a salivating intra-team battle. Asked how he'd achieve that, Bottas replied: "Learning from all the mistakes from this year, looking at in detail why I did certain mistakes, what caused it and how I can avoid it.
"I am sure I can figure it out, so I have good confidence now from this season and even I finished fourth, it's not a great result with a Mercedes car, but I'm really really happy about that because it's one of my best races of the season."
Next year, by his reckoning, will get even more difficult with Red Bull and Ferrari converging on the Silver Arrows.
READ MORE: 'Let's see what opportunity comes' – Alonso not ruling out 2021 F1 return
"In theory, with not many changes, everything is going to get harder and we've seen the second half of this season – three teams always fighting for pole and the win.
"It's going to be good fun, I just need to make sure I'm there at the top of my game picking up the wins and the poles," he concluded.