Bottas says 2021 title win still on the cards despite 'most challenging' pre-season yet with Mercedes
Mercedes' 2021 pre-season testing programme in Bahrain most definitely did not go to plan, with a number of spins and reliability issues affecting the team's performance. But despite the setbacks, Valtteri Bottas has reaffirmed his belief that he can still claim this year's drivers' title armed with the Mercedes W12.
Bottas lost almost the whole of one of his three half days in the car on Friday morning after suffering a gearbox issue – while when it was on track, the W12 has looked unsettled, leading to spins for Lewis Hamilton on Saturday afternoon and Sunday evening, while Bottas too endured some off-track moments on his final day of running.
READ MORE: Bottas 'absolutely believes' he can win 2021 title having worked on mindset over winter
But having insisted ahead of the start of testing that he had a "happy head" and felt convinced he could win the title this season, Bottas hadn't changed his opinion by the end of testing, in spite of Mercedes' setbacks.
"I absolutely believe the car and the team, it has the potential [to take the title]," said Bottas. "I don't think it's yet there as a package in terms of performance, but I've no doubt that we will work hard to find it somehow.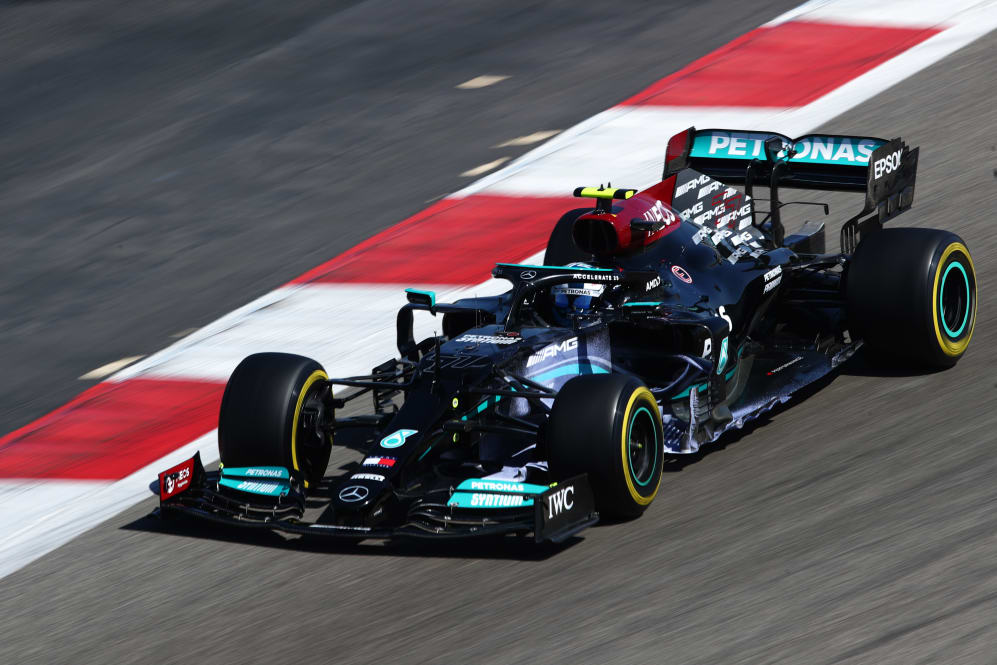 "I'm still not fully comfortable. We've been going forwards, I think, with the set-up of the car and understanding of the car, and getting it to behave better, but still there is more work to do, and from these busy few days, there's lots of data that hopefully can help us to make the car faster when we race here."
READ MORE: 'It's quite snappy and unforgiving' – Bottas opens up on challenging testing debut for Mercedes W12
Bottas is preparing for his fifth season with the Silver Arrows, having joined Mercedes in 2017. But although he remained convinced that title success was possible this season, Bottas couldn't deny that this had been the worst start to a season since he'd become a Mercedes driver – with Hamilton having only set the fifth fastest time for the Silver Arrows on the final afternoon of running.
"With this team, it's definitely been the most challenging start to the season in terms of testing," said Bottas, "and now, time is even more limited nowadays. So definitely not ideal.
"But… at least I feel that the recovery has been pretty good in the last couple of days," he added. "I feel ready. I felt like I had enough time in the car. I feel with the short runs, the long runs, really comfortable with everything and confident, so from my side, I'm ready, and as a team, we will be ready, no doubt. As ready as anyone else and hopefully even better."
READ MORE: Verstappen puts Red Bull on top as pre-season testing comes to an end
We'll see just how ready Bottas is when he hits the track with the Mercedes W12 at the Bahrain Grand Prix weekend on March 26-28.