Report
Verstappen puts Red Bull on top as pre-season testing comes to an end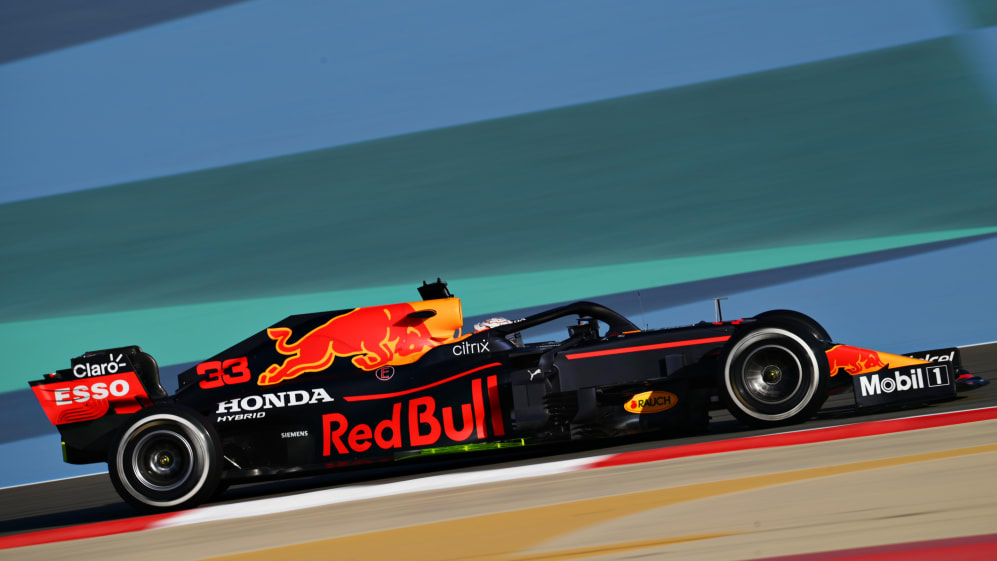 Red Bull's Max Verstappen set the pace on the final day of pre-season testing, just ahead of AlphaTauri rookie Yuki Tsunoda who ensured a Honda-engined one-two at the top of the time sheets in Bahrain.
Tsunoda set a string of flying laps late in the session on softest C5 tyres, and as Verstappen bolted on C4s, the two engaged in a scintillating time attack under the lights. But it was Verstappen who came out top with a time of 1m28.960s, Tsunoda just 0.093s off. Verstappen's team mate Sergio Perez topped the morning session on C4 tyres and ended up sixth overall to complete an encouraging test for Red Bull.
READ MORE: Binotto confident straight line speed is 'no longer a disadvantage' for Ferrari
Third quickest was Carlos Sainz, who suffered a brief pause in running thanks to a hydraulic issue, but had a total of 79 laps to his name having emerged late in the session. His Ferrari team mate Charles Leclerc finished second in the morning and 10th overall on medium compounds.
At the very end of the session, Sainz engaged in a dramatic but peculiar on-track scuffle with Alfa Romeo's Kimi Raikkonen, with the two briefly touching and going off track in the dying moments.
World Champion Lewis Hamilton lost valuable time having been confined to the garage for the first hour of the afternoon, and he only emerged when the sun began to set. The Briton used the softest compound late on to improve to fifth overall, behind Raikkonen – who completed nearly 165 laps to lead the mileage charts. Hamilton, however, found it difficult to string together fast sectors in his final qualifying speed runs, even spinning in his final few laps in what looked like an unstable W12 car.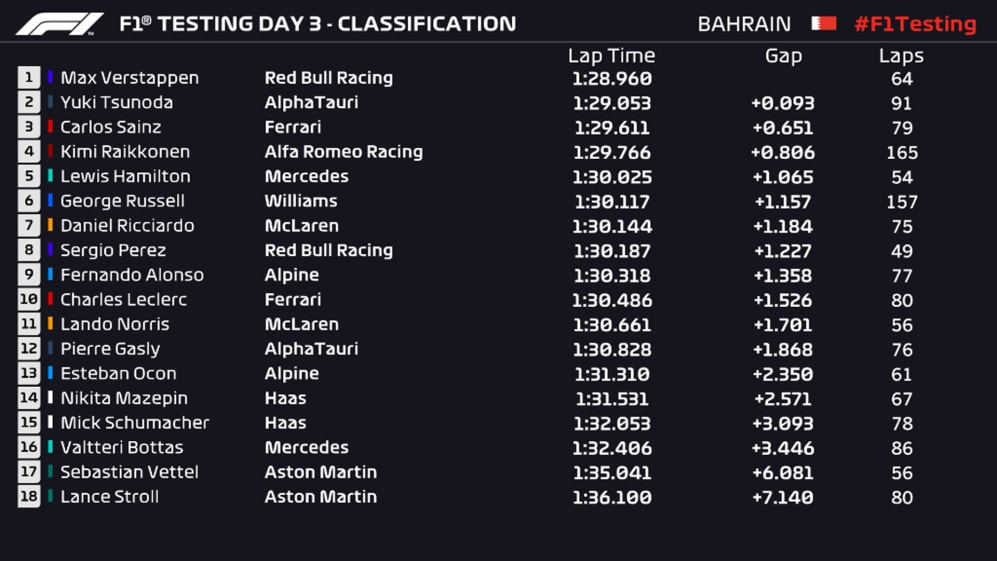 Hamilton's Silver Arrows team mate Valtteri Bottas finished seventh fastest in the morning, 16th overall with more than 80 laps completed – though he suffered notable bouts of understeer throughout his run. He complained of a "snappy" and "unforgiving" rear end on his car on Day 2, but said the issues seemed to have eased at lunchtime on Day 3. Still, it's not been the typically ruthless and efficient performance we've come to expect from the reigning champions.
Williams' George Russell managed a flying effort on C5 tyres to go sixth as he made his 2021 testing debut on Saunday, after Roy Nissany and Nicholas Latifi took the driving duties on the other two days. Russell managed 160 laps on the third day for his team having had Sunday to himeslf.
READ MORE: Red Bull are a 'different animal' in 2021 says Hamilton as he expects 'great battle' this year
Lando Norris finished third fastest in the morning – 11th overall – but Daniel Ricciardo eclipsed his time after 90 minutes of afternoon running, finishing seventh on C4 tyres. The pair completed more than 110 laps over the day in a solid showing for McLaren.
Alpine's Fernando Alonso previously hinted that the team would not complete qualifying sims on Sunday, and finished ninth quickest on C4 tyres – as Esteban Ocon finished 13th overall with mediums. Both drivers managed more than 60 laps each, ensuring a healthy total for Alpine.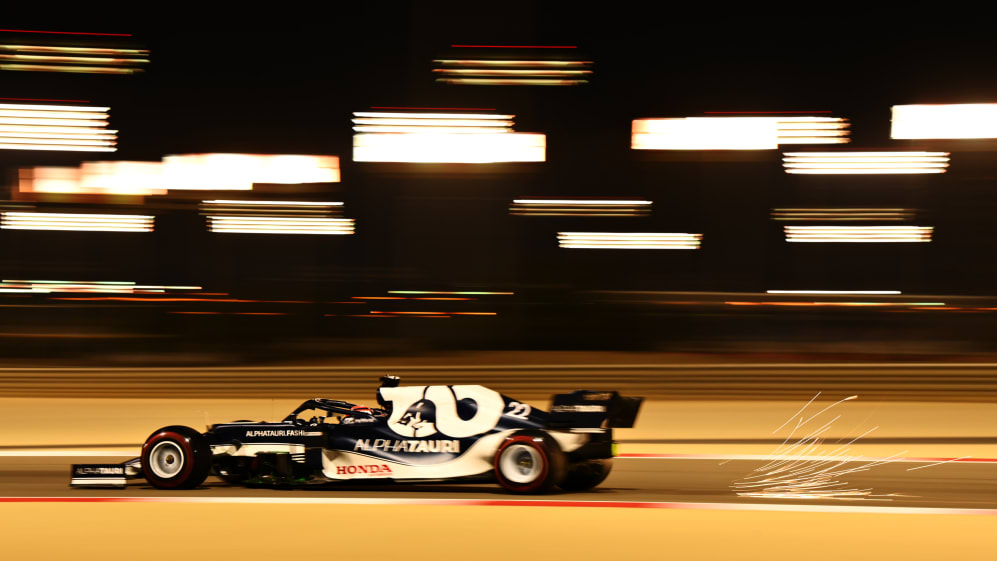 And although Tsunoda was second on the time sheets when the day ended, his team mate Pierre Gasly finished 12th fastest having taken morning duties for the team. Gasly's best lap was set on the slower C3 tyres, however.
Haas's Nikita Mazepin clocked more than 60 laps in the evening and finished 14th on C4 tyres, half a second faster than team mate Mick Schumacher – who exuded confidence after finishing his testing stint at lunchtime, and said he was raring to go for the first race.
READ MORE: 'I feel ready, I feel confident' – Schumacher raring to go for debut Grand Prix after Bahrain test
Finally, Aston Martin encountered further issues today, which saw Sebastian Vettel miss out on running under the lights. He completed a decent 56 laps, but the problem – revealed to be a loss of turbo boost pressure – prevented Vettel from participating in the last 90 minutes of the session. He finished 17th in the pace charts, his team mate Lance Stroll last and 18th (80 laps) with both on medium tyres for their fastest runs.
Red Bull's pace has created plenty of intrigue ahead of the season opener, and even Hamilton conceded that Mercedes have a fight on their hands given Verstappen and Perez's strong testing showing. But who is really fastest? All will be revealed on March 28 with the first Grand Prix of the season - also being held here in Bahrain.