Bottas says he's 'done and dusted' with Russell crash, as he explains Imola struggles
Formula 1 drivers are known for their ability to move on quickly from crashes. And two weeks after his dramatic coming together with Williams' George Russell at the Emilia Romagna Grand Prix, Mercedes driver Valtteri Bottas said he was "done and dusted" with the incident, and simply looking forward to this weekend's Portuguese Grand Prix.
Bottas and Russell touched on Lap 32 when both cars were steaming into Imola's Tamburello corner at close to maximum speed, with the resultant crash taking both cars out of the race – and causing Russell to angrily put the blame on Bottas in the aftermath of the incident.
READ MORE: Russell says Mercedes relationship 'has not been damaged at all' by Bottas crash at Imola
But although Russell later retracted his comments in a statement and said that he would speak to Bottas in private, the Finn revealed ahead of the Portuguese Grand Prix that the pair were yet to talk – adding that he felt there was nothing for them to discuss anyway.
"I heard about his post and apology and I read it," said Bottas at Portimao. "But to be honest we haven't spoken after the race, after the stewards. I did have a missed call on Monday morning but I was still sleeping!
"We haven't spoken, but I'm sure it's the same for George, it's done and dusted, it's history, there was no decision by the stewards, George apologised and time to move on."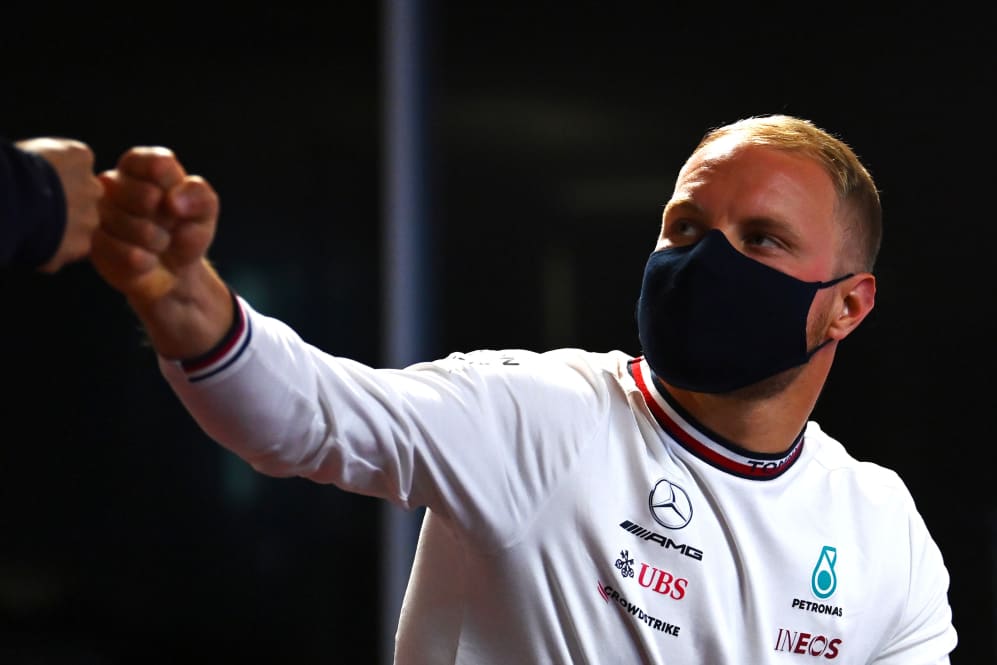 Asked whether there'd been any physical after effects from the crash meanwhile, Bottas replied: "I'm feeling fine, feeling good, feeling ready for the weekend.
"It was a half decent hit, and it's never fun when you're in that situation but obviously it could have been a lot worse and I'm happy that there were no injuries and I was actually, on the Wednesday after, back on track at Imola for the 2022 Pirelli test and I felt fine."
READ MORE: Rivals handed Mercedes 'a get out of jail free card' by letting them lead both championships, says Wolff
Once the furore from the crash had died down, meanwhile, questions over exactly why Bottas had been in the position of having a Williams driver attempting an overtake on him for P9 in the first place began to be asked – with Bottas revealing that his Mercedes team had traced his issues back to a rear tyre warm-up problem that had left him P8 on the grid, and struggling to make progress in the race.
"I would say in Imola the struggles in qualifying, once we understood everything, it was 100% tyres," said Bottas. "My Q1 time would have been enough for second row and in Q3 I ended up eighth. So it's an area that we need to pay more attention to, and understand."