Feature
BUXTON: The day Stirling Moss invited me into his extraordinary Mayfair home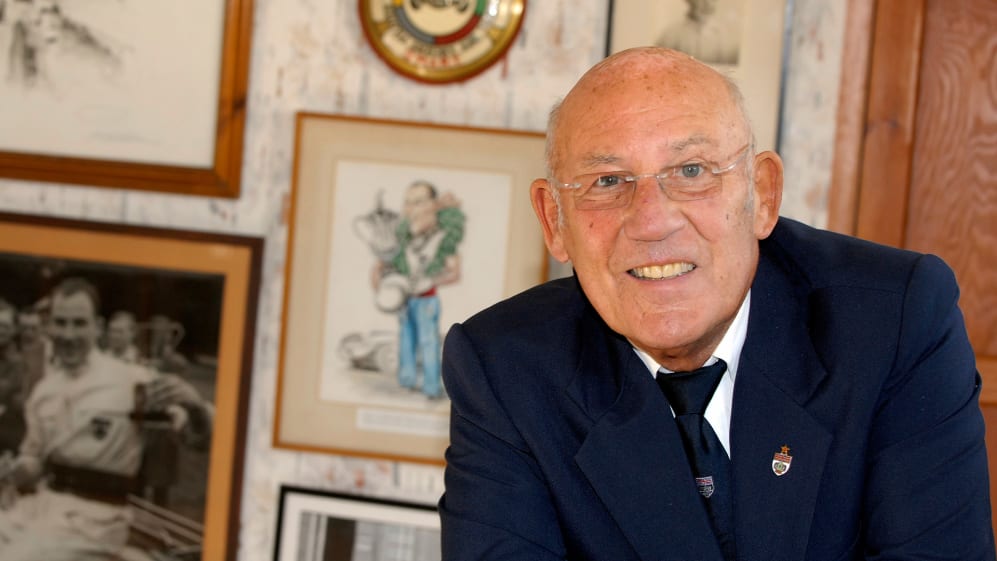 A week after the sad passing of Sir Stirling Moss, F1 digital presenter Will Buxton remembers an unforgettable pair of visits to the racing legend's London home…
"Hello, this is Stirling Moss Limited. I'm sorry that I can't answer the phone, but if you leave a message I'll do my best to return your call as soon as I can. Oh, but do please wait for the little beep. Ciao, ciao."
I was 22, a few months into my first job as a staff writer at F1 Magazine. I stumbled over my words, made no sense and hung up the phone.
Even for those of us that never saw him race, whose parents were possibly even too young to have really been fully aware of him at his peak, the spectre of Stirling Moss in British life was always there.
WATCH: "The greatest driver I ever saw" - Stirling Moss in quotes
Few British sporting heroes held the nation's respect and adoration quite as he. So enormous a presence was Stirling in the British psyche that his was a name that had passed into the nation's lexicon, much as that of Mario Andretti had across the pond in the US. He was motor racing. All it represented and all it should hope to be as a heroic act of sporting bravery and gentlemanly decency.
When he had somehow managed to decipher my unintelligible message, we organised the photoshoot I'd called to try and organise for a British Grand Prix feature we'd be running later that year. The location was to be his home in London.
"Could I ask for your address please?"
"You won't need it dear boy. Hail any black cab and ask for Stirling's house. It's part of The Knowledge. At least, it always used to be."
I asked David Tremayne (my friend and long-time F1.com writer) for the address, just in case, and a few days later flagged down a London taxi outside our offices on Clerkenwell Road.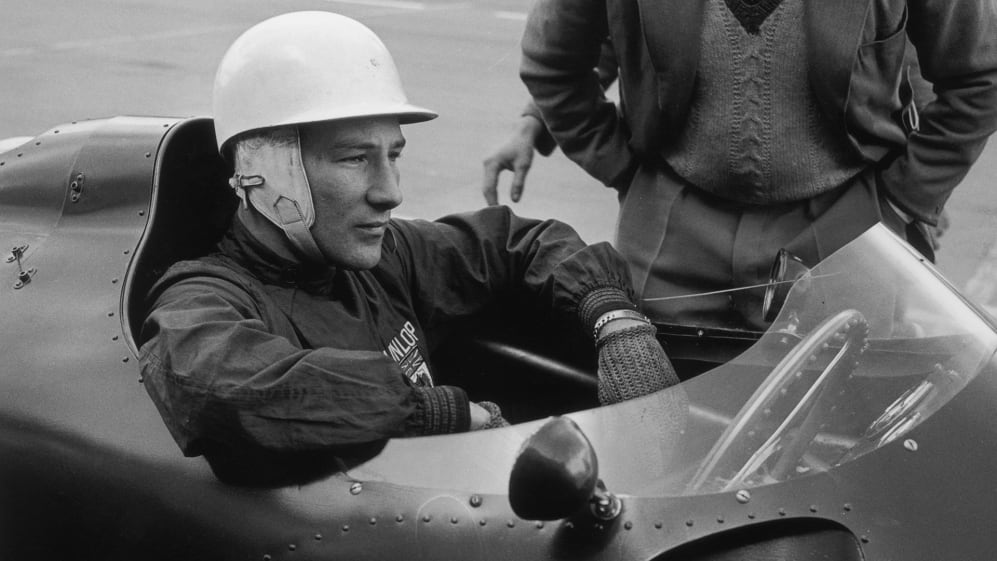 "Hi, can you take me to Stirling's house please?"
"Stirling Moss? Shepherd Street? 'Course mate. Jump in."
Even at the height of his fame, Stirling refused to go ex-directory. His home had been on the public record ever since he'd lived there. As I exited the cab, it was easy to spot. The wood panelling hit you first, but as your eyes rose up the five floors, the glass etchings of racing cars on the windows told you this was the place.
READ MORE: F1's Best Drives – Moss withstands the might of Ferrari at the Nurburgring
The short time myself and my photographer spent there was, for the young and slightly flummoxed me, a whirlwind, something Stirling picked up immediately. As the photoshoot was concluded and we made our way to leave, he stopped me.
"You really must come back some time, boy. I noticed you looking at my scrapbooks. Perhaps we could go through them. If you'd like to, of course."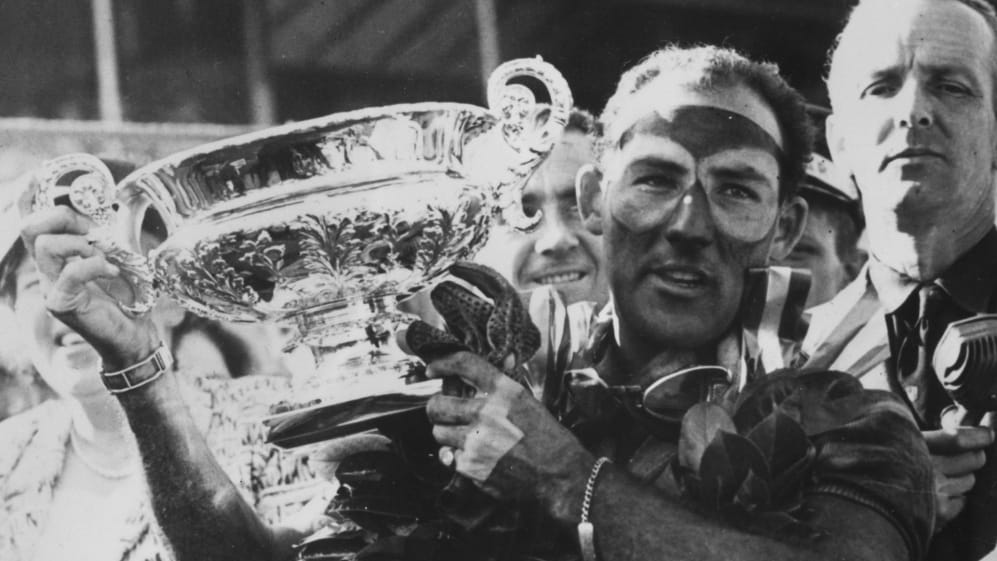 I returned as soon as Stirling's busy schedule would allow. He greeted me at the front door and we began with a tour of the entire residence, a stunning multi-floor home he'd bought close to derelict in the mid-1950s. With a smattering of an influence from Steve McQueen's Beverley Hills abode, and Stirling's own love of gadgets, he had designed and then built his dream home.
There was "the nook," a cubby hole of an entertainments room with a wood panelled wall which opened at the flick of a button to reveal the TV and HiFi. Sitting on the sofa, another button would bring the ceiling down to waist height, holding the dinner which had been prepared in the kitchen above. Another button took the dinner away before one last switch ran his bath to the exact depth and temperature he liked. 104 degrees. Precisely.
READ MORE: The world reacts to the death of racing icon Sir Stirling Moss
His living room featured a piano and trophies covering almost every visible surface. Each one used to hold something different, from assorted nuts to pot pouri. He even used one as a door stop.
There was an original and highly sought after Charles Eames chair, which he'd requested instead of a trophy for a championship he'd won in the '50s. "Required a lot less polishing," he'd joke. Close by, a wooden statue of an elephant which had belonged to his father and he'd always loved.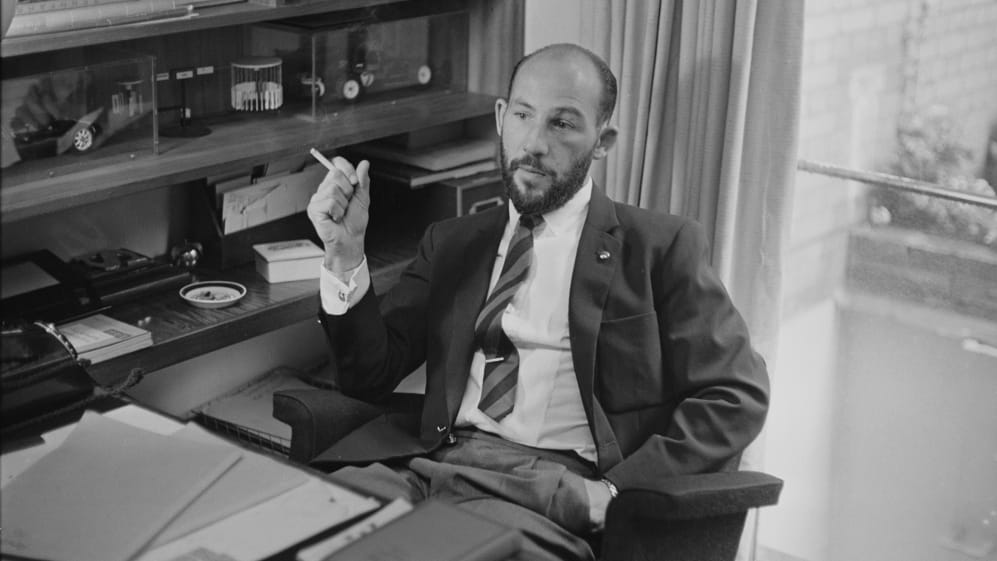 Paintings and photographs adorned the walls. One, in particular caught my eye. A huge pencil drawing of Senna. Dedicated to a racer and a man he idolised, by Ayrton himself.
We made our way to Stirling's office, surrounded by model cars, British Racing Drivers Club gold stars, medals and the bent steering wheel which hung on his wall as a reminder of the perilous era which had defined and so nearly taken him.
WATCH: When Hamilton and Moss took two classic Mercedes race cars for a spin
He'd send me to the hall to grab another year's scrapbook filled with photographs and newspaper cuttings, as he took his diaries down from the bookshelf and read through his notes for the races he'd run. The level of detail was astounding, from what he'd eaten for breakfast to the tyre pressure's he'd run in every session. I sat in awe, drinking in every word.
Every once in a while my tape recorder would hum and click. Time to find another cassette to keep the recording running.
Lady Moss would appear with tea and biscuits. It was heaven.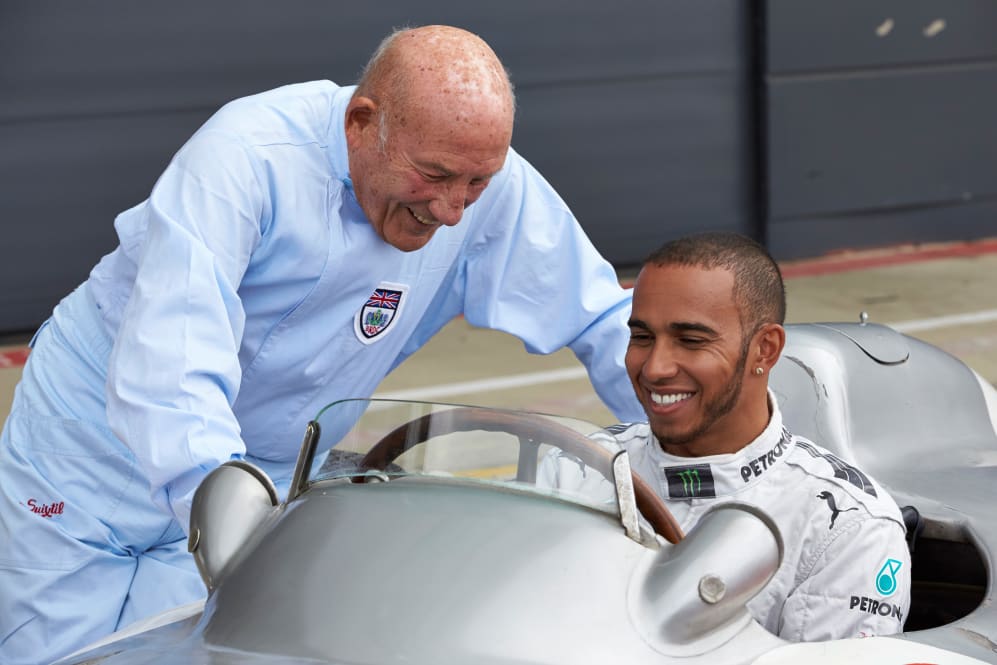 In the end, I think I was there for around five hours, with at least four hours of interviews to go through. We ended up running a piece in the magazine which featured the five races in F1 machinery he held to be his best, illustrated through the pages of those incredible scrapbooks.
For reference, they were Switzerland 1954 when his provisional pole in the wet in his Maserati had first brought him to the attention of Alfred Neubauer; Argentina '58 when he won after duping the Ferraris, Monaco '61, the Daily Express International Trophy at Silverstone in '61 and, of course, his last ever F1 win at the Nurburgring, again in '61.
Argentina '58: Moss bluffs his way to victory – and ushers in new era
It's a day I think of often. And after last Sunday's sad news, it is one I've replayed in my mind almost constantly.
Our paths had crossed over the years at Grands Prix, or 'Grandes Epreuves' as he would still call them. He'd always take the time, no matter how busy. What always struck me was how open he was and how much he genuinely loved talking about the sport. It always seemed that if he wasn't actually behind the wheel then he loved nothing more than talking about what it was like to be behind the wheel. He simply lived and breathed racing in a way perhaps no other person ever has. Or ever will.
And of course my own experiences are just my own, and at the very thin end of the wedge. Stirling was like this with everyone, whether you were a 22-year-old starting out in the industry or a veteran of 50 years. Reading through the experiences other colleagues had with him and the memories they've shared of him show a pattern of kindness and humility. And for all of us, young or old, that childlike, wide-eyed reverence that descended on you, just by being in his presence.
Thanks to social media, countless are the stories and images we've seen shared of letters he wrote, photographs he signed and the time he took to respond to fans from around the world. From school children asking questions for a project to racing drivers seeking guidance, photographers showing their work or a fan simply sending best wishes. He replied to them all. He took the time. Because he cared genuinely and deeply.
I may never have seen him race, but Sir Stirling Moss was my hero. Whether on the track or after and through his many years as an ambassador for the sport he loved he displayed not only what a racer should be, but what it is to be a gentleman.
For the life of me, I can't think of a soul who'd have a bad word to say about him. He was, quite simply, the very best of people.
Ciao, ciao dear Stirling. Would that we all could be a little more like you.
READ MORE: The king that was never crowned - Sir Stirling Moss remembered