Costly Hungary pit stop felt like 'freaking ages' – Norris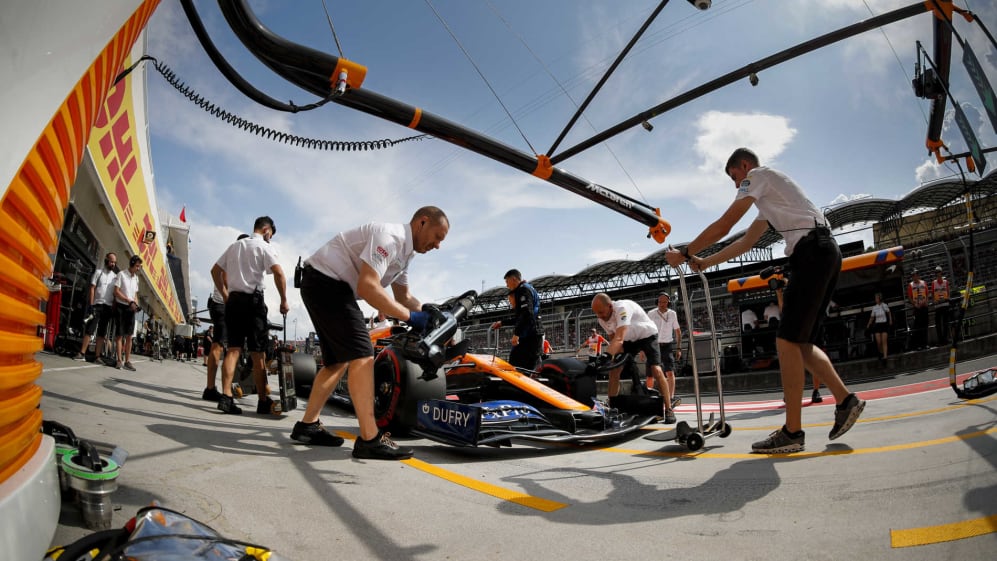 With Carlos Sainz's convincing fifth place, McLaren had the potential to double-up on their status as the best of the midfield in the Hungarian Grand Prix. However, Lando Norris's solid race pace was undone by a poor pit stop.
The old adage stands true: races are won and lost in the pits, and while Norris wasn't going to challenge Lewis Hamilton's Mercedes, nor the Ferraris ahead, he did have the chance to build on a strong qualification performance, starting P7 on the grid.
"It was a tough race, the beginning was reasonably good – I got ahead of the Red Bull [of Pierre Gasly]… I was a bit cautious because I knew Carlos was ahead of me, not because he's an aggressive driver, but because he's my team mate," said Norris.
"I played it safe and gave him plenty of space. With hindsight, I think I could've stayed ahead but I didn't want to take the risk."
You're just sitting there thinking 'I want to go, I want to go!'
Jumped by Sainz at the start, Norris was still right behind his team mate until his fateful pit stop on lap 28 – which dropped him back to P11. He recovered to P8 but was pipped to the position by Valtteri Bottas on the final lap.
WATCH: The ultimate hypercut from the start of the Hungarian Grand Prix
Sat stationary in his MCL34, waiting for the green light to show, Norris's stop lasted an agonising 6.8 seconds, delayed by a problem with left-rear wheel. On such a short circuit like the Hungaroring, where the midfield runs very close together, that's a significant loss of time.
"From my perspective everything was going well," said the British rookie. "I was just on the limiter ready to go, it's not going green… it's still not going green – and it feels like it takes freaking ages. Especially when you've got all the adrenaline running.
"Normally it's what, three seconds? Just over two? One-point-eight if you're Red Bull? And you're just sitting there [thinking] 'I want to go, I want to go!' and just sat there doing nothing. So from my side that was our only mistake which cost us, obviously, a lot.
"We had some good pace in the car today, we just lost out… from the pit stops. That made it even tougher."
Nevertheless, ninth place was a welcome return to the points for Norris, after finishing 11th in Great Britain and retiring in Germany. It means he is still 10th in the championship with nine races remaining, just three points behind Daniil Kvyat.
Next stop is Belgium - where incidentally Norris made his first official F1 Grand Prix weekend appearance, driving for McLaren in FP1 in 2018.