Ricciardo set for drive in Earnhardt's NASCAR Chevrolet after winning bet with Zak Brown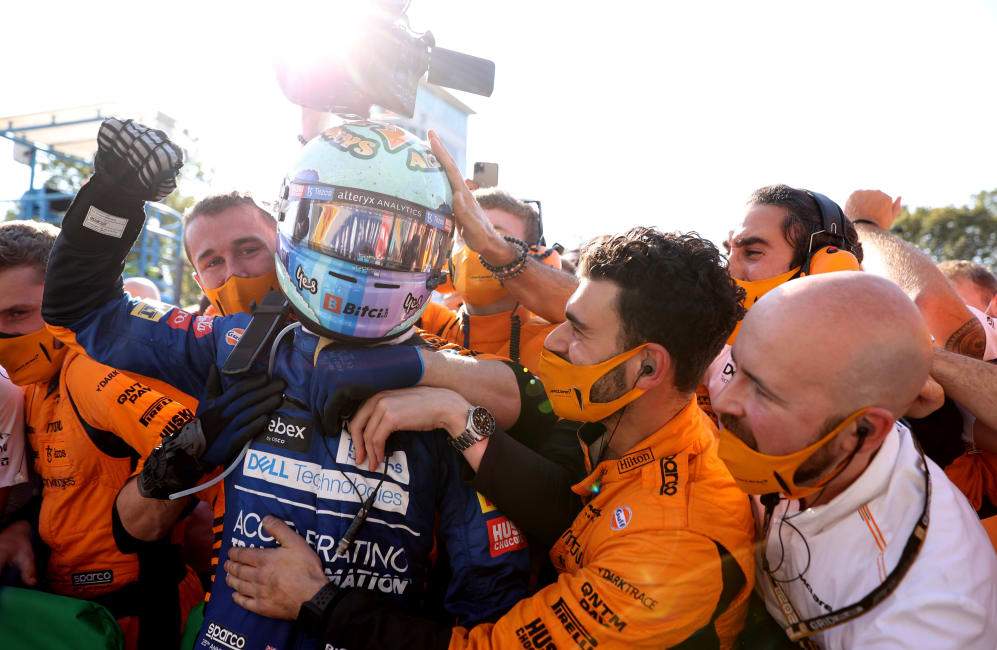 Daniel Ricciardo came away from the Monza weekend with a medal for his F1 Sprint podium, a trophy for winning the Italian Grand Prix – and the knowledge that he'll soon be at the wheel of a NASCAR stock car once driven by none other than his hero, Dale Earnhardt Sr. But the Australian was also emotional over the fact that he had emulated another idol of his, Ayrton Senna, by winning for McLaren.
Back in March, the team's CEO, Zak Brown, challenged Ricciardo to take a first podium for McLaren – the prize being a drive in his 1984 NASCAR Chevrolet Monte Carlo that was raced by Earnhardt Sr. But having gone one step further to win the Italian Grand Prix, Ricciardo had another idea…
READ MORE: 'Deep down I never lost faith or belief' says Ricciardo after taking first win since 2018
"I'm like, maybe he gives me the car? I think it was always a podium, I get to drive it. We never talked about a win, so I gave him my shoe that he drank out of, so maybe he gives me the car. It's a good trade," joked Ricciardo, before discussing the incredible experience that awaits him.
"Yeah, there's like a couple of things today, like two heroes: Dale Earnhardt – big hero of mine – and to have a chance to get behind the wheel of one of his cars is crazy. That will certainly be a 'pinch me' moment," he said.
Oops! Error retrieving Twitter post
"The other one… I'm sorry if I sound a bit self-absorbed now but when I think of McLaren I think of [Ayrton] Senna. That's the early memories and I've seen you know, like the trophies in the cabinet at the MTC [McLaren Technology Centre] and to have a winning trophy now with my name in pretty much the same cabinet is crazy," he added.
"These are like two little things today that I certainly appreciate, and they are two little surreal moments that I guess have hit me."
Ricciardo is a self-confessed NASCAR fan having chosen his #3 in homage of Earnhardt Sr – while Senna is another one of his motorsport heroes alongside MotoGP legend Valentino Rossi. Victory in Italy on Sunday was his first in F1 since 2018.