Feature
DATA ANALYSIS: How impressive was Hamilton's performance on three wheels?
There's no doubt that Lewis Hamilton was hanging on as he crossed the line to win for a seventh time in Silverstone on Sunday. But don't be deceived – there was an enormous amount to admire about that hanging on. Lewis may have made it look easy, but it was anything but…
On Lap 51, Hamilton lapped in 1m 32.1s, having been told by engineer Pete Bonnington to back off from his previous average pace of 1m 29.4s after team mate Valtteri Bottas suffered his tyre drama. But even this reduction in speed was not enough, and on the Wellington Straight his front-left tyre started to let go.
READ MORE: Hamilton says his 'heart nearly stopped' when tyre let go on last lap
You can see the speed difference between Hamilton's Lap 51 and Lap 52 in the graph below, with the red line denoting the moment his tyre failed. Hamilton said he had no warning it was going to go, and from then on it was a case of staying calm, thinking on his feet, and trying to get his car home still in first place.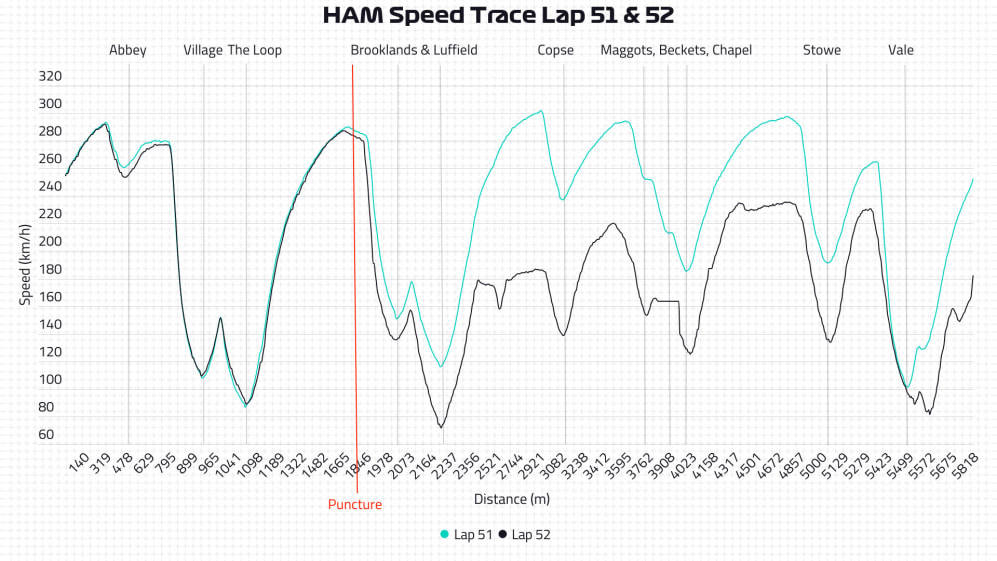 The tyre issue occurred around a third of the way around the lap, leaving Hamilton with around 3.8km of track between him and the chequered flag. In that period, the six-time champion lost just 23s compared to his previous lap, thanks in part to his commitment and ability to control his car on just three wheels.
He managed to take the usually flat-out Copse corner at 140km/h (usually 240km/h) and Stowe at 135km/h (usually 190km/h) – two corners where the front-left would usually be under immense stress.
READ MORE: Long final stint and 'biggest forces ever seen on tyres' led to failures in British GP, say Pirelli
As he pounded down the Hangar straight between those two corners, he was being given the time gap to Verstappen behind. That continued as he approached the final complex at Club corner – his lead diminishing all the time. Still Hamilton kept pushing.