De Vries reveals how 'older brother'-like Verstappen offered support ahead of Monza debut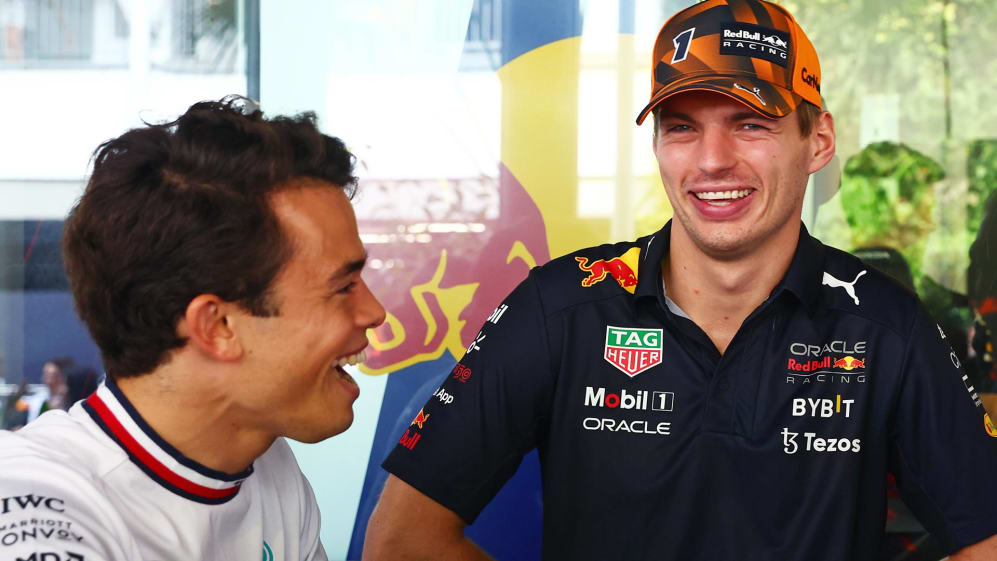 Nyck de Vries was thrown in at the deep end at last year's Italian Grand Prix when he was called up at the last minute to make his Formula 1 debut just hours before qualifying got under way – but he has revealed he had help and support from compatriot and two-time Formula 1 champion Max Verstappen as he geared up to hit the track at Monza.
De Vries stepped in for an appendicitis-hit Alex Albon in Italy, with Williams' substitute qualifying 13th before being promoted to eighth on the grid as others took grid penalties. Coincidentally, De Vries shared the fourth row of the starting grid with none other than Verstappen, and the one-time Williams driver ended up finishing the race in ninth for points on his F1 debut.
"That was unique," De Vries said on F1 podcast Beyond The Grid. "We've [Verstappen and I have] known each other since we were kids. We've grown up in the same era of racing. We, I think, approached karting and racing in our earlier years, very similar. We both travelled around in a van with our dads. We just really respected each other and we saw each other every weekend, pretty much.
PERSONALITY TEST: Which F1 driver should you support in 2023?
"But strangely, because Max is obviously two years younger than me, we never raced against each other. So, Monza was actually the first time in our lives we raced against each other, and ironically, we even ended up next to each other on the grid.
"We were texting about it… on Saturday evening and we were texting again on Sunday morning. On the grid he came to see me, kind of as an older brother does, he came to me and just encouraged me a bit, which was very kind. He's been very supportive," he said.
Then Mercedes' reserve driver – a role that will be taken over by Mick Schumacher in 2023 – De Vries added that Lewis Hamilton and George Russell were also extremely supportive of him at Monza last year.
"Lewis actually sent me a message on Saturday night [before the Italian Grand Prix] as well, which was super kind – and both Lewis and George congratulated me at the end of the race and hugged me and everything.
READ MORE: Mercedes announce launch date for 2023 car as they aim to return to title-winning ways
"So, receiving their support meant the world to me, and it was very overwhelming to receive the support… from the inside; they know what it takes, they know what it is, and to feel their good-willing was good."
De Vries grabbed his chance with both hands by scoring points at Monza, and he used that buzz to help seal a full time race seat with AlphaTauri for 2023, with his new team set to launch the livery for their AT04 challenger in New York City on February 11.