Feature F1 Unlocked
DESTINATION GUIDE: What fans can eat, see and do when they visit Singapore for this weekend's Grand Prix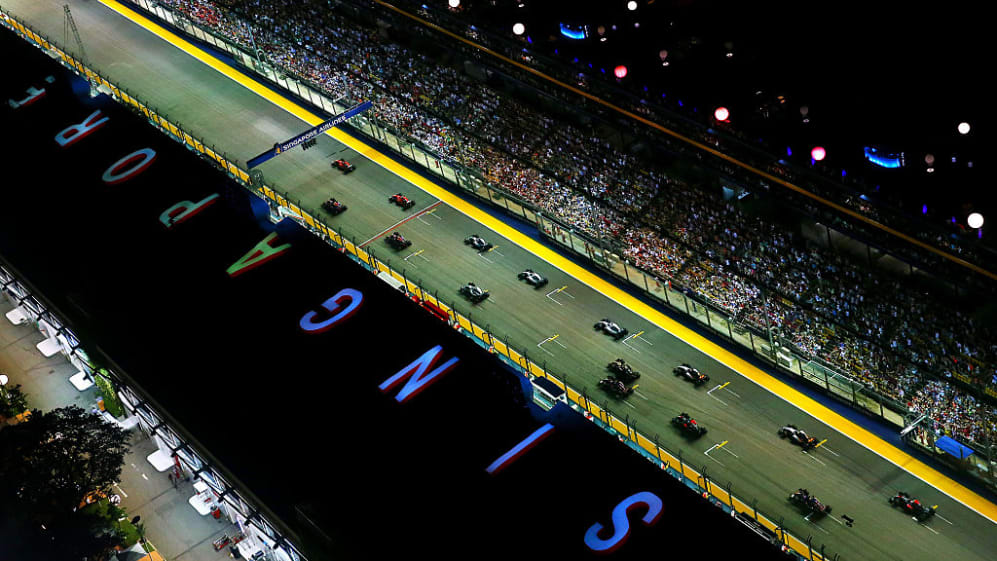 From the moment you land at Singapore's Changi Airport, you know you have arrived somewhere special. With its tropical butterfly garden where you can watch the beautiful jewel-coloured winged insects emerge from their chrysalises and feed on slices of fruit, open-air cactus garden displaying over 100 species of cacti, rooftop swimming pool to refresh yourself in after the long flight, and the spectacular Rain Vortex – a 40 metre high waterfall surrounded by lush, tropical planting and over 2,000 trees – this airport is a destination in its own right and has a slew of awards to its name.
It's almost a shame to leave it – but leave it you must, as beyond this world class welcome lies a dazzling city to explore and an even more spectacular night race to enjoy.
Where and what to eat
Singapore is a veritable melting pot of cultures and cuisines meaning you can travel the world gastronomically and eat anything and everything from high end meals prepared by well-known chefs, to delicious street food eaten at communal tables at one of the city's numerous hawker markets.
The first stop for many will be to grab a Singapore Sling at the Long Bar, in the world-renowned Raffles Hotel where this gin-based, pink-hued cocktail was born in 1915.
At the turn of the 20th century in colonial Singapore, Raffles was the gathering place for the community and thanks to improved road and rail links, rubber and palm oil plantation owners visiting from Malaya at the weekends.
READ MORE > IT'S RACE WEEK: 5 storylines we're excited about ahead of the 2023 Singapore Grand Prix
Etiquette at the time stated that women could not consume alcohol in public, and so a resourceful Raffles bartender named Ngiam Tong Boon spotted a gap in the market and decided to create a cocktail which looked like plain fruit juice but was infused with gin and liqueurs. By making the drink pink coloured and using clear alcohol, it was perceived to be an acceptable drink for women and the Singapore Sling was born.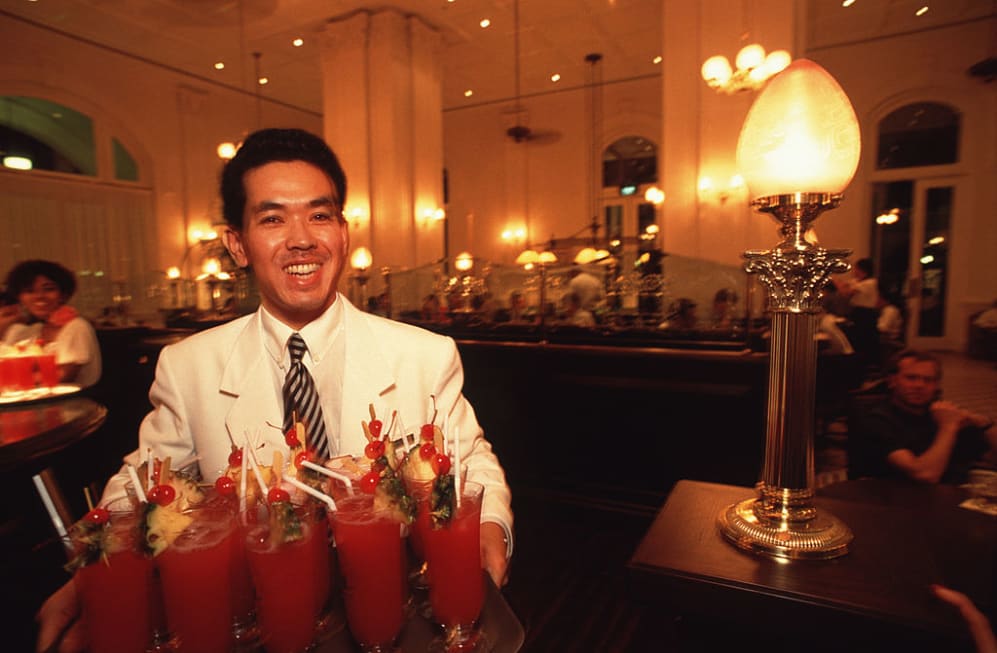 The original Long Bar was relocated to another part of the hotel some years ago, but the two-storey watering hole maintains the air of plantation life in the 1920s with rows of cooling raffia fans on the ceiling and lush greenery. So after the long flight to Singapore why not pull up a wicker chair, order this iconic drink and chuck the shells of the accompanying peanuts onto the floor with abandon – this tradition makes the Long Bar the only place in the city where littering is positively encouraged.
Now that your thirst has been quenched, it's time to satisfy your hunger and if you're a little undecided as to what you fancy, head to one of the many hawker centres in the city and choose something from one of the numerous food stands around a central seating area.
F1 NATION: Spectacular Singapore awaits as Verstappen's rivals try to halt his unbroken run
Opened in 1971 as Singapore's first hawker centre, Newton's Circus maintains its popularity with tourists and locals alike, who are drawn to its myriad offerings of mostly local Malay, Chinese and Indian cuisine, eaten under the shade of large trees in a central courtyard. The centre has undergone refurbishment in recent years, but the high quality of food and the spirit of the original hawker centre remain, and eagle-eyed movie goers may even have spotted this well loved institution in the Hollywood film, Crazy Rich Asians.
One stall well worth paying a visit to is Alliance Seafood where the popular Singaporean dish of chilli crab helped to earn the proprietors a prestigious Michelin Bib Gourmand rating. Traditionally made with huge mud crabs stir-fried in a thick, sweet tomato and chilli sauce thickened with egg, and served with soft steamed mantou buns, this beloved dish is said to have been created over 70 years ago by accident, as the best inventions often are.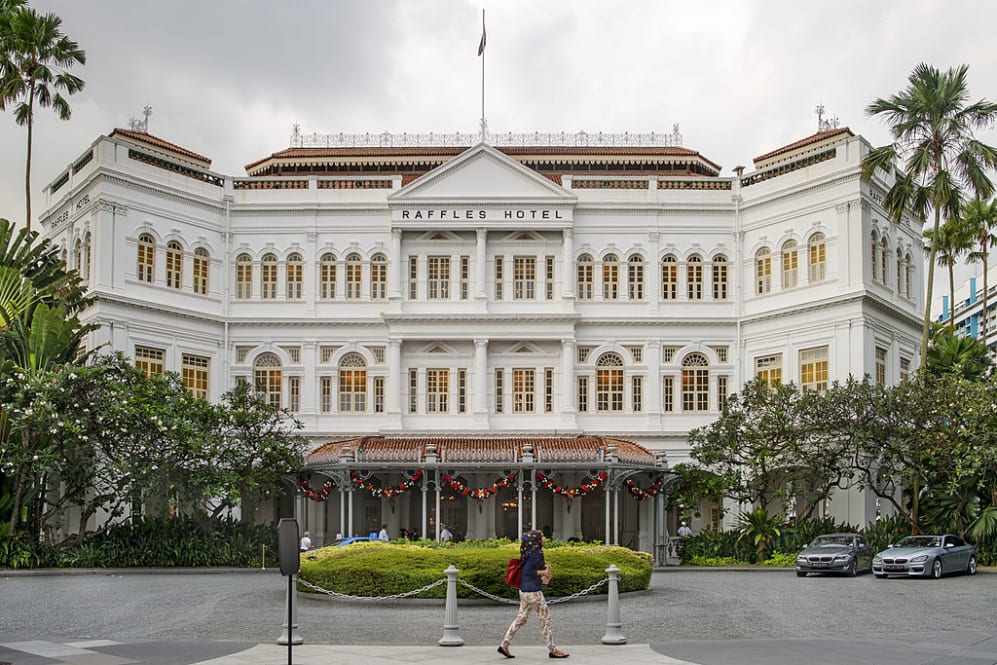 Cher Yam Tian had a request from her husband who often caught mud crabs on the beach – instead of steaming them, could she try something different? To appease her husband, she stir-fried the crabs in tomato sauce, but it was too sweet until the addition of chilli resulted in the sweet and savoury seafood dish beloved by Singaporeans ever since.
The colourful and vibrant neighbourhood of Little India is a true feast for the senses with a fascinating history. Once home to cattle herders, lime kilns and a racecourse in the 19th century, this bustling enclave is now full of shops piled high with wares from jewel coloured fabrics to Indian sweet treats (and absolutely everything in between) and an array of reasonable and mostly vegetarian eateries such as Komala Villas, which has been serving traditional Indian vegetarian fayre to the people of Singapore since 1947. Try the wafer thin dosa with spicy sambal for a cheap and deliciously sustaining lunch.
READ MORE: Singapore Grand Prix set to feature revised track layout in 2023
A short stroll away you'll find the lively Arab Street and Haji Lane – two popular lanes in the Kampong Glam area of the city filled with an array of restaurants and cool cafes serving a wide range of cuisines, from traditional middle eastern dishes to menus with a more international flavour. Famous for its colourful street art, Haji Lane is perfect for a post-dinner stroll and those all important Instagram photos.
Formerly a girls convent school established in 1853, Chijmes (pronounced' chimes') has been restored to its full architectural glory and the old classrooms and school halls have been painstakingly transformed into dozens of different bars, restaurants and cafes with every type of cuisine on offer.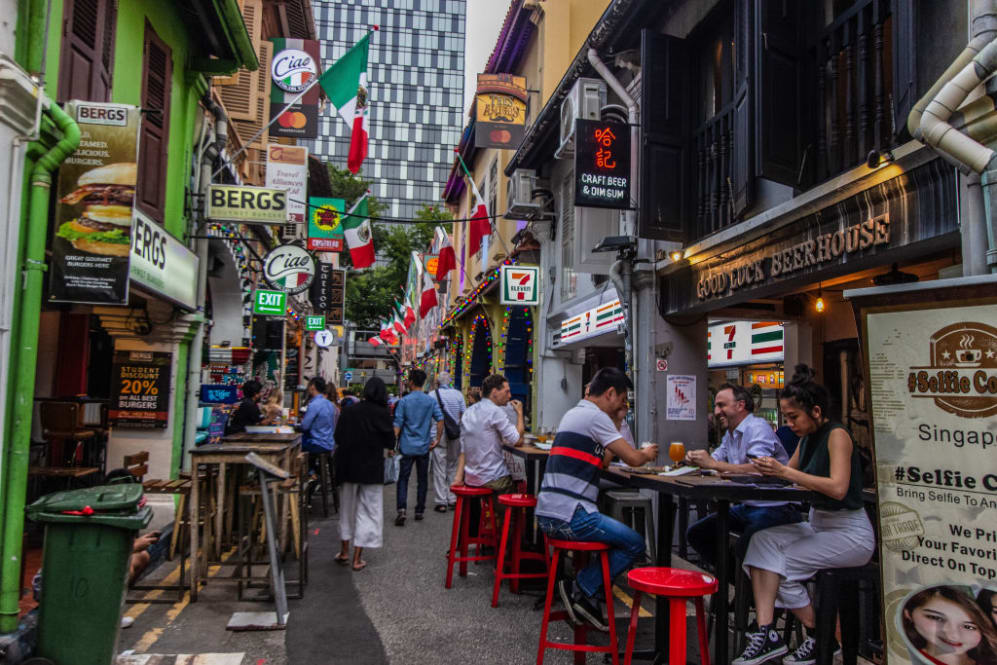 Throw in world class entertainment and live music until the wee small hours, plus beautiful courtyards and terraces for al fresco dining and Chijmes is the perfect place to unwind after a long hot day at the track. Try Lei Garden Restaurant for a menu of gourmet fusion dishes alongside traditional Chinese favourites such as crispy roast pork.
No visit to Singapore would be complete with a trip to the city's Chinatown district where the bustling vibe gives way to a heady mix of Michelin starred restaurants, dim sum restaurants and the largest hawker centre in the city, Chinatown Complex Food Centre where you will find over 260 stalls selling staples such as popiah (spring rolls with assorted fillings) and claypot rice. One thing is for sure, you won't go hungry in Singapore!
READ MORE – Behind the scenes with Pierre Gasly: The Alpine racer on that Zandvoort P3 and hanging with football stars at Monza
Where to stay
Whilst Singapore is small, there is a wealth of hotels to choose from in the city and with excellent transport links due to the clean and efficient MTR system, you can navigate your way to the Marina Bay Street Circuit with ease wherever you choose to lay your head. If you want to elevate your Singapore experience and be close to the track action at the same time, then the iconic architectural wonder that is the Marina Bay Sands Hotel is just the ticket.
Opened in 2010 and with over 2,500 rooms over the three striking towers on the edge of Marina Bay, the hotel is topped by an extraordinary, cantilevered deck which at 340 metres is the largest public platform of its kind in the world. Hotel guests can not only enjoy spectacular views over either the Gardens by The Bay and illuminated Sky Trees, but also take in the stunning cityscape from the edge of the 150-metre infinity pool whilst nailing the perfect Instagram shot.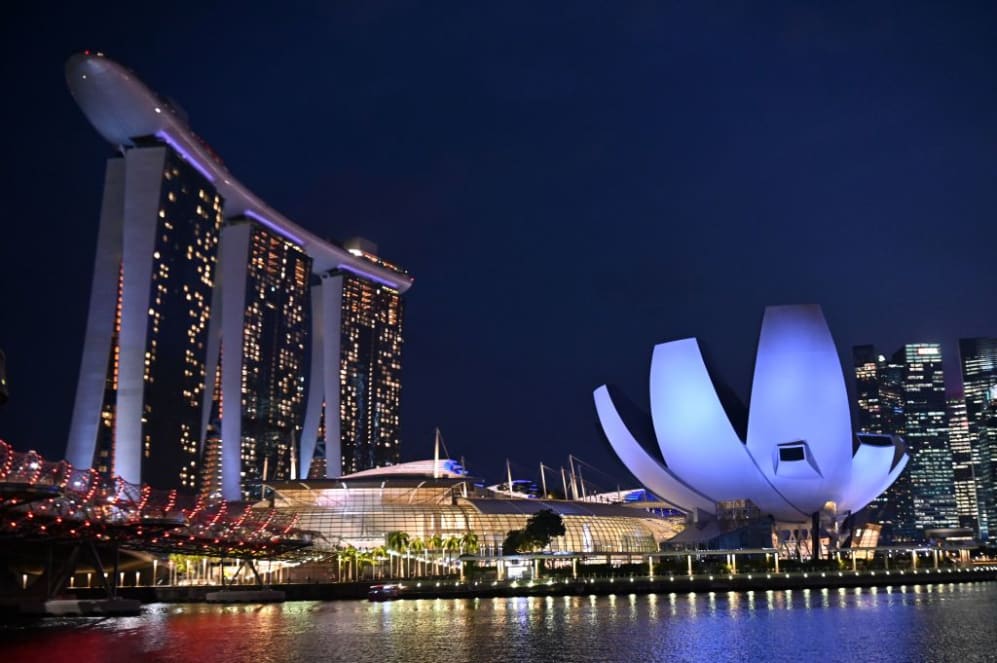 Where to watch the race
For a spectacular view of the start, grab yourself a seat in the grandstand at Turn 1. Here not only can you watch the sparks fly as the cars blast off the line, but you'll be able to watch them as they accelerate into the first corner, before braking hard and whipping through Turns 2 and 3.
Non-F1 highlights
Dominated by 18 man-made steel Supertrees, the Gardens by the Bay is a must see attraction during your time in Singapore. This 101-hectare park was opened in 2012 and attracts millions of visitors each year thanks to its beautiful tropical water gardens, themed zones with beautiful planting, spectacular Cloud Forest dome complete with one of the worlds largest indoor waterfalls and over 60,000 plants, and of course those majestic Supertrees.
READ MORE – TECH TUESDAY: Red Bull's 'gold dust' that could help them tackle the challenge of Singapore
If you have a head for heights then make sure to book a ticket for the Supertree Skyway, a 128 metre arial walkway suspended between two of the Supertrees 22 metres above the ground, for the most spectacular views of the gardens and the Marina Bay skyline beyond.
It's also the perfect vantage point to watch the nightly light and sound show, which sees all 18 of the impressive Supertree structures come to life in a dazzling display of colourful lights powered entirely by solar energy harnessed by panels on the trees themselves. Don't worry if you don't manage to bag a Supertree Skyway ticket to coincide with the show, the display is completely free and can be viewed from anywhere within the gardens – but try to pick a spot directly underneath for the full immersive experience.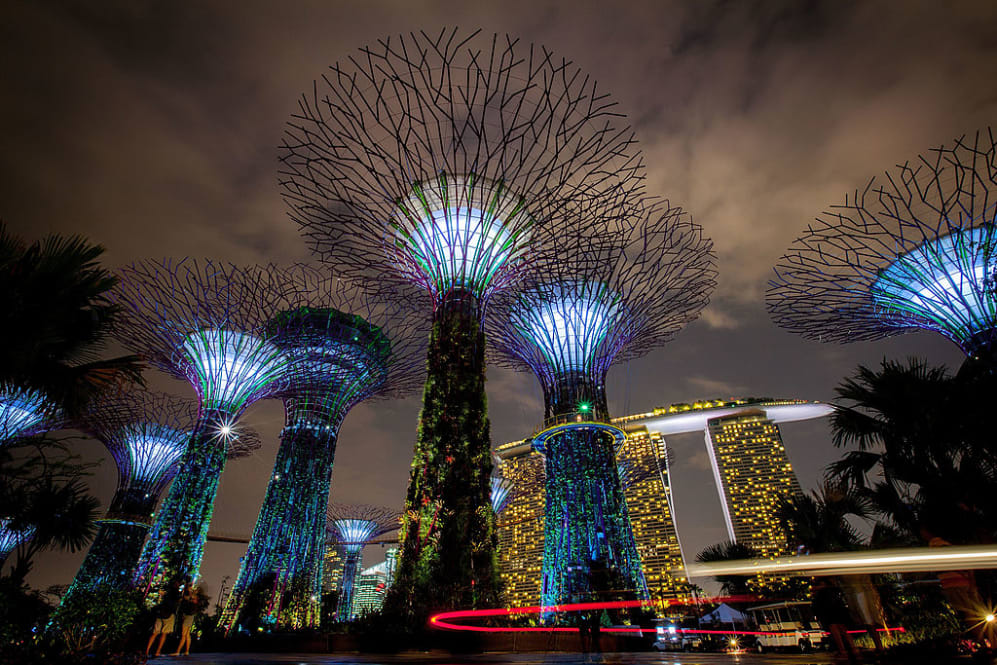 Another great way to get an ariel view of the Garden City and its cityscape is to hop onboard the iconic Singapore Flyer. This 28 capsule observation wheel opened in 2008, and at 165 metres tall with a diameter of 150 metres, is one of the largest giant observation wheels in the world.
A decadent way to elevate your experience is book a Singapore Flyer Sky Dining package where you will be treated to a four course dinner with a glass of bubbly, served by your dedicated in-flight host as you slowly rotate and enjoy the Singapore sights in style.
READ MORE – BARRETTO: Will Ferrari stick or twist with their driver line-up? Sainz's Monza podium might have come at the perfect time…
Go on a night safari at the world's first nocturnal wildlife park, designed exclusively for the night viewing of over 2,500 creatures who prefer to start their day in the hours after the sun sets. From the endangered and beautiful clouded leopards and much persecuted pangolin, you can observe these magnificent animals in habitats designed to be as close to their natural setting as possible, with just enough light for you to observe their activity without impacting their normal routines.
Choose from the self-guided walking trails which wind through over 80 acres of secondary jungle, or alternatively hop on a guided tram ride with commentary enabling you to learn more about these fascinating creatures of the night.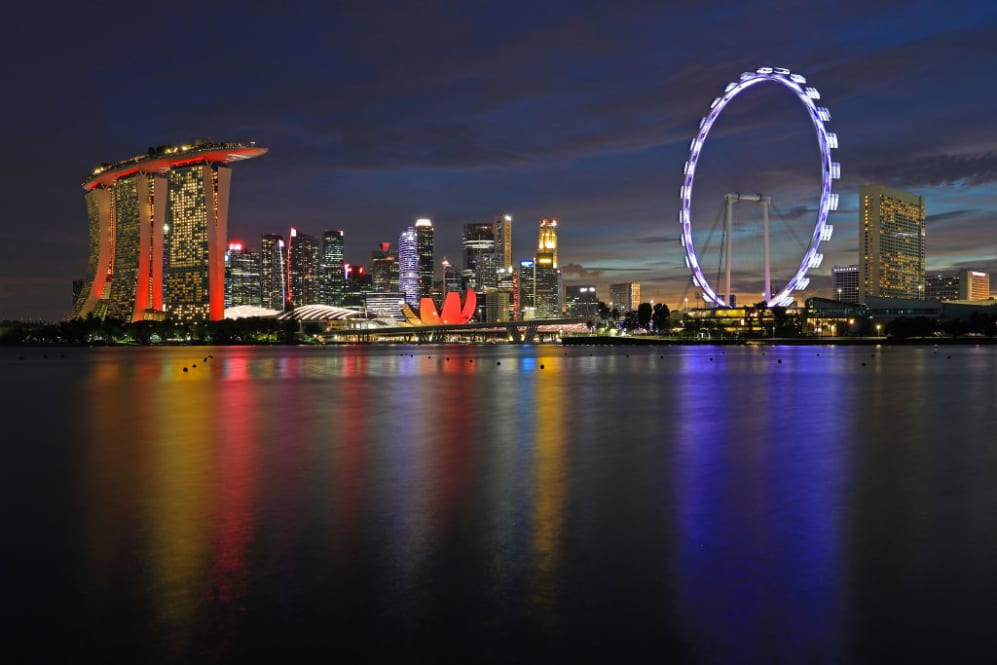 For those who like their city breaks with a dash of adrenalin and adventure, then just a hop, skip and a jump away from Singapore lies Sentosa Island. Located 1km south of the city and reached by a short MRT ride, this popular island resort known for its tropical beaches, luxurious hotels and fun filled attractions was once a British military fortress, but after World War II the island was renamed 'Sentosa' meaning peace and tranquillity in Malay, and it quickly established itself as 'Singapore's playground'.
If lying on a beach soaking up the rays sounds far too pedestrian for you, then an array of thrill seeking activities await from the Megazip – Asia's steepest zip wire which will see you hurtling above the lush canopy and white island beaches from 450 metres in the air – to something much closer to the ground such as the Skyline Luge, whizzing along the 688 metre long Dragonrail. Whatever thrills you seek, there is something for everyone to enjoy on the island, even if it's just simply enjoying the sunset on a beach with a cocktail in hand.
READ MORE – UNDERDOG TALES: When Vettel and Toro Rosso splashed their way to a sensational maiden win at Monza
Take a stroll around some of Singapore's beautifully preserved traditional shophouses, which can be found in various locations around the city. Dating from the 1840s these charming narrow rows of two-storey buildings which, as the name suggests, were a mixture of living and commercial accommodation.
Typified by a narrow frontage and covered corridor at the front for pedestrians, (known as a five-foot way) one of the best places to admire these beautiful historic structures is in the district of Katong-Joo Chiat – a vibrant neighbourhood with many colourful heritage shophouses and a smattering of colonial plantation bungalows, to transport you to a bygone age in this modern metropolis.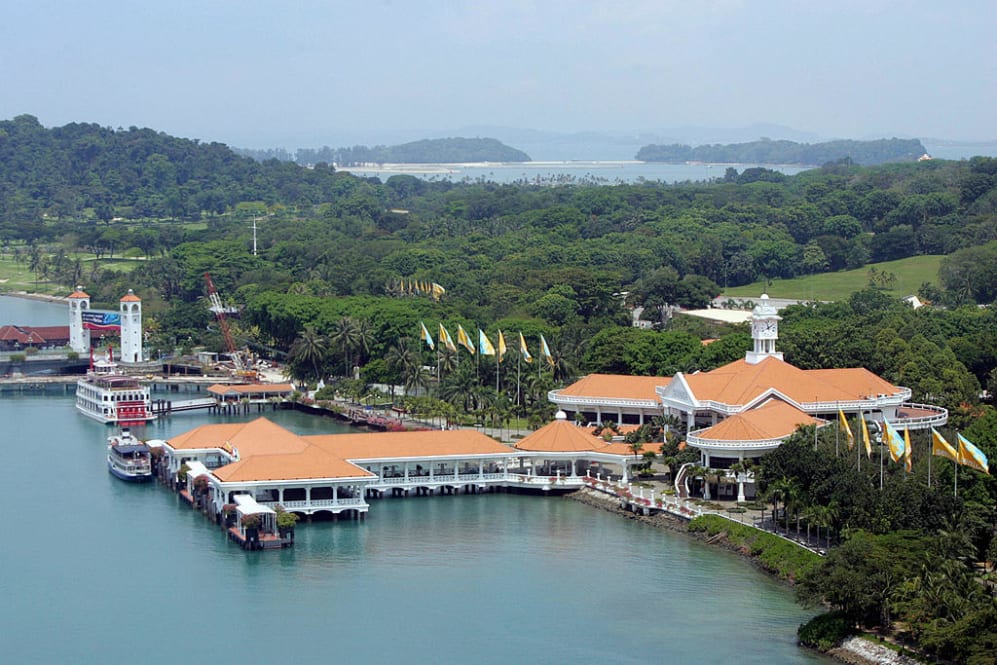 Finally, why not indulge that sweet tooth by paying a visit to the Museum of Ice Cream where you can learn all about this frozen sweet treat and its history across 12 multi-sensory installations, including a giant pool filled with sprinkles. Oh, and did I mention the unlimited ice cream…?
It's fair to say that since becoming F1's very first night race in 2008, Singapore has firmly established itself as a favourite with fans, teams and drivers alike. With its tropical climate, mix of heritage and modernity, world class food scene, incredible attractions and green spaces. With an ultra-clean and safe vibe, Singapore is a surprising city with so much to explore around every corner.
WATCH: Singapore Grand Prix – 5 great battles from the F1 archive
Fun fact
Singapore is well known for its multiculturalism and multi-faith cohesiveness as a society, and nowhere is this more apparent than at the traditional track blessing ceremony, which takes place in the days preceding the race. In the annual ritual, first held before the inaugural night race in 2008 and the only one of its kind, representatives from 10 different religious faiths gather together to bestow their blessing on the event, praying for the safety of everyone involved.
Singapore Destination Guide
Currency: Singapore dollar
Language: English, Malay, Tamil and Chinese
Population: Approx. 6 million
F1 race held since: 2008
To read on, sign up to F1 Unlocked for free
You'll unlock this article and get access to:
Live leaderboard data
Epic experiences and rewards
Money-can't-buy competitions