Opinion
DT'S 10 THOUGHTS… On Singapore and beyond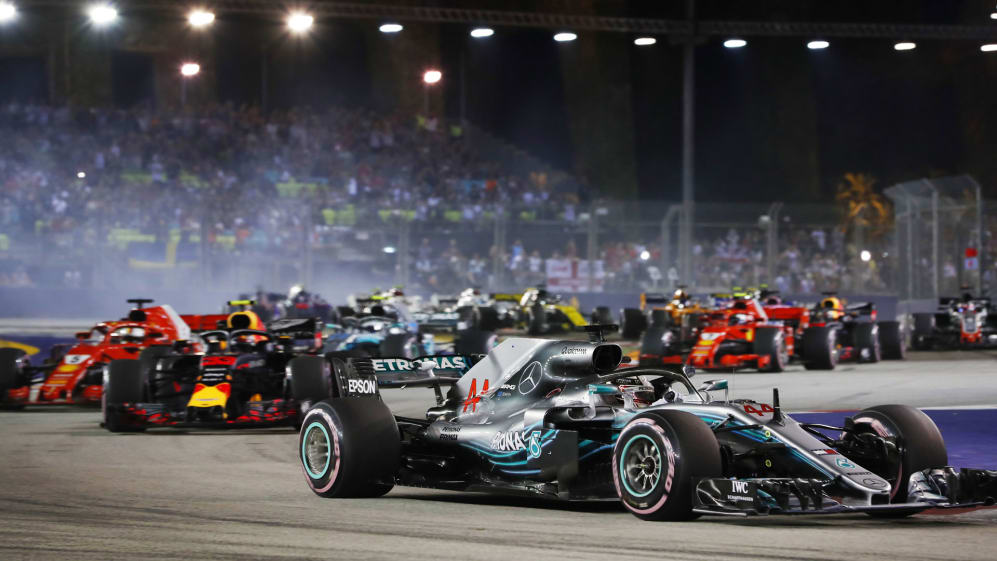 A celebrated Formula 1 journalist with more than 500 (consecutive) Grands Prix' experience, David Tremayne is one of those familiar paddock figures who has seen it all, met them all, and written about it all, over almost five decades of F1 racing. Here, he shares his thoughts after round 15 in Singapore…
1. Yet another stunning display from Lewis
Lewis Hamilton is in The Zone right now.
There is a compelling majesty to his performances and an underlying strength and confidence, even though he refuses to believe that a fifth championship is won. He is right to think that, with 150 points still on the table from the remaining six races.
He is driving better than ever in my opinion. So much so that I venture to suggest he is even outdoing his great idol, Ayrton Senna.
His pole lap here was sensational, yet his mien seems less on-the-edge than the great Brazilian's. There is a cleanliness and economy in his style, and zero suggestion of the occasional aggression and dangerous driving that sometimes compromised the Brazilian's greatness, or Michael Schumacher's.
It's past time in my opinion that he should be judged one of the all-time greats, up there not just with Senna and Schumacher, but also the nonpareil Jim Clark, Juan Manuel Fangio, Stirling Moss, Jackie Stewart and Gilles Villeneuve.
2. So what went wrong for Ferrari this time?
Ferrari seemed poised to pose a threat to Mercedes when Sebastian Vettel passed Max Verstappen's Red Bull for second place as they accelerated out of Turn 3 on the opening lap, and then held station behind Lewis Hamilton as they all nursed their hypersoft Pirellis in the first stint.
But things started to go wrong when he was the first to pit, on the 14th lap, and Ferrari gambled on a set of ultrasofts in the hope that they could jump him ahead of the Briton for track position. He knew after a few laps that they weren't going to, and far from getting even close to Hamilton, he found himself pipped for second by Verstappen after the Dutchman stopped three laps later than he did.
Thereafter he tried his best to keep up, but went slower and slower towards the end as the ultrasofts faded more and more, and was a humbled 39.9s behind the winning Silver Arrow by the end.
He made his usual team-supporting comments afterwards, but the fact was that Ferrari lacked speed and chose the wrong strategy, and they got punished as a result.
"Lewis said he didn't come expecting to gain 10 points, and we didn't come expecting to lose 10," he said glumly. "But we weren't in the fight. It was overall not the result we wanted, and a disappointment after we came here thinking we were going to be very strong."
One of the fascinations of this great world championship will be to see how effectively the Scuderia can match the way that Mercedes reacted after Belgium, and how quickly they can push back into the fight.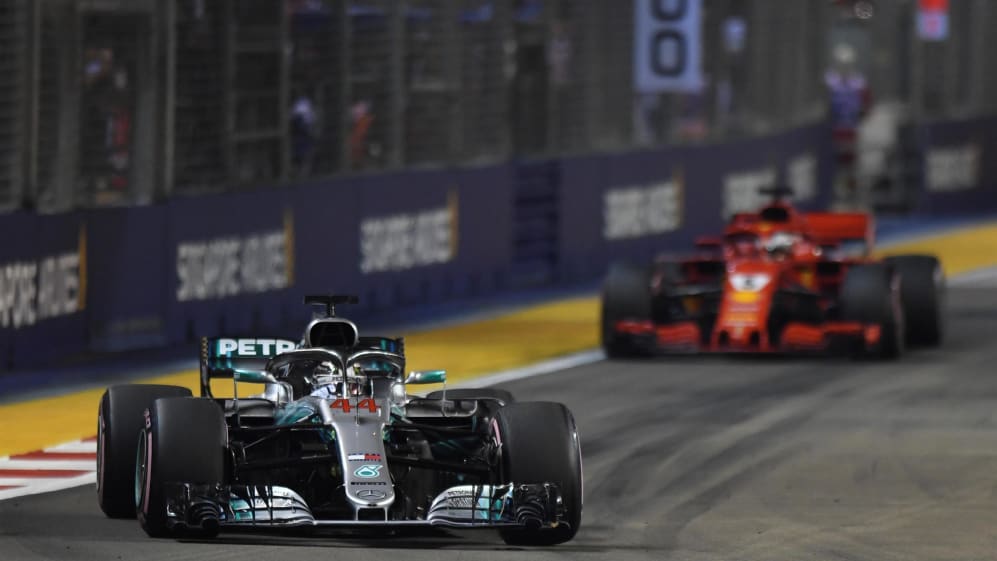 3. All Max needs is a bit more power
Max Verstappen drove an excellent race. He beat Sebastian Vettel into Turn 1, but then lost out on acceleration to the Ferrari out of Turn 3.
Then he had problems again with his Renault engine going into false neutral behind the Safety Car in the opening laps, and it bogged down again as he left the pits after his stop on the 17th lap, but he still had just enough momentum to get back out inches ahead of Vettel. That great strategy by Red Bull was crucial as he sped on to a solid result.
He admitted that he knew straight away that second was the best he could expect, but that never stopped him pushing hard and almost having a go at Lewis when the latter got horribly baulked by backmarkers on the 38th lap.
"In the end we knew second was our best result so I just brought it home," he said. "You can't pass here. It's impossible. You can't get close, and you are just following a train, so you do your own race."
With a bit more power from his Renault engine, though, we might just have had a real race for the win…
4. The battle for fourth – aero aggro in a nutshell
Lewis Hamilton said that when approaching lapped cars you could feel the effects of the aerodynamic wake when you were as far behind as five or six seconds. Valtteri Bottas knew just what he meant.
The Finn led fellow countryman Kimi Raikkonen and Daniel Ricciardo throughout the race, but was struggling so much while chasing a lapped Nico Hulkenberg in the final stages that he was completely unable to reduce the gap to the struggling Vettel, even though his car was theoretically in much better shape. Indeed, as Seb fell over the cliff and the gap between his Ferrari and Max Verstappen's second placed Red Bull went out from 1.8s on lap 38 to an eventual 30.9s, the second Mercedes slumped from 3.1s behind the Ferrari on lap 28 to 11.9s by the flag. Raikkonen and Ricciardo likewise struggled behind the Mercedes.
F1's Managing Director of Motorsport Ross Brawn revealed on Friday that current cars can lose up to 50 percent of their performance when following another closely. The plans for 2021 are to reduce that loss to 20 percent. It can't happen soon enough.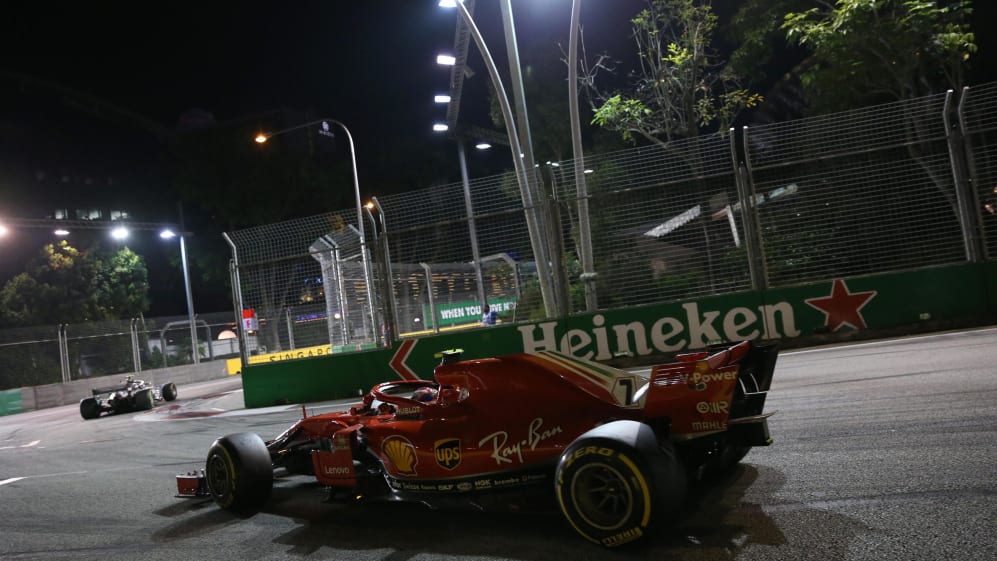 5. Should blue flag offences warrant a race ban?
Neither Romain Grosjean nor Sergey Sirotkin covered themselves in glory with their selfish behaviour while race and world championship leader Lewis Hamilton was attempting to lap them on the 36th lap of the Singapore Grand Prix.
Both were racing hard. The Russian had earlier been a bit of a hero in staving off the persistent advances of Sergio Perez in his Force India. And, having run a strong eighth originally, Grosjean was fighting back after dropping to 14th following his pit stop on lap 16. But, in my opinion, that was no excuse for neither of them getting out of the way.
Hamilton's lead of five seconds on the 35th lap was cut to 1.9 by the 37th as they blocked him at every turn, and by the 38th Max Verstappen was sniffing the Mercedes' gearbox and looking for a gap.
Grosjean made what for me was a feeble post-race apology, after receiving a five-second penalty and two penalty points. For reasons I don't understand, Sirotkin escaped with no censure.
Race Director Charlie Whiting suggested that Grosjean's intransigent defence was "the worst he had seen for a long time".
There is something about drivers who reach a certain stage of their careers, in which they have often failed to realise their true potential, and become obstructive and arrogant while forgetting their track manners. It's far from a new phenomenon, but it hasn't got any better with the passing years.
Momentary blocking is one thing, but ignoring at least 11 blue flags is something else, and I'd like to see greater penalties to discourage this unsporting practice. A one-race ban would be a start.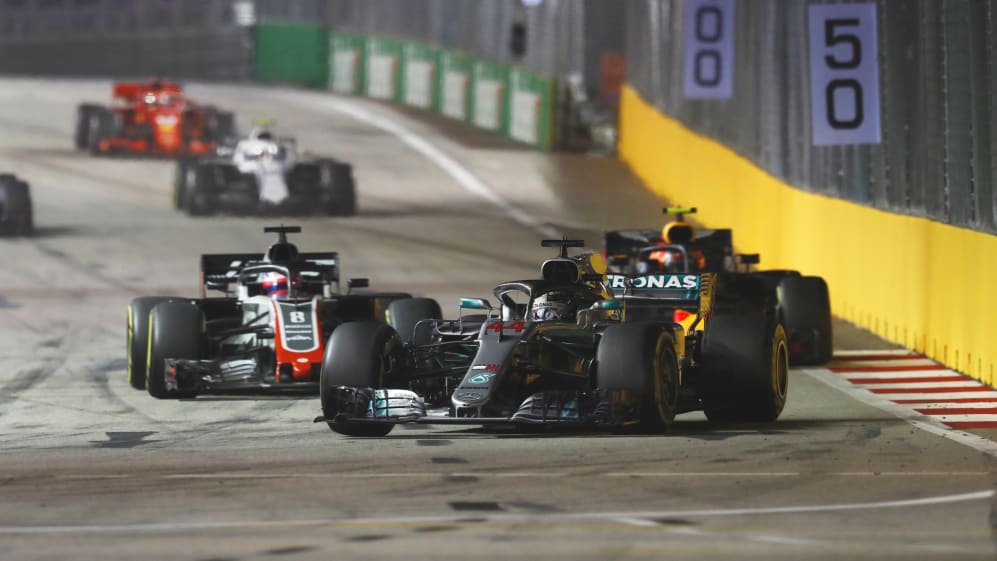 6. Sergio triggers a disaster for Force India
I'm a big fan of Sergio Perez. More often than not, he drives like a tiger and these days he generally steers clear of some of the trouble he used to get into in his early days in F1.
But every so often, that bad boy sneaks back, as it did with Esteban Ocon in Baku and Spa last year. And that saddens me.
I think it was right – just – to regard the incident on the first lap as a racing one, but it worried me that Sergio talked of not having space when there was clearly nobody to his left. It reminded me of how, at Spa, when he nearly put Esteban in the wall, he had a car width's road to his left.
The move with Sirotkin was silly. Yes, he must have been massively frustrated to have run a strong seventh initially before dropping down to 15th after his pit stop on lap 22. And then to get stuck behind much slower cars. For 14 laps he snarled and griped over the radio about the Russian's tactics, and I get that, too. Yet when he finally got around the FW41, in what appeared to be one of his nice moves, he ruined it by moving left straight into contact with it, as if he had a problem with his peripheral vision.
All in all, his was an expensive evening. I'd venture that it cost Force India at least seventh and eighth places, or another hugely valuable 10 world championship points.
7. What else can go wrong for Esteban?
Sergio Perez's move must have seemed like a last straw for Esteban Ocon, who could have been forgiven for wondering just what he's done to upset higher powers.
In July he thought he was going to McLaren, and had a seat fitting.
Then he thought he was going to Renault, until Daniel Ricciardo unexpectedly knocked on Cyril Abiteboul's door. Then the door closed at McLaren, because of his Renault option, originally, and then because of his Mercedes links. Toto Wolff has upset the burghers of Woking.
Then two races ago, at Spa, he nearly pulled off the most sensational overtaking move of all time. Then he found himself facing F1 unemployment in 2019 despite what is clearly huge talent.
And now he gets taken out – again – by his team mate.
Hopefully, things will start looking up for this most likeable upcomer over the remainder of the season.
8. A truly great drive by Fernando
It's quite difficult to recall just when a McLaren set the fastest lap in a Grand Prix (Brazil 2012?), and while his time did not stand up until the end of the race, Fernando Alonso did set the fastest lap here on the 44th.
His seventh place was McLaren's best result since the Spaniard finished in that position in Bahrain, China and Azerbaijan, and he was the last unlapped runner.
It was probably a matter of the car suiting the circuit and vice versa, and he said afterwards that he was sceptical that such a level of performance could be maintained over the balance of the remaining six races, but it was good to see.
And it will have given the guys back at Woking a boost to go with that of the quiet arrival of the underrated engineering director Pat Fry, who will handle overall design responsibilities until such time as James Key can escape from Toro Rosso.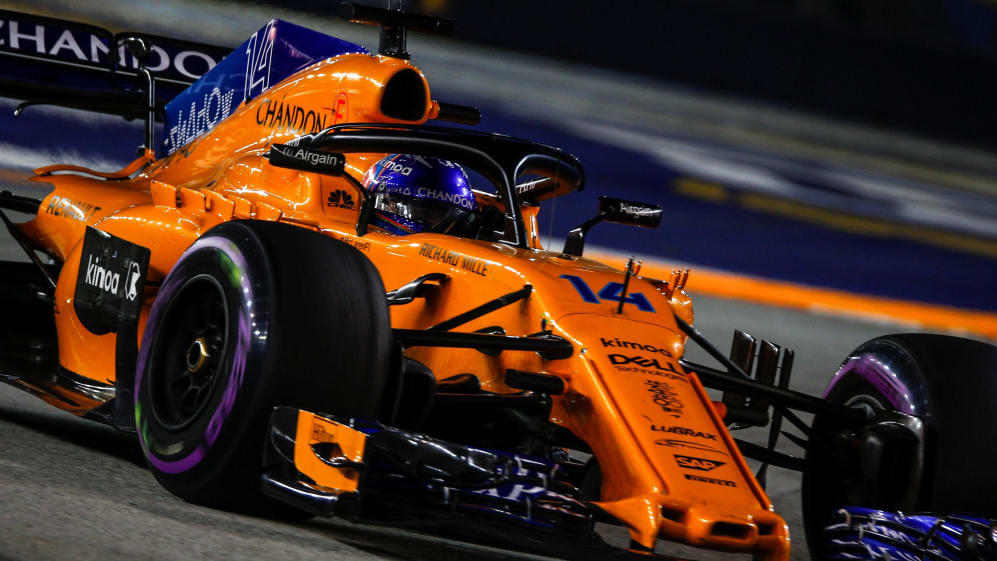 9. Renault back on track
Eighth and 10th places weren't the greatest result for Renault, but they did send a useful extra five points into the coffers to help safeguard that all-important fourth place in the constructors' stakes.
Carlos Sainz was pretty pleased with his 75th Grand Prix outing, but Nico Hulkenberg was less enamoured of his 150th. Carlos didn't have the punch to go after Alonso, which was interesting, while The Hulk was trapped in traffic and suffered all the usual aggravations associated with that.
With a Renault engine taking second place and another in sixth – albeit in Red Bulls – and the McLaren in seventh place, there were five of the Regie's motors in the top 10…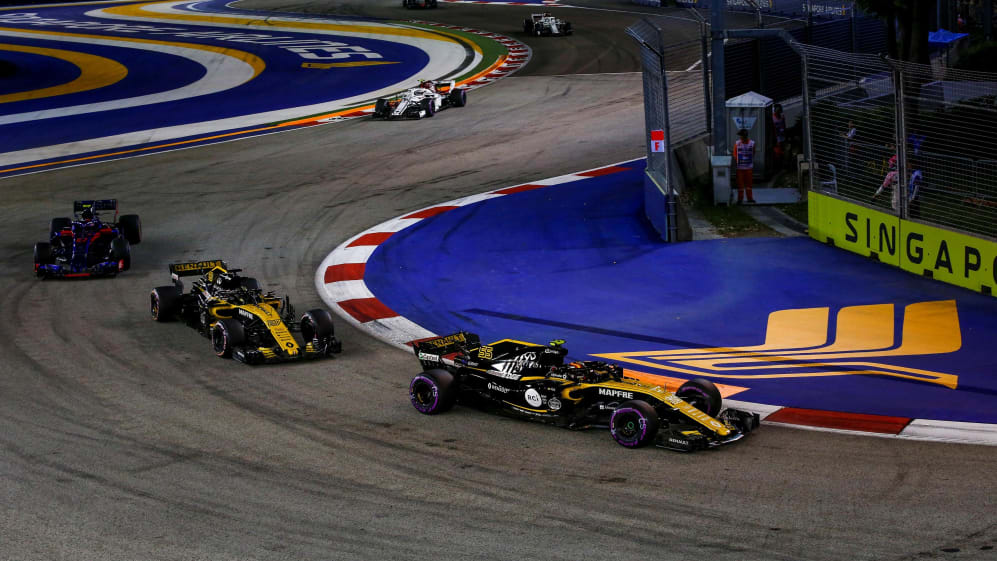 10. More Singapore success
263,000 spectators went to the 11th running of the Singapore Grand Prix, 87,600 of them on Sunday, and the overall figure said this was the second most-attended race of the 11.
The Marina Bay circuit is like "Monaco on steroids" according to Lewis Hamilton, who says it is the fourth-highest ranked when it comes to difficulty in overtaking.
I have to say, I really like it. It's a neat track, Singapore is a nice place, and the event is well run and provides good back-up entertainment, including concerts this year by the likes of Liam Gallagher and The Killers.
It's become one of those hardy perennials, and long may it remain so.
Watch highlights of the 2018 Singapore Grand Prix below