Horner revels in 'the most amazing year' for Red Bull after securing second constructors' title in a row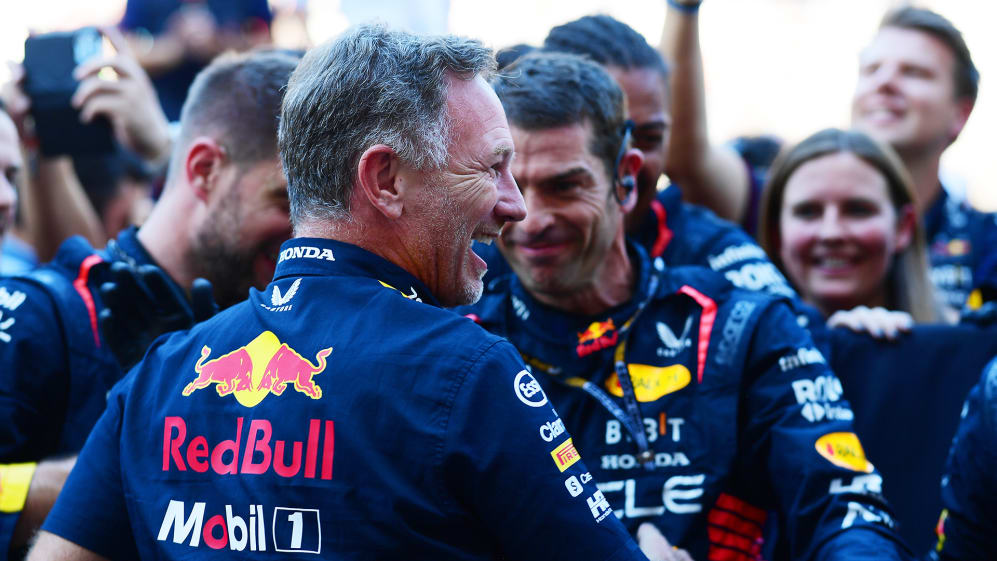 Christian Horner heaped praise on every department at Red Bull after the team followed up their 2022 constructors' title triumph by sealing this year's crown with victory in the Japanese Grand Prix.
Max Verstappen dominated Sunday's race at Suzuka after fending off an early attack from McLaren pair Lando Norris and Oscar Piastri, the result mathematically putting the championship out of Mercedes and Ferrari's reach.
READ MORE: Verstappen dominates for Japanese GP victory as Red Bull secure back-to-back constructors' titles
It marked Red Bull's sixth constructors' title since they entered the sport back in 2005, with their 2022/23 double adding to four successive championship wins from 2010 to 2013.
Speaking outside the Red Bull garage post-race, Horner said: "It's been the most amazing race for us, the most amazing year. It's all testimony to these guys [the mechanics] and all the men and women back in the factory in Milton Keynes.
"To Red Bull, to all our partners, it's the collection of an incredible effort of everybody doing their bit to achieve results like we've done, and of course Max is just on another level at the moment – today was an incredible performance."
READ MORE: 'I'm very proud of everyone' – Verstappen overjoyed as Suzuka win seals constructors' crown for Red Bull
Red Bull's latest title win came on the home soil of long-time engine partner Honda, who own the Suzuka circuit and happen to be celebrating their 75th anniversary year.
"It's been a great partner for us and it's very fitting to win this championship here, in front of all the fans here," added Horner. "The support we've had the whole weekend has just been phenomenal."
Horner also reserved praise for the contribution of Sergio Perez, despite the Mexican's dire day that included being penalised for breaching the Safety Car regulations, picking up a sanction for tipping Kevin Magnussen into a spin and ultimately retiring from proceedings.
READ MORE: Leclerc predicts 'very close' fight for P2 in the constructors' after Ferrari/Mercedes scrap at Suzuka
"He went through a few front wings today," Horner smiled. "From the very start he got knocked around a bit, picked up a penalty, obviously the move on Kevin... It wasn't his day, but he'll bounce back at the next race. He's a big part of the success as well."