Feature
F1 POWER RANKINGS: Which driver denied Hamilton top spot after the Qatar Grand Prix?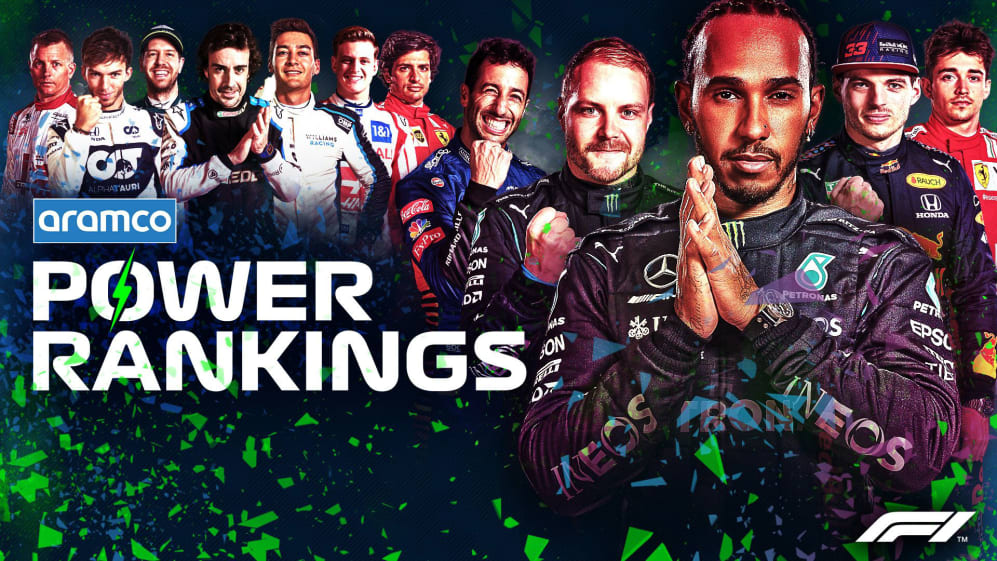 There were plenty of talking points after the very first Qatar Grand Prix. But which drivers impressed our Aramco F1 Power Rankings judges the most under the lights at the Losail International Circuit? Their votes are in…
HOW IT WORKS
Our six-judge panel assesses each driver after every Grand Prix and scores them out of 10 according to their performance across the weekend – taking machinery out of the equation

Our experts' scores are then averaged out across the season to create an overall Power Rankings Leaderboard (at the bottom of the page)


No pun intended, but the difference in Hamilton's performances from FP1 to qualifying and the race in Qatar was night and day. Off-colour with a stomach-ache on Friday, come quali, Hamilton was in devastating form, with both of his Q3 laps good enough for pole – although the second one gave it to him by over four-tenths over Max Verstappen's ultimately disallowed lap. From there, Hamilton simply blasted off into the untouchable mid-distance on Sunday evening for his 102nd victory, moving him just eight points shy of Verstappen's title lead.
READ MORE: 'They woke up the lion' – Wolff says Hamilton showing his 'superhero powers' after pair of crushing wins


Just as for Alonso in Hungary, Esteban Ocon was big enough to realise that the Qatar Grand Prix was his team mate's race to shine. Implored by Alonso to "defend like a lion" to protect the Spaniard's third place (a reference to Ocon's own comments about Alonso's defence of Hamilton in Hungary that ensured his maiden victory) Ocon did the best he could to keep Sergio Perez at bay and allow Alonso to get away at the front. The Frenchman was rewarded with his own fifth place, while he described the Qatar result for Alpine as "like a win".
WATCH: Alpine summon the lion spirit again in Qatar – The best team radio from Sunday's Grand Prix


Lando Norris was in no doubt that, had it not been for a late puncture that forced him into a second stop, P4 in Qatar would have been his. After making Q3 where team mate Daniel Ricciardo could not, Norris was doing everything required of him to claim that fourth place when the puncture struck and he pitted on Lap 49 of 57. He performed a decent recovery thereafter to make it back to P9 by the end – but that did little to improve his mood on Sunday evening.
READ MORE: 'We should have outscored Ferrari' says Norris, after late tyre issue costs him P4 in Qatar


Sergio Perez would argue that there were mitigating circumstances behind his Q2 knock-out. But suffice it to say that, with the drivers' and constructors' titles so finely poised, Perez didn't do himself any favours on Saturday – his performance especially stark given both AlphaTauris went through to Q3. But after that Perez did the recovery job required of him to take P4 – although the Mexican felt he should have been left out to nurse his tyres to the end on a one-stop, rather than ceding track position to Alonso with a two...
READ MORE: Did Qatar grid penalties actually aid Verstappen's title chances?

But for a disastrous start that saw him drop from P10 to P17 on Lap 1, this could have been a strong race for Sebastian Vettel. The four-time champion was the sole Aston Martin to make it through to Q3, but then got squeezed at the start, dropping him down the order and leaving him to stealth his way back up to P9 – only to be deposed by Norris with three laps remaining.
WATCH: Vettel sees positives but unhappy to be at the 'back of the train' from Turn 1

THE OVERALL STANDINGS
Despite Hamilton's 10.0 and 9.8 scores from the last two races, he remains tied with Lando Norris for P2. Perez, meanwhile, climbs back into the top 10 in place of Vettel, while Sainz and Alonso both move upwards too.