Feature
F1 Testing: What the data tells us from Day 2 of Test 2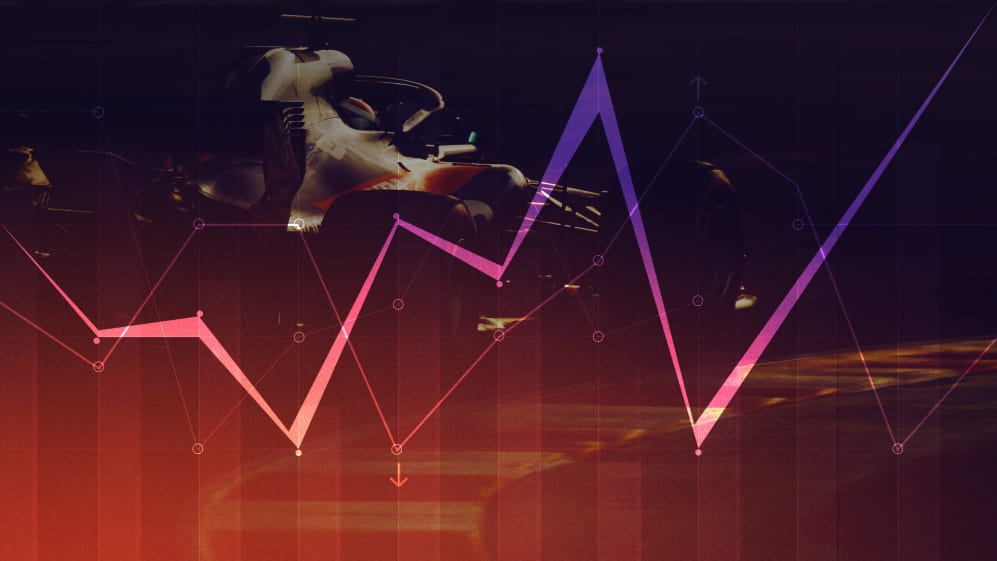 And so we reach the halfway point of the second and final Formula 1 pre-season test. McLaren stayed on top for the second successive day, but are they the true standard-setters? No. So who is? Time to delve into the numbers…
McLaren top, but that's not the true picture
One look at this graph, which charts the three best sectors set by each team (not necessarily from the same lap or same driver), puts McLaren on top of the pile. The margins in the first two sectors, particularly the middle one, are pretty impressive.
However, Sainz was on a qualifying-simulation, albeit on the C4 which is the second softest tyre in Pirelli's five-compound range. This is the first time in pre-season testing that we've seen a genuine low-fuel, pedal to the floor, quick lap – so this explains why they are so far clear.
Sainz admitted as much when I spoke to him after the session. "The timesheet looks good and yes, it's always nice to be first but we're not going to be on pole in Australia," he said. "Everyone just calm down a bit, this is just testing. We're doing some more qualifying-based runs where you can see a bit more the performance of the car – so we need to wait to see what the others do."
Best single lap
1 McLaren (Carlos Sainz) 1m17.144s (C4) – 130 laps
2 Racing Point (Sergio Perez) 1m17.842s C5 +0.698s – 88 laps
3 Ferrari (Sebastian Vettel) 1m18.195s (C3) +1.051s 40 laps
4 Alfa Romeo (Kimi Raikkonen) 1m18.209s (C4) +1.065s 113 laps
5 Haas (Romain Grosjean) 1m18.330s C5 +1.186s 120 laps
6 Red Bull (Max Verstappen) 1m18.395s (C3) +1.251s 128 laps
7 Toro Rosso (Daniil Kvyat) 1m18.682s (C4) +1.538s 101 laps
8 Valtteri Bottas (Mercedes) 1m18.941s (C3) +1.797s 74 laps
9 Renault (Nico Hulkenberg) 1m19.056s (C3) +1.912s 58 laps
10 Williams (Robert Kubica) 1m19.367s C5 +2.223s 130 laps
Similarly, Racing Point were experimenting with the C5 compound – the softest in the range – and around 0.6s a lap faster than the C4 according to Pirelli, so their time isn't representative either. With this in mind, we've adjusted the times to account for that deficit between the two compounds, plus the 0.6s gap between the C4 and C3. And this is how they stack up.
Best single lap (adjusted times tyre-corrected based on Pirelli data)
1 (1) McLaren (Carlos Sainz) 1m16.544s
2 (3) Ferrari (Sebastian Vettel) 1m16.995s +0.451s
3 (6) Red Bull (Max Verstappen) 1m17.195s +0.651s
4 (4) Alfa Romeo (Kimi Raikkonen) 1m17.609s +1.065s
5 (8) Mercedes (Valtteri Bottas) 1m17.741s +1.1197s
6 (2) Racing Point (Sergio Perez) 1m17.842s +1.298s
7 (9) Renault (Nico Hulkenberg) 1m17.856s +1.312s
8 (7) Toro Rosso (Daniil Kvyat) 1m18.082s +1.538s
9 (5) Haas (Romain Grosjean) 1m18.330s+1.786s
10 (10) Williams (Robert Kubica) 1m19.367s +2.823s
McLaren stay top, but Sainz was pushing whereas the others were likely not, so this remains an anomaly. Ferrari move into second, a jump of one place, two tenths quicker than Red Bull, with Max Verstappen's time-corrected lap moving up three places.
Alfa Romeo stay fourth, ahead of Mercedes with Racing Point dropping four places to sixth. The one consistent was Williams, who remain last in both charts, though they dropped from three tenths to one second off the back of the pack – a concern heading to Australia.
A mix of programmes in action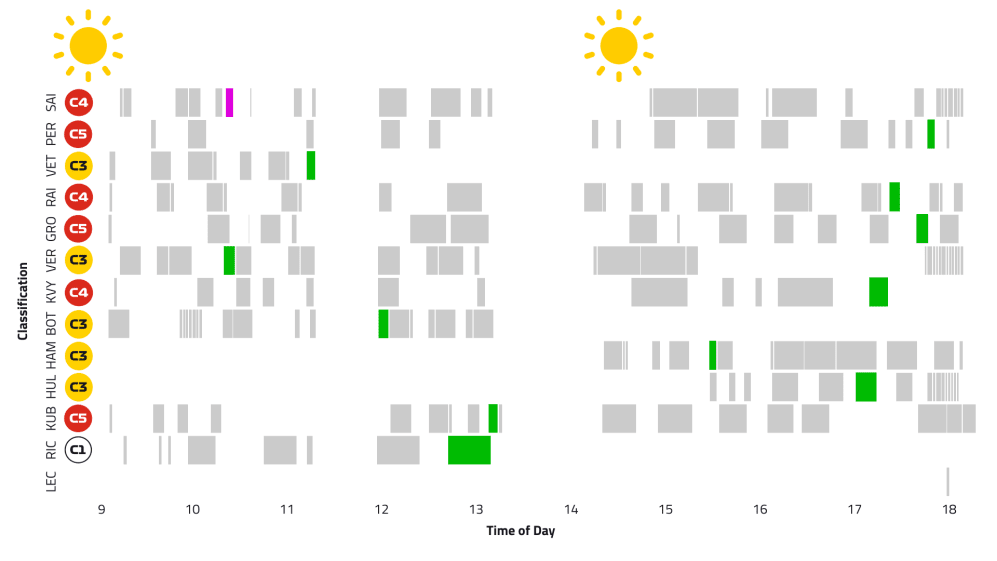 The Circuit de Barcelona-Catalunya basked in glorious sunshine on Wednesday, with conditions their warmest since pre-season testing began. However, with conditions cool in the morning and getting warmer into lunch before cooling again towards the end of the day, it's even more difficult to make comparisons from one lap to another across the day,
However, we can see some interesting trends. For example, Mercedes focused on set-up work with Valtteri Bottas in the morning, which explains the shorter stints with gaps in between. They then turned their attention to a race simulation in the afternoon – when Lewis Hamilton got in the car. Technical chief James Allison said it was "considerably quicker" than their last race simulation.
However, Allison did say that it was "marred by front graining", adding "[it is] something which we think, looking up and down the pit lane, could be a feature of the year. We need to make progress on graining resistance in the next couple of days in order to make sure we have a good way of handling it by the time the racing season begins." Something to watch, with interest, in Australia, then.
This graph highlights Ferrari's travails, with Vettel setting his best lap and then crashing after – with a little over two hours gone. The team did manage to get out again, but Charles Leclerc was only able to complete a solitary lap at the death, which was at least useful to check the car after the rebuild.
Red Bull had been motoring along in the morning, with a series of shorter runs, but lost a bunch of time in the afternoon after Verstappen's off-track excursion. The team carried out a series of checks on the gearbox, which took some time and given they temperatures had dropped by the time they got back out, they opted instead to use the time to do pit stop practice as part of their race work plan.
So a few niggles, then, for the three top teams – Mercedes, Ferrari and Red Bull – while others such as Williams at least had something to smile about after a difficult start to testing. Just two days to go to refine those packages before we head to Melbourne...