Ferrari wary of Mercedes' Monza pace, despite topping times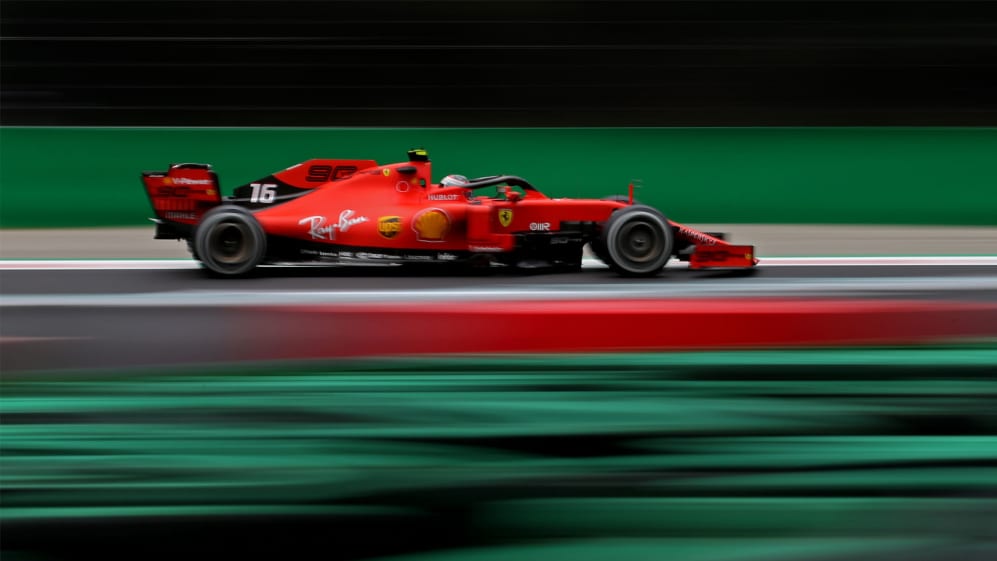 A disrupted Friday's running at Monza nonetheless saw Ferrari delight the umbrella-sporting tifosi, as Charles Leclerc headed both free practice sessions. But while that appeared to bode well for the Scuderia claiming their first win here since 2010, according to the team's drivers, the real picture isn't quite so straightforward.
The qualifying simulation runs in FP2 saw Belgian Grand Prix winner Leclerc finish ahead of Lewis Hamilton's Mercedes, with Sebastian Vettel in third for the home favourites. But given that the difference between Leclerc and Hamilton was just 0.068s, plus the fact that Hamilton's lap was set when the track was still drying after a brief rain shower, Leclerc had little reason to feel cheerful heading into Friday evening.
READ MORE: Leclerc edges Hamilton by in FP2 at Monza
"It's nice to be quickest, but I don't think it's the real picture of everything," he said. "I expect Mercedes to be very strong tomorrow when we'll be in the same conditions. They did their fastest lap time in difficult conditions, so they are very quick and we need to work for tomorrow."
The main thing is we got some decent laps, we know where the weaknesses are and that's what we try to focus on
Over in the #5 Ferrari, Vettel was also cautious about just how strong Ferrari's pace was, despite the fact that, on paper, the team's SF90 challenger should be the class of the field at Monza in dry conditions, given its combination of aerodynamic efficiency and class-leading power unit.
"I think it was okay but we can still get more out of the car," said Vettel at the end of Friday. "[FP2] was a bit of a scrappy session with everybody jumping out when the light went green because of the conditions. Not the usual rhythm you have but I think the main thing is we got some decent laps, we know where the weaknesses are and that's what we try to focus on."
READ MORE: Monza qualifying could be chaotic as drivers hunt for tow, says Russell
Asked whether Ferrari would consider experimenting with a tow in qualifying to try and improve their speed, Vettel replied: "We'll see the conditions, see the tyres, how careful we need to be in the out-lap looking after them and then go from there. It's nice if you get a tow, it's not so nice if you don't, but that's how it is round here."
Ferrari taking their first Monza win this weekend since that 2010 triumph with Fernando Alonso would be both hugely popular and extremely timely, as they seek to cut into Mercedes' 145-point advantage in the constructors's standings, with just eight races remaining this season.