Fiery reliability woes cost Gasly points in season opener – but Tsunoda picks up the pieces
Pierre Gasly's 2022 season looked to be off to a decent start at the Bahrain Grand Prix, the Frenchman making Q3 on Saturday before running solidly in the top 10 for much of the race. But points weren't on the cards after all, as a late reliability issue saw him park up trackside with flames billowing from the rear of his AlphaTauri AT03.
Up until that point, Sunday's race had gone to plan for AlphaTauri. Yuki Tsunoda had charged back through the field after qualifying a lowly P16 and was on the fringes of the points, while Gasly had picked up where he left off in 2021 with what was shaping up to be another top 10 drive.
READ MORE: Bottas elated with double-points finish for Alfa Romeo after 'disaster' start in Bahrain
But running eighth after what was expected to be the final round of pit stops, the Frenchman didn't have much warning when his car switched off around Turn 1.
"It started to smell not too good inside the car then it was pretty much a barbecue at the back of the car, so not the start we hoped for," he said afterwards. "It's a shame because until then the race was amazing. We managed to have a really good start, I managed to pass Fernando [Alonso] and also Kevin [Magnussen], so we lost some important points but there are still quite a lot of positives to take from today."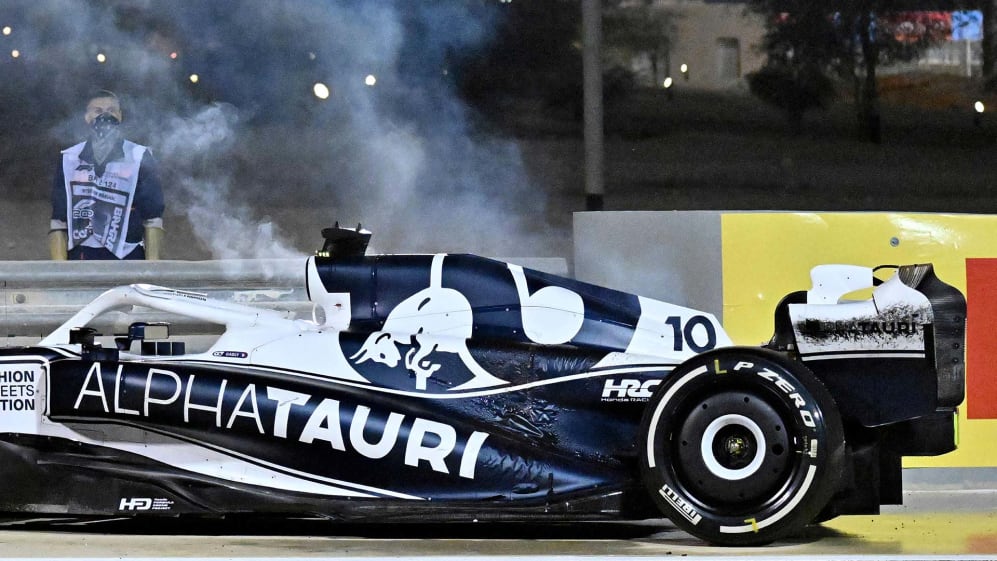 While Gasly admitted that his issue combined with the double retirement for sister team Red Bull was "not a great day" for the two squads, he wasn't too downbeat after confirming that the race pace felt "great," which would have been music to the team's ears. They now have a short turnaround to try and diagnose the issue before the F1 circus heads for Saudi Arabia next weekend.
READ MORE: 6 Winners and 5 Losers of the 2022 Bahrain Grand Prix – Who shone under the lights in Sakhir?
The positives for AlphaTauri were that they did pick up some points courtesy of Tsunoda. A rookie no longer, Tsunoda has been charged this season with scoring more consistently, and he opened up his 2022 account with a spirited display, which included a multi-lap defence from the quicker Valtteri Bottas midway through the race.
"I am quite happy about the race pace," Tsunoda said. "In general we need still more pace to fight. Especially [at venues] like Bahrain, it's slightly easier to overtake but if we face a track that is slightly difficult to overtake, performance is going to be very important in qualifying. But anyway, a good start I think."