FIRST LOOK: Mercedes go back to black with new W14 for 2023 F1 season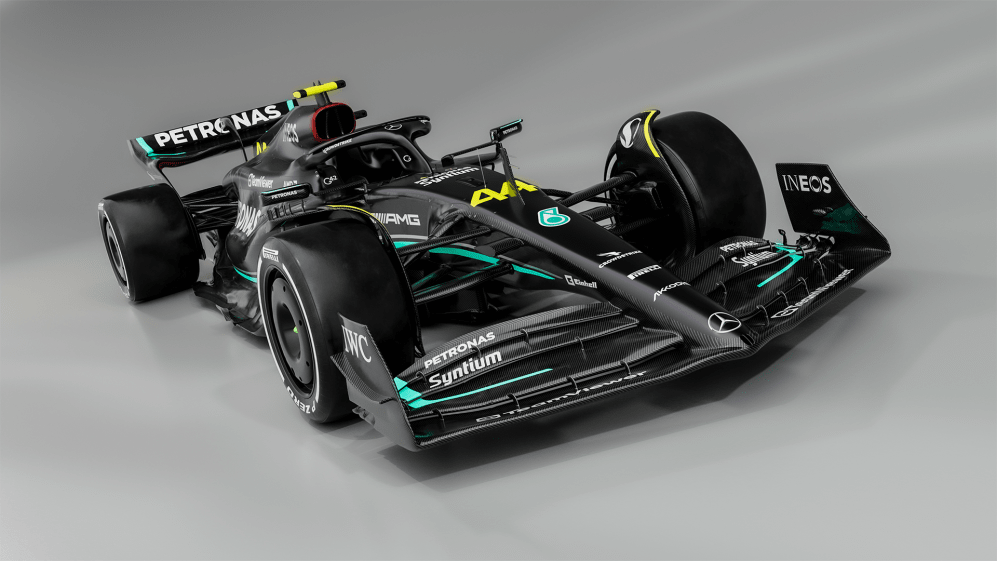 Mercedes became the penultimate F1 team to launch their 2023 season by taking the covers off the W14 – sporting an all-black livery – in a special presentation live from Silverstone on Wednesday morning.
A day after rivals Ferrari presented their new challenger, Mercedes showcased the car they hope will move them back into contention for regular race wins and title glory.
GALLERY: Take a closer look at the Mercedes W14 2023 F1 car and livery
Mercedes' latest creation marks a return to black – a colour they previously ran in 2020 and 2021 – after spending 2022 in their more traditional silver scheme.
Team boss Toto Wolff, continuing drivers Lewis Hamilton and George Russell, and new reserve Mick Schumacher were all present for Wednesday's reveal, which will be followed by a shakedown at the British Grand Prix venue.
As touched on, Mercedes enter 2023 looking to bounce back from a rollercoaster 2022 season, which started with severe porpoising but eventually yielded a return to winning ways – and third in the constructors' standings – through plenty of hard work and a fair share of updates to the W13.
Speaking at the W14 launch, Wolff said: "Our hopes and expectations are always to be capable of fighting for a World Championship. However, our competitors were very strong last year, and we are playing catch-up.
"Racing at the front requires resilience, teamwork, and determination. We face up to every challenge, we put the team first, and we will leave no stone unturned in the chase for every millisecond. This year, we are going all in to get back in front."
READ MORE: 'It's been a good lesson for us' – Hamilton explains how 2022 struggles have made Mercedes stronger
As for the return to a black livery, which is predominantly exposed carbon fibre to shed as many grams as possible, Wolff added: "We were overweight last year. This year we have tried to figure out where we can squeeze out every single gram. So now, history repeats itself. You will see that the car has some raw carbon bits, along with some that are painted matte black.
"Of course, when we changed the livery in 2020 the main driving factor was to support the diversity and equality causes which are always close to our heart. The colour black became part of our DNA at that point, so we are pleased to return to it."
Oops! Error retrieving Twitter post