Flashbacks to 2016 as Mercedes offer their views on Hamilton and Russell's crash in Qatar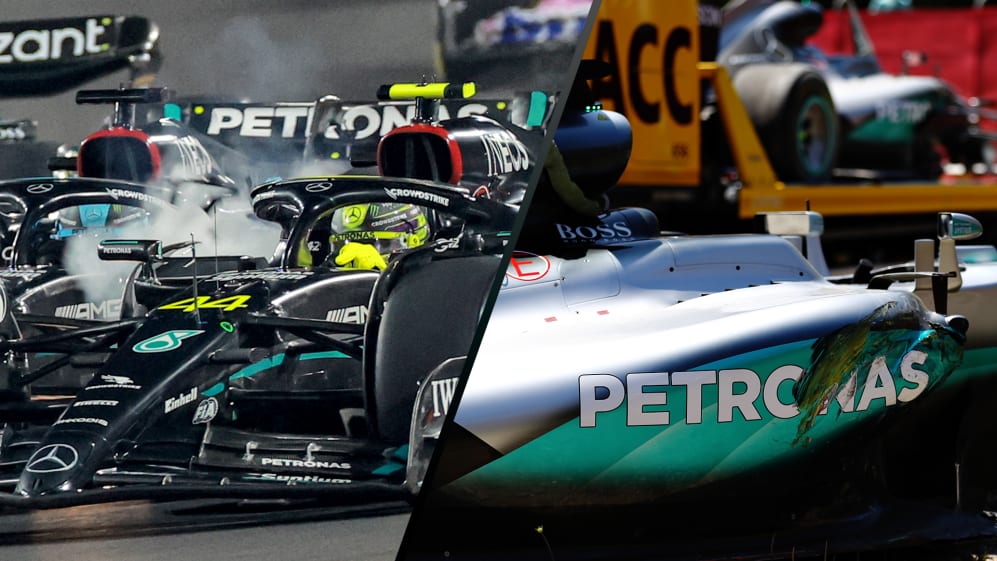 Mercedes have described their start to the Qatar Grand Prix as "about as badly as a first lap can go" after Lewis Hamilton and George Russell dramatically collided while battling for position.
Starting on soft tyres, Hamilton challenged Russell and the pole-sitting Red Bull of Max Verstappen, both on mediums, with a bold move around the outside of Turn 1 when Sunday night's race got under way.
READ MORE: Hamilton takes full responsibility for first-lap collision with Russell in Qatar
However, with Russell sandwiched between Hamilton and Verstappen, the two Silver Arrows machines made contact, sending the seven-time world champion into the gravel and his team mate back to the pits for a new front wing.
While neither of their drivers were penalised by the stewards for the incident, Mercedes were left to rue what might have been as Russell salvaged fourth position in the damage limitation exercise that followed.
Reacting to the drama, Mercedes Communications Director Bradley Lord said: "In the [pre-race] strategy meeting we discussed the likely [tyre] offset between the two drivers and how that would be handled. Obviously, what happened was not part of the plan, but certainly not intentional from either side."
As for how the squad will move forward, Lord continued: "I think rule number one for any racing team is that the two cars don't make contact. That is something the drivers have bought into just like every other member of the team is as well.
READ MORE: Stewards hand out reprimand and fine to Hamilton after Qatar Grand Prix
"To be one car in the gravel, one in the pit lane and then plumb last at the end of Lap 1, is about as badly a first lap can go. But how we deal with it, we'll talk about it behind closed doors. I think both drivers have been very magnanimous afterwards and we'll talk about it and then put it behind them.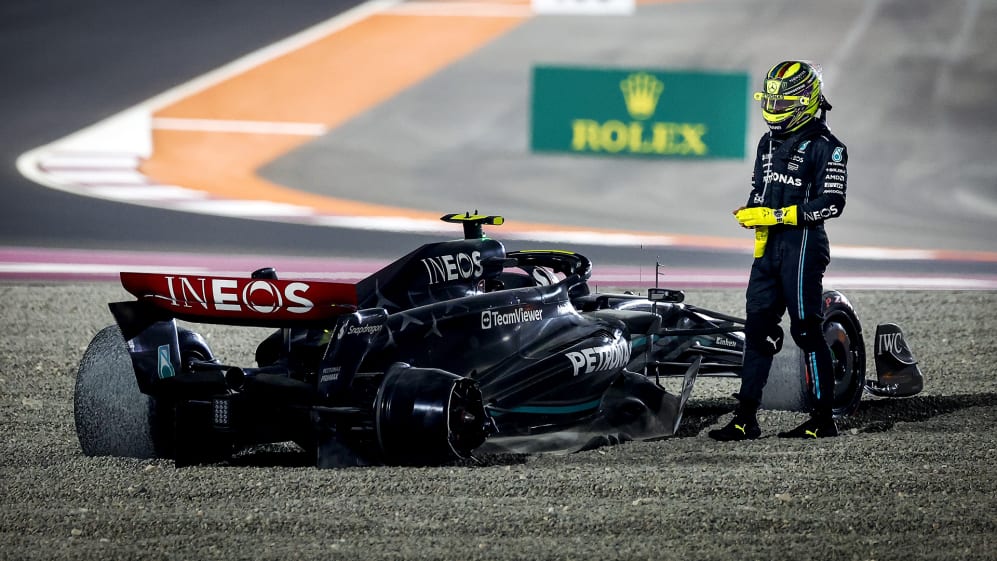 "I think the feature of this season has been how well they've worked together to try and lead the team back from the difficult position in which we started with the car, and I'm sure they'll continue to do that for the last five races and hopefully secure P2 in the [constructors'] championship."
Lord was speaking to the media in the absence of Mercedes team boss Toto Wolff, who followed the action from his home in Monaco having recently undergone knee surgery ahead of an anticipated return to the paddock in Austin next time out.
READ MORE: 5 Winners and 5 Losers from Qatar – Who impressed under the lights in Lusail?
Wolff was also at the helm when Hamilton and then team mate Nico Rosberg infamously crashed at the 2016 Spanish Grand Prix, putting both drivers out on the spot and paving the way for Verstappen to win on his Red Bull debut.
Asked about the incident, and whether he had any flashbacks, Lord said: "I remember that one. I think experiences like 2016 and others that we've had over the years, actually it's a great shared experience of how as a team we approach those moments and sort of learn from them and work through them as well.
"We have our racing intent, our sort of shared document that we all buy into in terms of how we approach races as a team, how we try to maximise the team's points-scoring, and the drivers have bought into that along with everybody else. That's really the basis for how we talk about things and move forward."
F1 NATION: Verstappen makes it three titles on the bounce and McLaren shine under the lights – it's our Qatar GP review
As Lord touched on, Mercedes remain locked in a battle for second in the constructors' standings heading into the final five rounds of the season, with 28 points currently separating them and third-placed Ferrari.
Oops! Error retrieving Twitter post