Feature
FORM GUIDE: The favourites for pole, points and victory in Baku
Formula 1 returns to the super-speedy street circuit in the city of Baku this weekend for the 2019 Azerbaijan Grand Prix. The three races hosted here so far have been some of the craziest and hardest to predict in F1 history – but not to be deterred, we've had a crack at prognosticating the outcome for this year anyway…
Who's the top tip for pole?
There have been three pole positions in Baku to date, and all have been taken by different drivers. Nico Rosberg got the first in 2016, while it was Lewis Hamilton's turn in 2017, followed by Sebastian Vettel last year.
Either Hamilton or Vettel repeating the feat in 2019 wouldn't be a surprise – Vettel being the only current driver on the grid to have started all three races in Baku in the top four – while Honda will turn up in Baku with an updated internal combustion engine, which could help Max Verstappen in his pursuit of that elusive first pole position.
WATCH: Re-live last year's crazy Azerbaijan Grand Prix
In the second Mercedes, meanwhile, Valtteri Bottas took his first pole of the season last time out in China and goes well in Baku, having started both of his races here as a Mercedes driver in the top three. Could the Finn secure consecutive poles for the second time in his career this weekend?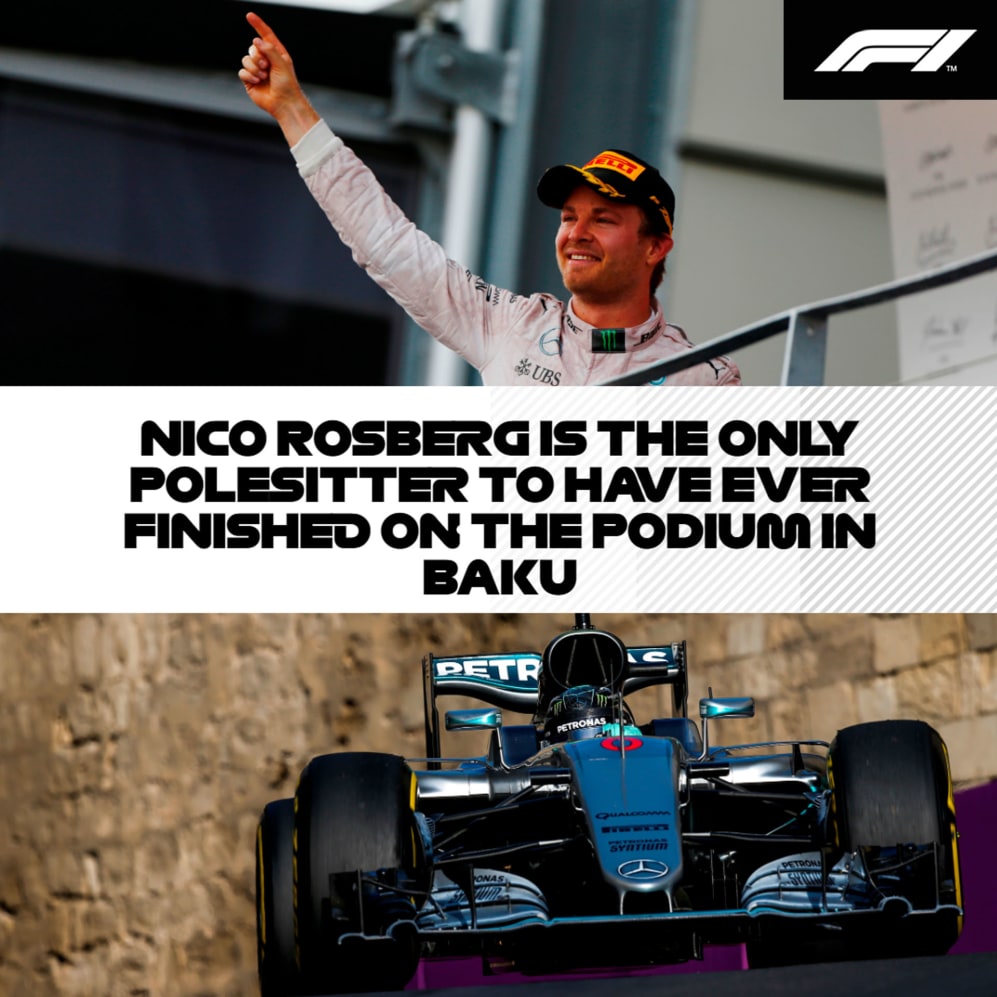 Who's looking good for the win?
Again… three races in Baku, three different winners – and only one of those is a leading candidate for top honours on Sunday. Rosberg won the European Grand Prix here in 2016 before promptly retiring at the end of the season (which probably rules him out), while Daniel Ricciardo started 10th on the grid in 2017 before riding out the carnage to take the victory – although a repeat of that in the Renault seems unlikely. Lewis Hamilton won out last year, meanwhile, having never previously finished higher than fifth in Azerbaijan.
Our recommendation, though? Pay particular attention to Valtteri Bottas and Charles Leclerc this weekend. Leclerc has form in Baku, having taken an emotional F2 victory here in 2017 just days after his father's death (re-live that moment below, and have a box of tissues ready), before finishing a stunning sixth in his first F1 outing here for Sauber last year. What he'll be able to do in a Ferrari that has pack-leading straight-line speed – useful down Baku's 1.6km kinky straight – and improved cornering performance for this weekend makes for an exciting prospect.
READ MORE: Ferrari to bring 'first step' in SF90 development to Baku
Hamilton's victory last year, meanwhile, came after a late puncture for Bottas that denied the Finn what would have been his first victory of that season, so expect a Bottas hungry for making amends in Baku.
Over at Red Bull, meanwhile, they'll be similarly keen to right the wrongs of last year, when Daniel Ricciardo and Max Verstappen's RB14s ended up parked at the end of the main straight after the pair drove into each other. The 2019 Azerbaijan Grand Prix undoubtedly represents Red Bull's best chance of the year so far to get a win under their belts in a straight fight.
Who's a podium outsider?
Sergio Perez. In fact, he's barely an outsider. Of the three Baku races so far, the Mexican's been on the podium at two of them (in 2016 and 2018), making him the most frequent podium visitor in Baku of any F1 driver ever. Perez's new Racing Point team mate Lance Stroll, meanwhile, also has a podium from 2017 to his name, making them the most successful partnership, Baku podium-wise, on the 2019 grid.
Other teams should be encouraged too, however. Of the 58 races held from the 2016 European Grand Prix in Baku to this one, only three times has the podium featured a non-Ferrari, Red Bull or Mercedes runner – and they were all in Baku!
Even better than that if you're racing for a midfield squad, out of the nine podium finishers here so far, five of those have started the race outside of the top five. Combine that with a more powerful DRS effect this year to help drivers pound down the 2.2 kilometres of Neftchilar Avenue, and it truly is open season for this year's Azerbaijan Grand Prix podium.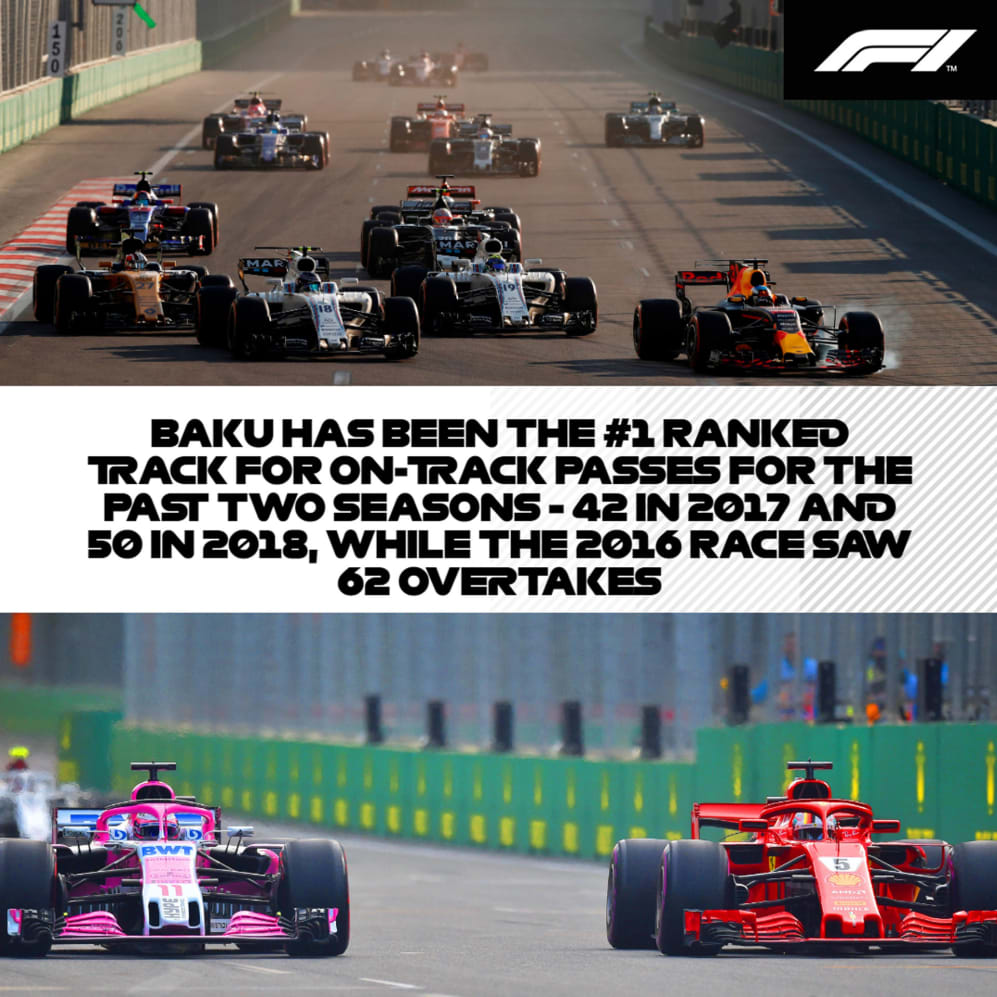 Who'll hoover up any points on offer?
Usually in this section, Nico 'Mr Reliable' Hulkenberg's name is quick to crop up – but not this time. The German has stuffed it into the wall twice in the last two years in Azerbaijan, both times costing him a promising fifth-place finish, so it might be worth hedging your bets with the German…
Hulkenberg's Renault team mate Daniel Ricciardo, however, is a previous winner here and would have scored decent points last year had he not had his spat with Verstappen. Elsewhere, look to Carlos Sainz to bring home his first points of the 2019 campaign. The Spaniard has been in the top 10 for the past two seasons here, and McLaren's streamlined MCL34 will likely go like the clappers down Baku's long straight.
Over at Haas, however, they've predicted a tough Azerbaijan Grand Prix as they continue to try and get to the bottom of their VF-19's tyre issues, so Romain Grosjean and Kevin Magnussen could be in for a long Sunday afternoon.