Feature
FORM GUIDE: The favourites for pole, points and victory in Great Britain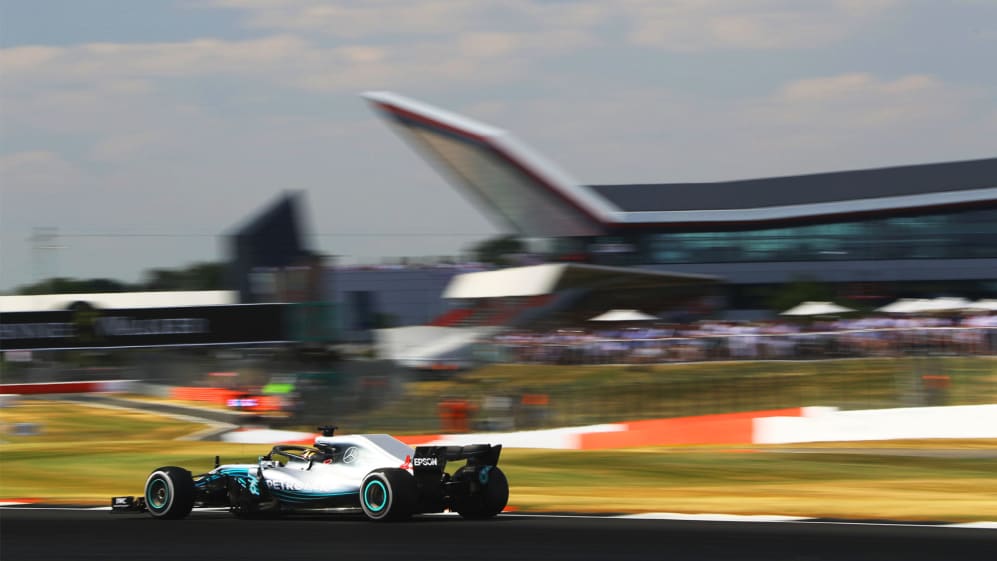 After an Austrian Grand Prix that saw Mercedes dethroned for the first time this season, it's time to head to the birthplace of Formula 1 – Silverstone – for the 2019 British Grand Prix. Before we do, though, let's have a look over the runners and riders for this year's race to see who's looking set for a good weekend in rural Northamptonshire.
Who's the top tip for pole?
The Red Bull Ring that we were at two weeks ago is not one of Lewis Hamilton's favourite tracks. Silverstone, however, is. Quite simply, for form, no other driver on the 2019 grid can touch him around here, with HAM currently sitting on six Silverstone pole positions – including the last four in a row.
In contrast, Sebastian Vettel has just two, scored on the bounce here while driving for Red Bull between 2009 and 2010, while Kimi Raikkonen took his solitary Silverstone pole way back in 2004 with McLaren.
So, on paper it would appear that another Hamilton pole here would be a formality – especially considering that Valtteri Bottas in the other Mercedes has never qualified in the top three at the British track.
READ MORE: Why we love... the British Grand Prix
But with 60% of the Silverstone lap spent at full throttle and the track predominantly made up of medium and high-speed corners, could conditions for the 2019 British Grand Prix favour the powerful but less agile Ferraris over Mercedes?
Last year, Hamilton's pole advantage over the third-placed Ferrari of Kimi Raikkonen was just 0.098s (with Vettel in second just 0.044s adrift). So Ferrari were close in 2018 – and if the Scuderia can deploy their horsepower advantage to good effect this year, we could see the first non-Mercedes pole at Silverstone since 2012, and the third in four races for Ferrari.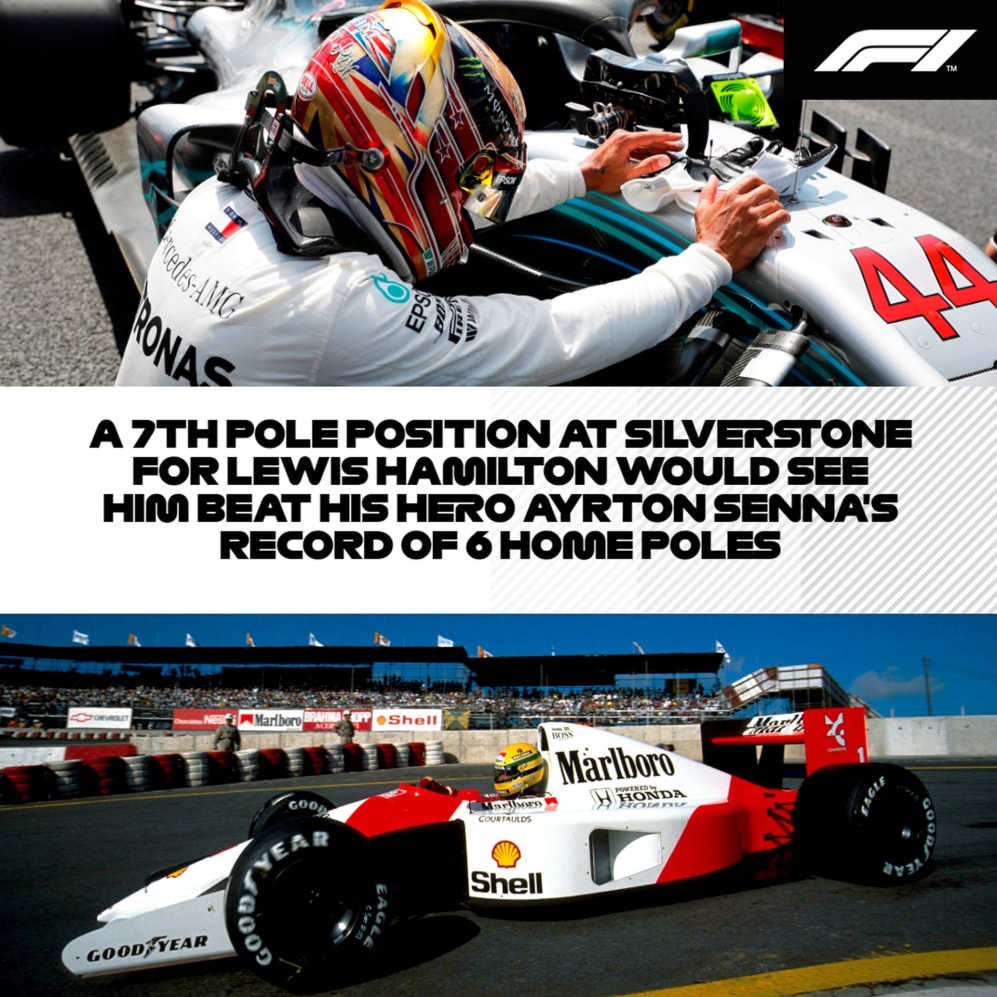 Who's looking good for the win?
Again, when trying to pick a winner for Silverstone, it's hard to look past Hamilton. Between 2014 and 2017, he won this race four years in a row, and might have made that a fifth consecutive win in 2018 had he not been spun around on the opening lap by the Ferrari of Kimi Raikkonen. That incident meant he dropped from pole to 17th on the first lap, but even then, he still managed to finish P2, just two seconds behind eventual winner Vettel, at the flag.
As with pole positions, no one can hold a candle to Hamilton's record of six British Grand Prix victories, with Vettel and Raikkonen again the only two drivers in the running, Vettel triumphing in 2009 before winning again last year, while Raikkonen won in 2007 for Ferrari.
Once again, however, if we might just interject with the Ferrari caveat, namely that if they can get the SF90 hooked up sweetly around Silverstone, the layout of the circuit could present them with an opportunity to repeat their 2018 win, and get off the mark in 2019.
If they did, however, history suggests that it would be more likely that Vettel, rather than Charles Leclerc, would take the win. Why? Well, only twice in 52 races at Silverstone has a driver claimed their maiden victory here – Peter Revson in 1973 and Johnny Herbert in 1995, both of whom profited from high-profile retirements – although it must be said that Leclerc does have decent junior category form at the British venue, having won in both European F3 and Formula 2 here.
Who's a podium outsider?
This, we fear will most likely be the realm of Red Bull this weekend. And yes, that's the same thing we confidently crowed before the Austrian Grand Prix, but the facts neatly bear us out on this one. Red Bull's last victory at Silverstone came way back in 2012, while in the hybrid era, Max Verstappen's second place from 2016 stands as the team's high point in Britain – and that only came after a 10-second time penalty had been applied to Mercedes' Nico Rosberg for being coached through his car's gearbox issues over team radio.
Quite simply, around Silverstone, outright power is king, and Red Bull, quite simply, haven't had that luxury in recent years. So without the cooling issues that hindered their rivals in Austria to count on, in a straight fight under the predicted sunny conditions at Silverstone on race day, expect Red Bull to be third in the constructors' pecking order.
Could anyone outside of the top three teams steer their way into a podium position? Well, Saturday's weather is set to be nice and British (read: wet) which could shake up the grid, while it's forecast to rain on Friday too, which will compromise the teams in finding a decent dry set-up for Sunday's race. That notwithstanding, at last year's race, Nico Hulkenberg, in sixth for Renault, finished nearly half a minute down on the frontrunners from the top three teams – and that despite two Safety Car periods!
So we'd be a bit shocked, frankly, if we spotted a non-Mercedes/Ferrari/Red Bull driver spraying the champers come Sunday. That said, as ever, we invite those midfield teams to 'come at us, bro', as we believe the expression is…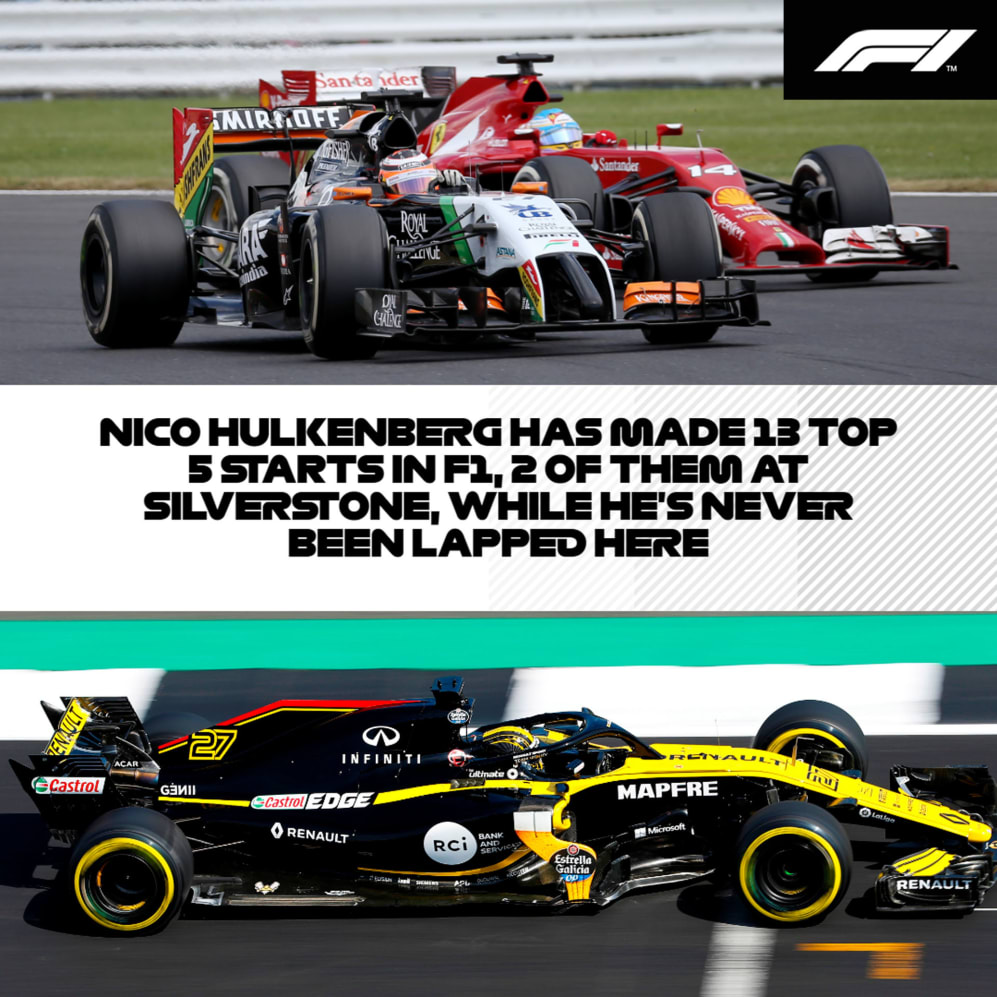 Who'll hoover up any points on offer?
Well, speaking of Nico Hulkenberg, how about Nico Hulkenberg? Apart from the stats in the image above, the German driver has a formidable record around Silverstone, taking points at every Grand Prix here since 2013, and having finished sixth at Silverstone for the past two years for Renault. So look out for him and team mate Daniel Ricciardo, who podiumed here for Red Bull back in 2014.
Racing Point's Sergio Perez, meanwhile, has finished in the top 10 in Britain since 2015, while his team – who are literally based across the road from the track – have a fine record at Silverstone, having taken double-points finishes at the past four British Grands Prix. Channeling some of that form this weekend, with Racing Point having scored a grand total of just two points from the past five races, would be a very welcome result for the squad in pink.
WATCH: 5 shock moments from the British Grand Prix
Elsewhere, it's hard to look past McLaren, who appear to be the fourth best team with a bullet at the moment. True, Carlos Sainz's Silverstone record is a bit smelly – reading DNF-8-DNF-DNF – but the Northamptonshire circuit is his absolute favouritest, and with the team's MCL34 having now proved its speed across a variety of different layouts, the Woking team should have reason to feel buoyant ahead of the action.
It will also be a memorable debut home race in F1 for Sainz's team mate Lando Norris – who pulled off a sweet double overtake through Vale last year while driving in F2 (witness the slickness below) – as well as George Russell in the Williams and half of Toro Rosso's Alex Albon, whose father Nigel used to race around Silverstone in his days as a British Touring Car Championship contender.