Feature
Friday Pace Analysis – Italian Grand Prix
A Ferrari victory at the Temple of Speed is what the loyal tifosi expect, or rather demand, when they pack the grandstands, dressed head to toe in the Prancing Horse's regalia. For too many years, they've been left wanting – but will this year be any different? Let's crunch the numbers…
ONE LAP PACE
Power was important at Belgium's daunting Spa-Francorchamps circuit, but it's even more of a factor as F1 rolls into Italy, Ferrari's homeland. Monza's long straights are punctuated only by three chicanes – one of them high speed – which means the engine will play a crucial role in a team's weekend.
The engine bolted into the back of Ferrari's SF90 has emerged as the class of the field, with a bit of extra grunt this weekend courtesy of a new specification Sebastian Vettel and Charles Leclerc are running for the first time after Ferrari's customers gave it a run out last time out at Spa.
It's perhaps no surprise, then, that it was Ferrari – specifically Leclerc – who topped the timesheets during a rain-disrupted Friday practice, both 90-minute sessions seeing at least a sprinkling of rain, which at times was so heavy that teams opted not to bother running at all. When conditions were suitable for slick tyres, Ferrari had the edge, pipping the Mercedes of Lewis Hamilton by just 0.068s. Valtteri Bottas was around three tenths further back, but that deficit could be accounted for by the fact he failed to get a tow on his low-fuel run.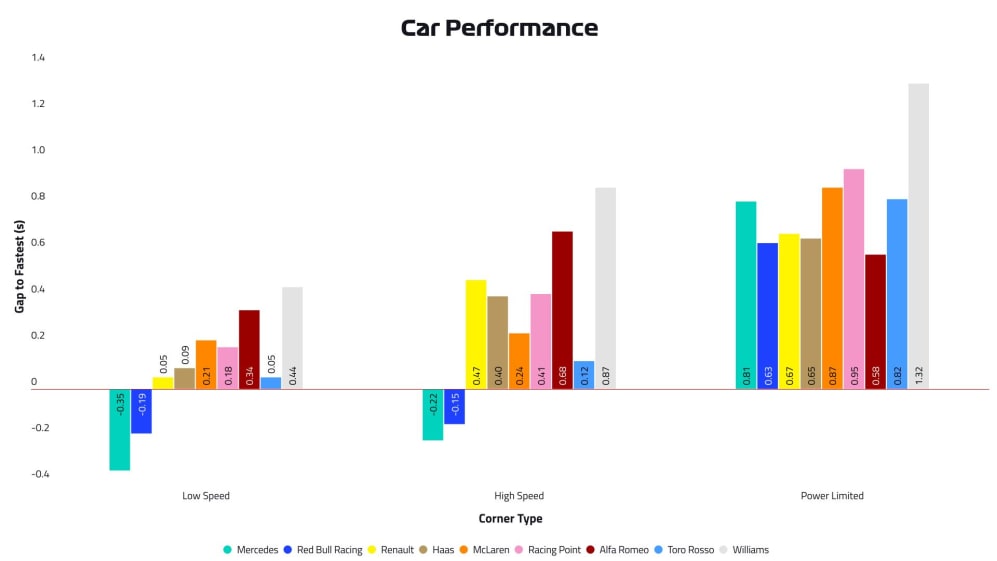 Speaking of tows, attempting to get a slipstream will be a key factor in determining the result of qualifying. Williams' George Russell reckons a tow can be worth as much as half a second, which will define whether you make another segment of qualifying and if you fight for pole or end up in the lower levels of the top 10.
READ MORE: Monza qualifying could be chaotic as drivers hunt for tow, says Russell
Though Ferrari were quickest, and the pre-weekend favourites, Mercedes were much closer than expected. Hamilton noted Ferrari's speeds on the straights, but the Briton sounded surprised at how close they were on single lap pace. And when it comes to race pace, Hamilton reckons they are "quite strong". That isn't too much of a surprise given Hamilton made a fight of it for victory in the closing stages of Spa, where Mercedes' supreme tyre management, particularly with Hamilton at the wheel, helped counter Ferrari's power advantage.
Best single lap
1 Ferrari (Charles Leclerc) 1m20.978s
2 Mercedes (Lewis Hamilton) 1m21.046s +0.068s
3 Red Bull (Max Verstappen) 1m21.350s +0.372s
4 Toro Rosso (Pierre Gasly) 1m22.124s +1.146s
5 Haas (Romain Grosjean) 1m22.153s +1.175s
6 Renault (Daniel Ricciardo) 1m22.249s +1.271s
7 McLaren (Carlos Sainz) 1m22.482s +1.504s
8 Alfa Romeo (Kimi Raikkonen) 1m22.523s +1.545s
9 Racing Point (Lance Stroll) 1m22.706s +1.728s
10 Williams (Robert Kubica) 1m23.737s +2.759s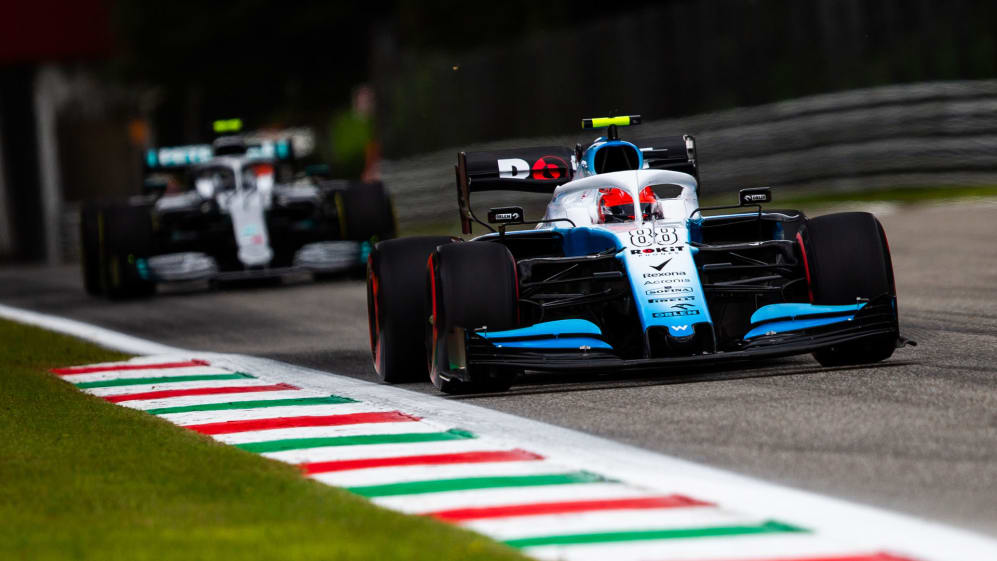 Red Bull were third quickest overall, with Verstappen less than four tenths of a second adrift. It was even more impressive considering the Dutchman's best lap was done without a tow. Verstappen reported that the new spec 4 Honda engine is "a good step forward" and that you "can feel the extra power". He'll have it all to do from the back, having been handed grid penalties as a result of taking the new engine. But the speed his RB15 showed, particularly in dry and mixed conditions, has given him hope that a strong result is still possible.
There's a sizeable gap between the top three and the rest of the field, but just six tenths separate Toro Rosso in fourth and Racing Point in ninth. Pierre Gasly, in his second race back with Toro Rosso, was the more impressive of the two drivers at Red Bull's junior team. The Frenchman said he managed to get the car in the sweet spot – and exactly how he wanted it – which bodes well for his race, as he'll be starting from the back after taking a completely new engine for Italy.
Haas were next up, with both drivers expressing surprise at how quickly they got comfortable with the car. The jury is out, though, as to whether they will be able to string a strong weekend together after a struggling to get the tyres into the operating window for most of the season.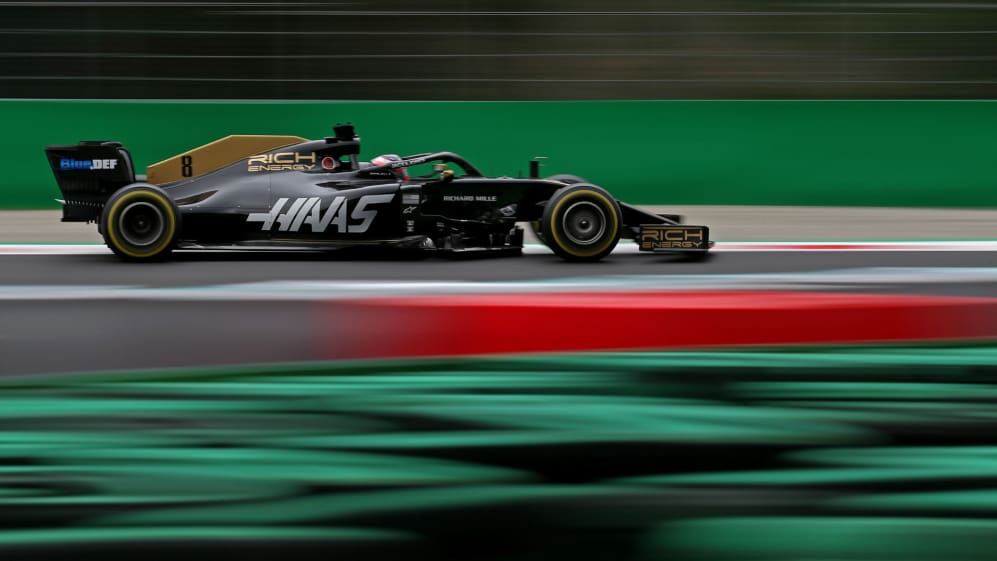 RACE PACE
The trend on Fridays this year has seen Mercedes emerge with the superior race pace – and that has continued into Monza with the Silver Arrows a slender advantage over Ferrari and a more significant advantage over Red Bull.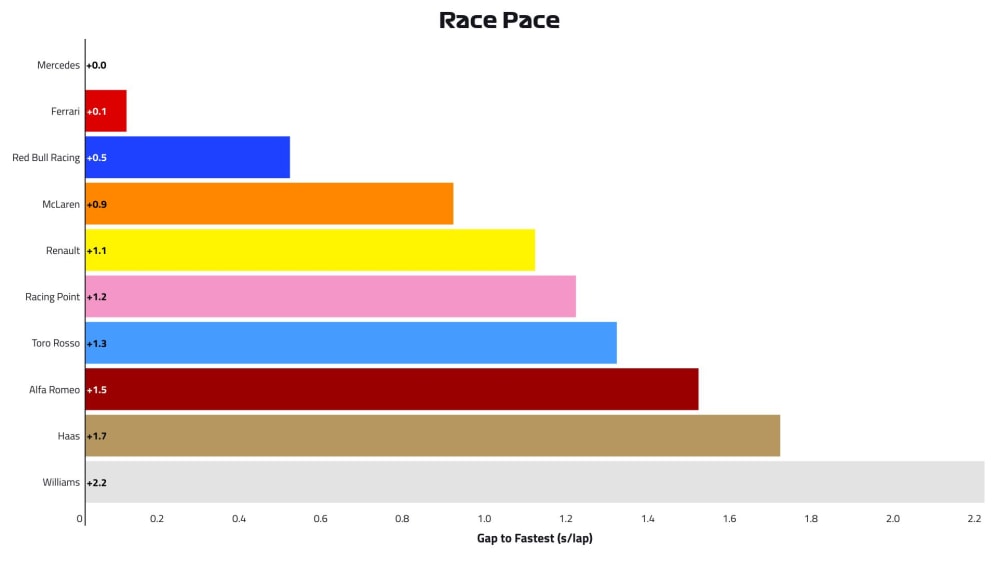 The caveat here is that the long runs were disrupted by the rain, which means our data team have had fewer representative long runs to analyse. It is, of course, the same for every driver – but it means that teams will head in tomorrow slightly on the back foot courtesy of the conditions.
McLaren were best of the rest, just 0.1s/lap slower than the Ferraris, with the other six teams separated by just 0.9s/lap, suggesting we could have a very competitive fight for the lower end of the points on a circuit where overtaking is possible.
If the rain does come on Sunday, it will allow the likes of Mercedes and Red Bull to excel, given their downforce advantage
VERDICT
When the weather has got involved and hampered running on Friday practices, we've tended to see exciting qualifying sessions and races because the teams aren't able to complete their usual programmes – so that looks promising.
The field spent a fair bit of times getting running in on the intermediate tyres, given that conditions are looking variable for the remainder of the weekend. Some forecasts suggest it'll be dry on Saturday, with rain in the area around race time on Sunday. Others suggest a dry qualifying and race, with any rain on Sunday arriving well before the race is set to get underway.
If the rain does come on Sunday, it will allow the likes of Mercedes and Red Bull to excel, given their downforce advantage, so we could see another trademark comeback from Verstappen. Teams may also gamble on moving towards more of a wet set-up for Sunday's race, which will impact their approach to qualifying.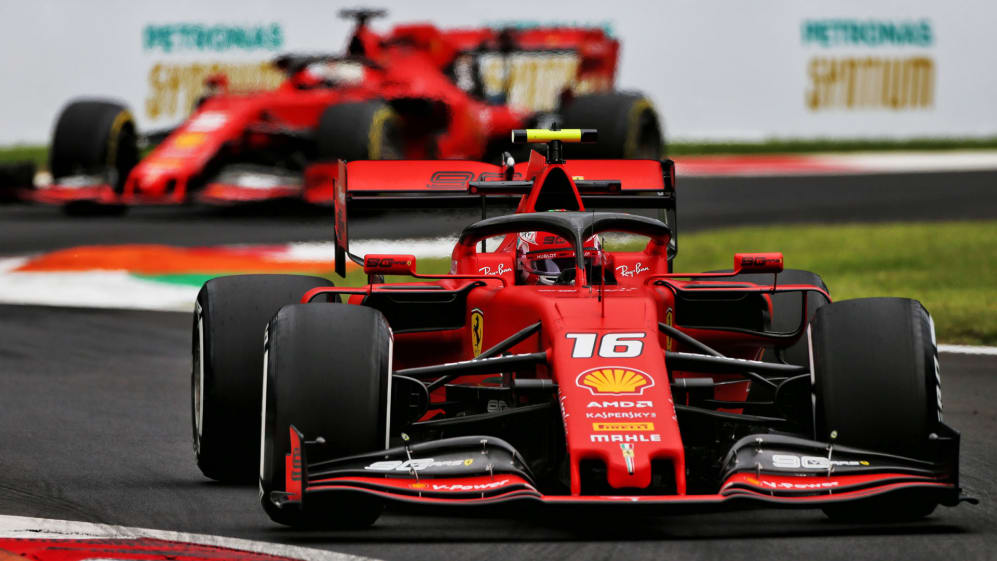 READ MORE: Hamilton pleasantly surprised to be so close to Monza favourites Ferrari
Watch out for the second chicane, too, where there's a patch of new asphalt which is noticeably smoother and more slippery than other areas of the circuit, particularly when the surface is wet.
Qualifying is going to be close on Saturday, so watch out too for the drivers backing off on the final straight in a bid to line up a tow. Get that right and you'll be a hero. Get it wrong and it'll likely cost you a fair few places.
Come race day, much will depend on the weather – but if Mercedes can get in front of Ferrari in qualifying, their superior race pace – particularly in mixed conditions – could well spoil the tifosi party. Watch this space.