Steiner saw 'nothing encouraging' from Haas in Belgium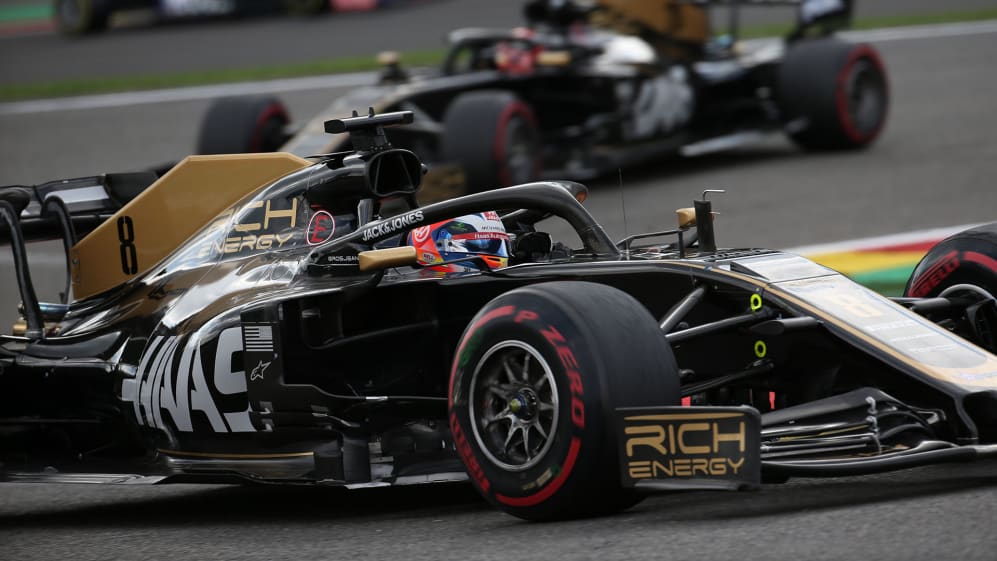 Having made a decision on developement direction, Haas were hoping for a change of fortune as the second 'half' of the F1 season began in Belgium. Sadly for the beleaguered American team, what they got was more of the same as they endured another difficult race in Spa, with Kevin Magnussen finishing 12th and Romain Grosjean 13th. And as Team Principal Guenther Steiner unpacked their disappointing weekend, he admitted there had been 'nothing encouraging' in the team's performance.
"It was good [early on]," Steiner said, "but then it all landed, we just didn't have enough top speed here, you know? We hadn't got the pace to get past anybody else. But everybody else could pass us. For sure, it's nothing encouraging."
The lack of top speed was characterised by Magnussen's loss of five places between Laps 10 and 15, and Grosjean's drop from sixth on the opening lap to 13th at the end. The only consolation was that the medium tyres worked well on the VF-19s – a contrast to the tyre issues Haas have been fighting all season.
"I am very, very upset at the minute," said Grosjean. "Not against anyone, just the situation. We had a great start, the car was performing very well at the start of the race so I was really happy with the car, pulling the gap and then we fitted the medium and I thought 'Okay the car is even better, that's going to be a really good afternoon'."
Both Haas drivers eventually finished ahead of Daniel Ricciardo, although the Renault driver was a major obstacle to them – Steiner saying that the Australian (nursing a damaged car) cost the team "40 seconds" as they couldn't get past.
Grosjean explained further: "We went behind the Renault, Daniel [Ricciardo], who was doing his race, fighting as hard as he could – and [we had] just no chance to pass him. We obviously had too much drag and not enough top speed. It's not a choice we had, an option we had, just had to get the tyres to work, but it's so hard to fight that hard, not make any mistake, to be very happy with your driving style and the car and just being from P6 to P15, P14, whatever we finished, and not being able to do anything, it's a tough feeling."
No wonder that Grosjean described Spa as a "tough weekend", especially after the loss of F2 driver Anthoine Hubert.
"I think today we drove our hearts out and gave our best, not for Anthoine, but thinking of Anthoine, and for passion, for sport, for what we love and what Anthoine loved. I'm sure he's up there with Jules [Bianchi] and maybe they're racing go-karts at the minute," he said.
The Frenchman sits 17th in the drivers' standings this season after six retirements, with just the two Williams drivers and rookie Antonio Giovinazzi below him in the table. Ninth in the constructors' championship, the Ferrari-powered Haas squad will now hope for more at Monza.