Feature
From Ascari to Verstappen: How all 11 back-to-back F1 champions did the double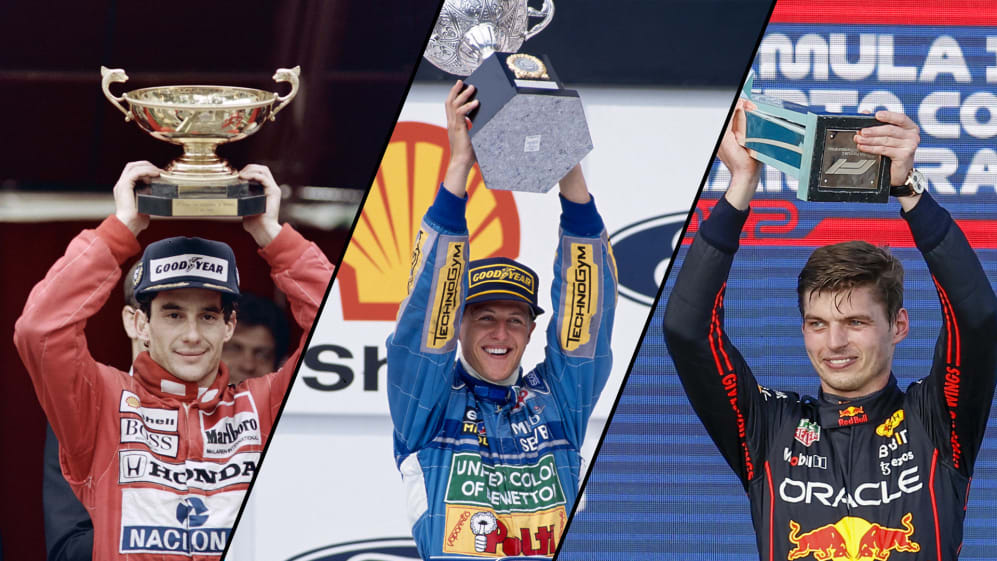 Max Verstappen is now a double F1 world champion, putting the 2022 crown out of Charles Leclerc and Sergio Perez's reach with victory in Japan. It also means he becomes the 11th driver in the history of the sport to win back-to-back titles. To mark the occasion, we decided to flick through the archives and look at the select group of legendary names he has joined...
Alberto Ascari: 1952-1953
We begin with Alberto Ascari, who did the double for Ferrari in 1952 and 1953. An utterly dominant 1952 season (winning six of the seven races he contested) saw Ascari finish comfortably clear of main rivals Giuseppe Farina and Piero Taruffi, becoming the Scuderia's first world champion driver in the process.
READ MORE: Formula 1 Hall of Fame – Alberto Ascari
A year later, he got the better of Juan Manuel Fangio and Farina in a closer contest – his second title win still the most recent for an Italian driver in F1. Ascari is also one of only two Ferrari drivers, along with Michael Schumacher, to win back-to-back titles.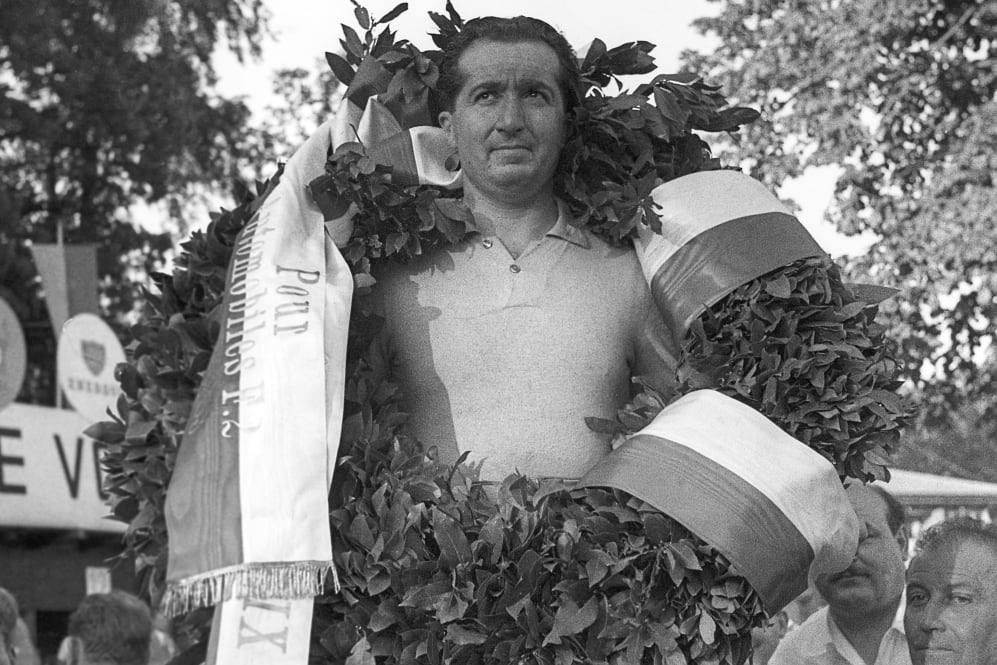 Juan Manuel Fangio: 1954-1957
After missing out on a second F1 world title in 1953, Fangio reclaimed overall honours by storming to the 1954 crown, notably racing with two different manufacturers. Having started the season with Maserati, the Argentine switched to Mercedes-Benz when the German manufacturer returned to Grand Prix competition mid-season, winning six of the eight races he entered that year.
READ MORE: F1's Best Drives #5 – Fangio's race of a lifetime
Fangio stuck with Mercedes for 1955 to make it two from two; moved to Ferrari in 1956 to narrowly deny Stirling Moss and extend his winning run; then returned to Maserati to make it an incredible four on the bounce – sealed with an incredible 24th and final F1 victory at the Nurburgring.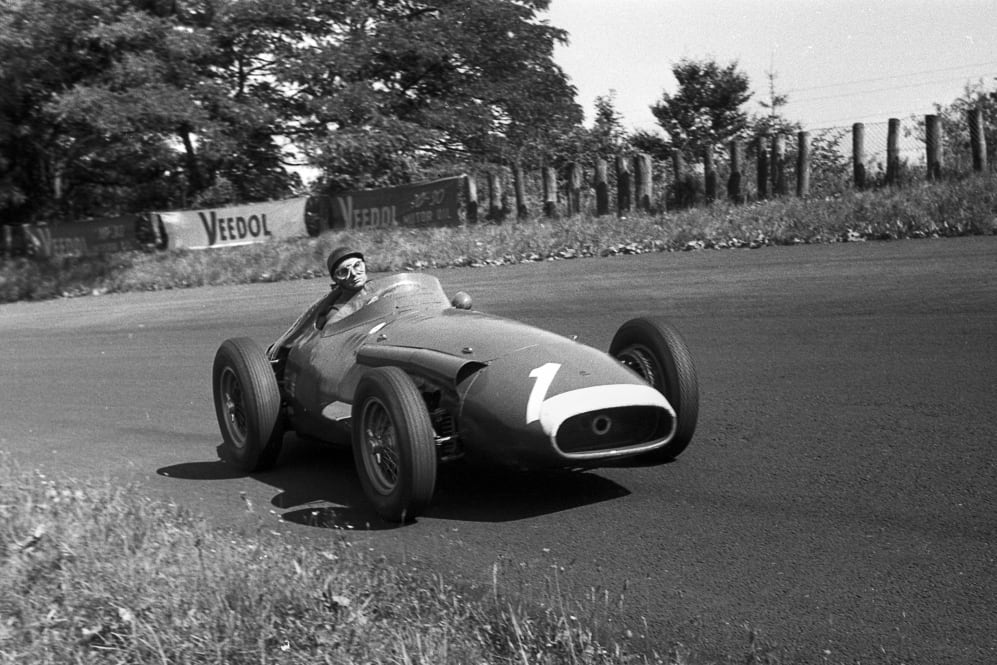 Jack Brabham: 1959-1960
Jack Brabham became F1's third back-to-back world champion in the space of a decade by notching up the 1959 and 1960 titles, taking full advantage of Cooper's ground-breaking mid-engined design. In 1959, a close battle with Tony Brooks and Moss went Brabham's way during a dramatic finale at Sebring – the Australian pushing his car across the line for P4 amid late technical trouble.
READ MORE: Formula 1 Hall of Fame – Jack Brabham
His and his country's first F1 title in the bag, Brabham then charged to glory in 1960 with a run of five race wins in the middle of the campaign. Following this flurry of title doubles, F1 would not see another example for some 25 years.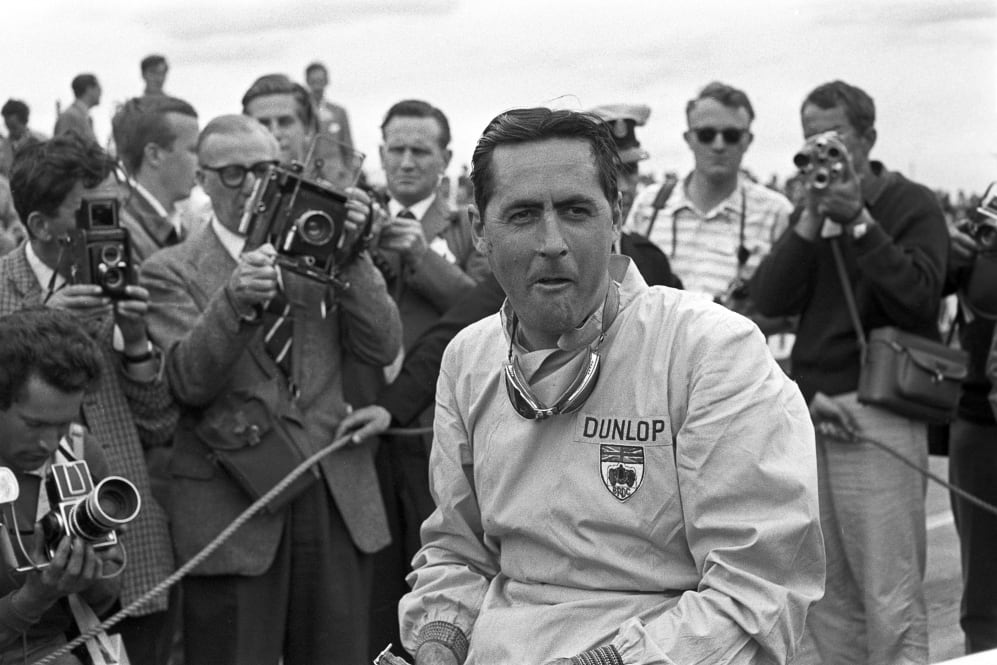 Alain Prost: 1985-1986
Having come close to winning the F1 title with Renault in 1983, it was not until 1985 – having made the move to McLaren – that Alain Prost broke his championship duck, taking five victories to finish comfortably clear of the field. Prost and McLaren continued their winning partnership in 1986, but this time it was far from straightforward.
READ MORE: Prost vs. Senna – The top 10 moments of F1's defining rivalry
A season-long fight for the crown was dramatically settled at the finale when Nigel Mansell's Williams suffered a tyre blowout and the Briton lost the podium position he needed, opening the door for Prost to take the win required on his part ahead of fellow challenger Nelson Piquet. To this day, Prost remains the sport's only French champion.
Ayrton Senna: 1990-1991
After playing second fiddle to Williams in 1987, McLaren were reinvigorated for 1988 as Honda engines arrived and rising star Ayrton Senna joined as Prost's team mate. However, intra-team relations quickly become strained and, with the 1988 and 1989 titles split between the two drivers – via several contentious moments etched in F1 history – Prost moved to Ferrari.
BEYOND THE GRID: Steve Nichols on creating the most dominant F1 car of all time
As a result, Senna had the chance to lead McLaren's charge, one that he grasped by winning 13 races in two years and securing back-to-back titles. Both championships were settled at the penultimate round in Japan – Senna infamously running into Prost at Turn 1 of the 1990 race, and then holding up Mansell at the start of the 1991 encounter before his rival spun out.
Michael Schumacher: 1994-1995
Michael Schumacher's haul of seven world titles came in two batches – an initial brace achieved with Benetton in the mid-1990s. Despite being disqualified from two races and banned from two more, Schumacher entered the 1994 finale in Adelaide a point clear of main rival Damon Hill.
WATCH: Schumacher's Greatest Rivals – Damon Hill
Schumacher led the opening exchanges before running off the track and clipping a wall. What followed was a moment of pure drama as Schumacher closed the door on Hill while getting back up to speed and the pair collided, ending their races and confirming the German as champion. Schumacher would beat Hill to the title again in 1995, but this time controlled proceedings to finish almost 30 points clear.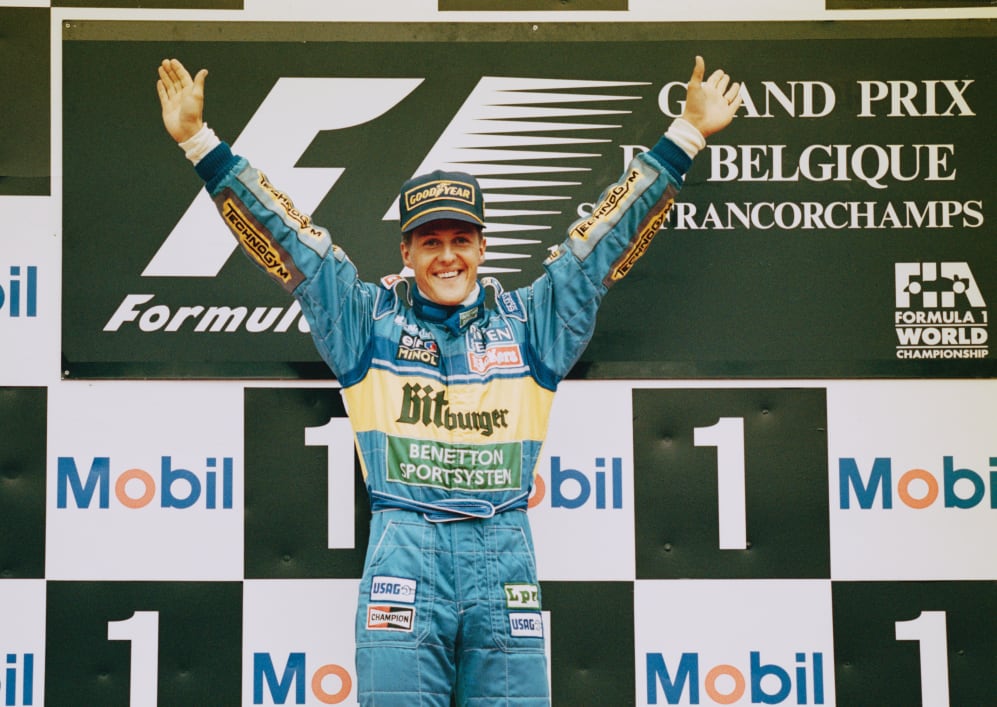 Mika Hakkinen: 1998-1999
Mika Hakkinen was not the first Finnish driver to win an F1 championship – Keke Rosberg achieving that feat back in 1982 – but he was the first from his country to win two in a row. On both occasions, the McLaren driver had to fend off a Ferrari, eclipsing Michael Schumacher in 1998 and Eddie Irvine a year later.
RISE OF THE ROOKIE: How Mika Hakkinen went from humble Helsinki beginnings to become F1's Flying Finn
Both were close run affairs; Hakkinen and Schumacher sat level on points heading into the final two races of the 1998 season, but two wins for the Finn sealed honours; then, in 1999, Hakkinen bounced back from his painful retirement at Monza to edge Irvine for the crown by two points – the Northern Irishman leading Ferrari's charge after Schumacher broke his leg mid-season.
Michael Schumacher: 2000-2004
Following his initial title wins with Benetton, Schumacher went on an unprecedented run in the early 2000s as he and Ferrari combined to devastating effect. Having stayed patient for several seasons while the Scuderia showed promise but ultimately fell short of the drivers' crown, the breakthrough came in 2000 when Schumacher denied Hakkinen a third straight title.
TOP 10: Moments of Michael Schumacher brilliance
Four more championships followed from 2001 to 2004 in a sequence that would take Schumacher's tally to a record seven – this number being matched by Lewis Hamilton in 2020. Winning 48 races across the period, Schumacher's five titles in succession remain the most of any driver in F1 history.
Fernando Alonso: 2005-2006
Schumacher's hopes of challenging for a sixth title in a row were quickly dashed in 2005 as Ferrari endured a challenging campaign amid changes to the technical regulations. In stepped Renault and McLaren to fight it out for glory, with Fernando Alonso emerging victorious after a thrilling fight against Kimi Raikkonen.
WATCH: Fernando Alonso relives his epic 2005 Imola battle with Michael Schumacher
In 2006, while Ferrari returned to competitiveness and McLaren dropped back, Renault continued where they left off, giving F1 fans another treat as Alonso and Schumacher went to battle every weekend. Having been level on points with two races to go, it was Alonso who enjoyed the cleaner run-in – Schumacher suffering a costly retirement in Japan – to pull clear and seal back-to-back titles.
Sebastian Vettel: 2010-2013
The next era of F1 dominance came in the early 2010s as Sebastian Vettel and Red Bull hit their purple patch after narrowly missing out at the end of the 2009 campaign. Not quite matching Schumacher's five in a row, Vettel put together a similarly stunning run of four successive championships.
WATCH: 10 moments of brilliance from four-time champion Sebastian Vettel
While his 2010 and 2012 titles were won in dramatic circumstances at the final round, Vettel displayed dominance by cruising to the 2011 and 2013 crowns – including nine straight race wins during the latter season. Vettel's huge 155-point margin over his nearest challenger in the 2013 standings is the largest in F1 history.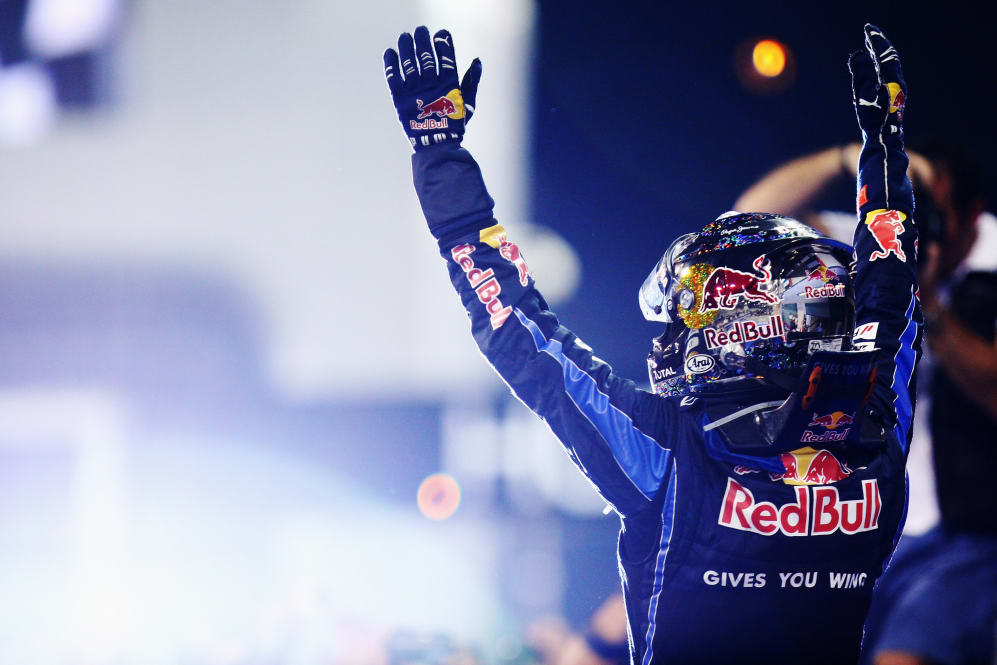 Lewis Hamilton: 2014-2015
With F1 embarking on a turbo-hybrid era featuring all-new power units and cars, Mercedes stole a march on their rivals and gave drivers Lewis Hamilton and Nico Rosberg a golden opportunity to go head-to-head for overall honours.
READ MORE: Hamilton's route to the 2014 F1 world title
Amid some tense moments, it was Hamilton who won the early intra-team battles as he secured back-to-back titles in 2014 and 2015 – winning 21 of 38 races over the two-year period. But Hamilton's winning run would come to an end in 2016 when Rosberg delivered the season of his career to edge out his team mate.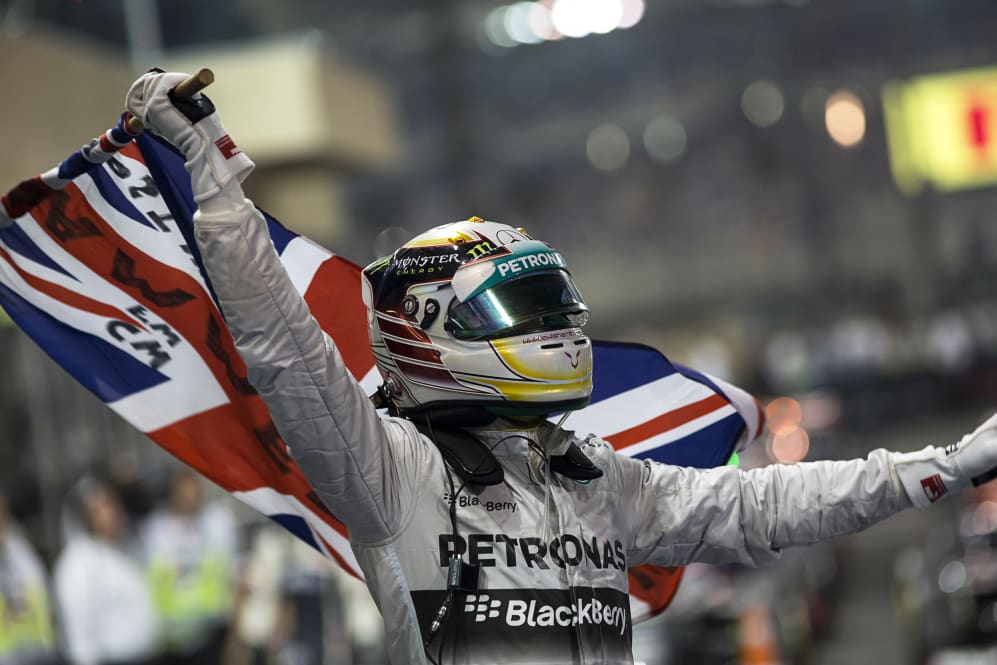 Lewis Hamilton: 2017-2020
After narrowly losing out to Rosberg in 2016 (the German retiring from F1 thereafter), Hamilton regrouped and came back fighting for 2017 to kick off another title-winning run. He saw off the challenge of Sebastian Vettel and Ferrari in 2017 and 2018, before finishing comfortably clear of team mate Valtteri Bottas in 2019 and 2020 – winning 42 of 79 races over four years.
IN NUMBERS: The incredible stats from Lewis Hamilton's career
Aiming to make it five in a row, and match Schumacher's feat, Hamilton entered the 2021 season finale level on points with Red Bull rival Max Verstappen amid an intense battle for the crown – the Dutchman winning out in dramatic circumstances.
Max Verstappen: 2021-2022
Verstappen's aforementioned title win was the first for a Dutch driver in F1 and, despite major regulations changes for 2022, he has doubled down to become only the 11th man to secure back-to-back championships. While 2021 went back-and-forth between himself and Hamilton, Verstappen and Red Bull masterfully adapted to this year's rules reset and grew stronger by the race to ultimately cruise to honours.
READ MORE: How winning the championship made Verstappen a more potent driver than ever
With victory in Japan – his 12th win from the 18 races held in 2022 so far – he moved mathematically clear of early-season rival Charles Leclerc and team mate Sergio Perez. Verstappen will now be looking to join Fangio, Schumacher, Vettel and Hamilton as the only drivers to have won more than two titles in a row.