Feature
From Malaysia 2003 to Austin 2018 – Ranking Raikkonen's best wins from 10 – 1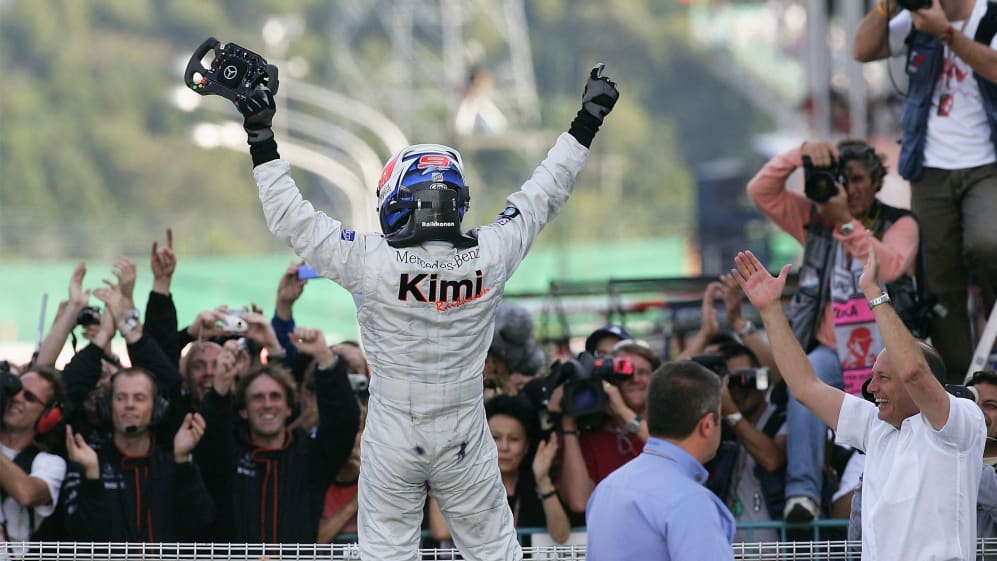 Kimi Raikkonen announced on Wednesday that this season would be his last in Formula 1 after a remarkable career spanning two decades. Last year Raikkonen broke Rubens Barrichello's record for F1 race starts, and in the piece below – first published ahead of the Eifel Grand Prix at the Nurburgring last October – we took a look at his best ever wins.
It is somewhat ironic that Kimi Raikkonen has taken the record for the most Formula 1 race starts in history, given that the Finn had completed perhaps the fewest single seater races of any driver to graduate to F1 in the modern era, when he joined the grid in 2001.
Raikkonen had driven in just 23 races in his entire career before he was snapped up by Peter Sauber – and there was plenty of chatter at the time about whether such an inexperienced driver had any business competing in the top tier of world motorsport.
READ MORE: Barrichello congratulates Raikkonen for tying his F1 starts record
The famously media-shy Finn put a stop to such talk with a points finish on his debut in Australia, and since then he's racked up 21 wins, 18 pole positions and of course, a world championship title.
So as he prepares for his record-breaking 323rd F1 race start next weekend in the Eifel Grand Prix, we decided it was high time to pick out the very best of his victories – and just for fun we've decided to rank them in order of greatness…
10. 2007 British Grand Prix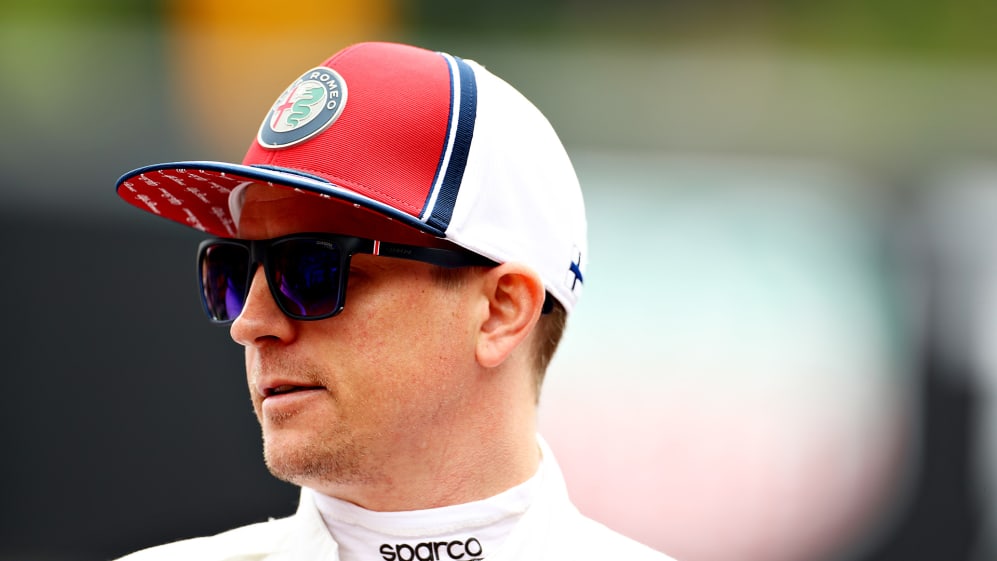 The race at Silverstone was supposed to be all about McLaren's rookie superstar Lewis Hamilton, who thrilled his new-found fans with a stunning lap in qualifying to take pole position at his first home Grand Prix.
But come race day, Raikkonen – starting second – triumphed. He stuck to Hamilton like glue in the opening laps and then when the young Briton had a slightly slow first pit stop, he emerged ahead after his own stop.
Traffic slowed a fast Fernando Alonso in the other McLaren, leaving Raikkonen to take his second win on the trot and his third overall in his first season with Ferrari.
9. 2003 Malaysian Grand Prix
Raikkonen's debut season in F1 was so impressive that all worries about his inexperience soon evaporated – so much so that Ron Dennis hand-picked the then-21-year-old to replace Mika Hakkinen, who was stepping down for a sabbatical year that eventually became retirement.
They were big shoes to fill, and unfortunately for Raikkonen, his first year at McLaren was a Ferrari-fest, with the Scuderia winning all but two races in 2002.
ORAL HISTORY: The inside story of Kimi Raikkonen's legendary first F1 test
But come 2003, Adrian Newey had worked his magic again and after a maiden podium at the first race of the season in Australia, Raikkonen took his first victory at the following race in Malaysia. Starting sixth, he benefited from problems for Michael Schumacher and David Coulthard who started ahead of him, but out-raced Rubens Barrichello and Fernando Alonso to take a dominant maiden win by a margin of almost 40 seconds.
He was off the mark – and though it was to be his only win of the season, a run of eight more podiums meant he missed out on the World Championship title by just two points.
8. 2007 Australian Grand Prix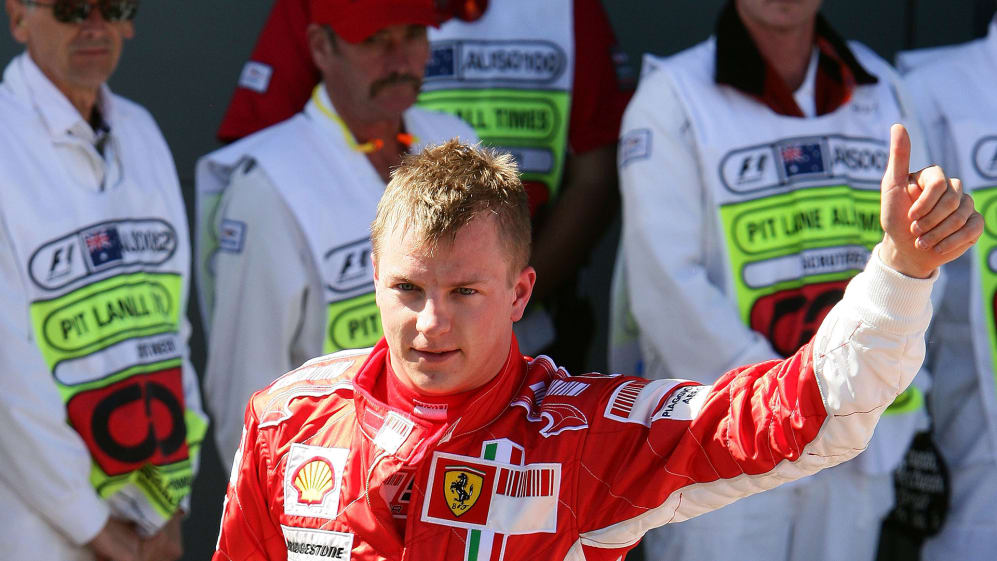 Fangio, Andretti, Mansell – all legendary F1 names who won on their Ferrari debuts. In 2007, Raikkonen joined this exclusive club in the first race of the post-Michael Schumacher era at the Scuderia.
Raikkonen had been hired to replace the retiring German record-breaker, and got off to the best possible start by taking pole position and the victory at his first race in red, despite facing serious race-long pressure from the McLaren duo of Alonso – then the reigning double world champion – and Hamilton behind, who both led at different points during the pitstops. The victory was all the more impressive given how he'd "struggled a lot" (his words) in pre-season testing.
The tifosi's love affair with Kimi had begun.
7. 2009 Belgian Grand Prix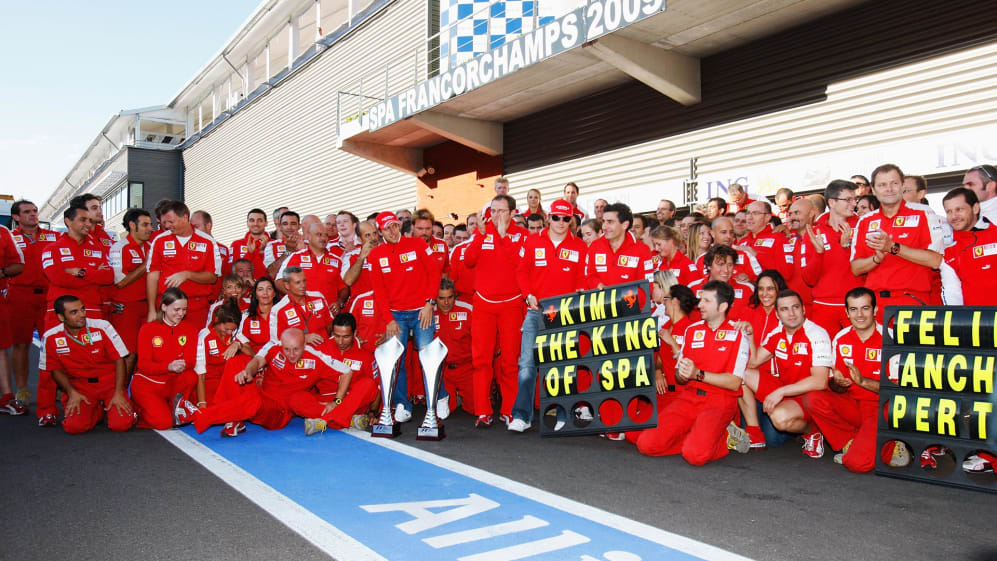 This was the season of double-diffusers and KERS and a stark changing of the guard in Formula 1. McLaren and Ferrari, who had been the dominant teams in the championship since the late 1990s, were relegated to virtual also-rans as Brawn and Red Bull battled it out for the title.
But Ferrari did manage one win that year – and it was Spa specialist Kimi who took it at a chaotic Belgian Grand Prix. Starting sixth, he found himself behind leader Giancarlo Fisichella – who had taken a surprise pole for Force India – when the Safety Car was deployed after a first lap crash that saw four cars wiped out in one go.
On the restart, Raikkonen overtook Fisichella on the Kemmel Straight to take a lead he would hold all the way to the flag.
6. 2007 Brazilian Grand Prix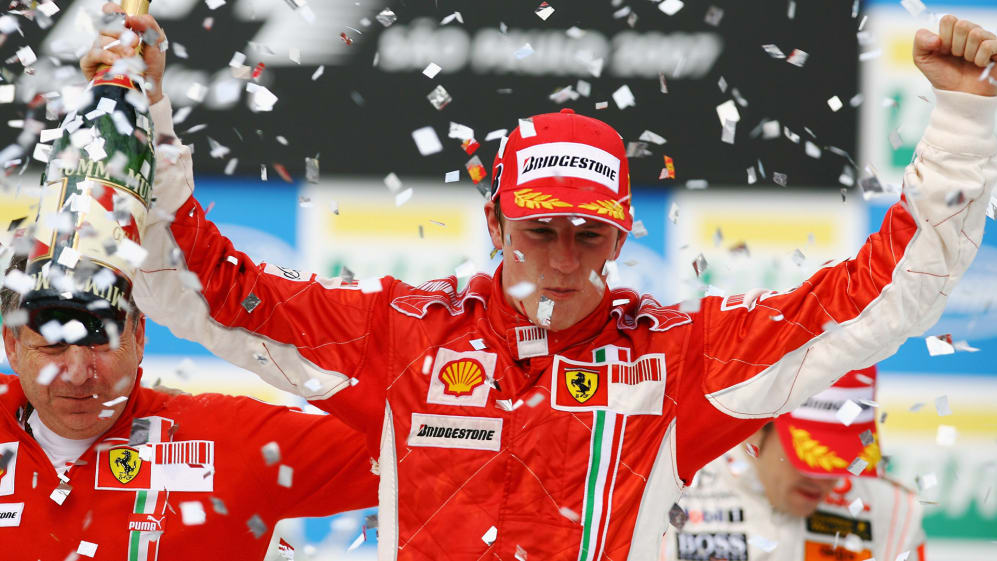 Going into the 2007 title decider, few people were talking about Kimi Raikkonen – which was presumably fine by him. Instead, all the focus was on McLaren pair Hamilton and Alonso, who had fought a bitter battle for the title in Hamilton's rookie F1 season.
Remarkably, Hamilton was leading the championship over reigning double world champion Alonso as the circus gathered at Interlagos, Brazil for the final race of the season. Raikkonen was three points behind Alonso and seven behind Hamilton – and was very much the outsider for the title.
READ MORE: Six of the best F1 title turnarounds
The Finn, starting third, passed Hamilton in P2 before Turn 1, while the Briton then went off track trying regain another position lost to Alonso. It then got much worse for Hamilton when a gearbox problem dropped him down to 18th position.
Meanwhile Raikkonen was running behind Interlagos-specialist Felipe Massa in the other Ferrari, until the final stops, when a series of quick laps saw him emerge ahead of the Brazilian into a lead he would carry to the flag. With Alonso third and Hamilton only seventh, the crown was Kimi's.
5. 2013 Australian Grand Prix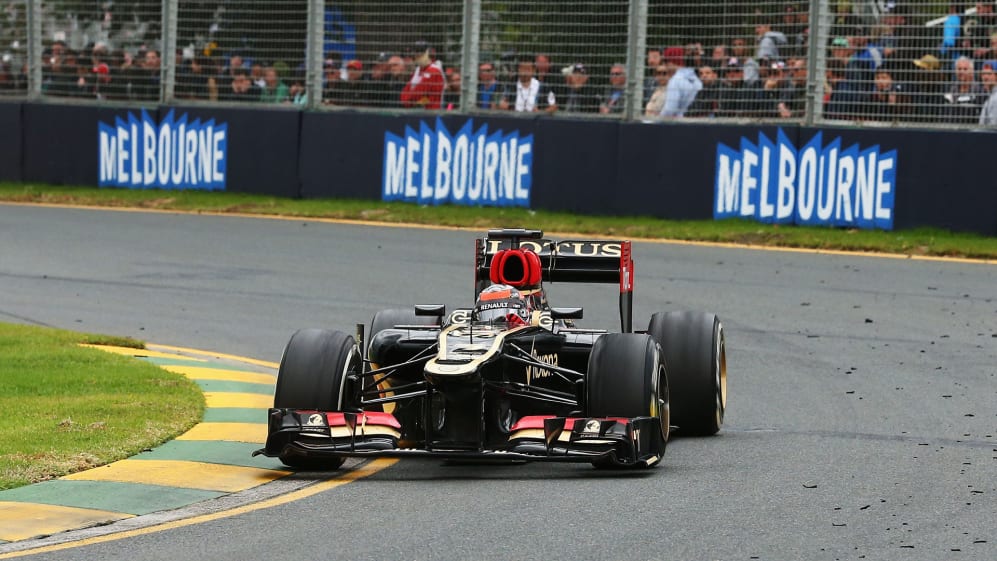 After two years away rallying, Raikkonen returned to F1 in 2012 with Lotus. This was the height of Sebastian Vettel's dominant period with Red Bull, but in the German's final (so far) championship winning year, it was Kimi who took the first victory.
With the E21 car nice and easy on tyre wear, the team elected to put him on a two-stop strategy, and with the other contenders all stopping three times, he swept to a hugely impressive victory from seventh on the grid.
"I told you the car was good," a typically relaxed Kimi told the team over the radio after the chequered flag.
It remains the last victory for the Enstone-based team – and was also the last time a driver for a team other than Ferrari, Red Bull or Mercedes won a race, until Pierre Gasly's victory at Monza last month.
4. 2018 United States Grand Prix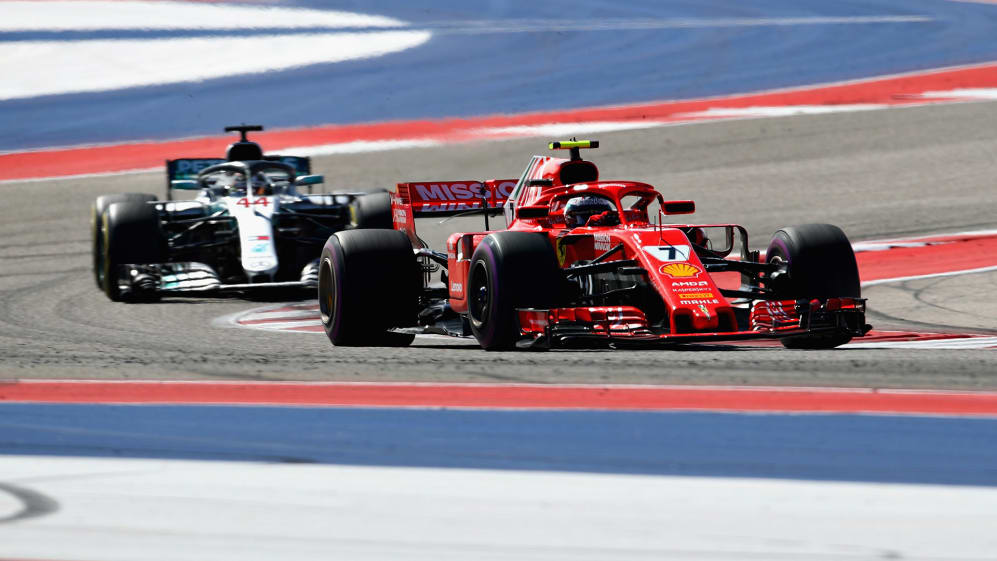 When Raikkonen crossed the line to win in Melbourne that day in 2013, he can't have imagined it would be five years before he took to the top step of the podium again – especially given he moved back to Ferrari in 2014.
He had been told in September 2018 that we was no longer required at the Italian team for the following season, but he proved there was life in the old dog yet, as he raced to a brilliant win in Austin. Starting second, he took the lead from polesitter Hamilton off the line, and then fended off attacks from the Mercedes driver to take what is – so far – his final victory, with a one-stop strategy in what was one of the most popular results in recent years.
READ MORE: I've proved people wrong, says Raikkonen after stunning Austin win
With this win, he also broke the record for the longest gap between victories in F1. "F****** finally," he said after crossing the line.
3. 2012 Abu Dhabi Grand Prix
"Just leave me alone, I know what to do." It's perhaps the most iconic team radio message every broadcast during a Grand Prix, but Raikkonen proved he really did know what he was doing with this superb victory at Abu Dhabi – his first since returning to F1 that season after his two year rallying sabbatical.
WATCH: The best of Raikkonen on team radio
He already had six podiums under his belt that season, showing he'd lost none of his speed, but under the lights at the Yas Marina Circuit it all came together for him to get back to top step for the first time since the Belgian GP three years earlier.
He leapt off the line from fourth on the grid and was up to second before Turn 1, behind Hamilton. Engine problems for the then-McLaren driver got him out of Kimi's way, who then managed the race with all the aplomb of the veteran racer he now was, to take the flag ahead of leading title contenders Alonso and Vettel.
2. 2004 Belgian Grand Prix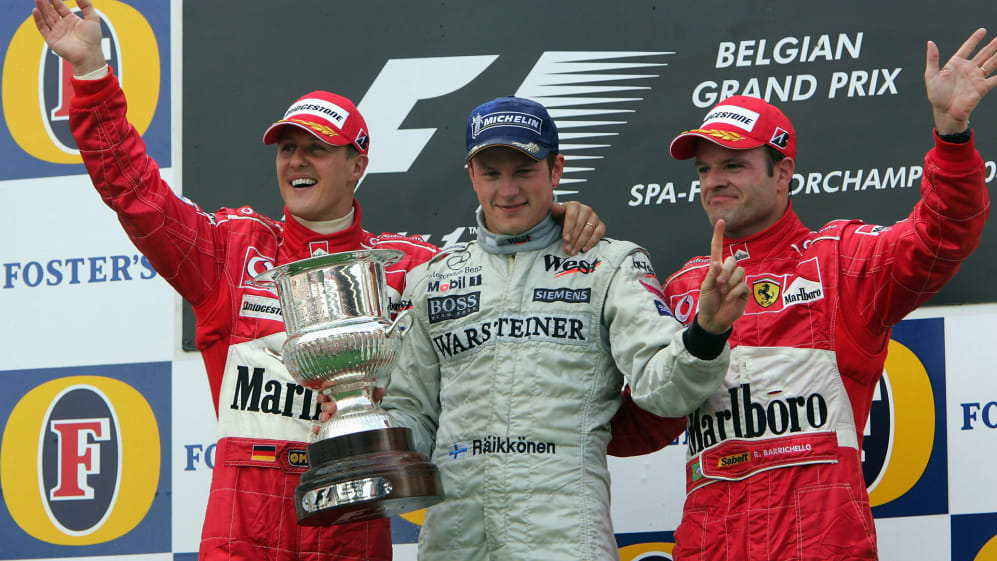 The 2004 season was all about Michael Schumacher and Ferrari, who were in dominant form all year. But on the day Schumacher sealed his seventh and final World Championship title, it wasn't the all-conquering German who won the race – it was Raikkonen.
In one of those action-packed races the Spa-Francorchamps circuit seems to throw up so often, there was drama aplenty on track – as evidenced by the three different Safety Car periods and 11 retirements.
But starting from down in 10th, Raikkonen picked his way through the carnage, crashes and collisions going on around him and kept typically cool to scythe his way up through the field to take McLaren's only victory of the season – the second of his career, and the first of four at a track where he'd prove an undoubted master.
1. 2005 Japanese Grand Prix
If the 2004 Belgian Grand Prix was notable for its prangs and mishaps on track, the 2005 Japanese Grand Prix was thrillingly entertaining in an entirely different way: the finest drivers in the world at the absolute top of their game, racing for all their worth around one of the world's best race tracks.
WATCH: Hill's wet-weather heroics and 9 other classic Suzuka memories
This was the race that featured that Alonso move on Schumacher around the outside of the fearsome 130R corner – but Raikkonen also pulled off a superb move of his own on the German master, going around the outside of the Ferrari into Turn 1 on a day when F1's young guns showed they were not cowed by anyone's reputation.
Starting 17th after rain in qualifying, Raikkonen already knew he would not be world champion that year – Alonso had pipped him to the crown at the previous race in Brazil – but that didn't slow him down a jot as he overhauled driver after driver in front of him, until he emerged from his final pit stop five seconds behind long-time race leader Giancarlo Fisichella with eight laps to go.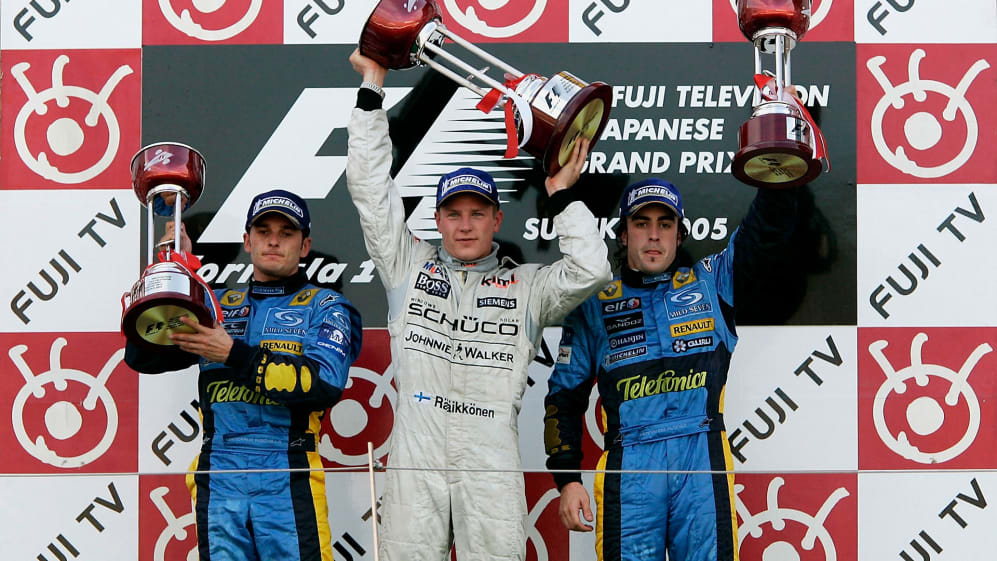 From there he set about reeling the Italian in, lap after lap, until, on the very last lap, he slipstreamed him down the straight, pulled out to the left and swept past him into Turn 1 to take the lead in a truly spectacular moment of Grand Prix racing drama.
It was exciting enough for even Raikkonen to show some emotion as he pumped his fists again and again inside the cockpit after crossing the line to take victory – his final win for McLaren before his switch to Ferrari.
Watch Kimi Raikkonen's journey from baby-faced rookie to F1's most experienced racer
So that is our list, but have we got it right? Which do you think is Raikkonen's best win? Let us know in our poll below...