Feature
From Suzuka to San Marino – Ranking Alonso's best Renault wins from 10-1 ahead of his F1 return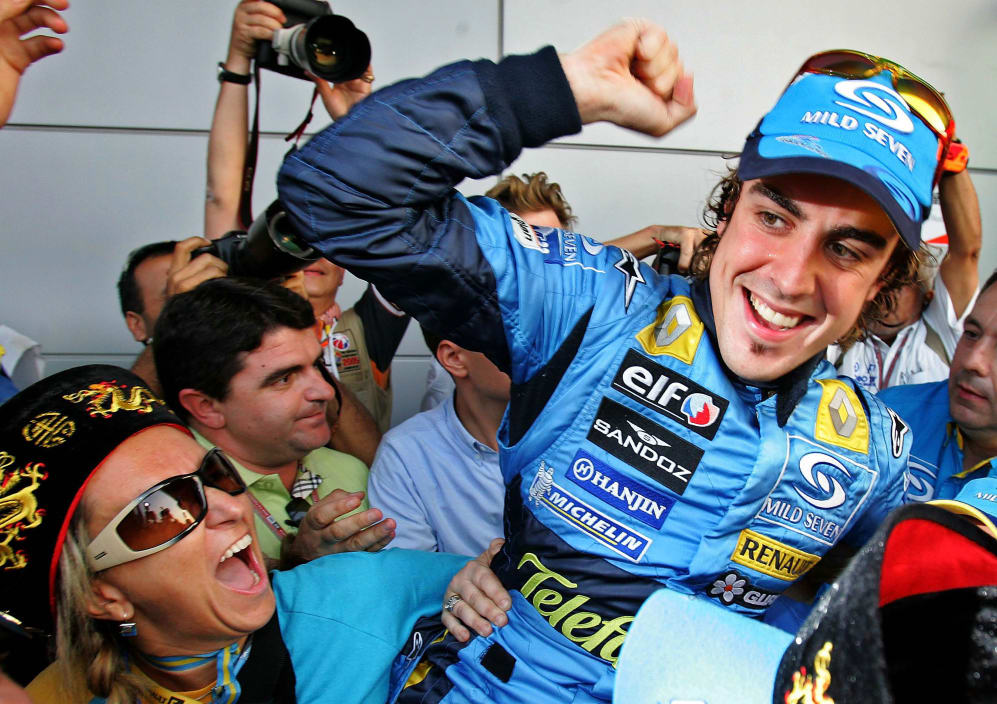 With two-time Formula 1 champion Fernando Alonso making a welcome return to the sport with Alpine – formerly Renault – this season after two years out of Grand Prix racing, we thought it was the perfect time to rank the Spaniard's top 10 Renault wins. See what you think of our list, and vote for your favourite Alonso Renault victory in the poll below...
WATCH: 10 Great moments from Alonso's previous stints with Renault
10. 2006 Japanese Grand Prix
Suzuka hosted the penultimate round of 2006 and Felipe Massa was on pole in a Ferrari 1-2 ahead of Michael Schumacher, while Alonso was fifth on the grid and level on points with Schumacher in the championship.
The Toyota of Ralf Schumacher – who started third – proved to be a stubborn obstacle and Alonso could only pass him on Lap 12 with a brave Turn 1 dive, as the Ferraris consolidated their lead. But the Renault man was waiting to pounce if the leaders faltered.
READ MORE: 10 things every F1 fan should be excited for in 2021
And falter they did. Massa – who had been passed by Schumacher – was forced to pit early on with a puncture, giving Alonso P2. He then gave chase to Schumacher who retired on Lap 36.
It was a crucial victory, handed to the driver who'd put himself in prime position to capitalise on Ferrari's misfortune – and meant Alonso needed just a single point from the season finale to clinch his second successive world championship, which he duly did at the Brazilian Grand Prix.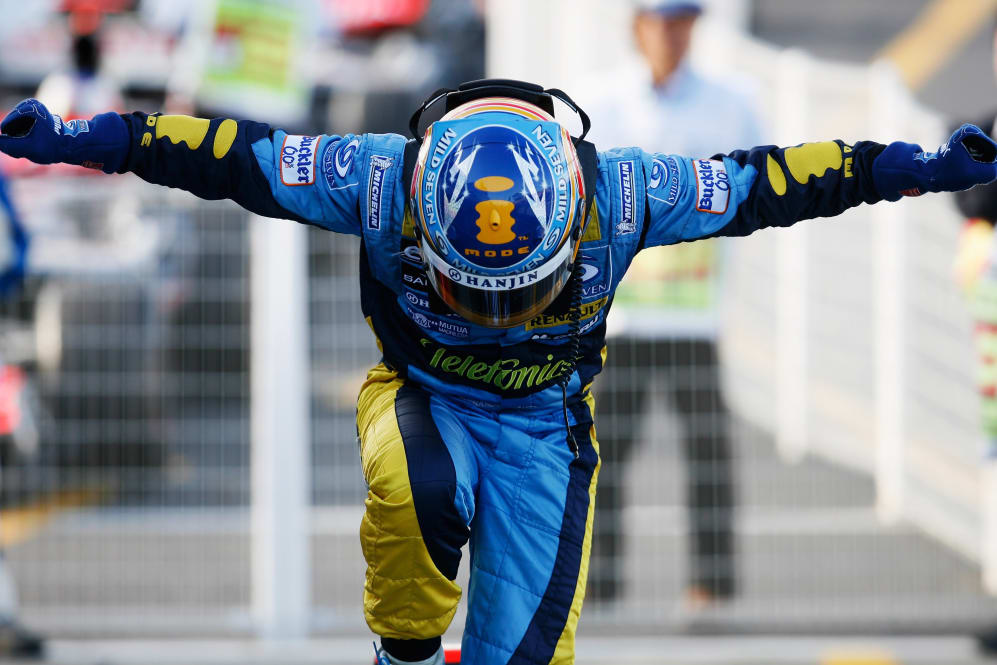 9. 2006 British Grand Prix
Alonso took a second consecutive pole position at Silverstone, but unlike in 2005 when Juan Pablo Montoya beat him to the win, this time he was determined to keep hold of that lead all the way to finish line.
BUXTON: Alonso's Renault return is romantic – but what legacy will he write?
And so dominant was the Spaniard, he only lost the lead once, to McLaren's Kimi Raikkonen during a pit stop, before regaining it and closing out the race with victory.
On paper, his fifth win of 2006 seems so simple - pole position, fastest lap and a race win - that the constant pressure Alonso faced from Raikkonen and Michael Schumacher is easy to overlook. Nonetheless it was another thoroughly confident, professional show from Alonso, who was by then the reigning champ, and pushing hard for his second title.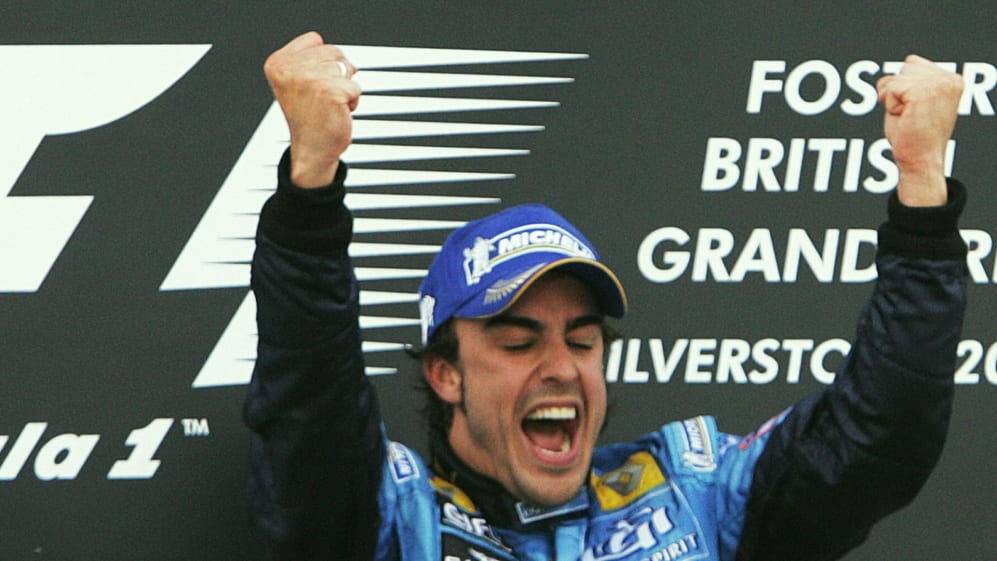 8. 2005 Bahrain Grand Prix
Temperatures of 42.5 degrees Celsius made this scorcher of a race a test of endurance and attrition for all the drivers on the grid.
Alonso, however, kept his cool by taking pole position by an aggregate of 0.455s over Michael Schumacher, after qualifying was run across Saturday and Sunday morning.
WATCH: 5 forgotten moments from Bahrain GP history
Once the race started, Schumacher gave chase in his customarily unflinching manner, keeping tabs on Alonso until Lap 9 when he coasted back to the pits with a hydraulics issue. The Ferrari man would be one of seven retirements that day.
Alonso continued on, with Toyota's Jarno Trulli doing his best to catch up. But the Renault driver's lead was insurmountable. A win of over 13 seconds in testing conditions was Alonso's second victory of the season, as the Spaniard laid the foundations for his maiden world championship.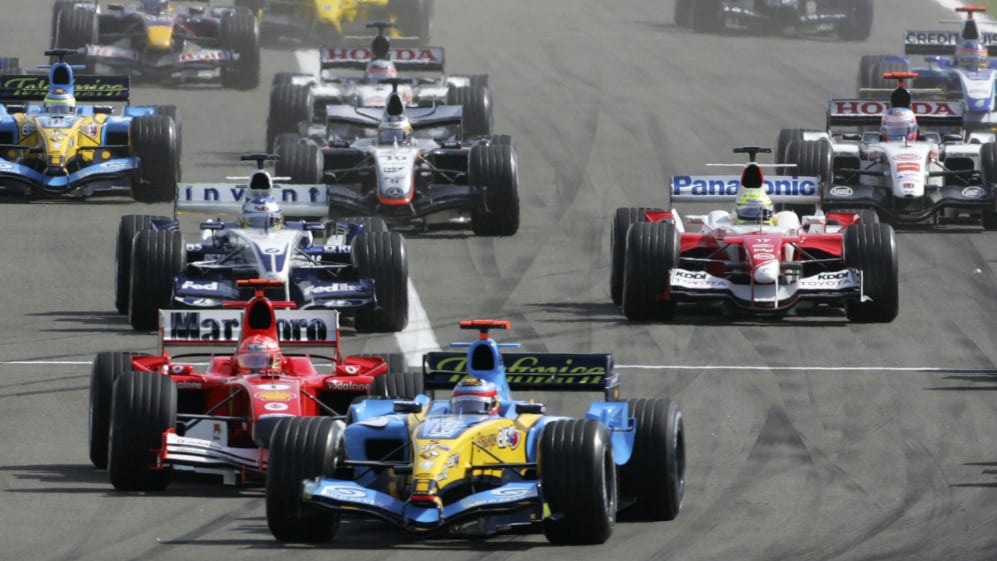 7. 2006 Canadian Grand Prix
The only driver to qualify under 1m14s that weekend, Alonso beat team mate Giancarlo Fisichella to pole position by a margin of over two-tenths in Canada. Eager to wrestle the lead off Alonso, Fisichella jumped the start as the lights went out and was duly punished.
Alonso soaked up considerable pressure from a prowling Kimi Raikkonen early on, defending at the final chicane masterfully from the McLaren driver on Lap 11 and retaining the lead even as he ran wide at Turn 10. Raikkonen's race was then undone by problems in the pits.
WATCH: 5 shock moments from Canadian GP history
However, Jacques Villeneuve crashed on Lap 58 and Alonso had a Lap 64 Safety Car restart to contend with. But in typically unflustered style the Renault driver dealt with that calmly, winning far more comfortably than his 2.1 second margin over Michael Schumacher implies.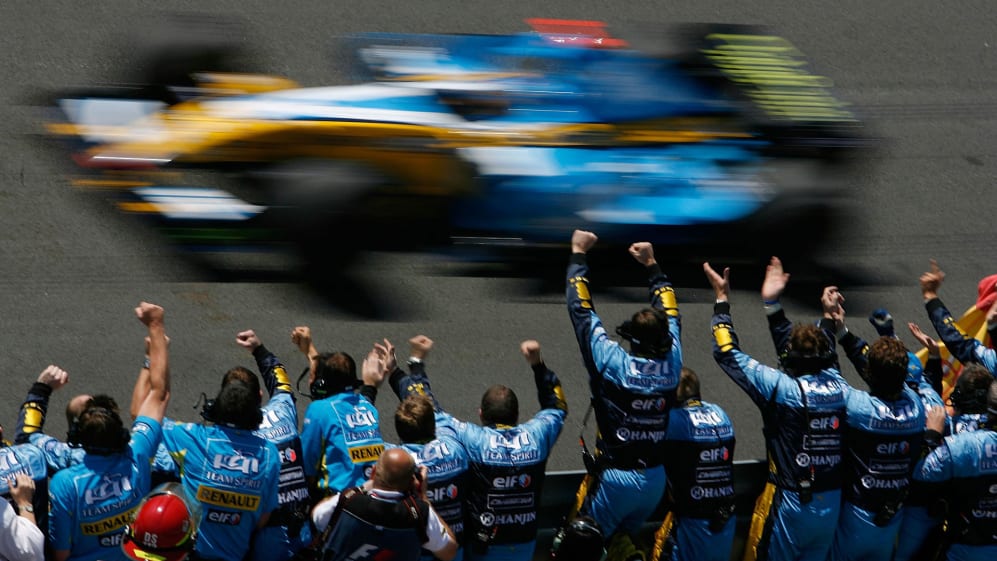 6. 2005 French Grand Prix
Since 2001, the Schumacher brothers had cleaned up at the French Grand Prix, with Michael winning three times and Ralf once - so it would take something special to usurp them at Magny-Cours in 2005.
That something special was Alonso in the Renault R25.
READ MORE: How the Renault R25 finally ended Ferrari's dominance and delivered Alonso's first title
Taking pole over Toyota's Jarno Trulli by a tenth, Alonso leapt away at the start, watching the ever-more-distant sight of Trulli and Michael Schumacher sparring in his mirrors while Kimi Raikkonen was left recovering from the back thanks to an engine failure in practice. Consecutive fastest laps followed, and Alonso was so dominant that Sunday in July that he lapped everyone bar eventual podium finishers Schumacher and Raikkonen.
Renault had their first home win in 12 years thanks to the supreme Spaniard.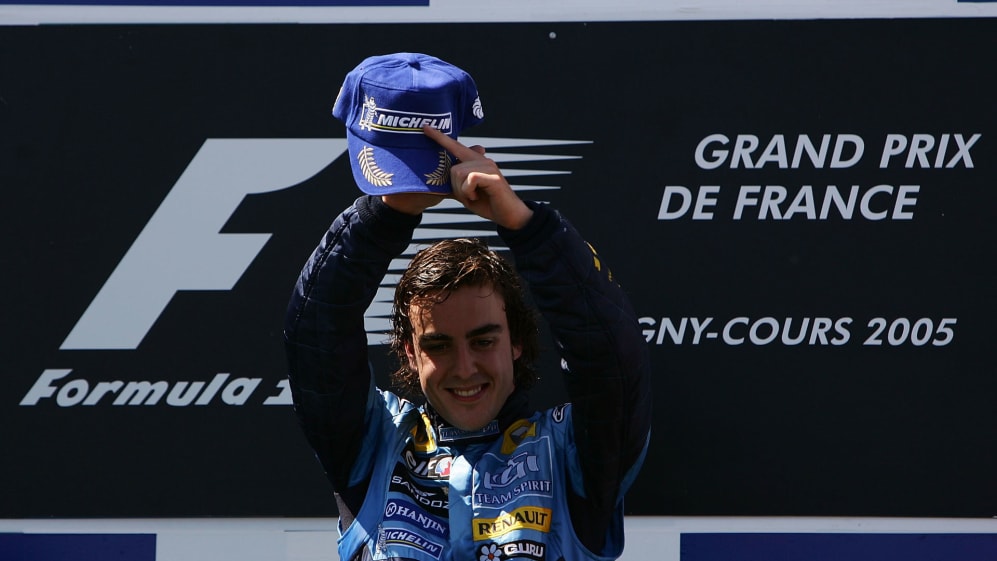 5. 2006 Monaco Grand Prix
Best remembered for qualifying drama that saw Michael Schumacher come to a controversial halt at Rascasse, thus preventing his rivals from beating him to pole position, the 2006 Monaco Grand Prix was also Alonso's first win in the Principality.
READ MORE: 5 shock moments from the Monaco Grand Prix
Fastest in practice, Alonso was handed pole position after Schumacher was relegated to the back of the grid for his suspicious qualifying stoppage; closest rival Kimi Raikkonen had not been able to match the Spaniard in Q3.
In the race, Raikkonen retired while Schumacher made a spirited recovery from last to fifth, but out in front Renault's champion-to-be built up a dominant 14.5 second gap over McLaren's Juan Pablo Montoya for a maiden Monaco triumph.
4. 2006 Spanish Grand Prix
An authoritative win delivered in front of his home fans: Alonso claimed pole position over team mate Giancarlo Fisichella on Saturday in Barcelona, then dashed off the line once the lights went out on Sunday.
Within four laps, Alonso had a four-second lead but there was a looming threat as Michael Schumacher turned on the afterburners in an attempt to catch him. The Ferrari driver pitted on Lap 23 and emerged second – about 11 seconds off the Spaniard.
WATCH: 5 moments you might have forgotten from Spanish GP history - including a big shunt for Kovalainen
But Alonso, seemingly untroubled by the Ferrari, built his lead to 13 seconds and stopped again on Lap 40 – six laps before Schumacher – to go on to win by a stunning 18.5 seconds, to the delight of his adoring fans who had packed out the grandstands.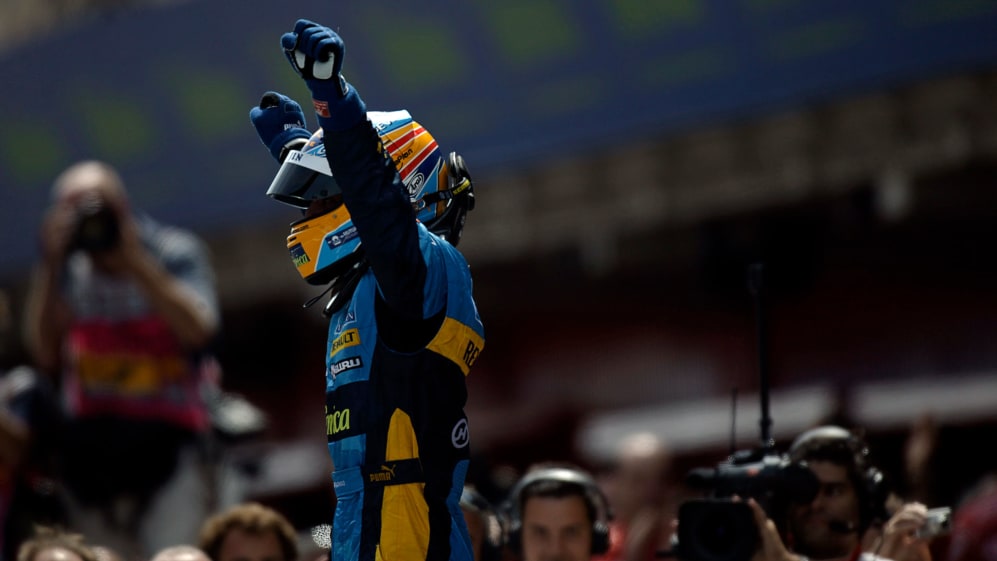 3. 2003 Hungarian Grand Prix
Alonso arrived in Hungary that weekend still looking for his first ever F1 win. But he started as he meant to go on, by securing pole position by over 0.25 seconds from Ralf Schumacher in second, to become the youngest pole-sitter the sport had ever seen.
Alonso's majestic start - on the cleaner side of the grid - saw him enter Turn 1 untroubled with the Jaguar of Mark Webber far behind.
WATCH: Hungary – 5 forgotten moments from F1 history
The Renault driver had a 21-second lead by Lap 14, when he stopped and emerged in P2 behind McLaren's Kimi Raikkonen. When Raikkonen pitted, the lead was returned to Alonso and he continued with blistering pace.
Alonso even lapped champion-elect Michael Schumacher on his way to a brilliant maiden win – 16.7 seconds separating the Renault driver and runner-up Raikkonen at the finish.
At just 22 years and 26 days old, Alonso became, at the time, the youngest ever Grand Prix winner – and there was much more to come...
2. 2006 Bahrain Grand Prix
Michael Schumacher and Fernando Alonso went head-to-head to open the 2006 Formula 1 season with a duel in the desert. Schumacher took pole ahead of team mate Felipe Massa, while Jenson Button put his Honda third – one place ahead of Alonso – on the grid.
On Lap 1, Alonso shot up to P2 but Schumacher began to pull away and the race was very nearly over for the Spaniard when a spinning Massa nearly took him out at the first corner.
READ MORE: F1 Schedule 2021 – Bahrain to host season opener as Australia moves later in calendar and Imola returns
The Renault driver decided to stay out longer than Ferrari's leader – a strategy that seemed to be paying off as, after the first stops, Schumacher's lead stabilised.
The second set of stops were crucial as Alonso again pitted four laps after Schumacher and emerged side-by-side with the Ferrari, holding the German off through Turn 1. Schumacher gave chase but Alonso's pace was superior. He hung on to win this brilliant Bahrain bout by just 1.2 seconds.
1. 2005 San Marino Grand Prix
Never count Michael Schumacher out, even if he does start the race 13th and get stuck in a 'Trulli Train'.
When pole-sitter Kimi Raikkonen retired from the race at Imola on Lap 9, it seemed that Alonso - who started from second on the grid - would breeze to victory.
MUST-SEE: Go onboard with Fernando Alonso for a flat-out demo of his title-winning Renault R25 in Abu Dhabi
But Schumacher's speed was threatening throughout and he was in P3 by the time he stopped on Lap 27. He had the pace to win.
Alonso pitted on Lap 42, Schumacher on Lap 49, to set up one of Formula 1's most nail-biting finishes ever, as the pair found themselves separated by just 1.5 seconds after their stops.
The Renault was just in front of the Ferrari and there was no mercy from Schumacher towards the young pretender to his throne. That was evident in the way Schumacher hounded and harried Alonso from Turn 8 all the way through the Acque Minerali bends.
But Alonso refused to be cowed by his illustrious rival, and hung on to win by 0.215s, securing a legendary victory through sheer resilience over F1's undisputed king. It was a symbolic moment as much as anything: Schumacher's run of championship wins was over, while Alonso's was just about to begin.