Image Gallery
GALLERY: Check out the special Miami GP helmet designs by Sargeant, Gasly, Verstappen and more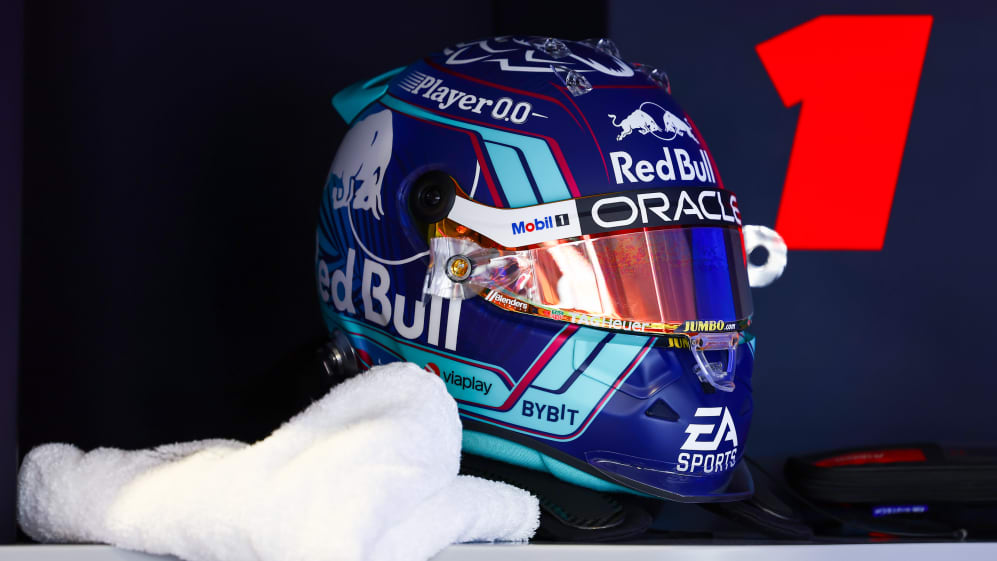 Formula 1 has descended upon the Sunshine State for the highly anticipated second edition of the Miami Grand Prix, and a few drivers – including Florida native Logan Sargeant – will be rocking some superbly creative one-off helmet designs this weekend.
Logan Sargeant
The American will technically have three home races this season – with Austin and Las Vegas to come later in the year – but it does not get closer to home than in the state you were born in, and in the city you used to race karts as a child.
And he will be sporting a new helmet this weekend that, while having similar colours to his usual lid, features some local touches, such as the palm trees, the huge Miami sign plastered across the front and more.
READ MORE: Williams driver Sargeant says first race on home circuit in Miami a 'big hurdle to climb'
Oops! Error retrieving Twitter post
Pierre Gasly
Pink is a colour that is often associated with Miami, and Gasly's one-off lid features a heavy dose of it on his special design. It also features a touch of sky blue, another colour associated with Miami, with his logo plastered all around his helmet.
Oops! Error retrieving Twitter post
Alex Albon
The Williams driver is known to be a keen golfer, helped by the fact that his partner Lily Muni He is a professional. And in tribute to the golf balls he hits on the fairway, his helmet is designed like one this weekend. Also, if you haven't already, check out his acting skills in the helmet launch video on his socials.
IT'S RACE WEEK: 5 storylines we're excited about ahead of the Miami Grand Prix
Oops! Error retrieving Twitter post
Esteban Ocon
Like his Alpine team mate Pierre Gasly, Esteban Ocon's one-off helmet also features a heavy dose of pink and sky blue. In a simple design, you can see palm trees, a staple in Miami, drawn around the sides and back, and the American flag at the top.
Oops! Error retrieving Twitter post
Oops! Error retrieving Twitter post
Oops! Error retrieving Twitter post
Kevin Magnussen
As a member of the lone American team in the paddock, it is only right that Magnussen brought his own special helmet design for the weekend. The Dane has traded in his usual red for a navy blue and white number that features a huge letter K painted on the sides and the back. We will let you figure out what that stands for.
Oops! Error retrieving Twitter post
Charles Leclerc & Carlos Sainz
Ferrari have gone for the double launch, as both drivers have brought their own special designs for the weekend. Leclerc has traded in his usual red for a white layout this weekend, which also features a flowery Hawaiian shirt pattern style.
On the other hand, Sainz has stuck to his usual dark theme, although the Spaniard has added in some Miami Vice colours, but in metallic form.
MUST-SEE: Leclerc ends second practice for the Miami GP in the barriers with late crash
Oops! Error retrieving Twitter post
Nico Hulkenberg
Hulkenberg is racing in Miami for the first time, and he has brought his own unique touch on the weekend. It seems he has gone for a heavy palm tree theme on his lid, as it also matches what he was wearing upon entering the paddock on Thursday.
Oops! Error retrieving Twitter post