Image Gallery
GALLERY: View the brand-new 2022 Mercedes AMG and Aston Martin Safety Cars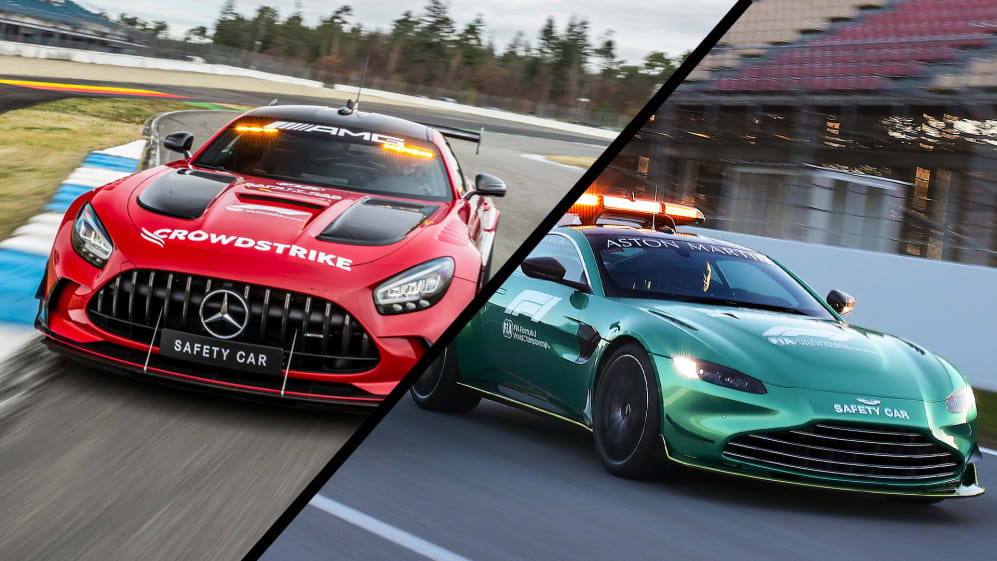 Mercedes AMG have unveiled a brand-new pair of emergency vehicles for the 2022 Formula 1 World Championship that will share duties with Aston Martin's Vantage and DBX this season.
Mercedes have supplied safety vehicles for F1 since 1996 and this year's duo sees a major overhaul: Their 2022 Safety Car will be the Mercedes-AMG GT Black Series, (replacing 2021's Mercedes-AMG GT R) featuring a punchy 730hp, adjustable suspension and a number of track-focused features. The headline statistics are a 0-62mph time of 3.2 seconds and a top speed of over 200mph.
The AMG Medical Car is the brand-new Mercedes-AMG GT 63 S 4MATIC+, replacing the C 63 S AMG Estate. The four-wheel-drive Medical Car can hold three medics and their life-saving gear – 639hp at the driver's disposal for a 0-62mph time of 3.2s and a top speed of 195 mph.
PODCAST: Safety Car secrets with driver Bernd Maylander
Bernd Maylander, who has been driving the FIA Formula 1 Official Safety Car since 2000, said: "I've already had the chance to test this amazing vehicle many times and I'm simply blown away by how close it is to a thoroughbred race car.
"It really is a major step compared to last year's GT R – which was already at an extremely high level. To have a workplace like this in the name of safety is a dream come true."
The Mercedes Safety Car includes new light signalling in the windscreen and, unusually, with rear-facing lights in the rear spoiler rather than a roof-mounted lightbar. It will make its debut alongside the Medical Car in the 2022 Bahrain Grand Prix on March 20.
As was the case in 2021, Aston Martin will supply their Vantage Safety Car and DBX Medical Car for the upcoming season. The Aston Martins will begin duties in the 2022 Australian Grand Prix at Albert Park.
TECH TUESDAY: The missing puzzle piece expected to fall into place during Bahrain testing
The DBX Medical Car unleases nearly 550hp and 700Nm of torque, reaching a top speed of 181mph – while carrying the mandated safety equipment including medical kit and fire extinguishers.
"It is a continuing source of pride for myself and the whole company to see our cars playing a crucial role in Formula 1," said Aston Martin Lagonda Chief Executive Officer Tobias Moers.
The 2022 F1 season begins on March 20 with the Bahrain Grand Prix, after this week's Official Pre-Season Test.
F1 TV Pro subscribers can watch Bahrain pre-season testing live and on demand, access exclusive live timing, as well as Tech Talk debriefs. Subscribe now and save 20% on your Annual F1 TV Pro subscription. Offer Valid in selected territories on web and apps until March 13th. T&Cs apply
Coverage of the Official Pre-Season Test is also available live in selected territories via your F1 broadcaster.